EMD ESG Issuance – The sustainability (r)evolution
2021/12/09
Phillip Ham
Janina Magnasco
ESG labelled issuance has become mainstream in EMD with a record year in 2021. We review the main trends and future expectations behind this 'new normal'.
Environmental, Social, and Governance (ESG) labelled issuance has taken the center stage for Emerging Markets (EM). Supply has surged in 2021 to USD 222bn through Oct 31, compared to USD 79bn in 2020. Despite seeing positive trends in 2016-2020, with a compound annual growth rate (CAGR) of 16%, this year has elevated ESG labelled supply to another level. Not only has green, social and sustainable issuance more than doubled, but we also saw sustainability linked bonds (SLBs) added to the mix. The use of proceeds from SLBs are broader compared to other ESG labelled, but SLBs include a penalty expressed as coupon step-ups at a given date if specific ESG targets are not met.
From an asset class perspective, EM corporates began to issue ESG labelled issuance in 2016 and have led the way in gross terms with USD 152bn, compared to just USD 31bn in EM sovereigns for 2021. However, considering the delayed start for the asset class, sovereigns only ESG issuance surpassed USD 10bn for the first time in 2020, bringing 2021 to record year levels, with a nearly threefold increase. Finally, sovereigns are increasingly taking advantage of the more recently introduced social bond framework to pursue ESG issuance with 37% of total ESG labelled sovereign issuance compared to 8% in 2020.
Figure 1: EMD ESG Labeled Bond Issuance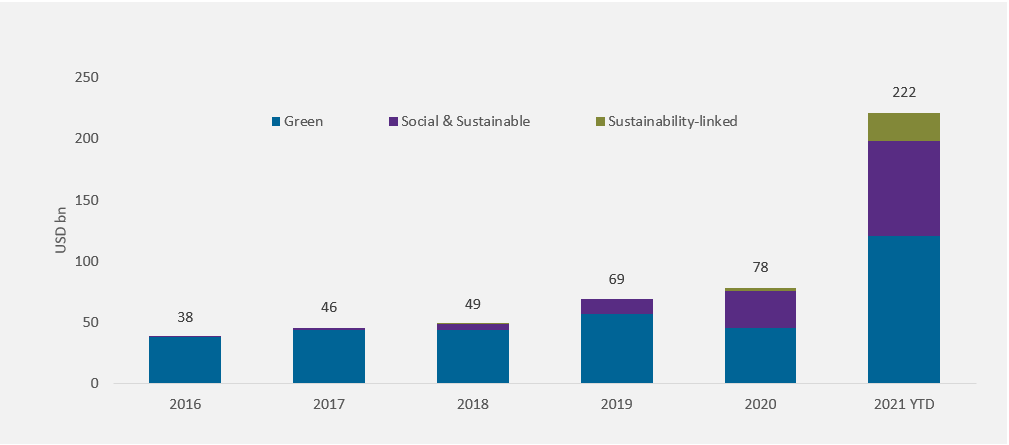 Source: J.P. Morgan Asset Management, Bloomberg. As of October 31st, 2021. Figures include corporate and sovereign issuance but not supranational issuance.
ESG labelled issuance accounted for 23% of Corporate Emerging Market Bond Indices (CEMBI) eligible issuance and 13% of Emerging Markets Bond Index (EMBI) eligible issuance on a year-to-date (YTD) basis as of October 2021. From a regional perspective, as seen in figure 2, LatAm has become an increasingly important regional contributor with 23% of total corporate and 73% of total sovereign ESG issuance, despite only comprising 18% and 29% of total corporate and sovereign supply, respectively. Also, LatAm has the highest proportion of supply coming from ESG corporate bonds, at 31% YTD vs Asia at 25% and Central and Eastern Europe, Middle East, and Africa Index (CEEMEA) at 10%. Leading countries in LatAm ESG issuance were Brazil, Chile and Mexico.
Figure 2: EMD ESG issuance breakdown by region 2021 YTD
Source: J.P. Morgan Asset Management, Bloomberg. As of October 31st, 2021. Figures include corporate and sovereign issuance but not supranational issuance
The growth seen in EM ESG issuance can also be attributed to the rising pool of ESG labelled instruments. For corporates, increasing supply in the green and sustainable space was complemented with the surge of SLBs as a response to recently launched 2030 sustainability frameworks. This was particularly true in LatAm, with SLBs accounting for roughly 2/3 of ESG labelled issuance, while CEEMEA was evenly distributed between green, sustainable and SLBs and Asia was skewed towards green bonds. This is justified from an use of proceeds perspective, given that: (1) most Asian issuance is directed towards new projects (either through financials or direct investment), (2) LatAm is more focused on refinancing efforts, together with the newly launched 2030 sustainability frameworks is supportive of the SLB path and (3) CEEMEA being a combination of both trends.
For EM sovereigns, the increase was driven not only as a response to demand from investors, but also due to the rising importance of ESG frameworks in long-term policymaking. In terms of focus, although green issuance remained relevant at 19% of total ESG labelled supply in 2021, sovereigns took greater advantage of the sustainable and social formats, with 39% and 37% of totals, respectively. LatAm was once again the primary contributor, with total sustainable and social bond issuance growing to USD 25bn in 2021 from just USD 3bn in 2020. We expect LatAm to remain ahead of the curve as Asia and CEEMEA has seen some increased focus from more frequent high yield borrowers, but the interest remains more idiosyncratic. On the contrary, LatAm has seen broad-based interest in ESG labelled issuance given relatively large refinancing needs and subsequently as a source of potential 'greenium' (i.e. lower cost of debt for ESG labelled securities) while solidifying their longer-term ESG frameworks.
For now, 'greenium' is more prevalent in EM corporates, where we have seen issuers more encouraged to issue ESG labelled instruments over the past 12-15 months. In particular, we saw several recurring issuers in the ESG space over the past year and management commentaries are supportive of this trend to accelerate rather than be a one-off data point in 2021. Typically, corporate 'greeniums' range between 20-50bps tighter than traditional structures due to their longer presence in the markets, as well as more tested frameworks. Sovereigns have arrived later to the markets and even more robust frameworks like that of Chile price just 5-10bps tighter than their regular curve. However, we expect market pricing of sovereign ESG labelled instruments to converge closer to that of corporates as investor interest ramps up and frameworks become more robust. Finally, we expect the broader EM ESG market to continue to factor in some level of 'greenium', which will continue to drive this type of supply and create opportunities for further ESG issuance and progress.
6ce1c770-a78f-11eb-a5b7-eeee0aff96bc