In-depth research into the ETF market
As part of our commitment to supporting our clients to build stronger portfolios, we've commissioned our Global ETF Study 2020—a comprehensive survey of the exchange-traded fund (ETF) market that is designed to help investors benchmark themselves against their peers, position themselves for future growth and validate their existing investment decisions.
The study is among the most comprehensive of its kind. We surveyed 320 professional investors around the world, with average assets under management of $40.3 billion, to gain a detailed view of ETF allocations, ETF trading and the latest ETF investment trends.
KEY THEMES FROM 2020
Rising use of active ETFs
Investors are allocating more to active and smart beta ETFs as they seek to boost portfolio diversification, mitigate the limitations of traditional index funds and target specific outcomes or investment criteria.
Shifting regional allocations to emerging markets and China, and rising demand for emerging market bonds, high yield bonds and corporate bonds, also favour strategies that can use proprietary research to focus on the highest quality markets, companies and issuers.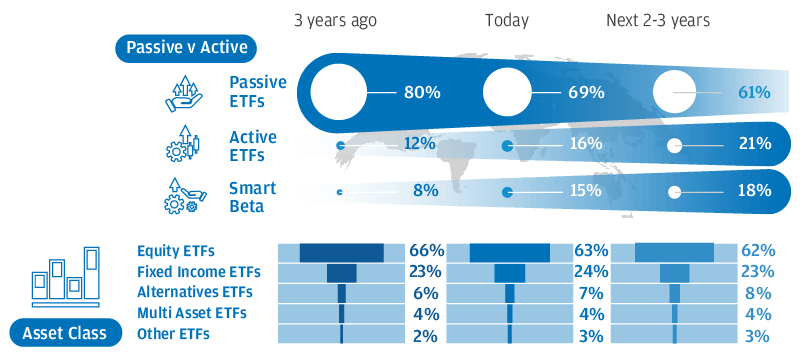 Growing interest in ESG ETFs
Investors see sustainable investing as a key growth driver of ETFs, as companies and governments increasingly look to tackle environmental, social and governance issues.
Demand for ESG ETFs is being further boosted by growing evidence that sustainable investment strategies may enhance long-term returns, while some regulators are also insisting that investors take ESG factors into account.
Comprehensive findings
With responses drawn from a wide range of professional investors located around the world, from wealth managers to financial advisers, the Global ETF Study 2020 provides valuable insights into how ETFs are being used now, and how they may be used in the future.
Download the full report to gain access to all the findings from the study, including our research approach and a breakdown of our respondents.