Global regulators and other stakeholders are working to improve the quality and availability of climate-related financial information. The Financial Stability Board (FSB)'s1 Task Force on Climate-related Financial Disclosures (TCFD), created in 2015, has led to one of the most significant efforts to enhance climate-related information in financial disclosures.
The TCFD has issued several climate-related disclosure recommendations that are designed to help public companies and other organisations disclose more effectively climate-related risks and opportunities through their existing reporting processes. These guidelines were first released in June 20172 and were updated and re-issued in October 2021.
The TCFD guidance suggests that all financial and non-financial organisations with public debt or equity implement its recommended disclosures; it also encourages asset managers and asset owners, including public- and private-sector pension plans, endowments and foundations, to implement the disclosure recommendations.
---
What are the TCFD recommendations?
The climate-related disclosure recommendations set out by the TCFD are structured across four key areas that represent foundational elements of how organisations operate: governance, strategy, risk management, and metrics and targets.
The TCFD recommendations are structured across four key areas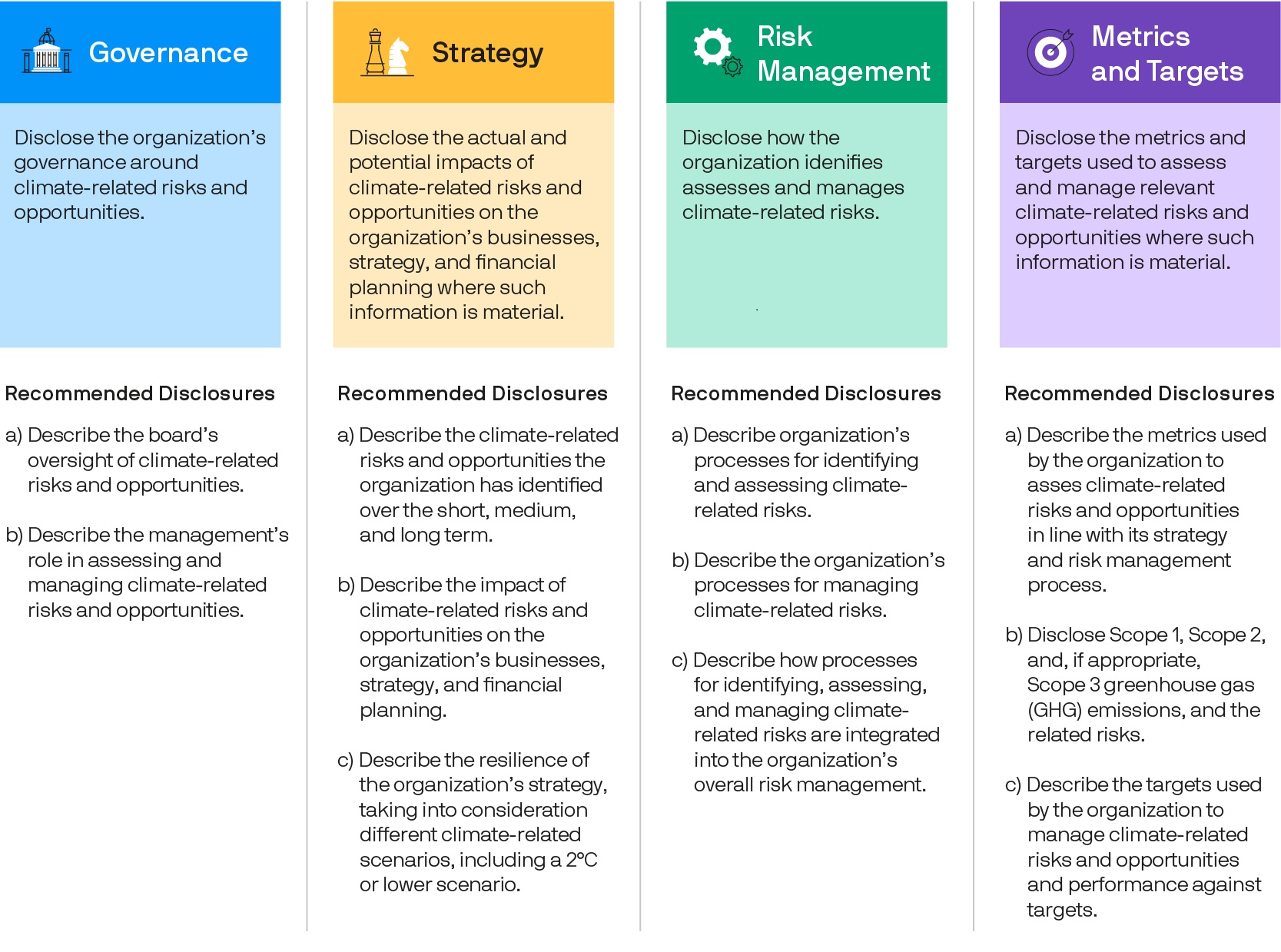 Source: Recommendations of the Task Force on Climate-related Financial Disclosures Final Report, June 2017.
https://assets.bbhub.io/company/sites/60/2021/10/FINAL-2017-TCFD-Report.pdf
---
To whom is the TCFD guidance targeted?
The TCFD guidance is designed to assist industry participants in financial sectors (banks, insurance companies, asset owners and asset managers) and non-financial sectors, particularly energy, transportation, materials and buildings, agriculture, food and forest products, which are potentially most affected by climate change and the transition to a low-carbon economy.
---
When do the TCFD recommendations come into effect for asset managers?
Global regulators are at different stages of mandating the TCFD disclosures, both in terms of alignment and timing. Regulators across Asia-Pacific (APAC) have been the first to adopt the core principles of these recommendations and mandate TCFD-aligned disclosures for asset managers, commencing with Singapore in June 2022 and followed by Hong Kong in August 2022.3
The European Union (EU) is prioritising disclosure related to identifying sustainability risks and how they are integrated into the investment process; distinguishing between sustainable and non-sustainable investments; and considering principal adverse impacts and alignment to the EU Taxonomy (via the EU Sustainable Finance Disclosure Regulations (SFDR) and EU Taxonomy). These efforts do not mandate alignment to TCFD disclosures.
In the UK, the Financial Conduct Authority (FCA) has generally adhered to more elements of the TCFD recommendations than their regulatory peers in APAC, applying not only a principles-based approach, but also mandating the more technical aspects of the guidelines. These include product-level reporting, scenario analysis and enhancements to reported carbon metrics. These requirements sit alongside additional ESG-related disclosure obligations prescribed by the FCA under the UK Sustainability Disclosure Requirement and UK Green Taxonomy.
---
How should TCFD-aligned data be disclosed?
Institutions should incorporate the financial impact of climate-related risks and opportunities across the four key areas. Once an organisation assesses its climate-related issues it must determine its response to those issues, considering actual and potential financial impacts on revenues, expenditures, assets and liabilities, and capital and financing.
Organisations should integrate climate-related financial disclosures in their public or mainstream annual financial filings. Asset managers are expected to report to their beneficiaries and clients, respectively, through existing means of financial reporting, when relevant. Asset managers are also encouraged to disclose publicly via their websites or other public avenues of disclosure.
The TCFD guidance recognises that the level of exposure to and the impact of climate-related risks differ by sector, industry, geography and organisation, and that the financial impacts of climate-related issues on organisations are not always clear, and can be challenging to identifying and assess. Organisations are expected to disclose the relevant information to the best of their current abilities and seek to improve the quality of disclosures over time.
As a result of other parallel regulations, such as the EU SFDR and EU Taxonomy, asset managers are subject to additional sustainability-related disclosures. These are mapped in the following table:
High level matrix of key sustainability and climate-related disclosure obligations for asset managers
| | Disclosure requirement | Description | Level of application |
| --- | --- | --- | --- |
| 1 | Sustainability risk of investments | Financial market participants shall publish on their websites information about their policies on the integration of sustainability risks in their investment decision‐making process. | Product |
| 2 | Labels | Established or conditional use of key terms within the fund name, such as "sustainable" | Product |
| 3 | Sustainability intentionality | Disclosure of product-level intent, such as the promotion of environmental or social characteristics, among other characteristics, or a combination of those characteristics; and/or sustainable investment objective(s) | Product and asset |
| 4 | Alignment to sustainable and non-sustainable investments criteria | Investment meets established criteria or conditions, such as the EU SFDR definition of a Sustainable Investment and/or meets a "characteristics" standard | Product and asset |
| 5 | Taxonomy alignment | Investment meets established criteria or conditions aligned to a regulatory taxonomy outlining environmental and/or social objectives | Product and asset |
| 6 | Consideration of principal adverse impacts | Disclosure of adverse sustainability impacts, agnostic of product intent and design, acknowledging that all products and investment have an impact | Entity, product and asset |
| 7 | Climate-related risks and opportunities | As outlined within this article | Entity and product |
---
How does the TCFD interact with the Net Zero Asset Managers initiative?
The Net Zero Asset Managers initiative (NZAMI)4 is an international group of asset managers committed to supporting the goal of net zero greenhouse gas emissions by 2050 or sooner, in line with global efforts to limit warming to 1.5 degrees Celsius; the initiative also promotes investing in ways that are aligned with these efforts.
NZAMI signatories are required to commit to transparent and rigorous accountability. They will annually report progress against the Task Force for Climate-related Financial Disclosures (TCFD) recommendations, including implementing a climate action plan that is consistent with the United Nations "Race to Zero" criteria.
---
What is the expected impact to financial industry participants and the financial services ecosystem?
Climate-related disclosures currently range from discretionary to regulation-mandated reporting requirements. While the consistency and implementation of these disclosures is still evolving, the TCFD recommendations are expected to increase the breadth and quality of information available within the finance industry and enhance transparency. This should, in turn, benefit industry participants.
For example, institutional asset owners may find the disclosures valuable as they establish their own sustainability goals, explore ways to lower their carbon footprint and seek to capitalise on the transition to a lower-carbon economy.
Investee companies may begin to disclose in line with the TCFD recommendations, which should provide portfolio managers with additional granular information to consider ahead of potential investments. Improved disclosure may also help with climate-related engagement efforts on the part of asset managers.
More broadly, an increase in information on climate-related matters should help capital flow towards climate-friendly businesses and solutions.
---