ESG-aligned transport investing
Seeking to deliver sustainable return opportunities
27-01-2022
Anurag Agarwal
Kris Kesting
In Brief
The focus on carbon emission reduction represents a fundamental paradigm shift within the industry.
The global energy landscape is changing rapidly and leading to the adoption of new transportation asset types and technologies.
Renewables represent a growing share of the global energy mix and are estimated to surpass traditional energy sources – such as oil, gas and coal – by 2035.
Financing opportunities in the transportation industry will increasingly be linked to ESG performance.
As such, transportation providers and end users will be a part of a multi-constituent solution.
In today's investment landscape, Environmental, Social and Governance (ESG) factors are key aspects of any portfolio construction framework. Environmental considerations in particular are becoming drivers of decision-making processes across a variety of industries. Many corporations, investors, financiers and end users of transport assets have become increasingly proactive in creating value through sustainable energy-transition strategies. There is still much work to be done; however, stakeholders continue to recognize that positive climate action can offer opportunities to create value by entering new markets and meeting demand for new types of low-emission assets. In short, an ESG-conscious approach to transportation investing should be viewed as an opportunity to create return as opposed to a risk to manage.
Eco-friendly progress within transportation
The transportation sector has often been perceived as poorly aligned with conventional environmental standards. What is often overlooked is that the sector, while experiencing sustained growth, has materially reduced its emissions over the past two decades. While further investment in clean technology solutions is needed – and will continue – the industry has taken many positive strides to become more environmentally sustainable. For example, during the last two decades, shipping volumes have more than doubled while emissions have grown by only 40% thanks to major fuel-saving technological developments.1 Today, ships produce only 1-2% of total global CO2 emissions, even though over 90% of global trade is carried by sea.2 This makes maritime shipping one of the most carbon efficient forms of transportation on a per-unit or per-metric ton of cargo basis. Progress is also ongoing in the sub-sectors of land-based transportation, which produces 12-13% of total global CO2 emissions, and aviation, which produces 1-2%.3
The goal of reducing emissions through engine technology improvements remains the industry's primary focus. The development of carbon-reducing propulsion methods, such as liquefied natural gas (LNG), hydrogen, ammonia and various low-emission synthetic fuels, is underway across land-based, aviation and maritime transportation sectors. More importantly, a fundamental paradigm shift within the industry has placed sustainability amongst stakeholders' highest priorities. As a result, demand for eco-friendly assets continues to grow, as does research and development in the areas of next-generation fuels and emissions-reduction technology.
Transportation's share of global emissions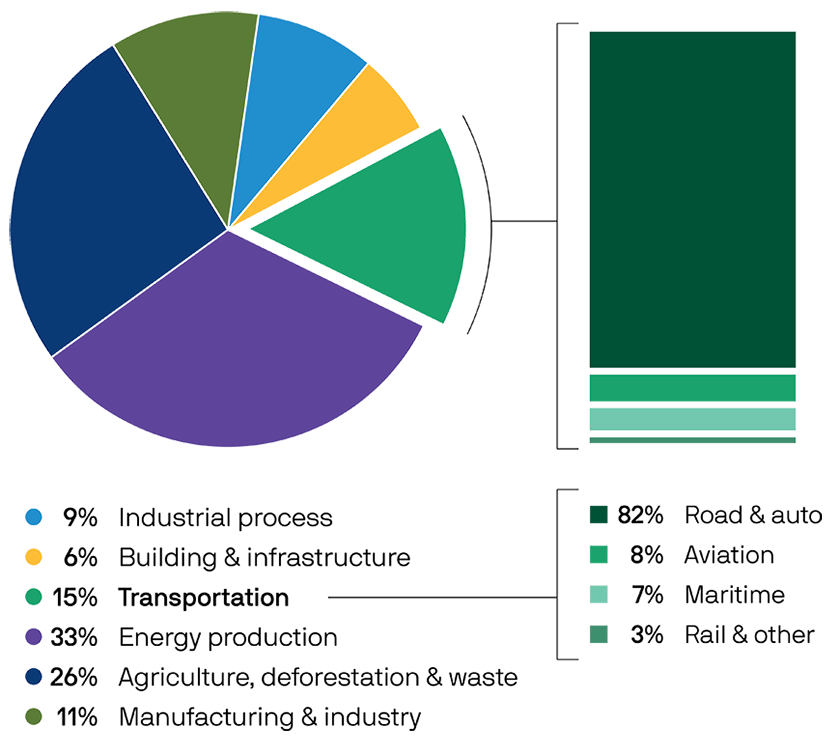 Source for chart data: United Nations Emissions Gap Report 2020, J.P. Morgan Asset Management - Global Alternatives. Data as of 12/31/19.
Regulators are aligned with industry participants
The global nature of the transportation industry requires a coordinated and evolving regulatory framework. To cohesively advance sustainability efforts, international authorities, such as the International Maritime Organization (IMO), the shipping industry's global regulator, have adopted standards for preventing pollution and harmful emissions. Furthermore, individual countries are increasingly impacting domestic emissions goals by, for example, creating "ultra-low emission" urban zones and limiting the sale of petrol and diesel cars, as the UK has done effective 2030.
An important example of one of these standards on the maritime front, which took effect in January 2020, requires all ships to burn very low sulphur fuel oil as opposed to marine "bunkers." (Specifically, the rule reduced permissible fuel sulphur content to 0.50% from 3.50%.4) The IMO's long-term goal is to reduce overall shipping emissions by 50% (compared to 2008 levels) by 2050.5 Similarly, the International Civil Aviation Organization (ICAO), the body of the UN that implements international aviation standards, finalized a performance standard in 2016 that will mandate reductions in CO2 intensity from new aircraft starting in 2028.6
Regulators are also seeking to preserve the natural ecosystem by mitigating other forms of environmental harm. One of the recent successes in this area has been the IMO-mandated adoption of ballast water treatment systems. These systems clean the stabilizing ballast water in commercial vessels in order to prevent the geographical spread of potentially harmful aquatic organisms, invasive species and pathogens.7
The global energy landscape is changing
While regulation continues to play a key role in improving sustainability in the transportation industry, change is also being propelled by a shifting global energy mix. Historically, fossil fuels have dominated the global energy landscape, with oil and coal broadly supporting global power production through the 20th century. Growing global political alignment around greenhouse gas (GHG) reduction, along with technological advances and falling costs, have helped accelerate the transition to renewable sources. Renewable energy has steadily increased its presence over the last decade and is on pace to surpass coal as the largest source of global energy production by 2040.8 Wind-produced energy, a rapidly growing component of renewable energy production, is expected to account for approximately 14% of global power generation by 2040.8 Offshore wind production, which utilizes wind farms constructed in bodies of water, is projected to be the fastest-growing energy source of the next decade with an expected sevenfold capacity increase.8
Renewables and Gas: A growing share of the global energy mix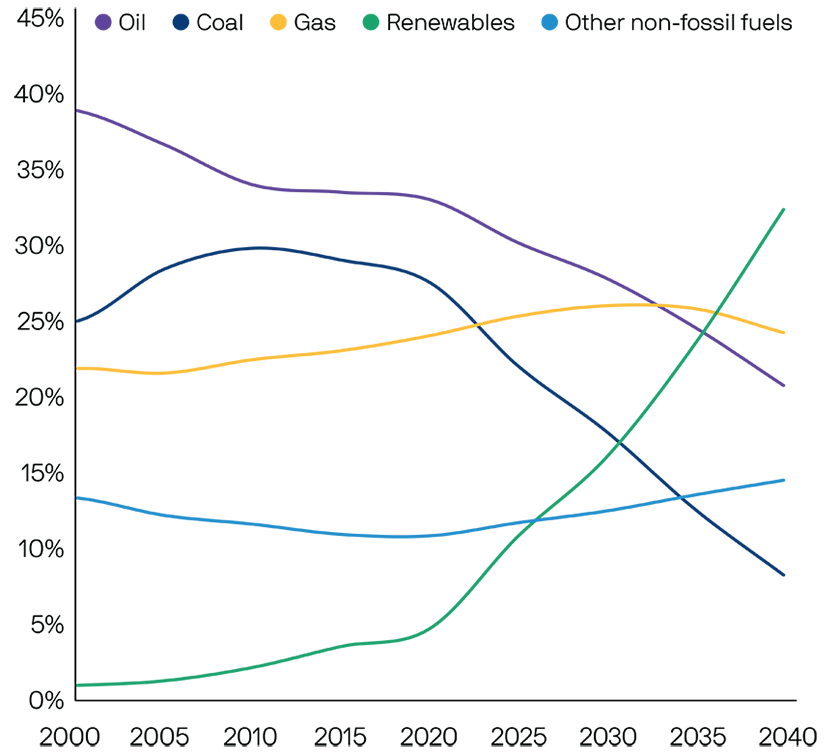 Source: BP Energy Outlook, J.P. Morgan Asset Management Global Transport Group. Data as of 9/30/20.
As the global energy mix continues to diversify, so will the transportation industry. For example, as offshore wind farms move further from shore and utilize taller turbines, a major need for purpose-built service operation vessels (SOVs) and next-generation wind turbine installation vessels (WTIVs) has become evident. With very few WTIVs and SOVs in service and on order today,9 the current fleet is not prepared to handle the future demands of advancing wind turbine technology. This scenario creates an area of opportunity for transportation investors to generate ESG-driven returns by accessing a growing market where significant investment is needed while also facilitating positive sustainability initiatives.

Although there is significant opportunity for the transportation industry to facilitate climate progress, curbing the unabated consumption of fossil fuels will likely be a multi-decade process and will require the use of interim "bridge fuels." No perfect zero-emissions solution exists today. However, broader adoption of transitional fuel sources, like LNG, which offer emissions savings of roughly 20% compared to oil and up to 50% compared to coal,10 can nonetheless create significant emissions reductions and air quality benefits. Engines that run on LNG are becoming increasingly common in the shipping industry.
The growing adoption of LNG provides attractive opportunities for transportation investors. Today's LNG carriers can cost upwards of USD 200 mm and current forecasts indicate a need for upwards of 100 additional vessels to meet accelerating LNG demand,9 which experienced growth of 12.5% in 2019 alone.11 The trend is expected to continue through the mid-2030s, with demand for LNG projected to nearly double by 2040 (compared to 2020).11 As demand for LNG to meet the world's power generation and fueling needs rises, so too will the demand for LNG carriers, which serve as a critical link in the energy supply chain by moving large quantities of LNG globally.
Financing opportunities are increasingly aligning with ESG considerations
Capital markets have reinforced the need for environmental progress, as lending decisions are becoming increasingly linked to environmental considerations. A virtuous circle is starting to emerge in which banks, asset owners and end users are all focused on cooperating to reduce carbon emissions and promote sustainability. For example, the Poseidon Principles, a global framework for responsible ship finance consistent with the policies and ambitions of the IMO, have been adopted by 27 financial institutions that are active within the maritime financing business. Signatories commit to implementing the Principles in their internal lending policies and to quantitatively assess and publicly disclose whether they are in compliance with the Principle's objectives. The 27 signatory organizations represent shipping lenders with a loan book of USD 185 billion, more than one-third of the global ship finance portfolio.12 As additional financial institutions align with industry sustainability goals, the collective influence should support environmentally responsible decision-making.
Transport-dependent firms are part of the solution
Corporations and end users of assets are also being driven to develop ESG policies and strategies as their stakeholders – including shareholders, customers, employees and the communities they serve – demand good corporate citizenship. As a result, corporations have an increasingly strong preference to lease highly efficient assets from owners that demonstrate strong ESG track records. The benefits of leasing "eco-friendly" assets are twofold for end users. Not only are efficient assets less impactful to the environment, but also the same assets can be advantageous from a profitability standpoint since fuel – which is typically the largest operating cost for transportation assets – is a pass-through cost to lessees. The lower the fuel consumption, the lower the cost of fuel, resulting in meaningful savings to lessees over the term of the lease. Eco-friendly assets, therefore, command both a premium and preference for employment.
Moreover, given the critical nature of transportation assets in the supply chains of major corporations, lessees consciously seek to mitigate supply chain risk by choosing to partner with owners that have strong operational and ESG track records. Typical end users of transportation assets, which include global mining and energy corporations, regularly undertake long-term (25+ years) resource extraction projects. The success of these projects, and ultimately, the lessee's core business, is reliant on the safe and efficient operation of transportation assets. Any interruption, whether due to regulatory action or an ESG-related mishap, would effectively prohibit the lessee from fulfilling its own contracts and delivering its core products. As a result, end users seek to mitigate potential impacts to their own operations by demanding more transparency and strong ESG performance from owners.
Several corporations that rely heavily on transportation leasing for their core business operations have recognized that they must be part of the solution and have independently taken leadership positions in the realm of ESG. Here are three examples:
The global energy company Shell has set an ambitious goal of reducing the net carbon footprint of the energy products it sells by 45% by 2035 and by 100% by 2050. In addition, Shell aims to reduce carbon emissions from its own operation to net zero by 2050.13 These aggressive targets have led the company to actively seek out partnerships with transportation investors for the construction of next-generation assets including ships with LNG and electric-powered propulsion.14


The German utility RWE has taken similar steps to promote sustainability by pledging carbon neutrality by 2040. The company is currently the second largest offshore wind player in the world by power generation capacity, and in August 2020 completed a USD 2.4 billion share issue to fund further expansion into renewable energy.15


In July 2019, BHP, the world's second-largest mining company and one of the largest global shippers of bulk commodities, announced a five-year USD 400 million Climate Investment Program to find the best technologies to reduce GHG emissions from its business.16 In September 2020, the company awarded the world's first tender for five LNG-fueled Newcastlemax dry bulk carriers, which it expects will reduce GHG emissions by more than 30% per voyage when transporting products to China, its biggest customer.17
The initiatives of these major transportation market players and many others like them are creating significant investment opportunities for transportation investors seeking to facilitate positive climate changes.
Looking ahead
As we look ahead, environmental alignment will continue to be a growing area of emphasis for all stakeholders within the transportation industry. As industry players seek to mitigate the impacts of climate change and improve their ESG profiles, profitability and growth prospects will become inextricably linked to sustainable operations. By taking a progressive approach and selectively choosing to partner with ESG-aligned transportation players, investors will have ample opportunities to achieve their financial and sustainability goals.
---
1 Shell, "Greenhouse Gas Emissions in Shipping," https://www.shell.com/energy-and-innovation/the-energy-future/greenhouse-gas-emissions-in-shipping.html
2 Organization for Economic Co-operation and Development (OECD), "Ocean Shipping and Shipbuilding," https://www.oecd.org/ocean/topics/ocean-shipping/
3 World Resource Institute, "4 Charts Explain Greenhouse Gas Emissions by Countries and Sectors," https://www.wri.org/blog/2020/02/greenhouse-gas-emissions-by-country-sector
4 United Nations, "Emissions Gap Report 2020," https://www.unep.org/emissions-gap-report-2020
5 International Maritime Organization (IMO), "UN body adopts climate change strategy for shipping,"https://www.imo.org/en/MediaCentre/PressBriefings/Pages/06GHGinitialstrategy.aspx
6 International Civil Aviation Organization, "ICAO Council adopts new CO2 emissions standard for aircraft," https://www.icao.int/newsroom/pages/icao-council-adopts-new-co2-emissions-standard-for-aircraft.aspx
7 International Maritime Organization (IMO), "Ballast Water Management," https://www.imo.org/en/OurWork/Environment/Pages/BallastWaterManagement.aspx
8 British Petroleum (BP), "BP 2020 Energy Outlook," https://www.bp.com/en/global/corporate/energy-economics/energy-outlook.html
9 SIN Clarksons, "Timeseries, Reports, Outlook," https://www.clarksons.net/n/#/sin/timeseries/browse
10 US Energy Information Administration, "Natural gas and the environment," https://www.eia.gov/energyexplained/natural-gas/natural-gas-and-the-environment.php
11 Shell, "LNG Outlook 2020," https://www.shell.com/promos/energy-and-innovation/download-the-shell-lng-outlook-2021/_jcr_content.stream/1614823770264/2b5b3fdaa9feba85dadc9b3408c200f26eadf85f/lng-outlook-2021-final-pack-updated.pdf
12 Poseidon Principals, https://www.poseidonprinciples.org/finance/signatories/
13 Shell, "Energy Transition Strategy 2021," https://www.shell.com/promos/energy-and-innovation/shell-energy-transition-strategy/_jcr_content.stream/1618407326759/7c3d5b317351891d2383b3e9f1e511997e516639/shell-energy-transition-strategy-2021.pdf
14 Shell, "Shell signs charter contracts for eight LNG carriers," https://www.shell.com/business-customers/trading-and-supply/trading/news-and-media-releases/shell-signs-charter-contracts-for-eight-lng-carriers.html
15 RWE, "ESG Presentation," https://www.group.rwe/en/investor-relations/financial-reports-presentations-videos/presentations
16 BHP Billiton, "BHP Sustainability Report," https://www.bhp.com/investor-centre/sustainability-reporting-2020/
17 BHP Billiton, "BHP awards world's first LNG-fueled Newcastlemax bulk carrier tender to reduce emissions," https://www.bhp.com/media-and-insights/news/2020/09/bhp-awards-worlds-first-lng-fuelled-newcastlemax-bulk-carrier-tender-to-reduce-emissions/
---