In brief:
After a series of jumbo rate hikes, it appears most investors are anticipating a pivot from the US Federal Reserve (Fed). However, the elevated level of inflation and resilience of the economy mean that rate cuts are unlikely for some time.


Yields on conventional bonds are now much more attractive, but are still not at levels that compensate for potential market volatility.
We think ultra-short duration strategies are well placed for this environment. They present an exposure to higher current income but with the ability to limit capital losses via shorter maturity holdings and the flexibility to buy a wider range of bonds and money market instruments.
Infamously, economists have predicted nine of the past five recessions. Financial markets are also renowned for overreacting to high frequency data as investors attempt to call the top or bottom of an economic cycle. Since the middle of 2022, attention has been increasingly focused on the timing of any potential Fed pivot after the US central bank rapidly raised interest rates from a low of 0.25% to 4.00% in November.
Incontrovertibly, as central banks increase base rates, they will get closer to the terminal rate but a pivot does not necessarily imply a sudden shift to rate cuts. More likely, it signifies a slower pace of hikes and an extended pause, especially as there are few signs of a US economic slowdown or a dramatic fall in inflation.

After the worst annual US dollar bond market performance on record, yields on full duration bonds are now substantially more attractive, however they may still not present a sufficient income cushion to manage market volatility. Therefore, an ultra-short duration strategy, which also benefits from attractive yield opportunities but without the accompanying duration risk, could be an optimal strategy for investors trading up from cash or down from fixed income.

Defining a pivot
At its 3 November monetary policy meeting, the Federal Open Market Committee (FOMC) demonstrated its commitment to clamp down on inflation – increasing base rates by a jumbo 75 basis points (bps) for the fourth consecutive meeting to the highest level since January 2008 (Figure 1a).
The committee struck a more conciliatory tone in the accompanying statement, noting that it "will take into account the cumulative tightening of monetary policy, the lags with which monetary policy affects economic activity and inflation, and economic and financial developments". This balanced assessment of future policy heightened market hopes of a Fed pivot.

However, Chair Powell's hawkish comments at the subsequent press conference – stating that it would be "very premature" to think about pausing – quickly extinguished the most optimistic expectations (Figure 2). Nevertheless, fixed income investors were encouraged by the lower-than-expected October CPI (consumer price index) print and continue to price in rate cuts in the second half of 2023.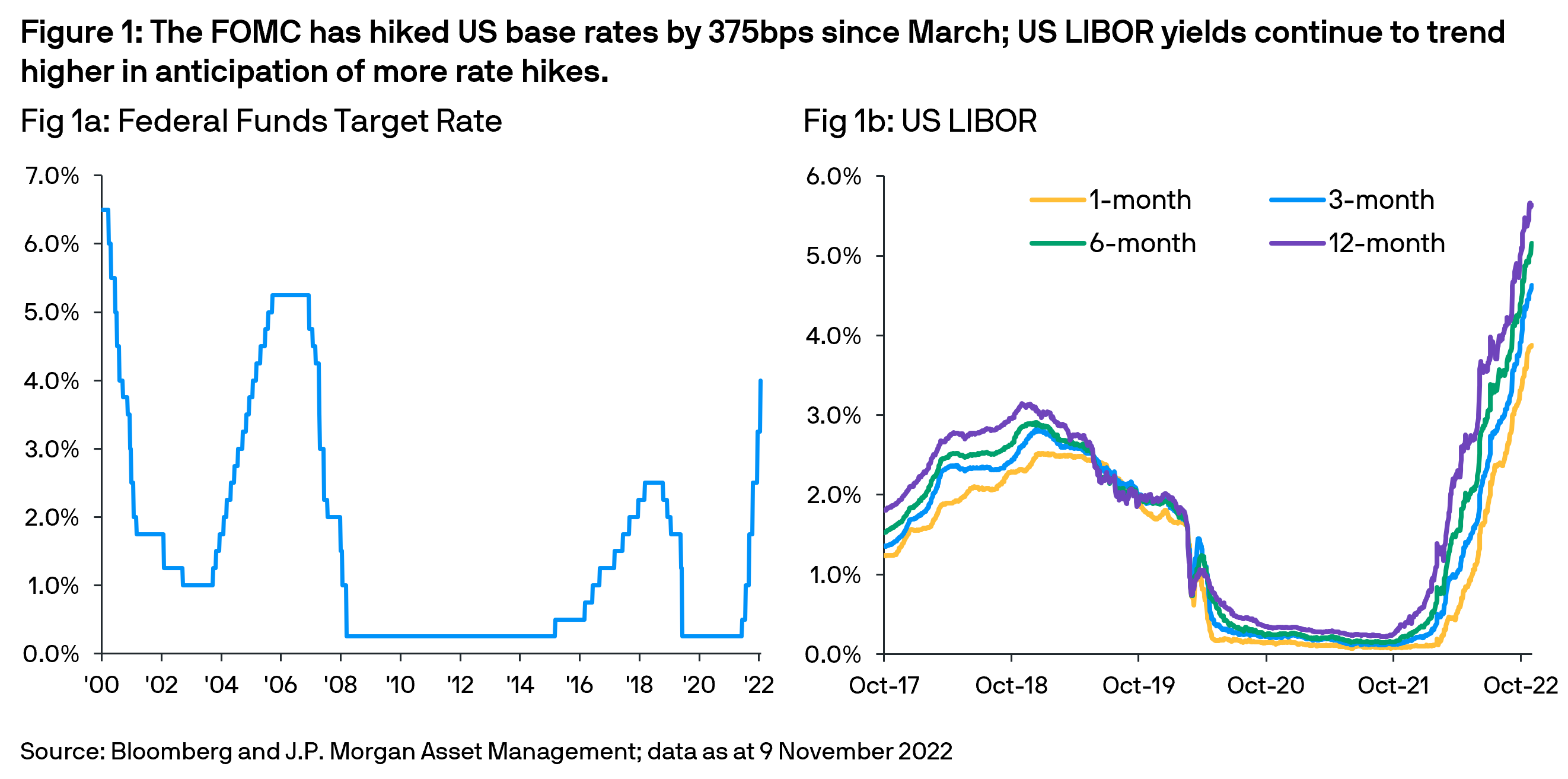 In reality, as Fed Chair Powell confirmed, the costs of under-tightening remain greater than the costs of over-tightening, and the data since the last meeting suggests that further interest rates hikes are still necessary. This effectively eliminates the possibility of a rapid pivot to rate cuts next year as the central bank seeks to avoid entrenched inflation expectations.

However, it does not imply a continuation of the current pace of jumbo rate hikes – rather a moderation of hikes and subsequent pause as inflation, a lagging indicator, peaks. During previous interest rate pivots, the gap between the Fed ending one series of rate movements and starting another averaged eight months. With inflation still elevated, this time the gap could be longer.
Implications of aggressive rate hikes
Historically, during periods of Fed rate hikes, shorter duration strategies outperform longer duration strategies (Figure 3). Notably during the current, aggressive period of Fed rate hikes, we believe money market strategies actually represented the one of the best investment opportunities. Their combination of high cash balances, low duration positions and short investment tenors limited downside risks while allowing rapid reinvestment at higher yields (Figure 4).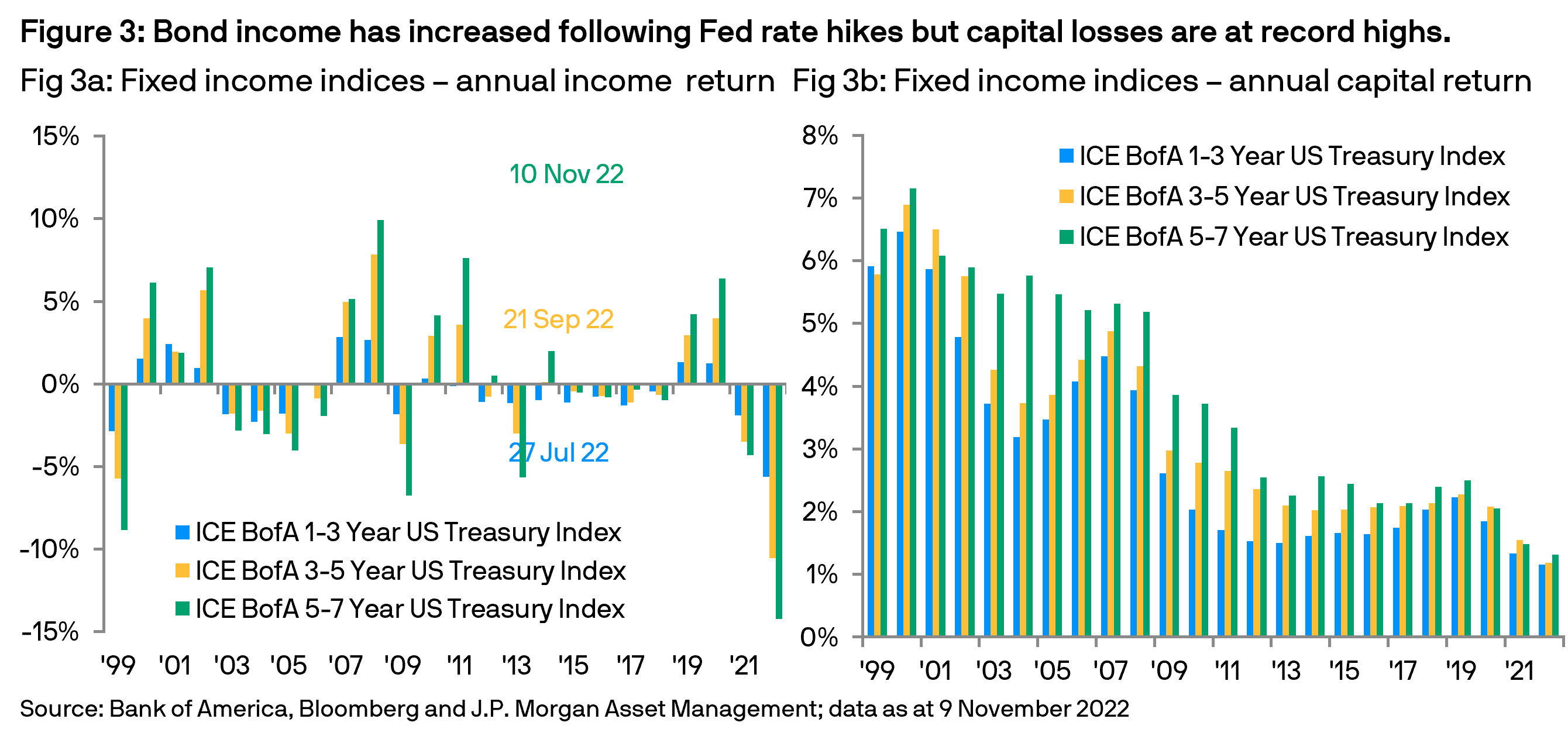 In contrast, while rising interest rates also generates higher bond income, typically this is insufficient to offset capital losses on longer duration bond strategies, especially over shorter time periods.
However, as the Fed's interest rate hiking cycle matures, we believe investment opportunity will shift towards ultra-short duration strategies. These strategies benefit from a steeper yield curve, the ability to buy a wider range of corporate bonds and higher duration flexibility relative to money market strategies.

In addition, the current, higher market yields present relatively attractive income, while the strategies' short duration positioning helps minimize downside risks due to any future interest rate volatility. In contrast, traditional fixed income strategies, due to their substantially longer durations, are still at risk of significant capital volatility as market driven interest rates fluctuate around the Fed's communications and evolving economic data trends.

Conclusion
While the latest inflation print has provided some relief that US prices may have peaked – one data point does not make a trend and the absolute level of inflation remains elevated by historic standards and well above the Fed's target rate. This suggests any US central bank pivot could evolve towards a slower pace of hikes followed by an extended pause, allowing the FOMC to ascertain the impact of its monetary policy actions. In this environment, we believe ultra-short duration strategies will likely present similar yield benefits to traditional fixed income while avoiding the heightened volatility caused by the continued geo-political, fiscal and inflationary uncertainties.