For the past three decades, the property sector has been a key driver of Chinese economic growth, representing approximately 20% of GDP1. Multiple state owned and private property companies acquired huge land banks and built massive numbers of apartments – all fueled by debt funding – as the country urbanized.
The combination of robust property sales and high returns made property companies' debt attractive for local and global investors. However, concerned about rising levels of indebtedness and increasing property speculation, the Chinese government introduced new regulations in 2020 to slow down developers' borrowing and curb investment.

What is the current situation of property sector and overall credit fundamental in China?
The tightened regulations has created an increasingly challenging environment for China property developers over the past two years. In 2021 and 2022, a significant number of privately owned developers experienced credit events including defaults and restructuring – which negatively affected investor sentiment.
Given the further economic slowdown in 2023 and increasingly negative consumer sentiment, we don't expect the situation will dramatically improve. However, the supportive fiscal and monetary policies announced by the government and People's Bank of China (PBoC) in 2H23, including lower lending rates, certain relaxation in mortgage loans rules and easing of housing purchase restrictions, are likely a turning point to stabilize the property sector in the near future.

Fortunately, over the past few years, despite the travails of Chinese property companies, other Chinese corporates and financial institutions have been largely quite resilient, with reasonable fundamentals, adequate profitability and steady credit quality. There have been few credit events in sectors outside property during the past 24 months. Therefore, we believe the current difficulty is mainly concentrated on the property sector alone.

Is there a contagious risk from the property sector to the banks in China?
We have seen some mild deterioration in Chinese banks' asset quality, but most banks remain highly resilient. Different from Western banks, even in the most difficult period between 2022 and 2023, no Chinese bank had experienced any international rating downgrade or credit event.
There are several key reasons why Chinese banks have remained resilient. Firstly, while mortgages represent the banks' largest exposures to the property sector (accounting for over 23% of the system loans1), banks are well protected by low Loan to Value (LTV) ratios and relatively resilient housing prices. Secondly, property development loans only account for less than 6% of the banking system loans. While there has been an increase in the development loans' non-performing loan (NPL) ratios, the scale has been largely manageable. In addition, the government has made sure sufficient contract sales proceeds saved in escrow accounts (so the projects are not impacted by the developers in trouble and the housing projects have enough financial resources to be completed or paid back the construction loans to the banks on time). Finally, NPL coverage ratios across Chinese banks is exceptionally high compared to global standards (typically over 200% in China, due to the strict government regulations) (Fig 1). This means banks have sufficient provisions to cover against NPL without triggering a credit events – although the cost of this protection pressures on their profitability.

In general, we believe banks may have passed the most difficult period in the cycle and their asset quality could gradually improve in the future. In addition, Chinese banks look healthy by other measures, especially as the improving liquidity from strong deposit growths in the recent years continue to support the banks' credit profiles and avoid tail risk (Fig 2).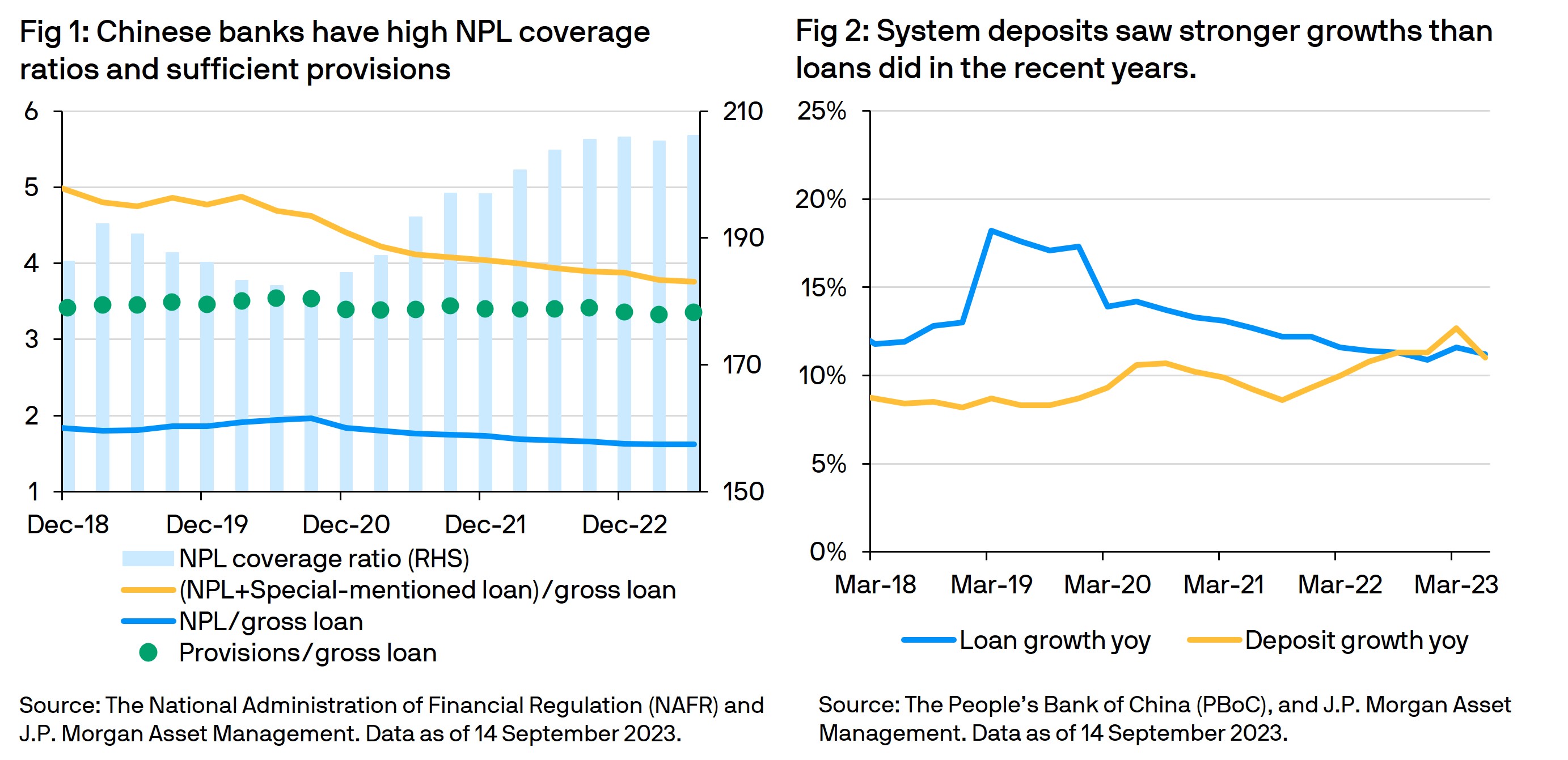 What are the exposures to China?
Due to the nature of our investment strategy, usually more than 70-80% of assets under management (AUM) of the liquidity strategies have exposures to financial institutions, while corporates may account for the rest. Historically, property developers in China have never fallen into investment scopes especially for rated liquidity strategies due to their relatively limited credit strength, low public ratings, and limited availability of debt in the short-end than banks'. In general, high quality, large government-backed companies are the typical corporates that liquidity strategies own. For banks in the liquidity strategies, the exposures are mainly the largest state-owned banks with obvious systemic importance to receive government supports when needed. Therefore, in general, we believe the overall risk in liquidity strategies is quite manageable, while retaining some distance from the recent noises.
Conclusion
While the property downturn in China has created challenges for the banks' operating environment, the banks' credit profiles likely remain resilient in the future. Last but not least, independent and in-depth credit analysis remains critical to navigate the challenging environment for credit investments.
1 Source: The people's Bank of China and J.P. Morgan Asset Management. Data as of 14 September 2023.
09tl231509033401
This information is generic in nature provided to illustrate macro trends based on current market conditions that are subject to change from time to time. This generic information does not take into account any investor's specific circumstances or objectives and should not be construed as offer, research or investment advice.