In Brief
The Bank of England (BoE) delivered its largest interest rate increase in 33 years, raising the base rate by 75 basis points (bps) to 3.00%, in line with market expectations.


However, the vote was dovishly split 7-1-1, with two members supporting a smaller increase and Governor Bailey pushing back against market expectations for future rate rises.


Elevated inflation means the path for rates remains uncertain and a cautious approach to duration remains prudent.
A split committee
At its 3 November monetary policy meeting, the BoE finally joined the 75bps rate hike club, increasing the base rate to 3.00%, the highest level in almost 14 years (Figure 1). Over the past 11 months, the central bank has pushed the base rate up by 290bps – the fastest pace on record – driven by a combination of elevated inflation, a tight employment market and the potential for this to lead to more persistent inflation, and the recent fiscal support for household energy bills.
Notably, while the majority of the Monetary Policy Committee (MPC) voted in favour of the largest hike in the current cycle, there were the two dissenters calling for a smaller rate hike. Swati Dhingra and Silvana Tenreyro voted for a 50bps rise and a 25bps rise respectively, both flagging recession risks and monetary lags as reasons.
Figure 1: UK Bank Rate is at 3.00% for the first time in almost 14 years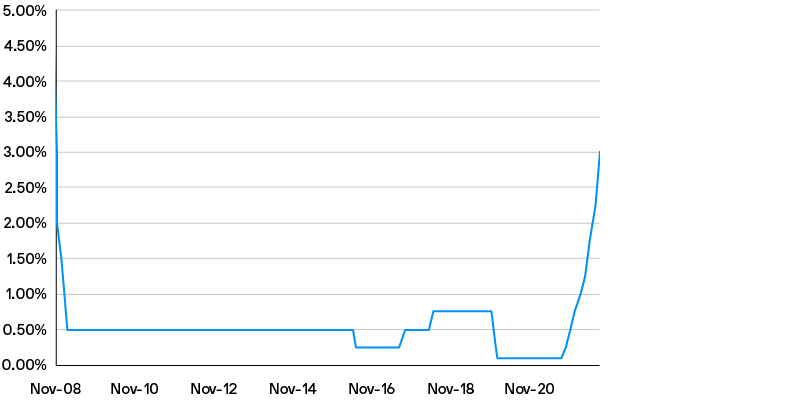 Source: Bank of England, as at 4 November 2022.

Pushback against market rate pricing
The BoE also published its latest growth, inflation and employment forecasts. Similar to August projections, the BoE's growth forecast remains very gloomy, predicting that we have may already entered a recession that is likely to persist until almost the end of 2024 (Figure 2). Against this economic backdrop, the BoE predicts that unemployment could increase to as high as 4.7%-5.7% by the end of 2024.
Figure 2: Bank of England modal GDP forecast (% year-on-year)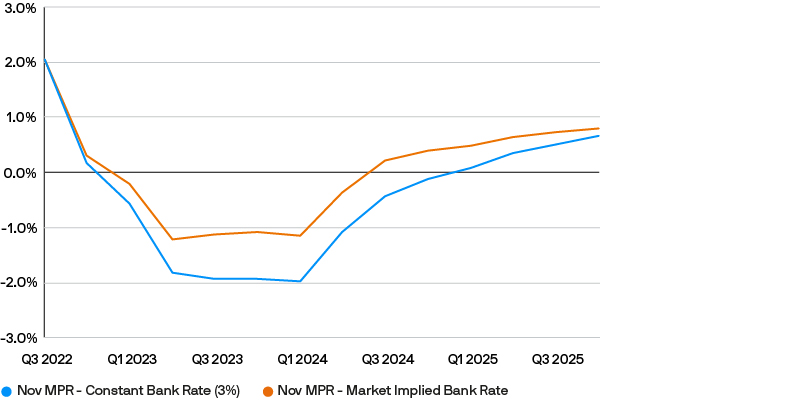 Source: Bank of England, as at 4 November 2022.
Interestingly, the BoE forecasts that CPI (consumer price index) will peak at 10.9% in the fourth quarter of 2022, before declining sharply throughout 2023 and 2024. The BoE gave a clear message to the market that it does not expect the peak in rates to be as high as the 5.25% that the market was pricing at the cut-off point for its projections. Based upon this rate trajectory, the forecasts show that inflation would undershoot its target comfortably at 1.4% by the end of 2024 (Figure 3); and even with base rates held at 3.00%, inflation would decline to 2.2% by the end of 2024.
Figure 3: Bank of England modal CPI inflation forecasts (% year-on-year)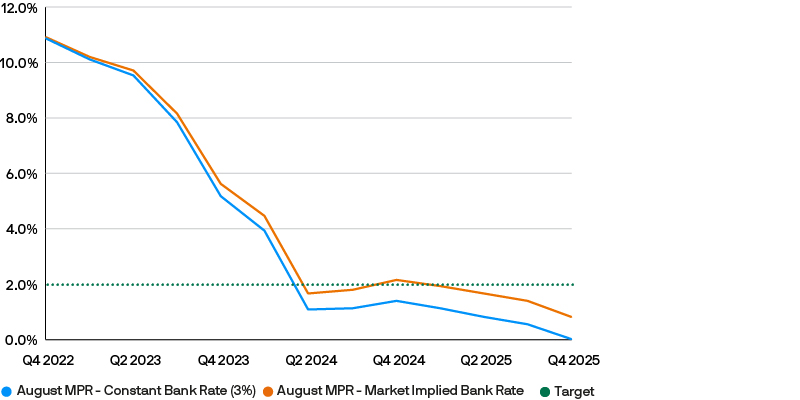 Source: Bank of England, as at 4 November 2022.
Complex guidance
While the BoE's optimistic inflation forecasts allowed it to push back on hawkish market expectations, it still confirmed that "further increases in the Bank Rate may be required" and vowed to stand ready to respond forcefully to more persistent inflationary pressures. This mixed messaging makes it difficult to predict the magnitude of the BoE's next move, as it continues to try to walk the tightrope of tightening policy enough to bring inflation back to target while being increasingly wary of not turning a prolonged downturn into something far worse.
However, we think it is important to take the BoE's latest forecasts with a large grain of salt, particularly as no assumptions have been made about the fiscal statement the government is due to announce on 17 November. The impact of this – whether expansionary or contractionary – could have a significant effect on future monetary policy.
Implications for sterling cash investors
Sterling cash investors will welcome this further increase in Bank Rate as improved overnight rates allow liquidity strategies to boost returns – albeit with a slight delay due to the need to reinvest term maturities. Our liquidity strategies have been very defensively positioned ahead of the November MPC meeting, with low weighted average maturity (WAM) and large cash balances enabling strategies to quickly benefit from the step-up in rates.
Money market rates have continued to rise through the course of this year as higher inflation necessitated more forceful BoE intervention. Fortunately, following a particularly volatile period in September after the government's aborted fiscal package, interest rates have levelled off and become more stable.
Nevertheless uncertainty about the future path of interest rates remains high, especially given concerns about growth, the government's fiscal response and the persistence of inflation. Against this backdrop, we believe investors should maintain a disciplined approach to cash management, ensuring sufficient diversification and laddering to optimise the balance of risk and return.
09nx220711115016
Source for all data is Bank of England, as at 4 November 2022, unless otherwise stated.
For Professional Clients/ Qualified Investors only – not for Retail use or distribution.

This is a marketing communication and as such the views contained herein are not to be taken as advice or a recommendation to buy or sell any investment or interest thereto. Reliance upon information in this material is at the sole discretion of the reader. Any research in this document has been obtained and may have been acted upon by J.P. Morgan Asset Management for its own purpose. The results of such research are being made available as additional information and do not necessarily reflect the views of J.P. Morgan Asset Management. Any forecasts, figures, opinions, statements of financial market trends or investment techniques and strategies expressed are, unless otherwise stated, J.P. Morgan Asset Management's own at the date of this document. They are considered to be reliable at the time of writing, may not necessarily be all inclusive and are not guaranteed as to accuracy. They may be subject to change without reference or notification to you. It should be noted that the value of investments and the income from them may fluctuate in accordance with market conditions and investors may not get back the full amount invested. Past performance and yield are not a reliable indicator of current and future results. There is no guarantee that any forecast made will come to pass. J.P. Morgan Asset Management is the brand name for the asset management business of JPMorgan Chase & Co. and its affiliates worldwide. To the extent permitted by applicable law, we may record telephone calls and monitor electronic communications to comply with our legal and regulatory obligations and internal policies. Personal data will be collected, stored and processed by J.P. Morgan Asset Management in accordance with our EMEA Privacy Policy www.jpmorgan.com/emea-privacy-policy. This communication is issued in Europe (excluding UK) by JPMorgan Asset Management (Europe) S.à r.l., 6 route de Trèves, L-2633 Senningerberg, Grand Duchy of Luxembourg, R.C.S. Luxembourg B27900, corporate capital EUR 10.000.000. This communication is issued in the UK by JPMorgan Asset Management (UK) Limited, which is authorised and regulated by the Financial Conduct Authority. Registered in England No. 01161446. Registered address: 25 Bank Street, Canary Wharf, London E14 5JP.