Multi-Asset Solution Monthly Strategy Report
Global markets and multi-asset portfolios
25/04/2022
Sylvia Sheng
Tim Lintern
Preeti Parashar
In Brief

Emerging market (EM) equities have lagged developed market (DM) equities for more than a year. While EM stock valuations are now at more reasonable levels, the EM corporate earnings outlook remains a concern.
Weak investor sentiment in emerging markets reflects widespread concern about China's economy as a wave of COVID-19 cases and lockdowns, fears about the property market and supply chain issues weigh on activity. Stimulus and accelerating vaccinations may yet offer some positive catalysts.
Global growth concerns and repricing of hawkish U.S. monetary policy have also weighed on other large EM economies. But as fears of an imminent recession recede, these headwinds could ease.
Typically, EM equities tend to start performing not when the good news starts, but when all the bad news has been discounted. In our view, a lot of negative news is already priced into EM stocks and the second half of 2022 may look better for EM assets.
Our portfolios remain near neutral in stock-bond, but at the margin we are warming to equities once more. Bond underweights have been trimmed a little, and shorter duration high yield credit is beginning to look more attractive.
When might emerging market stocks stage a comeback?
Since the start of 2021, EM equity indices have trailed developed markets by 28%. Lower valuations, light positioning, and washed-out sentiment are becoming more supportive to EM assets. But so far there has been little let-up in pressure from fundamental macro data or earnings downgrades. Along with the global risks that weighed on stock markets in the first quarter, EM equities have felt a drag from China's recent lackluster activity data. In addition, regulatory announcements continue to weigh on investors' outlook for China's technology sector.
More constructive sentiment towards EM assets likely requires a sense that Chinese economic risks have bottomed. And although we expect some near-term weakness, we see a path to improvement in the second half of 2022.
China still faces near-term headwinds
We take a cautious view of China's near-term outlook. March activity data showed a broad-based slowdown in growth momentum amid the worst COVID-19 outbreak since March 2020. Case counts remain high, and growth momentum may soften further in Q2 before rebounding in the second half of the year.
Risks to our base-case growth forecast for China (GDP of 4.6% for 2022) are tilted to the downside. The latest Omicron wave poses significant challenges to the Chinese economy. The economic costs of lockdown measures are higher than in previous outbreaks, weighing on production as well as consumption. Tight nationwide travel restrictions are causing domestic logistics bottlenecks. Road freight flow, more than 70% of China's overall freight traffic, fell by more than 25% year-over-year in early April. We expect China to maintain its zero-COVID policy in the near term and Omicron's high infectiousness raises the risk of further lockdowns even after the current wave fades.
Additionally, China's property sector data continued to slow in March. High-frequency indicators, especially home sales volume, point to continued weakness in April. We see a rising risk of a more persistent property downturn: a decline in new home prices in lower-tier cities may cause more prospective home buyers to take a "wait and see" approach.
Policy stimulus and vaccine rollout offer hope
Facing economic pressures from the Omicron outbreak, as well as weakness in the property sector, we expect Chinese policymakers to step up policy easing to support growth. Monetary, fiscal and property sector easing measures that were recently announced have not yet offset the fallout from tighter COVID-19 restrictions.
But further easing through reserve requirement ratio (RRR) or policy rate cuts will likely be limited. That's because policymakers will look to protect banks' net interest rate margins as well as the interest rate differential between China and major DM economies. Rather, we think monetary easing will likely be focused more on boosting credit growth through relending and window guidance (an informal mechanism by which a central bank guides a bank to issue loans).
COVID-19 policy will be key to China's growth outlook, in our view. Higher vaccination rates and mass domestic production of virus treatments are likely needed before China shifts to a less onerous approach to COVID-19. China is still lagging in the vaccination of its older (60-plus years) population. As of April 11, 57% of China's over 60-year-olds had received a booster shot, compared with an 80%-90% share in other DM economies such as the UK and Canada. At the current pace, it will take China around 13 weeks to get 80% of its elderly population boosted. Our base case assumes China will exit its zero-COVID policy around Q4 this year, after the 20th Party Congress.
Markets may shift sooner. Early signals of plans to ease China's zero-COVID policy, together with higher vaccination rates and further stimulus may be enough to reassure markets as soon as mid-year.
A better second half for other EM regions
As the largest country weight within MSCI EM, China remains central to our wider EM views. However, Taiwan, South Korea, and India, which together account for more than 40% of the index, are also critical to the outlook for EM equities.
These economies face several challenges. South Korea and Taiwan are export-oriented, and have recently faced headwinds from slowing global growth expectations, rotation in demand from goods to services, and supply-chain disruptions. India, as a large net importer of energy, continues to struggle with high energy prices. Additionally, EM markets face headwinds from an increasingly hawkish Federal Reserve (Fed), as well as geopolitical tensions that have, in turn, led to a stronger USD.
However, we believe that markets have discounted many of these challenges. Our base case for 2022 anticipates trend-like global growth. We expect that fears of an imminent recession will fade in the coming months which could boost export-heavy economies. We expect energy prices to remain high, but not move as drastically as they have over the past quarter. And in trade-weighted terms, we increasingly see potential for the dollar to soften modestly in 2H22 as extended long positioning unwinds and Fed rate expectations are fully priced.
Taiwan has suffered from growth concerns and from rising rates and commodity prices, but scope for improvement in private consumption and investment in 2H22 may lend support. The recent easing of South Korea's COVID-19 restrictions as the Omicron wave subsides could lead to a pickup in activity and the potential for EPS growth estimates (currently the lowest in the region at just 0.2%) to improve. India, meanwhile, may face persistent challenges from higher energy costs and rising domestic inflation putting pressure on already elevated earnings expectations. More broadly, these economies could see some support as the global growth narrative begins to improve.
A potential turning point for EM equities
Downside momentum in EM equities may have already begun to stall. Over 2021, EM equities underperformed their DM counterparts by 24.5%, while year-to-date the underperformance is just 3.5%. Encouragingly, the relative earnings revision ratio for EM equities appears to have bottomed (Exhibit 1). So far in 2022, DM indices have been "catching down" to EM indices, rather than EM stocks staging any sort of recovery. Much of the weakness in global stocks comes from repricing for slower global growth as well as discounting for higher interest rates. A better global growth picture is a necessary but probably insufficient condition for EM equities to start outperforming DM equities. We remain more optimistic than some about the state of global growth: while global economic data have dipped, neither the level of activity, nor the strength in labor markets, is consistent with imminent recession.
There are tentative improvements in the EM vs. ACWI relative earnings revision ratio
Exhibit 1: Relative earnings revisions ratio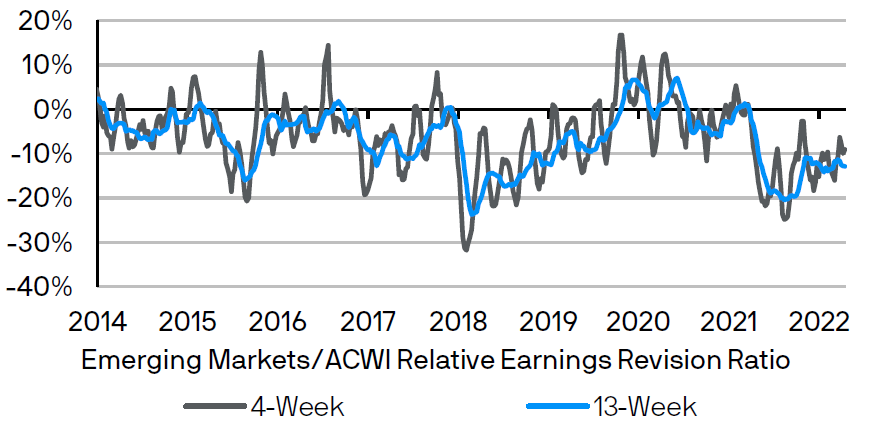 Source: Datastream, J.P. Morgan Asset Management; data as of April 2022.
As a result, and as we approach mid-year, we see scope for the EM outlook to become more favorable. Further policy stimulus from China, combined with evidence of a successful vaccine booster program that would pave the way for easing COVID-19 restrictions, should be important steps. Equally, sustained goods demand and avoiding a further deterioration in supply chains could lend support to other key EM Asian regions. Finally, if the U.S. is indeed past the peak in year-over-year inflation prints then the USD could give back some of its early year strength.
Above all we should be reminded that although there are reasons for continued caution in emerging markets today, history indicates that EM equities tend to start performing not when the good news begins, but when all the bad news is already in the price. Already, with the forward PE ratio of EM equities at just 12.0x, compared with 17.2x for DM equities, EM equities trade cheap relative to their typical discount.
Asset allocation implications
Our portfolios continue to be close to neutral in stock-bond allocation, but recently we have started to warm up to equities once more. The early signs from the earnings season suggest a decent level of corporate resilience both in revenues and margins. Certainly risks remain, but we believe that the fears over imminent recession are overdone. While policy rates are rapidly tightening, overall levels of growth continue to support earnings. Regionally, we prefer the U.S. and commodity heavy indices, and as the essence of this note suggests we are currently neutral on EM equities. Still, we continue to scrutinize markets closely for opportunities.
In fixed income, we have trimmed some of our duration underweights as yields have jumped in response to expectations of tighter policy. Our remaining duration underweights are also now tilting toward regions such as Japan and Europe and are less concentrated purely on U.S. Treasuries. We increasingly see value in shorter duration high yield credit given the rise in all-in yields together with limited near-term corporate refinancing needs.
Exhibit 2: MAS Asset Class Views
The tick chart and views expressed in this note reflect the information and data available up to March 2022.
0903c02a82a2323f