Given the 12.7% y/y growth in 1H21, the annual growth goal of 6% remains achievable in 2021 despite the recent slowdown. That said, the below-trend growth has raised some concerns about China's short-term economic stability.
Tai Hui
Global Market Strategist
China's economic growth continued to slow in the third quarter of 2021, with a year-over-year (y/y) real GDP growth of 4.9% reported (2Q2021: 7.9% y/y, consensus: 5.5% y/y). Given the 12.7% y/y growth in 1H21, the annual growth goal of 6% remains achievable in 2021 despite the recent slowdown. That said, the below-trend growth has raised some concerns about China's short-term economic stability.
Recent monthly indicators for economic activity also reflected weakness in domestic demand. Retail sales grew by 4.4% y/y in September (August: 2.5% y/y), still below the average of around 8% before the COVID-19 pandemic. Regional outbreak resurgence and lockdowns, as well as supply bottlenecks in the automobile industry, disrupted the consumption recovery. Further challenges might come from the softening consumer confidence. In PBOC's quarterly survey of depositors, the proportion of respondents planning to increase consumption dropped to 24.1% in 3Q from 25.1% in 2Q, while those planning to increase savings rose to 50.8% from 49.4%.
Meanwhile, investment activities have been subdued as a result of the tight credit conditions. September fixed asset investment declined 2.5% y/y per our estimate based on the year-to-date data from the National Bureau of Statistics. The major drag came from the real estate sector, which saw 3.5% y/y decline in September (our estimate). In addition, the slow issuance of local government special bonds has limited local governments' capability in infrastructure investment.
In contrast to domestic demand, strong momentum remained in China's external sectors. China's exports rose by 28.1% year-over-year in September, far beyond the market expectations of 21.1%. A rebounding demand from developed markets coupled with the sluggish recovery in Southeast Asian exporters are driving this growth. Although strong exports are playing a key role as a growth stabilizer, there are concerns on the sustainability of the current trend as growth peaks in the developed economies and supply chains restore in Southeast Asia.
EXHIBIT 1: EQUITY PERFORMANCE OF MSCI CHINA VS. S&P 500
DIFFERENCE BETWEEN MONTHLY Y/Y CHANGE OF MSCI CHINA INDEX OVER S&P 500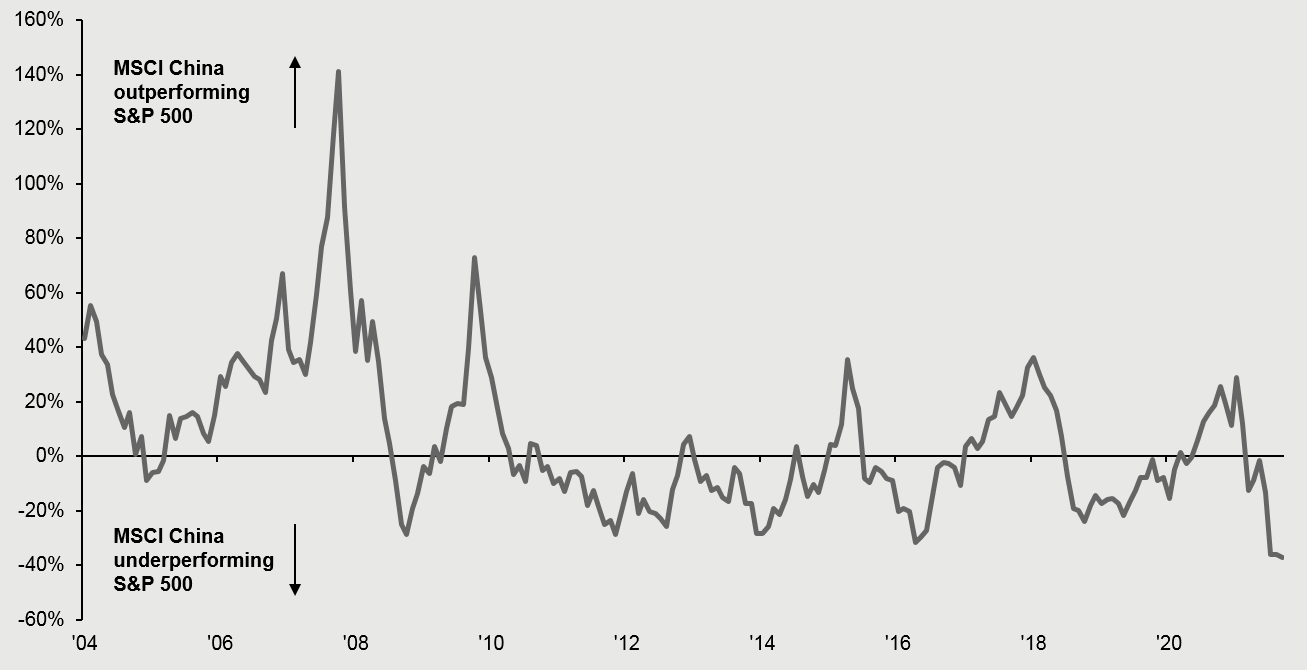 Source: FactSet, MSCI Global, S&P Global, J.P. Morgan Asset Management. Past performance is not a reliable indicator of current and future results. Data reflect most recently available as of 19/10/21.
At the beginning of this year, the Chinese government set an annual goal of 6% GDP growth, leaving sufficient room for fundamental reforms aiming to improve the country's long-term growth potential. However, short-term shocks seem inevitable when a variety of policy measures have been introduced in a short period since July. The intensive implementations of decarbonization policies, education burden reduction, internet regulation, as well as escalating property market control, weighed on domestic consumption and investment. As a result, the policy pendulum is swinging back to supportive measures, although the priority remains to be the quality of growth rather than being obsessed with a number. The direction for long-term reforms will not be changed.
The PBOC announced a 50bp RRR cut in early July hoping to encourage bank lending to small- and medium-sized enterprises. In September and October, there have been signals for additional supportive measures. The PBOC is urging commercial banks to accelerate loan issuance to qualified developers and home buyers. Restrictions on coal supply and power generation have also been loosened in order to prevent future power crunches. In addition, government bonds have been issued at a faster pace since August to support local investment. Looking forward, economic activities are likely to rebound in 4Q21, supported by a pickup in liquidity.
Investment implications
Admittedly, investors are still seeking clarity on a number of issues, include the regulatory outlook, how the property developers would meet their funding needs and the stability power generation. That said, the year-to-date underperformance of Chinese equities relative to other markets should have reflected some of these concerns. For example, as Exhibit 1 shows MSCI China has underperformed the S&P 500 by almost 30 percentage points in September on an annualized basis. Such underperformance has happened before, but this also often marks the start of the pendulum swinging in the opposite direction over the subsequent 12-18 months. This turnaround would need some triggers, such as more supportive economic policy from Beijing, stabilization in the real estate sector, greater degree of clarity on regulatory reform or an upswing in consumer confidence. While this could still take more time to materialize, it could be a powerful combination with long term structural themes, such as more spending by low to middle income group, technology self sufficiency and policies to reduce emission, to kick start market confidence once more.
09tc211910024509