Introduction:
After being dormant for the past several years, inflation has reemerged as a key investor concern. The combination of rising food prices, surging fuel costs and supply chain bottlenecks has pushed the Consumer Price Index (CPI) to multi-year highs in several markets around the world (Fig 1).
Developed market central banks, attempting to balance price concerns with the need to support economic growth, are defending record low interest rates and quantitative easing (QE) programs with reassurances that inflation is transitory. Nevertheless, the recent, significant jump in interest rates – as markets price in earlier than expected interest rate hikes –has raised the spectre of significantly tighter monetary policy.
In contrast, across most of the Asia-Pacific (APAC) region, inflation remains relatively benign, offering central banks the luxury of patience as core prices linger within or even still below central bank target ranges. The rationale for this difference and anxiety regarding its durability have important implications for cash investors across the region.
The challenges of rising inflation:
Inflation is the sustained increase in overall price levels in an economy – effectively, the cost of living. Modern monetary policy theory posits that central banks should focus on maintaining a low and stable pace of inflation, to encourage economic growth and avoid destabilizing volatility. Historically, many central banks selected a 2% inflation target, but in recent years have notably failed to achieve this level of inflation.
The Covid pandemic provoked a substantial change in consumer behavior and spending. Demand pivoted from services to goods, while lockdowns disrupted complex international supply chains already operating close to capacity. Combined with the recent surge in commodity and energy prices, these factors have pushed CPI inflation towards multi-year highs.
Fig 1. Across APAC, food represents a large share of the inflation basket. Developed market inflation has risen rapidly in recent months.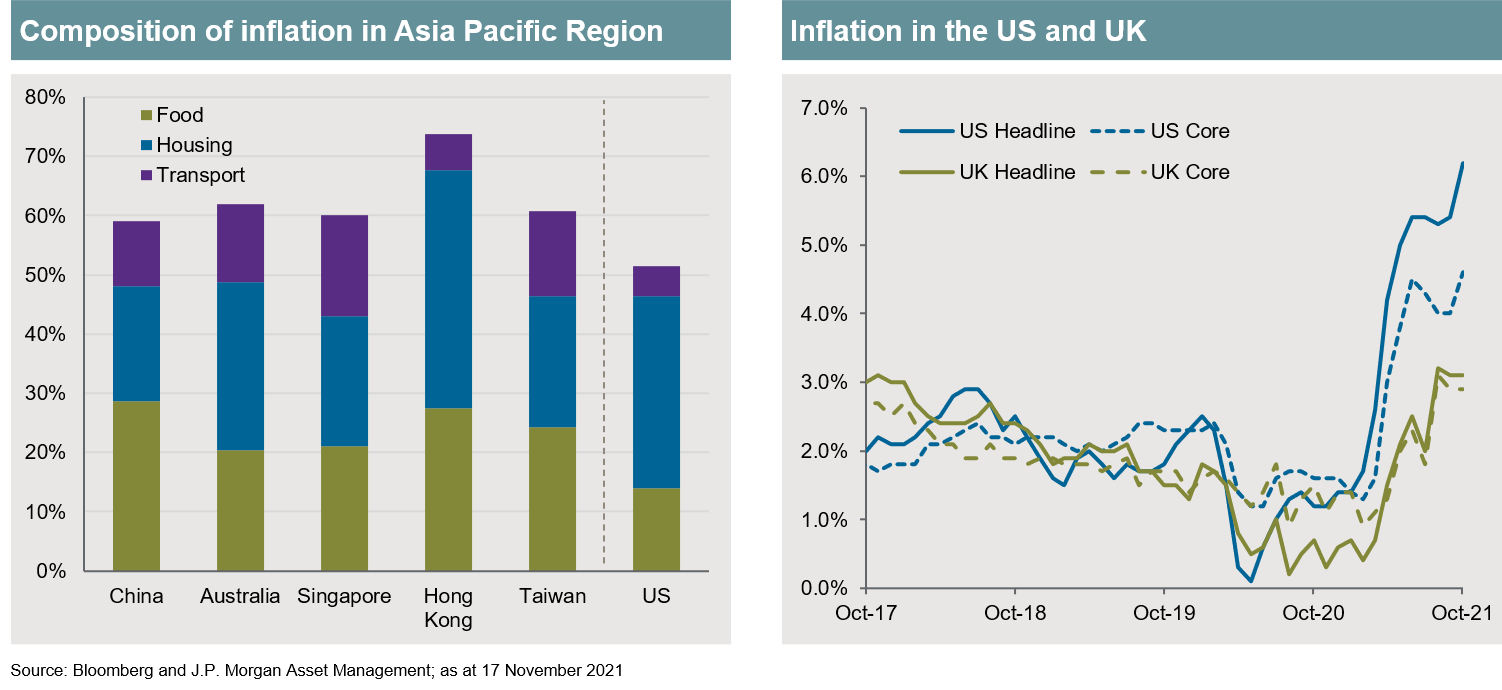 While the current inflation spike is driven by supply-side concerns – which should abate as supply chains normalize and economies reopen – markets fear that higher price increases are becoming structural and will eventually impact the demand side via higher wages. Against this background, we believe developed market hyper-easy monetary policies are ending, with central banks tapering QE programs and discussing the potential conditions for rate hikes as early as 2022 or 2023.
Why is Asia Pacific different?
Across APAC, several local factors have moderated upward inflation impulse (Fig 2) relative to those witnessed elsewhere.
Zero-Covid policies, efficient tracing, and rapid initial lockdowns have allowed the APAC region to avoid significant economic disruption caused by high infection rates. Consumption patterns have remained broadly unchanged, mitigating the impact of higher prices for consumer durables. While strong exports have supported APAC currency strength, limiting the impact of imported inflation.
Fig 2. Despite the increase, APAC headline and core inflation remains relatively muted by historic standards.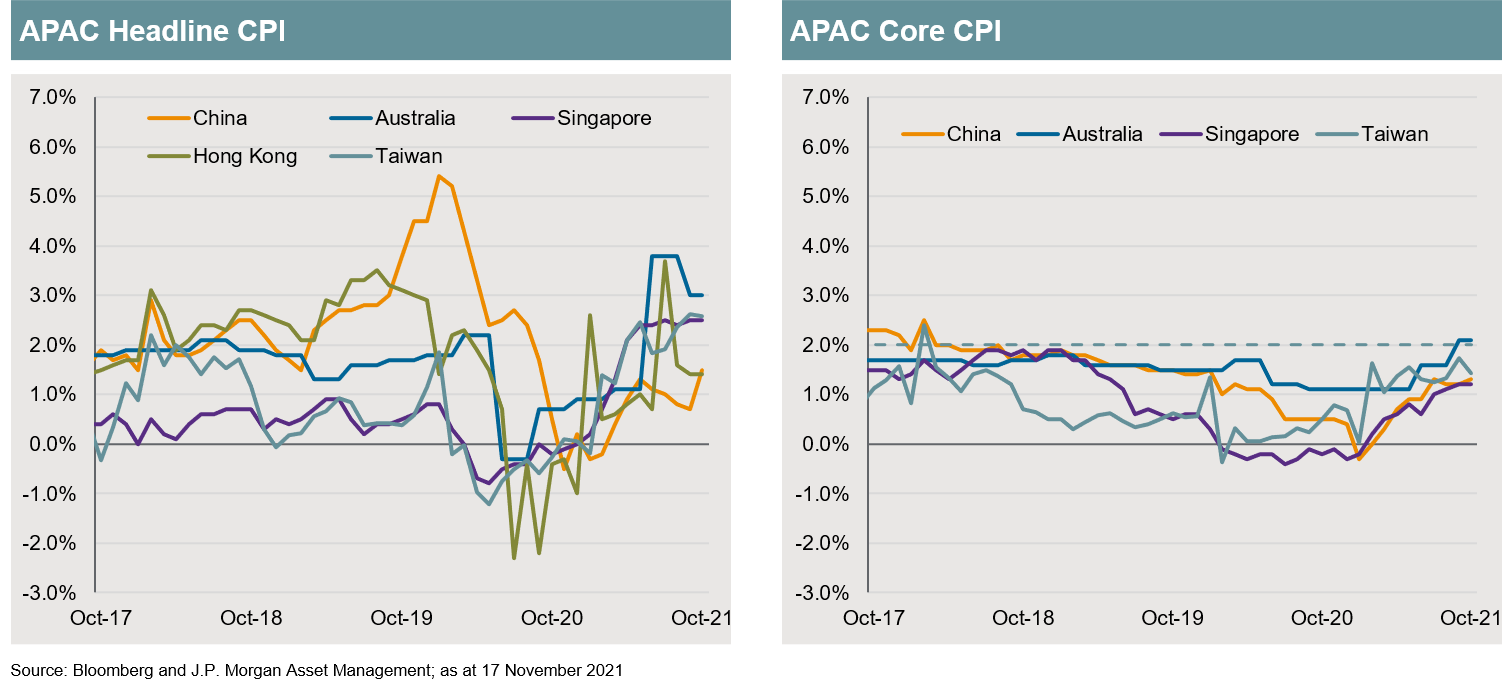 Food prices (Fig 1) represent a significant portion, typically 25% to 30% of APAC inflation baskets. With key vegetable and pork prices well contained (or in outright deflation in the case of China), the impact of higher non-food inflation has been mitigated. Meanwhile, the impact of soaring energy prices have been subdued relative to developed markets due to their lower basket weight and proactive government mitigation measures.
Although property markets across APAC remain relatively elevated by historic standards, only Australia and South Korea have experienced overheated housing prices triggered by lower base rates. The former has implemented macro-prudential measures while the latter has hiked base rates to curtail market activity. China's property prices have moderated following the introduction of restrictions on the sector, while large public housing sectors in Hong Kong and Singapore have helped limited house price inflation in these two markets.
Finally, while the sole official focus of many developed market central banks is inflation, the majority of APAC central banks have multiple goals – including growth, employment and stability – of which inflation is just one. In addition, APAC central banks cut base rates less in 2020, while few implemented QE – suggesting less monetary policy tightening is now required to normalize rates.
Market impact and investor implications
Despite these favourable attributes, the APAC region is not immune to inflationary pressures. The recent increase in energy and commodity prices combined with waning food deflation and overheating housing markets have forced regional central banks to review their monetary policy stances.
For the moment, the majority of CPI readings in the region are still printing at or below central banks' targets, allowing the majority of central banks, including in Australia, Thailand, Indonesia, the Philippines and Taiwan to keep base rates unchanged. A number of other central banks, including in South Korea, New Zealand and Singapore have already started hiking base rates; the former two to control house prices, while the latter is more exposed to imported price inflation. Finally, China's central bank continues to believe inflation will remain benign, while prioritized stability and liquidity. Given this backdrop, short-term APAC interest rates remain relatively low while yield curves have begun to steepen.
Fig 3. APAC short-term interest rates remain broadly stable
Expectations that current inflationary pressures will become more permanent, suggests the era of record low interest rates is ending. However, more muted regional inflation relative to developed markets, together with unique local factors which could mitigate any upward price spikes, suggest little urgency for regional central banks to aggressively hike base rates.
While time deposit rates are unlikely to increase until central banks actually hike base rates, the rebound in market driven yields offers a welcome respite for APAC local currency cash investors after an extended period of low returns. In a rising rate environment, a disciplined and diversified cash investment strategy across a combination of deposits, money market and ultra-short duration solutions is critical to optimize returns while reducing the possibility of opportunity losses as market volatility increases.
Diversification does not guarantee investment returns and does not eliminate the risk of loss.