Previous episodes when the Fed sought to unwind its QE program didn't mark the end of the bull market for equities and risk assets more broadly.
Tai Hui
Chief Market Strategist, Asia Pacific
The ongoing economic recovery in the U.S. is fueling market expectations that the U.S. Federal Reserve (Fed) could soon start to rein in its extraordinary monetary policy measures. This should start with the gradual reduction of the current USD 120billion per month in bond purchases around the end of this year. Previous episodes when the Fed sought to unwind its quantitative easing (QE) program didn't mark the end of the bull market for equities and risk assets more broadly. However, there are notable differences between 2013 and 2021 that investors will need to consider.
The Fed started to taper its asset purchases in December 2013 and it is worth looking at the market performance in 2014 as a starting point (Exhibit 1).
U.S. equities (S&P 500) and Asian equities (MSCI Asia ex-Japan) delivered returns of 14% and 3% respectively in 2014. This shows that the Fed cutting back on bond purchases does not necessarily hurt investor sentiment or risk assets. More importantly, there were significant variations within Asia. India, China's onshore market and Taiwan delivered double digit returns in 2014, but South Korea ended the year in negative territory.
For fixed income, policy normalization did not lead to higher U.S. government bond yields. In fact, contrary to expectations, the 10-year Treasury yield fell from 3% at the start of 2014 to 2% by the end of the year, when QE tapering was completed. This benefited U.S. government bonds and investment grade corporate debt, which have longer durations and perform better as yields fell.
Nonetheless, we may not want to copy and paste the 2014 investment playbook for 2022. There are some significant differences between 2013 and 2021, which mean markets may not react in the same way and investors may need to adjust. The Fed's policy is important, but its outlook is only one of many factors determining asset allocation in the months and quarters ahead.
On equities, U.S. equities were notably cheaper in 2014. S&P 500 price-to-earnings ratio at the start of 2014 was 15 times, compared with 21 times now. While we still believe corporate earnings in the U.S. should continue to grow as its economy recovers from the pandemic, investors should look diversify their equity allocation via international markets outside of the U.S.
EXHIBIT 1: TOTAL RETURNS OF SELECTED ASSETS IN 2014
INDEX RETURNS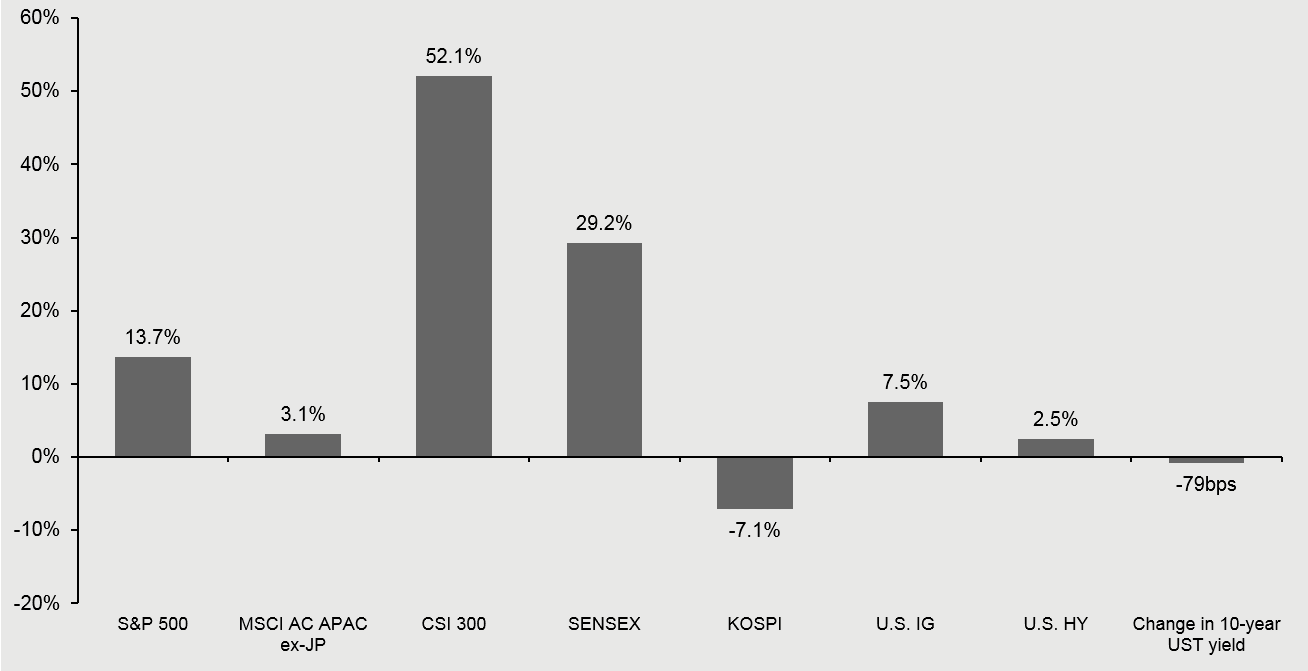 Sources: Bloomberg L.P., FactSet, MSCI Global, J.P. Morgan Asset Management.
Data reflects most recently available as of 23/08/21.
For fixed income, bond yields rose sharply before tapering began in 2014, as the Federal Reserve Chairman at the time, Ben Bernanke, surprised the market by discussing pulling back asset purchases with very little warning. This was known as the "taper tantrum". In 2021, the Fed has been much more pragmatic in managing market expectations. 10-year U.S. Treasury (UST) yield is well below 1.5% now, compared with 3% at the start of 2014. Our expectation is that UST yields will rise into year-end and continue higher in 2022, creating a challenging environment to generate returns in fixed income due to duration risk and relatively expensive valuations.
Investment implications
As mentioned above, international diversification in equity allocation is important. In addition to the U.S., European equities are in the bright spot given ongoing economic rebound and relatively high vaccination rates. Looking further out on the horizon, Asia and emerging markets more broadly will deserve investors' attention for several reasons.
First, the vaccination rate in Asia and emerging markets is gradually rising and the condition for a more sustained domestic demand recovery should be in place at the end of 2021 or early 2022. Second, some equity markets, especially the Association of Southeast Asian Nations and emerging markets ex-Asia, have lagged in the past 18 months due to weak economic performance, implying relatively attractive valuations. Finally, we believe the U.S. dollar should weaken in the medium to long term due to expensive valuation and high fiscal and current account deficits in the U.S. This should in turn prompt more international capital to flow into Asia and emerging markets as investor seek higher returns.
For fixed income, its challenges from duration risk and low yields can be addressed in three ways. First, investors will need to look for fixed income assets with short duration, or low sensitivity to rising rates. Second, high yield bonds, either U.S. corporate high yield debt, or emerging market fixed income, can help to generate much-needed return from their relatively high coupons. Finally, investors can consider alternative assets, such as real estate or infrastructure, that generate high levels of income, but with weak relationship to the bond market.
09gs212408015856