Principles for a Successful Retirement
Asia | Hong Kong | Using Insights to achieve better client outcomes
TAKE CONTROL OF YOUR RETIREMENT
Achieving your retirement goals takes disciplined saving, spending and investing—all of which can feel overwhelming, especially as the retirement landscape in Hong Kong continues to change. It's times like these when an asset manager can help you focus on what matters most to your financial future. This booklet can help, too. It presents eight essential retirement planning principles. Together with guidance from your asset manager, it can give you the control and confidence to make more informed decisions and take positive steps toward a successful retirement.



EIGHT PRINCIPLES FOR A SUCCESSFUL RETIREMENT
1. FOCUS ON WHAT YOU CAN CONTROL … AND PLAN FOR WHAT YOU CAN'T
Planning for retirement can be overwhelming as you navigate various retirement factors. There are items over which you have no control, like the future of tax policy and market returns, and factors over which you have some control, like longevity and how long you plan to work. Oftentimes, you may find yourself focusing on what you cannot control. The sooner you focus on what you can control—how much you save vs. how much you spend and how you are invested—the more likely you will be successful.
Saving and spending are opposite sides of the same coin—and you'll need to focus on balancing both throughout your life. While you are accumulating retirement wealth, you will need to consistently save and invest, balance competing goals, such as education for your children or buying a home, and make sure you maintain a short-term cushion for unexpected expenses. In retirement, not overspending—particularly if you invest too conservatively—can help to ensure your portfolio lasts as long as you do.
While you have no control over the market, choosing an asset allocation strategy that adjusts over time can provide more for your retirement. You will need to prioritize growth when retirement is far away and shift toward mitigating risks like inflation and the sequence of returns as retirement gets closer. Most importantly, you need a plan that helps you balance all of these factors and make adjustments as your life, the markets and the economy change.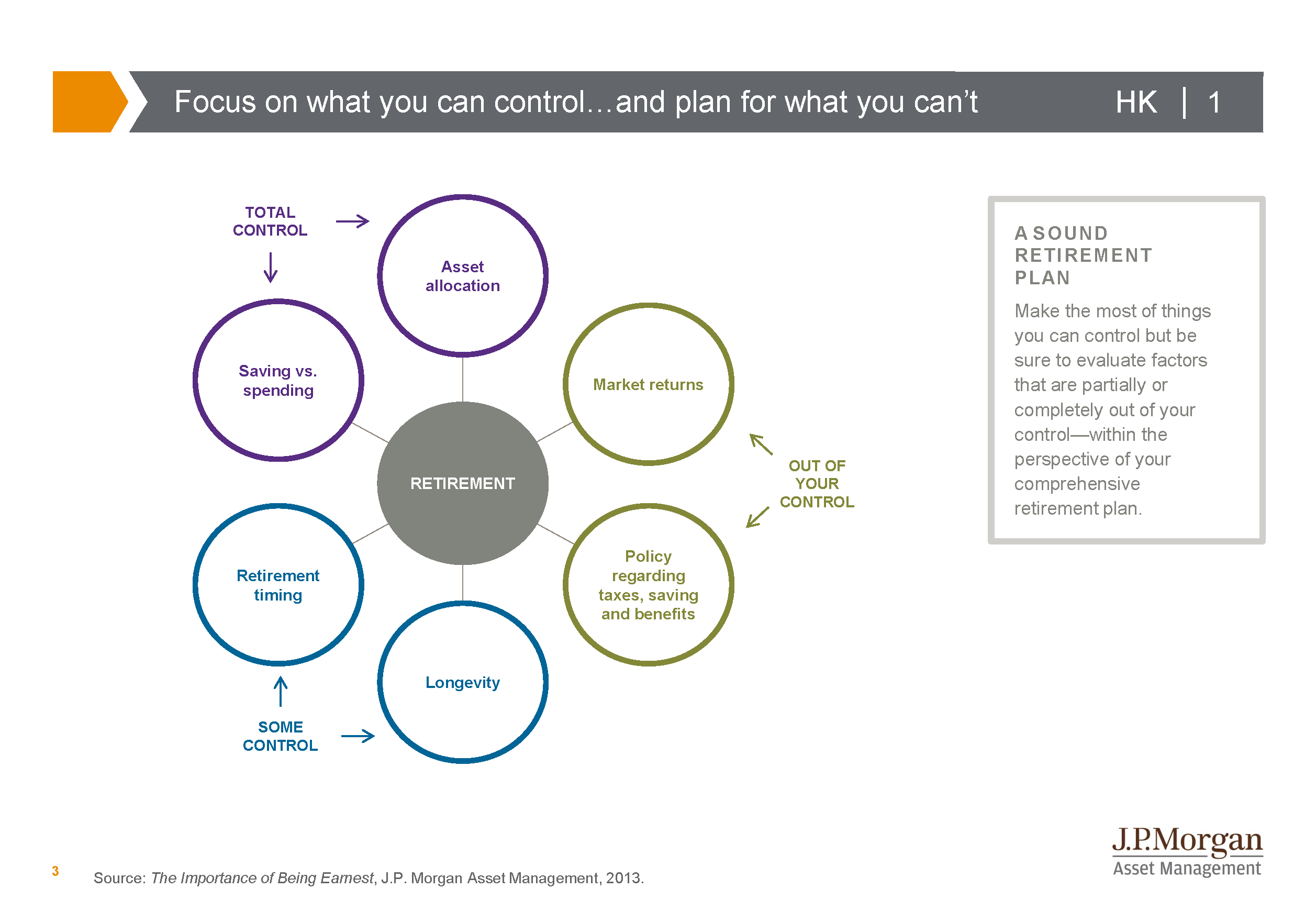 2. CREATE THE PLAN YOU NEED FOR THE RETIREMENT YOU WANT
Define your goal and craft a plan: Know your checkpoint
Creating a retirement plan doesn't have to be daunting—it's important to just get started. Once you know where you are heading, a comprehensive retirement plan is like any good GPS. It helps you get, and stay, on track to your destination—even as your life, the markets and the economy change. Your retirement savings checkpoint tells you how much you should have invested today to be on pace to maintain your current lifestyle through 30 years of retirement.
Your checkpoint value assumes that, specifically for your retirement, you will invest 10% of your income going forward, at 5.5% return pre-retirement and 4.5% return post-retirement. The current Mandatory Provident Funds (MPF) contributions by employer and employee is 10% up to a maximum of HKD 3,000 per month (as of June 2019). As a result, if your monthly salary exceeds HKD 30,000, the checkpoint assumes that you are also saving the excess amount beyond MPF cap toward your retirement. If you save less than 10% in total or expect lower investment returns, your checkpoint value may need to be higher in order to maintain your lifestyle in retirement. As such, you should consider investing more savings in long-term growth assets in order to fund a comfortable retirement.
If you are below your checkpoint today, or find you have a very different vision for your retirement tomorrow, work with an asset manager to adjust your plan. Be sure to review and update it regularly. Keep in mind that it is important to stay diligent when saving for retirement as the earlier you start saving, the less you may need to save.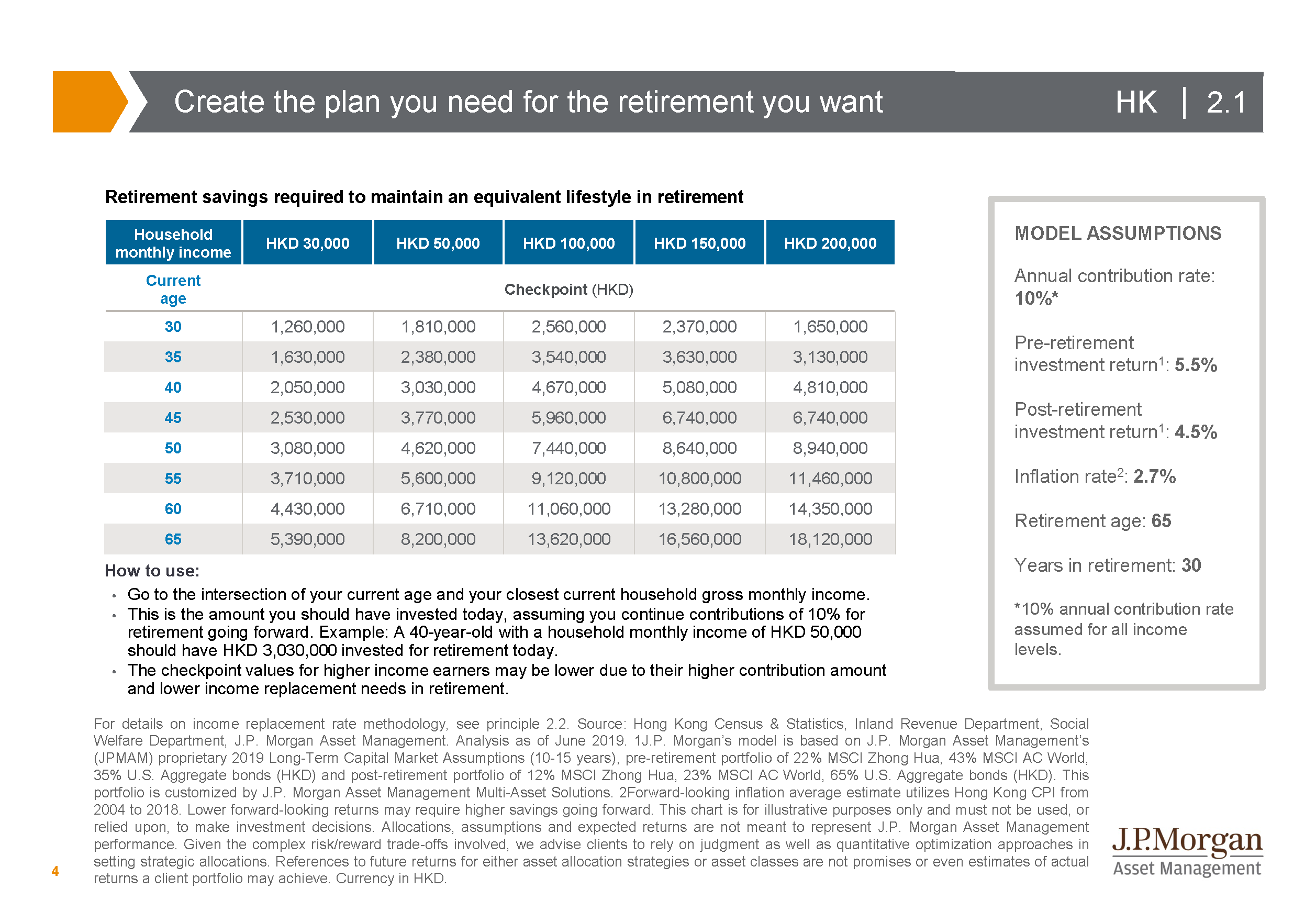 Know your spending needs…
A key input into any retirement plan is the retirement "liability," or how much an investor plans to spend each year in retirement. If you are uncertain, a helpful starting point may be using a percentage of your pre-retirement income to estimate your retirement lifestyle needs. The good news is that spending needs are typically lower in retirement because you no longer need to save, you may spend less and may pay less in income taxes. These are represented by the light grey categories. Your spending needs in retirement to maintain your current lifestyle are represented by the blue category, and determines your checkpoint value in the previous table.
…And where your income may come from in retirement
When you reach 70, you will receive a monthly Old Age Allowance (fruit money) of HKD 1,385. The purple category represents this allowance for two recipients in a household. Alone, this allowance will not be sufficient to maintain the lifestyle you desire in retirement. You are personally responsible for the estimated percentage in blue, through your own savings and investments including those in Mandatory Provident Funds (MPF) and Occupational Retirement Schemes Ordinance (ORSO) Schemes. Other sources of income, such as familial support, endowment policies or rental income, may reduce the amount of personal savings you need to fund your retirement.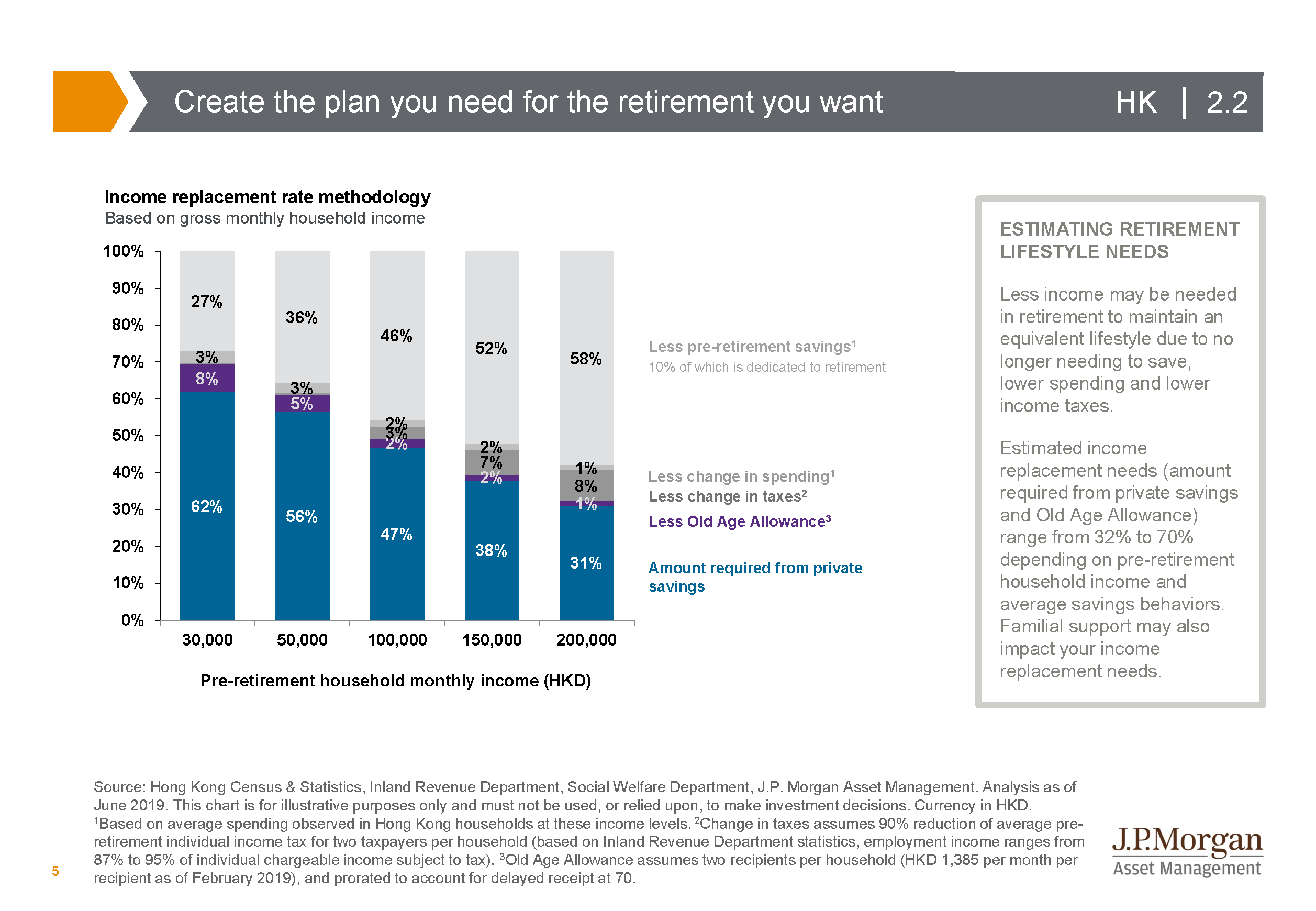 3. PLAN FOR A LONG LIFE
The longer you live, the longer your investments must last
In Hong Kong, at least one member of a 65-year-old couple now has a 69% chance of living to 90 or beyond and a 15% chance of reaching 100 or beyond. Living longer affects key retirement decisions, such as when to retire, how to make the most of your time, how to invest and whether you might need long-term care.
If you are in good health at 65 and have a family history of longevity, your retirement plan should conservatively account for 30 or more years of living expenses. That means your investments need to continue growing long after you stop working, to provide you the income you need while keeping pace with inflation and reducing the risk of outliving your money.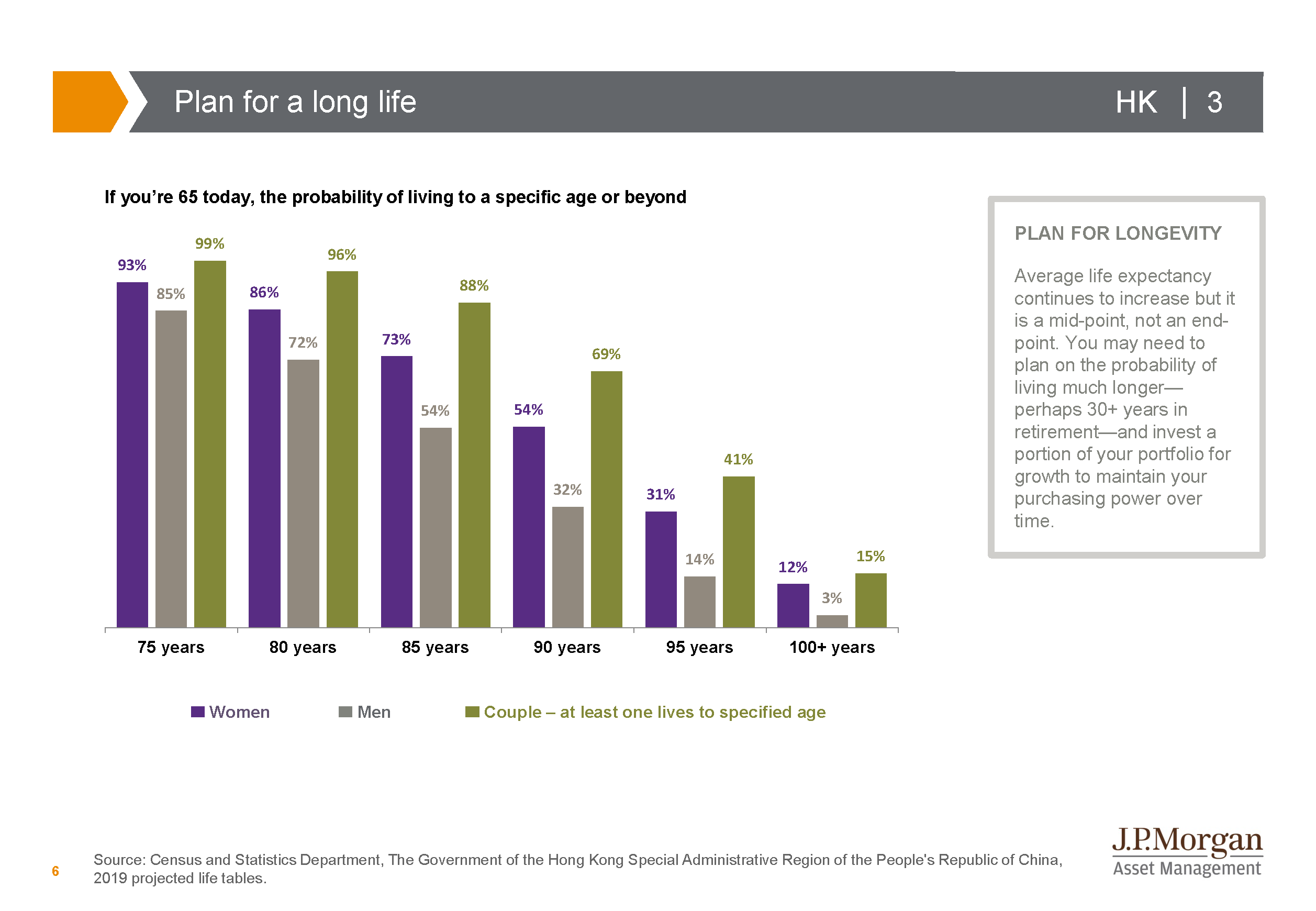 4. PRIORITIZE YOUR GOALS AND USE TIME TO YOUR ADVANTAGE

Save and invest based on your time horizon
All goals are not created equal, so investing for them as one may not be the best plan. Instead, decide how much of your savings will be put toward goals, such as education, housing and retirement, based on your priorities. Next, create an investment strategy that allows you to take advantage of the longer investment horizon for goals with longer time frames. Be sure to have a reserve fund of liquid short-term investments and cash so you can cover emergencies and upcoming large expenses without having to sell your investments during down markets.
Good things come to those who wait
While markets can always have a bad day, week, month or even year, history suggests that investors may expect a more consistent return over longer periods. This chart illustrates the concept. While one-year stock returns have varied widely since 1950 (+47% to –39%), a blend of stocks and bonds has not suffered a negative return over any five-year rolling period in the past 69 years. In other words, if you diversify and stay invested, you may expect a smoother ride with less volatility.
Important disclaimer: Investors should not necessarily expect the same rates of return in the future as we have seen in the past, particularly from bonds, which are starting with very low yields today.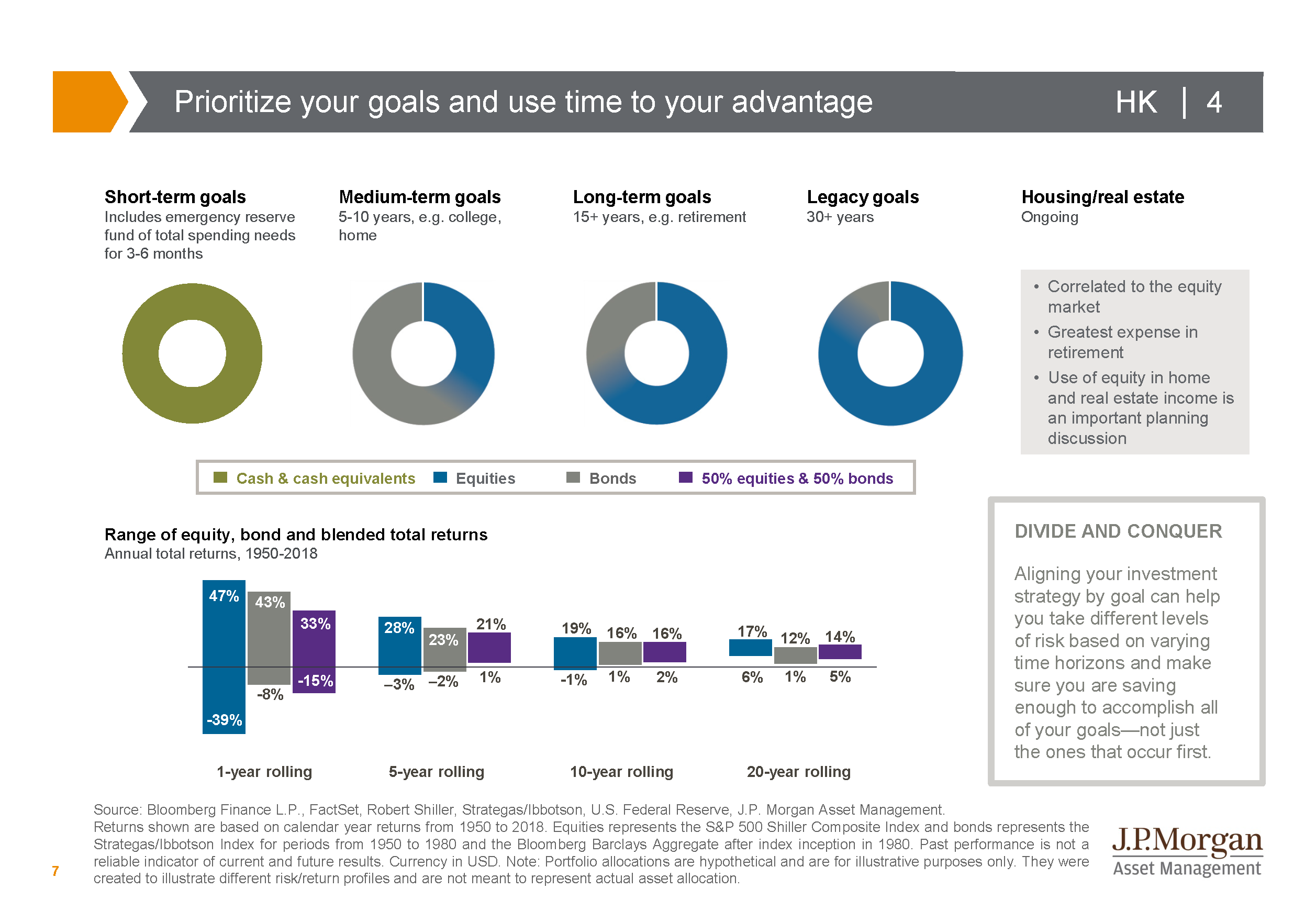 5. PUT MORE OF YOUR SAVINGS TO WORK
According to the 2013 OECD Pension Markets in Focus paper, approximately 45% of Hong Kong household financial assets are kept in cash and deposits. Cash may feel safe in the near term, but it won't work as hard for your retirement over the long term due to inflation. Prices of the goods that you buy tend to increase over time, and if your portfolio isn't keeping pace, you are losing ground. Over a 15-year horizon, the annual real deposit rate is negative, which means that you are effectively losing purchasing power by saving in cash. Equities and bonds exposure may provide more protection against the eroding effects of inflation. Balance is needed—some cash to meet near-term expenses and emergencies, coupled with a well-diversified long-term portfolio that can protect against today's market uncertainties while growing your wealth for spending needs in the future.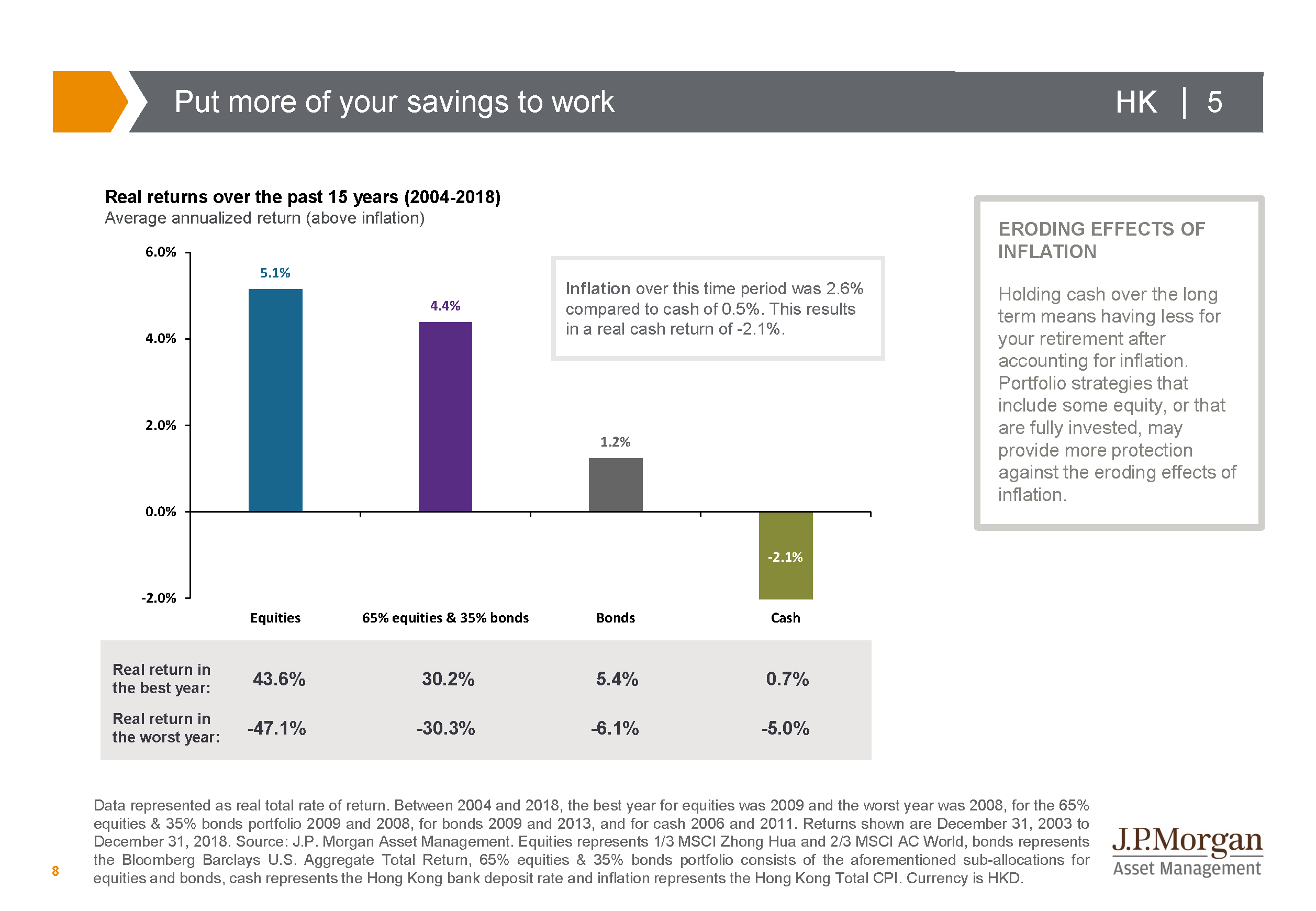 6. CHOOSE YOURE RETIREMENT STRATEGY WISELY

When you are saving for retirement, your average return over time is important. Once you retire, the sequence in which you experience the average becomes even more important and can have a significant effect on how long your retirement assets may last and how much of an estate you may pass on. This is because you are shifting from positive (savings) to negative cash flows (spending).
Sequence-of-return risk arises when you experience below-average or poor market returns at the beginning of retirement, as you begin to draw on your wealth to meet lifestyle needs. If returns are poor early in retirement, as illustrated by the "bad start" scenario, the portfolio is what we call 'ravaged' because more shares are sold at lower prices thereby exacerbating the poor returns that the portfolio is experiencing. This results in the portfolio being depleted in 21 year, or nine years prior to the desired 30 year planning horizon. If, instead, a "great start" occurs at the beginning of retirement and the same spending is assumed, the portfolio value is estimated to be $15,300,000 after 30 years. Despite the exact same average return, the outcome is different because of the different 'sequence or return', the order in which returns are experienced.
To minimize sequence-of-return risk, it is important to lower the volatility of your portfolio through diversification strategies and reduce exposure to risky assets a few years before and through retirement. Alternatively, consider reducing spending in poor markets.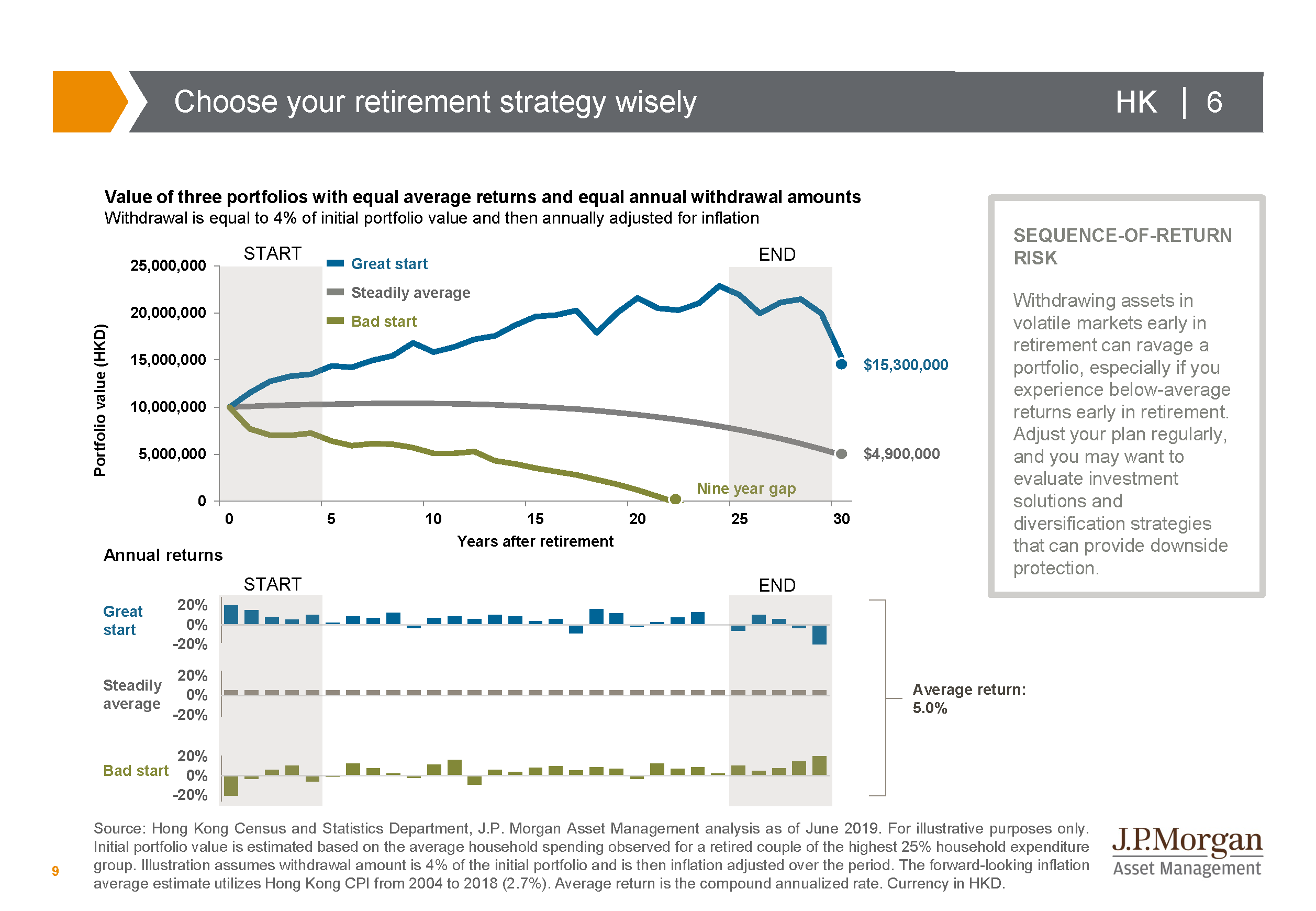 7. DYNAMICALLY INVEST OVER TIME FOR RETIREMENT

The risks you experience as you plan your retirement journey will change over time. Therefore, your asset allocation strategy should be dynamic, to address the most essential risks at your current point in time. When you are far from retirement, you have the greatest capacity to invest for growth but also face the greatest risk of not saving consistently or being derailed by competing goals. As you age, market-related and retirement-timing risks begin to emerge that you'll want to address to protect your growing wealth. Once retirement is on the horizon, managing sequence-of-return risk is critical as you prepare your portfolio to provide current income while realizing some long-term growth.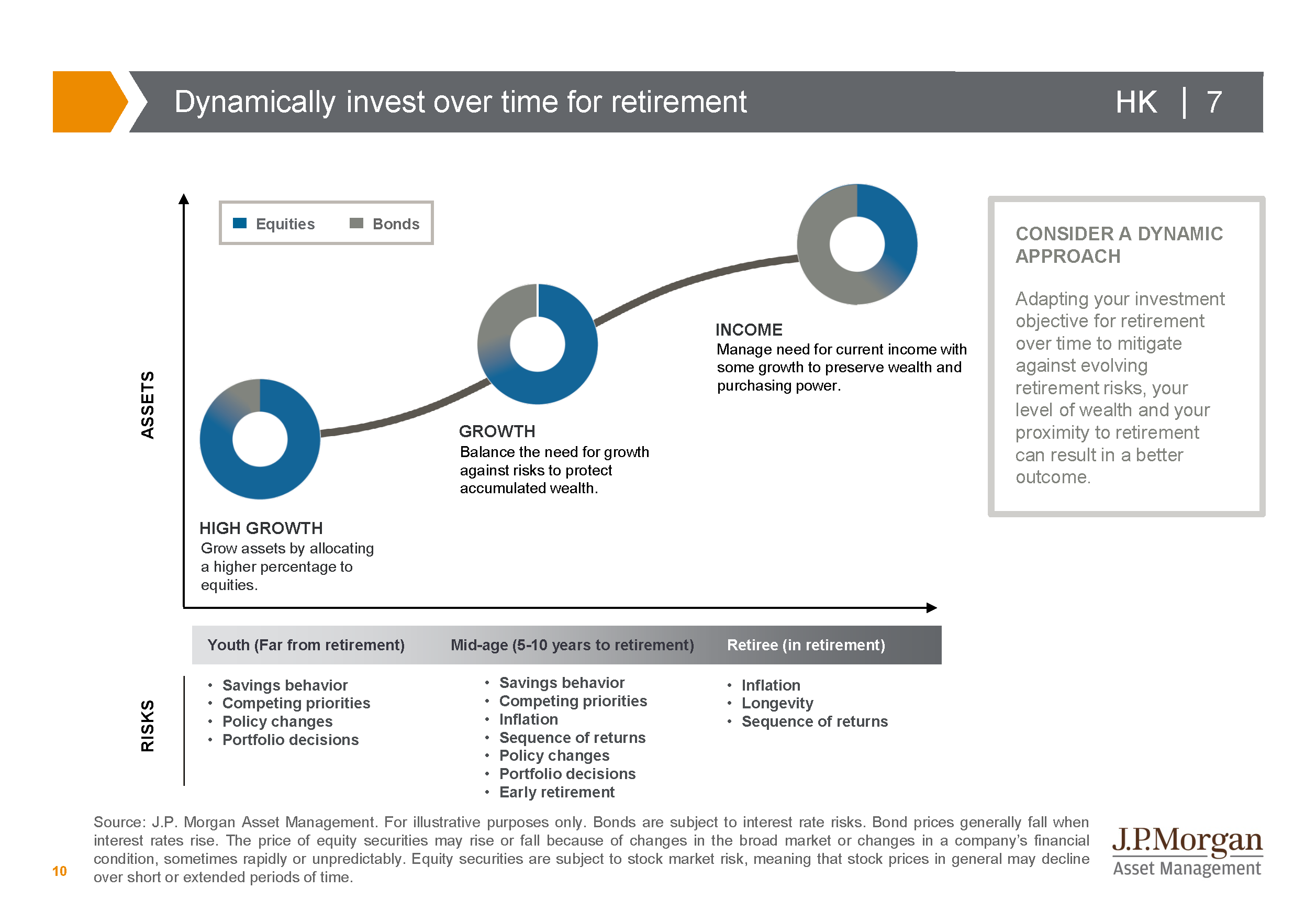 8. DON'T SPEND TOO MUCH OR INVEST TOO CONSERVATIVELY IN RETIREMENT

How you invest and how much you consistently spend in retirement are interdependent. Investing too conservatively puts a portfolio at risk of running out of money at a 4% initial withdrawal rate*. Withdrawing an initial 5% or 6% may not be sustainable especially if markets fall during early retirement years.
Instead of withdrawing a set amount each year or holding a static mix of investments, you may want to consider a more flexible approach that allows you to adjust as circumstances change. This can better reflect how your spending may shift as you age, factoring in the likelihood that you will tend to spend less during down markets and more when your investments recover and enable you to adjust your portfolio as markets and your time horizon evolve.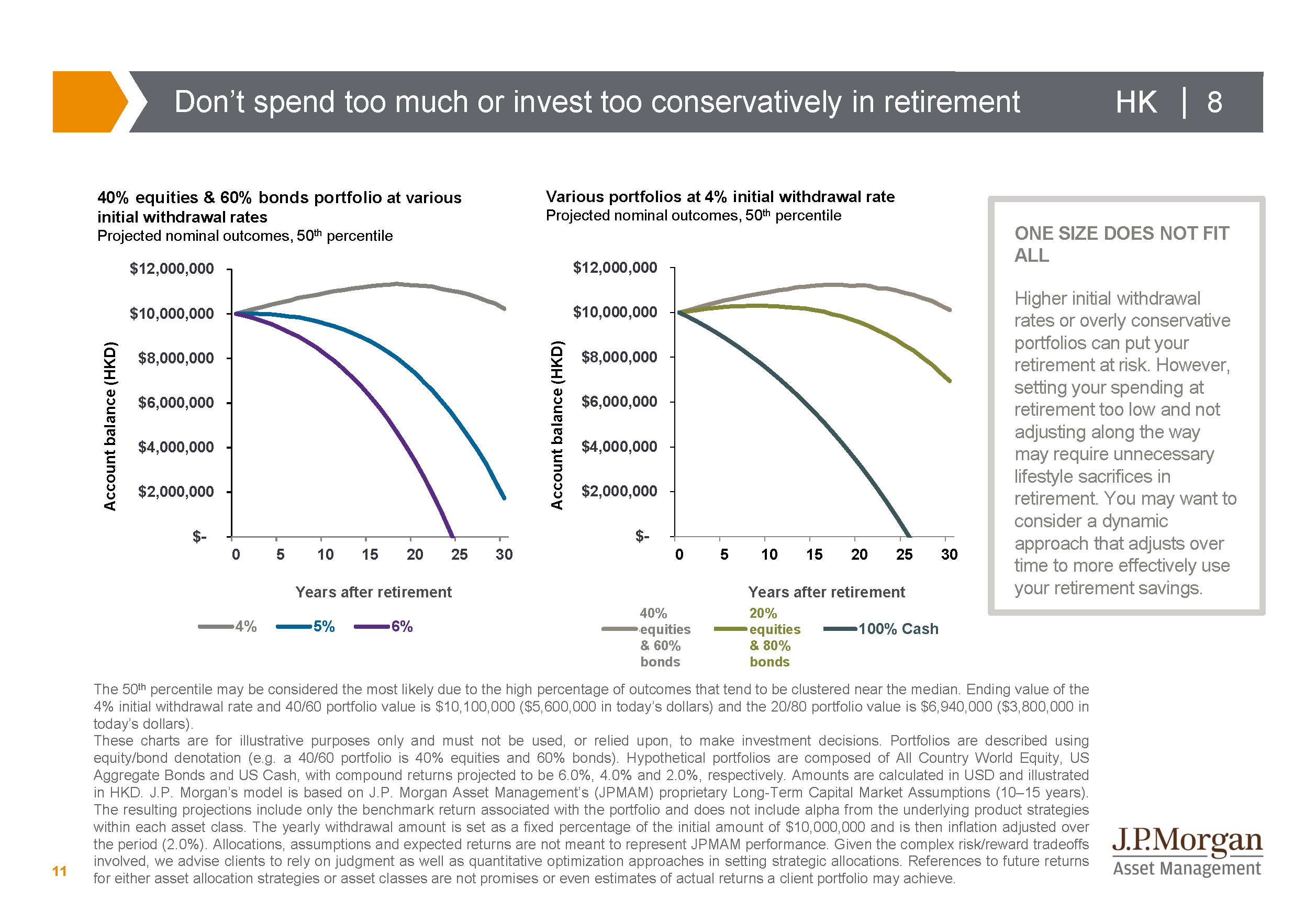 *The 4% rule dictates that individuals withdraw 4% of their initial portfolio value in the first year of retirement and annually increase that amount by the inflation rate to maintain purchasing power.