Are we in or headed towards a recession?
20/05/2022
Jordan Jackson
The signal is clear: the economy is still firing on all cylinders and we are not in a recession.
Jordan Jackson
Global Market Strategist
Jordan Jackson:                 
Hi, my name is Jordan Jackson, Global Market Strategist at JP Morgan Asset Management, and welcome to On the Minds of Investors. Today's post asked the question, "Are bonds attractive?" The spike in yields to the first five months of this year has led to some very ugly returns in fixed income. The Bloomberg US Aggregate Bond Index is down 9.5% year to date.
You'd have to go back to 1980 when the Federal Reserve lifted rates from 14% to 19% for a drawdown of this magnitude. Generally, these painful periods in bond markets have historically been in years when the Federal Reserve is or communicating it will tighten policy. 1980, 1994, 1999, 2013, and 2018 are all years that Central Bank was raising rates, with the outlier being the 2013 temper tantrum.
The silver lining? Bad years tend to be followed by really good years in bonds, as the Fed eases up and rate volatility comes down. For bond investors, the move higher in treasury rates and the widening in credit spreads has led to some of the most attractive yield levels in recent history. As shown, current yields across a host of different fixed income sectors are at the highest level relative to recent history.
And given the very tight relationship between current yield and subsequent performance, bond investors can expect decent returns from the income coupon these assets will generate over the next few years. Moreover, the move in yields now suggests bonds can provide a buffer in a market correction or an economic downturn. Consider this: The current yield on the nominal US 10-year treasury yield is around 2.8% while the pandemic low was 0.5% on March 9th, 2020. If the yield were to drop back to 0.5%, the US 10-year would post a price and total return of roughly 22% and 25% respectively.
To be clear, we are not calling for a recession. However, as recession risks remain elevated amidst an uncertain outlook, stepping back into bonds as a portfolio hedge against an economic downturn seems appropriate.
The US economy is showing signs that the post pandemic surge is beginning to moderate, but we do not think a recession is imminent. Nonetheless, stocks are near correction territory, consumer sentiment has soured to levels last seen in 2011, geopolitical tensions are elevated, and prices are higher everywhere; all of which challenge this view. To address this, investors should first understand what constitutes a recession and, importantly, how current conditions and trends shape the investment outlook.
One common definition of a recession is two consecutive quarters of negative GDP growth, however, the National Bureau of Economic Research (NBER)—the official scorekeepers for recessions and expansions— define a recession as "a significant decline in economic activity that is spread across the economy and that lasts more than a few months…these include real personal income less transfers, nonfarm payroll employment, real personal consumption expenditures, wholesale-retail sales adjusted for price changes, employment as measured by the household survey, and industrial production".
Utilizing this more expansive definition, incoming data shows:
Monthly nonfarm payroll growth has averaged over 550K in the past 6 months, signaling very strong demand for labor and a robust job market
Real personal income excluding transfers fell 0.3% m/m in in March but is 1.9% higher relative to a year ago and 1.2% higher relative to the pre-pandemic peak
Real consumer spending expanded 0.2% m/m in March as consumers continue to shift from buying goods to paying for services
Industrial production rose 1.1% in April, aided by a 0.8% increase in manufacturing output
Given this, the signal is clear: the economy is still firing on all cylinders and we are not in a recession. Moreover, looking at an even broader heatmap of economic variables (red = contracting, yellow = neutral, green = improving) across corporate profits, labor and activity, the evidence suggests the economy continues to expand healthily, albeit at a slower pace after roaring out of the pandemic. While the Federal Reserve is keen on bringing down inflation, a more cautious approach could allow for a soft-landing next year, suggesting risk assets may be oversold at this stage.
That said, recession risks are rising as we look ahead to 2023: inflation could remain stubbornly high, pushing the Federal Reserve to overtighten policy; the fiscal drag this year is likely to slow economic momentum, and a lack of labor supply will likely weigh on growth. For those investors who may be less confident in the Fed's ability, bond yields have shot higher this year creating a decent portfolio buffer in the event of market and economic downturn.
U.S. economic heatmap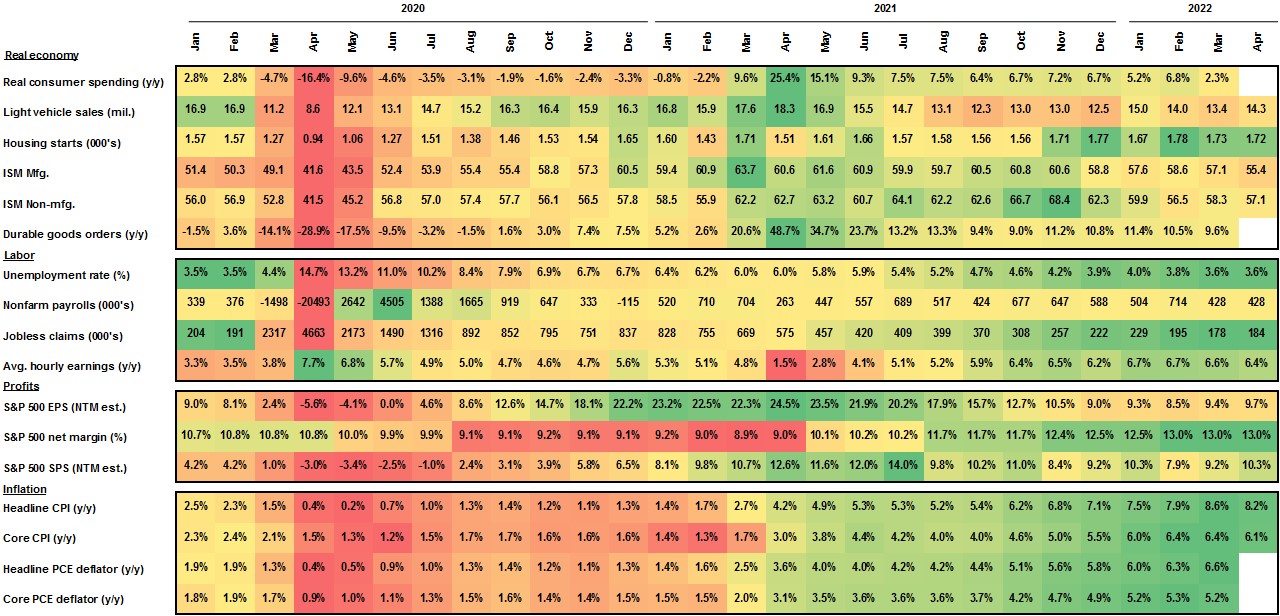 Source: BEA, BLS, Department of Labor, Census Bureau, Standard & Poor's, Institute for Supply Management, FactSet, J.P. Morgan Asset Management. S&P 500 EPS (earnings per share) and SPS (sales per share) are expected earnings and sales per share growth over the next 12 months.

Guide to the Markets – U.S. Data are as of May 17, 2022.
09pf221602182411