Investment Grade (IG) Corporate Credit Strategy
Business activity has remained resilient despite concerns around Covid. Explore how operating trends may impact Investment Grade (IG) Credit Strategies.
14-10-2021
Lisa Coleman
In Brief
As economies continue to stutter-step open, business activity has remained resilient despite concerns around Covid variants as well as ever-changing travel requirements. Improving economic activity is lifting earnings and supporting the recent deleveraging trend.
Net leverage is now back to 2018 levels and operating trends highlight the potential path to continued improvement. This improvement, however, will depend on a number of variables, including growth expectations, Federal Reserve (Fed) policy, and how well companies can navigate higher inflation and pass through increased input prices to the end consumer.
The capacity of investors' demand for US IG corporates seems limitless, though the pace is expected to slow down as Fed tapering looms. In Europe, the "greenium" effect should support the technical picture from both the supply and demand sides.
With spreads remaining well anchored there are asymmetric risk/reward prospects. In this environment, carry and security selection (or avoidance) remain key when it comes to adding value.
Corporate fundamentals: Making progress or treading water?
As economies have gradually reopened, earnings have recovered, strengthening (and organically deleveraging) corporate balance sheets both in the US and in Europe. In the US, net leverage has fallen since its peak in second quarter of 2020 to 2.1x, its lowest level since December 2018 (Exhibit 1). However, further improvement is dependent on the future growth pathway. At best, leverage could fall to its lowest level since 2015 if 2021 consensus estimates are achieved. However, we are more conservative: company balance sheets will likely "tread water" in the second half of the year as economic growth is disrupted by rising input costs, intense margin pressures and elevated business uncertainty, thus slowing the earnings rebound. European firms have outstripped their US counterparts in the race to de-lever. However, they too will face similar headwinds in navigating an unforgiving inflationary environment. As such, while we enter the final quarter of the year with credit fundamentals in excellent shape, we are tempering our expectations for similarly stunning performance.
Exhibit 1: Leverage improvement was significant in 2Q21 as record EBITDA* growth has started to come through in earnings
Source: J.P. Morgan Asset Management median IG industrial company. Median data as of 30 June 2021. JPM gross and net leverage estimates: For Last twelve months (LTM) EBITDA and debt growth estimates we use median historical quarterly numbers and predict quarter-on-quarter growth for 3Q2021, 4Q2021. Gross debt growth assumptions: Gross issuance – maturities, calls and tenders. Net debt assumptions: Cash flow from operations (CFO) grows at same rate as EBIDTA, change in cash calculated by taking CFO and subtracting off capex, interest, acquisitions, buybacks, dividends, and issuance/redemption of debt/equity. Gross debt – cash = net debt. *EBITDA = earnings before interest, tax, depreciation and amortisation. Opinions, estimates, forecasts, projections and statements of financial market trends are based on market conditions at the date of the publication, constitute our judgment and are subject to change without notice. There can be no guarantee they will be met.
Navigating an unforgiving inflationary environment
With US headline inflation growing at its fastest rate in 13 years in July, inflationary fears remain a top concern among investors in 2021. Typically, US IG corporates are able to pass on most pricing pressures to end consumers. However, not all sectors were created equal and some are better positioned to withstand higher prices than others.
The auto sector is an example of a sector experiencing intense margin pressure as input costs rise and supply chains remain disrupted due to global lockdowns. However, structural shifts in the industry, such as robust demand for electric vehicles, are allowing companies to protect profit margins by passing on price increases to end consumers.
Similarly, inflation is also "feeding" through to the food and beverage sector. However, the composition of the sector's market place does not allow firms to merely pass all of these increases onto consumers. Instead, firms are seeking to increase volume and find efficiency gains in order to limit the pressure on their bottom line. Regardless, intense pricing pressure is likely to result in lower profit margins in this sector a year from now.
European IG corporates have witnessed similar pressure on margins. For instance, there exist concerns that the recent surge in natural gas prices in Europe may become more sustained in the absence of a warm winter. On the surface, the profit margins of the median European IG company are close to five-year highs, providing firms with ample flexibility to withstand higher input costs. However, at the sector level significant divergences are emerging. Sectors such as autos, energy and telecommunications have significant pricing power and the ability to produce higher margin products that can help protect margins. However, consumer goods and services companies are struggling to pass on higher input costs to consumers.
The takeaway for investors is that while the IG corporates asset class has demonstrated that it can navigate periods of higher inflation, there are significant divergences at the industry and company level. In an environment of increasing inflationary pressures, active investors should be rewarded for careful security selection.
Relentless demand continues to support technicals
US IG technicals continue to provide robust support. Inflows into the asset class have continued at a blistering pace in 2021 (Exhibit 2), reflecting unwavering demand for corporates from both overseas buyers and retail investors. While US supply has moderated slightly, the market has witnessed USD 125 billion in net issuance and is on track to hit USD 1.5 trillion in gross issuance by year-end, falling just short of last year's record-breaking level of USD 1.8 billion. However, we remain wary of a potential wildcard: North American merger and acquisition (M&A) volumes have been elevated and rising since last year.
Exhibit 2: US HG EPFR, a proxy for retail demand, is on pace to surpass every year other than 2020, but the pace is slowing down with fed sales included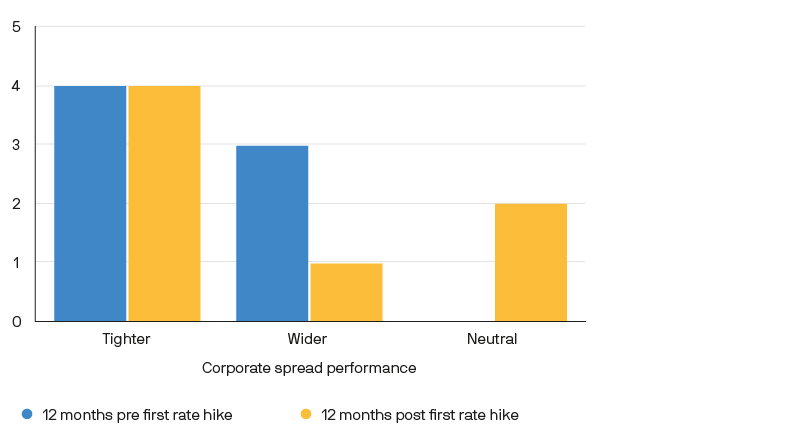 Source: Emerging Portfolio Fund Research (EPFR), Federal Reserve; data as HG = high grade bonds.
Investors' ongoing hunt for yield in an otherwise yield-starved asset class creates a similarly rosy technical backdrop in Europe. Issuance is waning, notably from European industrials where we have not witnessed much in the way of M&A-related issuance, with gross supply tracking EUR 100 billion less than in 2020. When taking into account the European Central Bank (ECB) backstop to the corporate market, net supply for the remainder of the year is expected to be close to flat (EUR 25 billion). Green bond issuance within the European IG market continues to grow and diversify among sectors, with strong underlying demand creating a "greenium" (spread premium) of approximately -5bps. As the ECB continues to inject climate-change considerations into asset purchases, we anticipate that adding green bonds in the primary market could be an alpha driver.
Carry and security selection remain key in IG
As the post-reopening euphoria wears off, most IG sectors impacted by Covid have already priced in the economic recovery, boosted by prior fiscal largesse, ongoing accommodation from the central banks and a broad willingness by investors to inject capital. However, a handful of sectors still have room for spread compression versus pre-Covid levels (reflected in the top right-hand quadrant of Exhibit 3). This opportunity is exemplified within US airspace (airlines/lessors/enhanced equipment trust certificates (EETCs) where credit quality remains underpinned by robust liquidity and stable leverage. Moreover, global passenger traffic is expected to recover to 88% in 2022. Some sectors, such as metals & mining, remain well positioned to benefit from a post-lockdown surge in demand for commodities. Company credit profiles have thus benefited from a lack of large capital commitments and increased cash flows warranting tighter spreads.
Exhibit 3: Airlines / EETCS, parts of the energy complex, lodging, as well as some segments of REITS have the ability to compress further
Source: Bloomberg, Barclays. All micro sectors are for the Global IG Corporate Index. Data as as of 31 August 2021. *Global IG Corporate Index, USD only. **Home construction micro sector is from the US IG Corporate index. OAS = option-adjusted spread. Bps = basis points.
A second opportunity lies in subordinated bank capital, an outperformer this year. The recent European Banking Association (EBA) stress test results were encouraging for European banks, which registered resilient results despite some of the most stringent scenario tests. The strength of bank balance sheets means that risks, such as coupon deferral and write down probability, now seem remote for Contingent Convertibles (CoCos), while spreads still offer reasonable compensation despite the negative convexity of the market increasing with "resets" of new issues lower than older vintages. Keep calm, and carry on!
09f7210610094059