US equities have come under pressure this year from a cocktail of concerns, including elevated inflation, rising interest rates, slower growth and geopolitical tensions.

A useful way to illustrate how severe the fall in US equities has been is by looking at the forward price-to-earnings (P/E) ratio of the S&P 500 Index. The forward P/E ratio measures the price of the index divided by estimated earnings-per-share of its constituents for the next 12 months. This multiple provides a meaningful comparison against historical market movements and is a useful way to break down the different drivers of return: price and earnings.
Exhibit 1 shows the decline in the P/E ratio since the start of the year. Since its peak at 21.4x in early 2022, the S&P 500's P/E ratio has declined 19% and now sits just above its 25-year average.
Exhibit 1: Equity volatility has been driven by a re-rating in valuations
S&P 500 price return decomposition
Source: Compustat, FactSet, Standard & Poor's, J.P. Morgan Asset Management. Earnings estimates are based on estimates from Standard & Poor's and FactSet Market Aggregates. Earnings and multiple growth are both year-to-date percent changes of next twelve-month estimates. Past performance is not indicative of future returns. Data as of 31 July 2022.
With the US Federal Reserve set to continue raising interest rates over the coming months, equity market volatility will likely persist and P/E valuations will likely remain under pressure. This means company earnings are likely to be the main driver of returns for investors. Although earnings for the second quarter of 2022 were better than expected, the outlook for profits rests on the ability of companies to defend profit margins.
Rising inflation has put pressure on profit margins. To be able to defend these margins, we think there are three levers that companies can pull – reduce costs, pass costs along in the form of higher prices, or focus on automation and efficiency. In the current environment, businesses seem inclined to pull all three. We have heard about hiring freezes and layoffs in sectors such as technology, whereas costs are likely to be passed on in the industrial, energy, materials and consumer staples sectors.
Across the board we expect a greater focus on productivity improvements, which could potentially be supported by some further investment into efficiency by companies. Exhibit 2 shows how margins have started to decline from their 2021 highs, but we don't expect a collapse similar to previous recessions. We expect margins to stabilise in the mid-12% range barring a more significant downturn in the economy.
Exhibit 2: Margins will decline from all-time highs, but seem unlikely to collapse
S&P 500 operating profit margin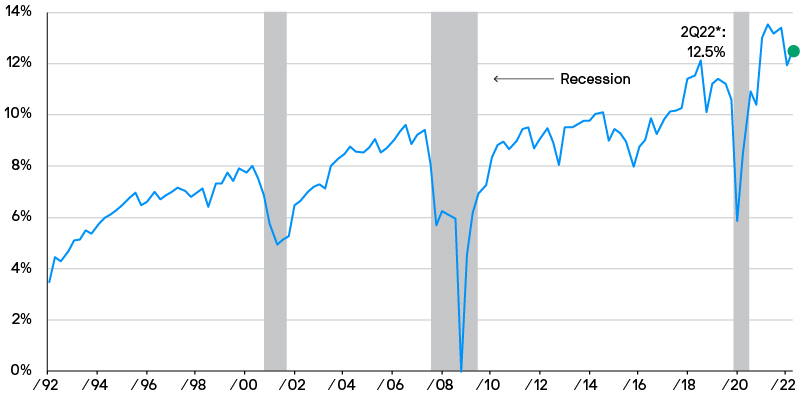 Source: Compustat, FactSet, Standard & Poor's, J.P. Morgan Asset Management. Past performance is not indicative of future returns. *S&P 500 2Q22 profit margins estimated is based on current operating earnings and sales per share estimates from Standard & Poor's. Data as of 31 July 2022.
In our opinion, the sell off in US equities has created opportunities to invest in select areas of the market at attractive prices. Value-style companies – which tend to trade at lower P/E ratios during normal markets – are looking even cheaper and, given how far prices have fallen, we think valuations should be less sensitive to any further rate increases. Growth companies – which are categorised by their relatively high P/E ratios and strong expected earnings growth – are now trading at more attractive levels and we think investors are likely to increase exposure to those growth companies which are currently profitable.
Overall, we are inclined to focus on companies with large market capitalisations and those sectors and industries that are able to continue growing profits against a backdrop of slowing economic growth, elevated inflation and rising interest rates.

​09y1222508101236