The Bank of England "strikes" again
15-12-2022
Mohamed Abubakar
In Brief
The Bank of England (BoE) raised the Bank Rate by 50 basis points (bps), its ninth successive rate hike, taking base rates to a 14-year high of 3.50%.


Notably, the vote was split 2-6-1 as committee members considered the tight labour market and elevated inflation relative to the possibility that rates were already high enough to curb spending and prices.


Although the BoE believes inflation has peaked and should fall sharply by the middle of 2023, Governor Bailey warned that further tightening of monetary policy was likely.
Dividend opinion
At its 14 December monetary policy meeting, the BoE voted to raise the Bank Rate by 50bps to 3.50%, bringing borrowing costs to their highest level since 2008 (Exhibit 1). Over the past 12-months, the UK central bank has pushed the base rate up by 340bps – the fastest pace on record – as it grapples with a combination of elevated inflation and a tight employment market, which has magnified the risk of an extended period of more persistent inflation.
Notably, the decision wasn't unanimous - it was dovishly split 2-6-1, with both Silvana Tenreyro and Swati Dhingra voting to keep the Bank Rate unchanged – suggesting rates were already high enough to curtail demand and inflation. In contrast, Catherine Mann voted to increase the Bank Rate by 75bps to 3.75%, stating that larger hikes were needed to avoid inflation expectations becoming embedded. In subsequent written comments, BoE Governor Bailey hawkishly observed evidence of "greater persistence" of inflation that could justify "a further forceful monetary policy response".
Exhibit 1: UK bank rate is at 3.5% for the first time in almost 14 years UK base rate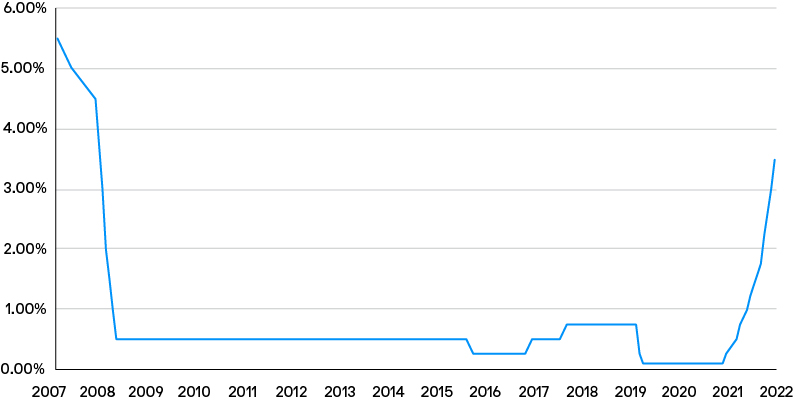 Source: Bank of England, as at 15 December 2022.

The inflation versus recession dilemma
UK monthly GDP grew by a slightly higher-than-expected 0.5% month on month (m/m) in October, following a 0.6% m/m fall in September. However, the central bank estimates that GDP will decline by 0.1% quarter on quarter (q/q) in the fourth quarter of 2022, which is better than the -0.3% q/q projected in the November Monetary Policy Report (MPR), although this would still push the UK economy into a recession, which the BoE believes could continue for a "prolonged period".
Concurrently, although consumer price index (CPI) inflation eased a touch more than forecasts to 10.7% year on year (y/y) in November from a multi-decade high of 11.1% y/y in October, inflation remains well above the BoE's 2% target level - triggering the sixth consecutive letter from the Governor to the Chancellor of the Exchequer. Both parties acknowledged that external global factors and, increasingly, domestic factors are adding significantly to inflationary pressures.
The BoE still believes that inflation will peak in the fourth quarter of 2022, before falling sharply from mid 2023 "to some way below the 2% target in years two and three of the projection". Nevertheless, while the government's Energy Price Guarantee scheme has helped limit price rises, inflation is still expected to remain elevated due to domestic factors for several months.
This sharp focus on combating inflation was, fittingly, delivered in the same week the UK has been paralysed by swathes of strike action. In December the UK will witness strikes by rail, ambulance, NHS and other workers, highlighting the severe challenges that UK policy makers are currently grappling with.
Interestingly, the BOE removed the guidance it issued in November, suggesting the path for interest rates implied by the markets (Exhibit 2) was too aggressive; instead suggesting that "further increases in the Bank Rate may be required" to bring back inflation to target in the medium term.
Exhibit 2: The market expects further bank rate rises UK money market rates
Source: Bloomberg, as at 15 December 2022

Implications for sterling cash investors
The outlook for the UK economy remains uncertain as elevated inflation concerns clash with increasing signs of recession – suggesting interest rates will remain volatile for the foreseeable future. Nevertheless, sterling cash investors will welcome this further increase in base rates, which should boost yields on short-term investments.
The improved overnight rates and steep yield curves will allow liquidity strategies to boost returns – albeit with a slight delay due to the need to reinvest term maturities. Our liquidity strategies have been very defensively positioned ahead of the December Monetary Policy Committee meeting, with low weighted average maturity (WAM) and large cash balances enabling strategies to quickly benefit from the step-up in rates.
Similarly, J.P. Morgan's Sterling Managed Reserves Strategy has been positioned at its historically shortest duration, allowing it to capture additional yield from the BoE's hiking cycle and avoid capital losses as rates curves reprice higher. Given its slightly longer duration compared to the liquidity strategy, cash investors seeking to capture the current levels of high yields over a longer time horizon may consider stepping out into the Sterling Managed Reserves Strategy, which will run at a relatively longer duration going into the anticipated recession in the next few quarters.
Source for all data is Bank of England, as at 15 December 2022, unless otherwise stated.
09dq221712112904
For Professional Clients/ Qualified Investors only – not for Retail use or distribution.

This is a marketing communication and as such the views contained herein are not to be taken as advice or a recommendation to buy or sell any investment or interest thereto. Reliance upon information in this material is at the sole discretion of the reader. Any research in this document has been obtained and may have been acted upon by J.P. Morgan Asset Management for its own purpose. The results of such research are being made available as additional information and do not necessarily reflect the views of J.P. Morgan Asset Management. Any forecasts, figures, opinions, statements of financial market trends or investment techniques and strategies expressed are, unless otherwise stated, J.P. Morgan Asset Management's own at the date of this document. They are considered to be reliable at the time of writing, may not necessarily be all inclusive and are not guaranteed as to accuracy. They may be subject to change without reference or notification to you. It should be noted that the value of investments and the income from them may fluctuate in accordance with market conditions and investors may not get back the full amount invested. Past performance and yield are not a reliable indicator of current and future results. There is no guarantee that any forecast made will come to pass. J.P. Morgan Asset Management is the brand name for the asset management business of JPMorgan Chase & Co. and its affiliates worldwide. To the extent permitted by applicable law, we may record telephone calls and monitor electronic communications to comply with our legal and regulatory obligations and internal policies. Personal data will be collected, stored and processed by J.P. Morgan Asset Management in accordance with our EMEA Privacy Policy www.jpmorgan.com/emea-privacy-policy. This communication is issued in Europe (excluding UK) by JPMorgan Asset Management (Europe) S.à r.l., 6 route de Trèves, L-2633 Senningerberg, Grand Duchy of Luxembourg, R.C.S. Luxembourg B27900, corporate capital EUR 10.000.000. This communication is issued in the UK by JPMorgan Asset Management (UK) Limited, which is authorised and regulated by the Financial Conduct Authority. Registered in England No. 01161446. Registered address: 25 Bank Street, Canary Wharf, London E14 5JP.