Diversified growth funds: The asset allocation all-rounders
20-09-2019
Sorcha Kelly-Scholte
Hannah Sparrow
In Brief
A diversified growth fund is a strategy offering active asset allocation and security selection that can benefit investors in both defined contribution and defined benefit pension plans.


Our analysis shows that diversified growth funds can improve portfolio efficiency at each stage of a typical defined contribution lifestyle plan, particularly in the mid-growth and pre-drawdown phases. In addition, we have found that the potential for defensive or aggressive systematic bias that can arise from asset allocation can be properly managed.


A diversified growth fund can also be a cost – and governance – effective means of accessing a diverse range of assets for both defined benefit and defined contribution schemes.


Our JPMorgan Life Diversified Growth Fund is a low cost, actively managed portfolio that allocates across a broad range of asset classes, including alternatives. Our investment approach incorporates long- and short-term asset allocation views and global macro insights.


Our DGF has over a 10-year track record with a consistent portfolio manager. During this time, the strategy has exceeded its target return with considerably less volatility than equities.
Maintaining a better balance
Diversified Growth Funds (DGFs) take a range of approaches as broad as the name suggests. At the passive end of the spectrum, they can be packaged exposures to a pre-set asset allocation with minimal active management, in terms of asset allocation or security selection. At the other end of the spectrum, they can resemble hedge funds in the range and complexity of strategies they offer. In between, DGFs can have various levels of active security selection and asset allocation combined with strategic market exposures.
Depending on their particular flavour, DGFs will have different roles in a pension portfolio. The JPMorgan Life Diversified Growth Fund offers investors access to an actively managed, low-cost multi-asset solution (see below). We identify our DGF as a "core" strategy, investing for long-term growth across a broad range of asset classes while offering daily liquidity to clients. This article describes the potential benefits of our DGF in the context of UK pension plans, both defined contribution (DC) and defined benefit (DB). We also describe and seek to quantify some of the long-term risks that may arise from the active asset allocation process.
Overview of the J.P. Morgan Asset Management DGF strategy
JPMorgan Life Diversified Growth Fund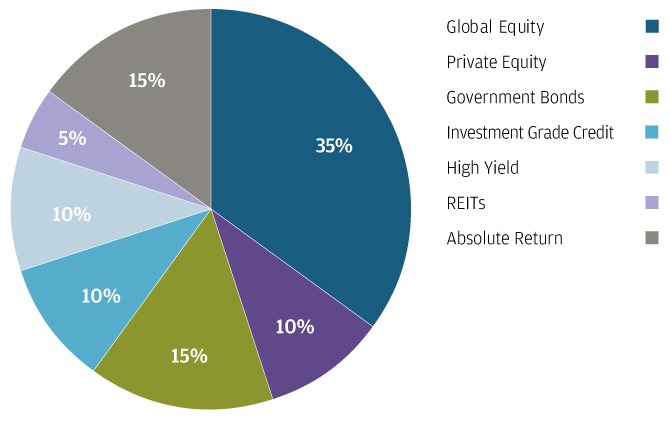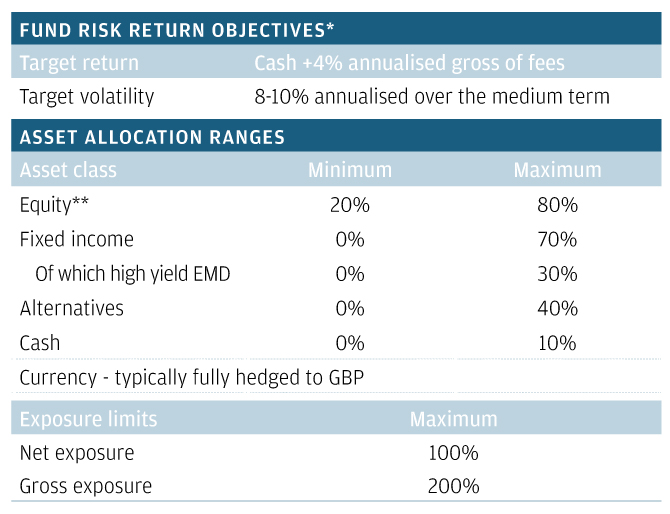 Source: J.P. Morgan Asset Management; data as of 30 June 2019.
**Equity includes private equity. The fund is an actively managed portfolio. Holdings, sector weights, allocations and leverage, as applicable are subject to change at the discretion of the Investment Manager without notice.
* The target risk/return is the investment manager's internal guidelines only. There is no guarantee the objectives will be met.
---
0903c02a826accae