Back in 2013, the US Federal Reserve (the Fed) created a bout of market volatility in what became known as the "taper tantrum". The question now is whether markets are in for a similarly rough ride as asset purchases cease in 2022.
Our central expectation is that markets will avoid another taper tantrum. On aggregate, we expect global stocks to be resilient for three reasons:
First, and perhaps most importantly, despite elevated inflation we expect central banks to remain incredibly cautious in how they take their foot off the accelerator. Tightening will be gradual, flagged well in advance, and only in reaction to strong economic activity. In other words, interest rates across the government bond curve will remain highly "managed".
Second, we expect developed world economic growth and corporate earnings to be resilient in the face of modestly rising interest rates. Households have insulated themselves from higher interest rates, in part due to lower debt levels as pandemic savings have helped consumers reduce credit card debt. In addition, the impact of rising interest rates on mortgage payments is unlikely to be as painful as in years gone by. For example, the proportion of outstanding UK mortgages that are fixed is now around 80%, up from 50% just five years ago. And more than half of fixed rate UK mortgages are fixed for five years. Similarly, US households, which traditionally fix on long-term rates, are well set. The average 30-year fixed rate on offer in 2021 has been around 3%. While the interest rate sensitivity of the household sector has improved, the interest rate sensitivity of government cash flows has deteriorated markedly. However, we don't think higher policy rates will lead to fiscal austerity curtailing economic growth. Governments will simply accept consistently higher debt.
Third, emerging markets – which were the stocks most affected in 2013 (Exhibit 7) - are better prepared this time around. Tapering and higher US rates could still lead to a stronger dollar and less global liquidity, which may impact some emerging markets that are more reliant on external financing. However, India's current account position has improved since 2013, and China, Taiwan and South Korea – which together with India make up nearly 75% of the MSCI Emerging Markets index – have strong current account positions and low external debts, and so should be less vulnerable. Therefore, we expect that if tapering proves a challenge for emerging markets this time around it is likely to be felt more in areas of emerging market debt than in emerging market equities.
Exhibit 7: The 2013 'taper tantrum' was mostly disruptive for EM
S&P 500 vs. MSCI EM performance and US 10-year Treasury yield around the previous Fed taper
Source: MSCI, Refinitiv Datastream, Standard & Poor's, J.P. Morgan Asset Management. S&P 500 and MSCI Emerging Markets (EM) are both total return in US dollar. Data as of 19 November 2021.
If we're right, and bond yields drift higher gradually rather than experiencing a rapid spike, and if earnings growth remains strong, then rising yields shouldn't be a problem.
That's not to say there aren't any areas of concern. The key difference between today and the last time the Fed tapered is that valuations for some stocks are much higher now than they were back then. The forward price-to-earnings (P/E) ratio for the S&P 500 was 14x in the middle of 2013, compared with over 20x now.
Extremely elevated valuations are concentrated in some growth segments of the market, which may be more vulnerable to rising rates, particularly if bond yields were to rise more quickly or more sharply than we anticipate. Growth stocks have had a "good pandemic", in that the nature of the recession was good for their earnings. Technology companies, for example, benefited from all the home office equipment being purchased and the rapid adoption of cloud computing. But valuation uplift has also played a key role in their spectacular returns, and zero rates has undoubtedly been part of this valuation uplift. Therefore, some stocks and sectors do look more vulnerable to the risk of a more rapid repricing of bond yields, as we saw in the first quarter of 2021, when US 10-year Treasury yields rose from 0.9% to 1.75% (Exhibit 8).
Exhibit 8: A spike in bond yields may challenge growth stocks, but benefit others
S&P 500 sector and style performance in 1Q 2021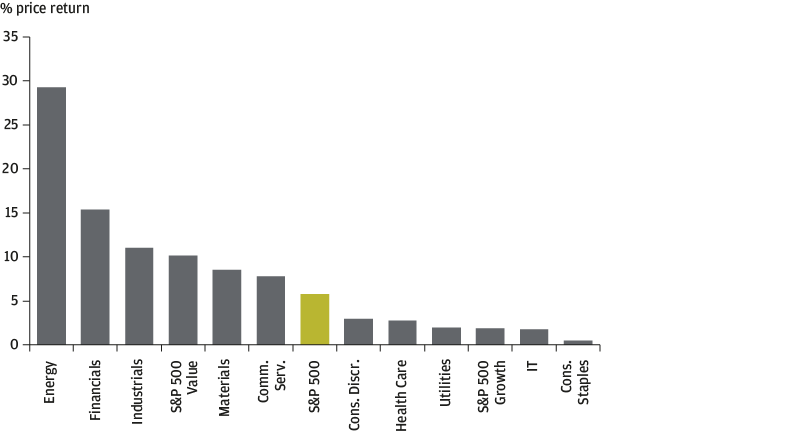 Source: Refinitiv Datastream, Standard & Poor's, J.P. Morgan Asset Management. Data as of 19 November 2021.