Most UK equity fund managers are missing out on this
Shorting: Not only can this be a source of alpha, but it can help manage risk in a portfolio!
29-05-2020
Tom Bradley-Flanagan
Callum Abbot
Generating alpha when stock prices underperform
Roughly 95%* of UK equity fund managers are missing out on an opportunity to make meaningful returns on the many stocks that underperform the benchmark. Why? They are not able to short!
This is not a problem faced by the JPM UK Equity Plus Fund. The Fund is benchmarked to the FTSE All-Share Index1. Its active extension structure allows it to adopt a 130/30 strategy, meaning the fund takes long positions of approximately 130% and short positions of approximately 30%. As illustrated in figure 2, the fund maintains a 100% net market exposure at all times.
Figure 1: FTSE All-Share stocks ranked by index weight

Source: J.P. Morgan Asset Management, Bloomberg as of 31 December 2019. The securities above are shown for illustrative purposes only. Their inclusion should not be interpreted as a recommendation to buy or sell. Past performance is not a reliable indicator of current and future results.

Given the limited alpha opportunities available to long-only managers, the JPM UK Equity Plus Fund's ability to short provides it with a larger, less competitive and differentiated opportunity set.
Stock prices of the companies shown in figure 3 all fell by 60% or more in 2019. However, their index weights ranged from just 0.02% to 0.07%, meaning long-only managers who avoided these stocks would not have materially benefited, despite having the correct insight. In contrast, the JPM UK Equity Plus Fund's short positions contributed over 3.3% to performance in 2019.
Figure 2: Greater capital committed to insights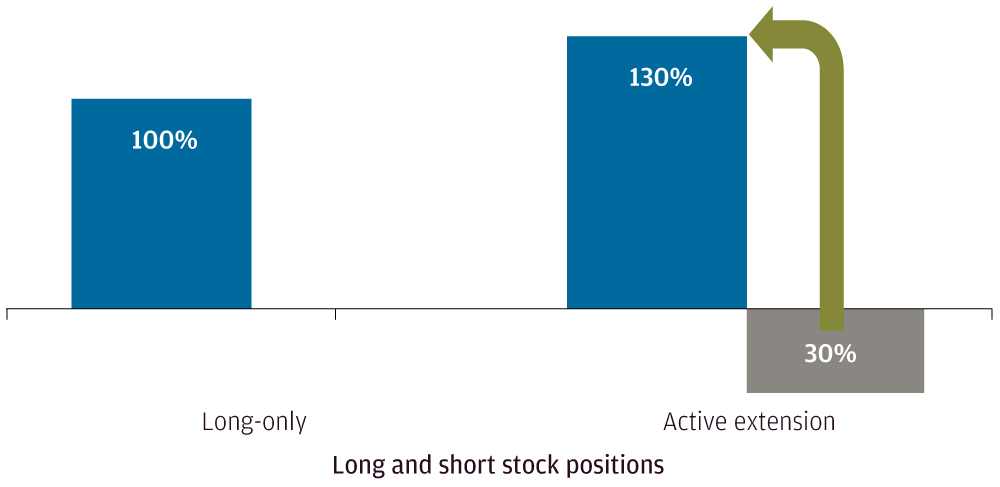 Figure 3: Enhancing alpha through shorting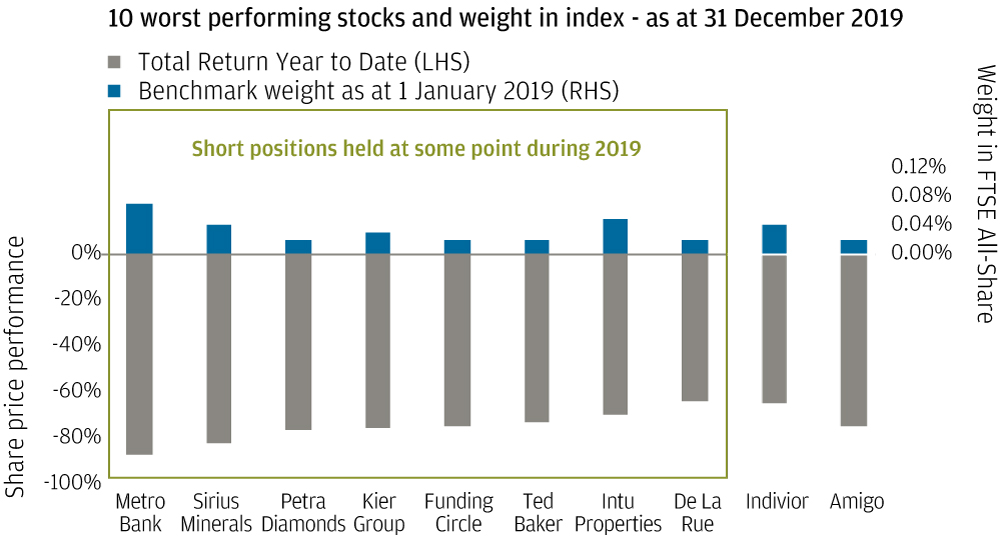 Source: J.P. Morgan Asset Management, Factset. Performance from 1 January 2019 – 31 December 2019. *Short positions held in stocks at some point during the period but not necessarily throughout whole period shown. The companies/securities above are shown for illustrative purposes only. Their inclusion should not be interpreted as a recommendation to buy or sell. Past performance is not a reliable indicator of current and future results.

Metro Bank alone contributed over 0.65% of alpha in 2019; a long-only manager who shared our view that the stock was overvalued could only have generated a maximum of 0.07% of alpha (by owning no shares).
Is shorting risky?
Due to the risks associated with using derivatives or buying shares to close out short positions (short covering), many investors associate shorting with added risk. The JPM UK Equity Plus Fund has a diversified short book of around 70 positions. Liquidity risk management is a key area of focus when constructing the portfolio and helps us determine the appropriate size for both long and short positions without compromising the fund's daily liquidity commitment. Currently 97% of the fund's short exposure can be closed using a single day's liquidity, as per figure 4.
Shorting can help manage risk
Shorting can also be a tool for risk management. We use it to control incidental risks in the portfolio, for example size bias.
We find that small- and mid-cap stocks offer an attractive opportunity for alpha generation as the companies tend to be less researched than large caps, leading to pricing inefficiencies in the market.
Our ability to short means:
We can take full advantage of mis-priced stocks— both long positions for undervalued stocks (attractive) and short positions for overvalued stocks (less attractive).


By taking long and short positions in small- and mid-cap stocks, we are able to gain more exposure to this less efficient part of the market whilst maintaining an overall size exposure similar to that of the benchmark, as per figure 5.
This second point is important because many long-only UK equity managers have significant small- and mid-cap exposure relative to the benchmark, which can bring additional risks:
The average UK active manager has a circa 30% overweight to Small and Mid-Cap stocks (SMID)**


Too much exposure to the domestic economy versus more internationally-exposed, larger-cap peers, and


Performance risk, as history tells us that large caps tend to outperform in the later stages of an economic cycle.
Figure 4: Proportion of our short portfolio that can be liquidated in X% of average daily liquidity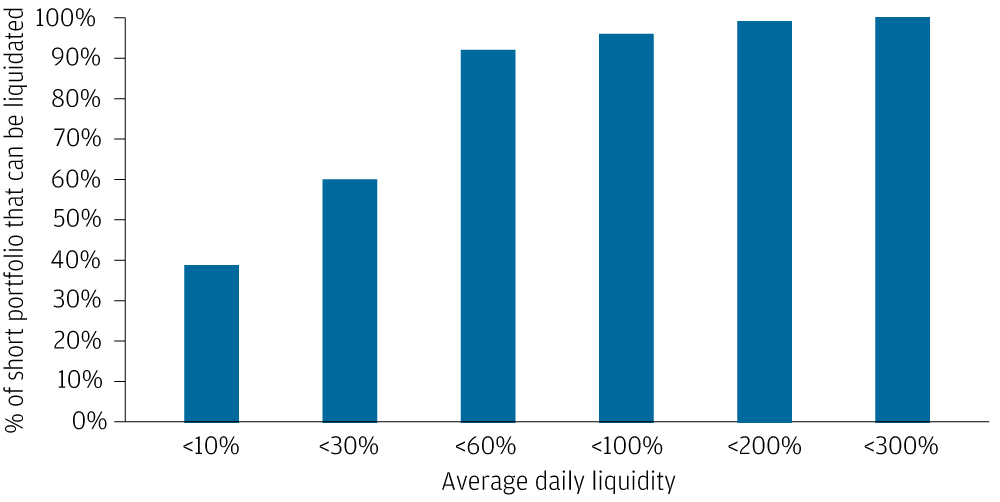 Source: J.P. Morgan Asset Management. As at 31 December 2019. The fund is an actively managed portfolio. Holdings, sector weights, allocations and leverage, as applicable, are subject to change at the discretion of the investment manager without notice.

Figure 5: Mid and small-cap exposure
Source: J.P. Morgan Asset Management, for illustrative purposes only.

Conclusion
The JPM UK Equity Plus fund differentiates itself from the peer group with the fund's ability to short


Shorting:
– Provides differentiated alpha opportunities
– Helps control size risk
Investment objective
To provide long-term capital growth through exposure to UK companies by direct investments in securities of such companies and through the use of financial derivative instruments (derivatives).
Risk profile
The value of your investment may fall as well as rise and you may get back less than you originally invested.


The value of equity and equity-linked securities may fluctuate in response to the performance of individual companies and general market conditions.


The Fund invests in securities of smaller companies which may be more difficult to sell, more volatile and tend to carry greater financial risk than securities of larger companies.


The Fund can use sophisticated investment techniques that differ from those used in traditional equity funds.


There is no guarantee that the use of long and short positions will succeed in enhancing investment returns.


The Sub-Fund uses financial derivative instruments for investment purposes. The value of financial derivative instruments can be volatile and may result in gains or losses in excess of the amount required initially to establish a position in the derivative. The Authorised Corporate Director (ACD) is required to disclose in Appendix A of the Prospectus the sum of the gross notional exposure of the financial derivative instruments used (including those used for hedging or efficient portfolio management) as the expected level of leverage. However, this figure does not take into account whether the instrument increases or decreases investment risk and so may not be representative of the overall level of investment risk in the Sub-Fund.


The possible loss from taking a short position on a security (using financial derivative instruments) may be unlimited as there is no restriction on the price to which a security may rise. The short selling of investments may be subject to changes in regulations, which could adversely impact returns to investors.


The single market in which the Fund primarily invests, in this case the UK, may be subject to particular political and economic risks and, as a result, the Fund may be more volatile than more broadly diversified funds.

---
*Source: Morningstar, J.P. Morgan Asset Management. Analysis based on the entire fund universe of IA UK All Companies sector as at 30 June 2019.
1The Benchmark is a performance comparator and the Fund may bear little resemblance to its Benchmark. The Benchmark has been chosen as it reflects the main investment universe and strategy for the Fund.
**Source: Guide to the Markets – UK, Q2-2020, page 63. Flexible cap UK funds have had an average exposure to small & mid cap companies of between approximately 38% and 53% from January 2013 - March 2020 , which is up to 30% more than the weight of small & mid cap exposure in FTSE All-Share. Data from Morningstar, J.P. Morgan Asset Management, as of 31 March 2020.