UK equities
Right time, right place, right market
01-05-2022
Whether measured against other markets, other asset classes or its own history, the UK stock market has, for some time, offered a significant value opportunity. Recent events have led to a regime change, with UK stocks now back in vogue and outperforming the rest of the world.
For investors, this turnaround represents an attractive long-term opportunity. The UK equity market is cheap, it has exposure to energy and mining stocks as the prices of oil and metals are rising, and it has a significant weighting to defensive sectors at a time when the economic outlook is particularly challenging. Here are some of the key factors supporting the UK stock market.
UK equity valuations are attractive.
For the best part of 10 years, the UK equity market has trended lower against international markets on a range of common valuation measures. This trend was exacerbated by the Brexit vote in 2016 and, again, by the Covid pandemic over the last two years. The UK's valuation discount to the MSCI World is now at a near 40-year high and offers investors an opportunity to gain exposure to world renowned businesses at an attractive relative price.
Within the UK market, the FTSE 100 Index of large capitalisation stocks has been particularly out of favour due to its sizeable exposure to what were, once, unfashionable energy and mining stocks, as well as a heavy weighting to defensive (some would say more stable) sectors such as pharmaceuticals, beverages and utilities. This has opened up a valuation gap against the FTSE 250 Index of mid-cap stocks, that investors are increasingly looking to capitalise on.
The tragic events in Ukraine have caused many investors to re-appraise their portfolios and the oil & gas, mining and defensive sectors are back on their radars. Year-todate, the FTSE 100 is rare amongst major equity indices in that it has delivered a positive total return of 3.6% (to end April 2022 in GBP). In contrast, the MSCI World ex-UK Index has delivered -6.8% (in GBP).
UK stocks trade at a 40%+ discount to the MSCI World – MSCI UK vs MSCI World Average Relative Valuations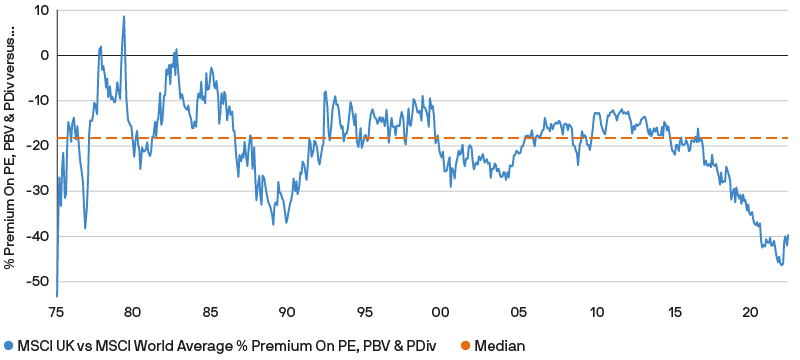 Source: J.P. Morgan Asset Management using data from MSCI, I/B/E/S, Morgan Stanley Research. Based on PE (Price to Earnings), PBV (Price to Book Value) and PDiv (Price to Dividend). Average relative valuations use 12 month forward data where available. Data from 31 December 1987 to 29 April 2022.
FTSE 100 stocks are particularly cheap
Best Forward Price-to-earning ratio
Source: Bloomberg. Data as of 3 May 2022
More FTSE 100 constituents are trading below historical levels
Source: Bloomberg. Data as of 29 April 2022
Market leadership has narrowed.
Leadership in the UK market has become increasingly concentrated in large-cap stocks, with a long tail of underperforming stocks. Across the FTSE 350 only 74 stocks (21% of constituents) have actually outperformed the index return over the last six months. The number of stocks in the FTSE 100 above their 200 day moving average has also been trending lower, another point highlighting the declining breadth of outperformers in these challenging markets.
This concentration of performance in a limited number of larger cap stocks has been a challenge for many actively managed funds that have underweight positions in FTSE 100 names. We think that investors should consider allocating more to a broad exposure of UK large caps in the FTSE 100.
JPM UK Equity Core Fund
The JPM UK Equity Core fund is deliberately designed to give investors a balanced, low active risk exposure to the UK market. Unlike many funds in the UK, it does not have a structural bias against FTSE 100 stocks—in fact, the fund has around 85% exposure to the UK's bluechip index. It is not surprising, therefore, that the JPM UK Equity Core Fund is now top quartile in the UK All Companies sector over the last one and three years.
UK small & mid cap exposure
Source: Bloomberg, Morningstar, J.P. Morgan Asset Management.
*Exposure to small & mid cap companies is the exposure of flexible cap UK funds. Data as of 31 March 2022.