Multi-Asset Solutions Monthly Strategy Report
Global markets and multi-asset portfolios
21-07-2022
Michael Albrecht
Tim Lintern
Ayesha Khalid
In Brief

The war in Ukraine has created a gas shortage, underlining Europe's dependence on Russian gas imports. A further curtailment of these imports is a major economic risk to the region.
The potential election of Italian Euroskeptic parties in snap elections that look set to occur in coming months is one reason we expect the euro to depreciate further against the U.S. dollar.
We are slightly underweight German Bunds, expecting further hawkish shifts at the European Central Bank; meanwhile we will be monitoring the possibility that European growth could present a risk to this trade.
We are neutral on European stocks; that view would become negative if a gas shortage triggered a deterioration of the economic outlook and/or if a rise in negative sentiment hit peripheral countries' government bond spreads. Those risks clearing up would shift our view to positive.
How will European markets navigate slowing growth and a hawkish ECB?
The European economy is facing a gas shortage, a European Central Bank (ECB) that has begun raising interest rates and a key member state, Italy, in political turmoil. These challenges are compounded by slowing growth globally and too-high inflation.
A deepening gas crisis looms over Europe
Gas is an important energy source for Europe, making up 22% of energy consumption. Championed as a "transition" fuel source during Europe's shift to decarbonization, gas is set to play a key role until renewable energy production is sufficient. With little local gas production, Europe relies on imports to meet its needs. In recent months, the war in Ukraine has resulted in decreased gas supplies from Russia, creating serious gas shortage concerns in Europe. A further curtailment of Russian gas imports poses a major economic risk to the region.
To meet the demand for energy over the coming winter, Europe aims to reach 80% of storage capacity by the end of October. Gas storage has improved recently, owing to record-high liquefied natural gas (LNG) imports from the U.S., and storage now sits at 65%, up from 26% when the Ukraine war began. Nevertheless, the outlook is worrisome. Nord Stream I, the biggest pipeline bringing Russian gas into Europe, has recently resumed operations after a maintenance-related halt. But flows are at only 40% capacity and some market participants are concerned they might fall to 20% in a few days. Whether Europe can reach its 80% target will depend on the levels of Russian gas imports from here on.
Europe has other methods to boost gas storage, such as the noted LNG imports, gas imports from countries other than Russia, and shifting demand for energy to coal plants. However, these methods seem already exhausted. Should Russian gas flows not suffice, rationing seems inevitable. EU officials are currently preparing for a worst-case scenario of a total Russian gas cut-off with plans in progress aiming to reduce gas demand by 15%. Any form of gas rationing—demand destruction—would have negative implications for industrial output and economic activity, and be damaging to European growth.
The ECB hikes into a slowing economy
Meanwhile, another headwind for the euro-area outlook is the dramatic hawkish pivot by the ECB in response to rising inflation, including this Thursday's policy rate hike lifting rates out of negative territory. Since mid-April, we have forecast that further hawkish shifts by the ECB—echoing moves by the Federal Reserve (Fed) earlier this year—should raise intermediate-maturity yields on German Bunds (and other core European bonds) relative to U.S. Treasuries.
And if a global recession were to materialize, German Bunds would likely underperform U.S. Treasuries, which would have farther to fall as developed market (DM) bond yields dropped toward zero. In recent weeks, however, rising uncertainties are tempering our bearish view on German Bunds.
For most of this year, market participants have reacted to strong inflation data and hawkish policy responses by becoming bearish on bonds, on expectations that rates will rise in the future. However, over the last couple weeks, that bearishness seems to be increasingly offset by bond-bullish growth fears: that higher inflation and higher near-term policy rates will drive the economy into recession. In our view, this increased focus on growth concerns may reduce the propensity of German Bunds to sell off on further hawkish developments from the ECB.
And indeed, we are not convinced that the ECB has the same inclination as the Fed to tighten policy beyond neutral into restrictive territory. Over the last two years, euro-area inflation expectations have risen to a range consistent with the ECB's 2% target, a positive development following uncomfortably low expectations during the previous expansion. The ECB has been eager to seize the opportunity to end the past decade's negative interest rate environment, which has never been popular with the public or the region's banks. But there may be less appetite to continue these hikes substantially beyond liftoff for a couple of reasons.
First, there may ultimately be less impetus for the ECB to tighten policy. While headline inflation in the euro area is nearly as high as in the U.S., core consumer price inflation has remained much lower, under 4% year-over-year. The euro-area labor market appears tight, with unemployment at its lowest level since the creation of the monetary union, but wages are showing only preliminary signs of accelerating. Ultimately, euro-area inflation still seems to be driven more by supply shocks to imported goods, like Russian natural gas, than by tight supply of domestic resources. Such noncore factors are perhaps less apt to persist and might ultimately warrant less (and be less affected by) monetary policy tightening.
Second, downside risk to growth and financial stability represents possible constraint on the tightening cycle. In particular, rising yields will likely raise concerns about the sustainability of peripheral economies' debt loads, especially given Italy's shaky political environment. The ECB is developing an "anti-fragmentation" tool designed to prevent peripheral bond spreads from widening excessively (judgments on its likely efficacy vary). But for peripheral nations, debt sustainability could become troublesome as all-in yields on their sovereign bonds rise with core rates, even absent wider spreads. In such an event, not only may the ECB turn cautious on further policy tightening but safe-haven flows, from peripheral bonds into core Bunds, could push down Bund yields.
We therefore draw a contrast between the ECB and other DM central banks, such as the Fed, that seem committed to moving policy rates into restrictive territory in defense of their inflation targets. For the region, then, we regard this ECB tightening cycle more as the cessation of a tailwind than as the beginning of a stiff headwind. In our view, the ECB seems more likely to aim for a neutral rate level, probably around 2%, though economic strains might halt the tightening cycle short of that mark. We will, therefore, monitor for signs that growth fears are rising, or that ECB policymakers' hawkish inclinations are fading, as a signal to replace our German Bunds underweight with a neutral stance.
The return of Italian politics as a pressure point
Turmoil returned to Italian politics recently after a period of, by Italian standards, relative calm. The Five Star Movement, part of the ruling coalition, refused to support a policy proposal spearheaded by Prime Minister Mario Draghi. In response, Draghi twice offered his resignation to Italian President Sergio Mattarella. Draghi's second offer was accepted, Parliament was dissolved and new elections were set for September 25. Polling data suggests that a right and center-right coalition would likely win a new election. These parties have a history of Euroskepticism, and while they have rolled back proposals to leave the single currency, their election would likely be a negative driver for EUR/USD.
With Italy's debt-to-GDP ratio at over 150% and interest rates rising quickly, investors are wary of the sustainability of the country's public finances. The spread between 10-year Italian and German government bond yields – around 2.3% – has widened significantly year-to-date, in part reflecting the political situation. With Bund yields on the move, too, the all-in yield on Italian government debt has moved even more aggressively, with 10-year yields close to a 3.6%, a worrying level (Exhibit 1). One risk is that a new government pursues spending inconsistent with the EU's fiscal rules, raising tensions with the European Commission and pushing yields even higher.
Italian government bond yields are near the highs seen in 2018
Exhibit 1: 10-year Italian government bond yields
Source: Bloomberg, J.P. Morgan Asset Management; data as of July 2022.
Asset allocation implications
We are expecting a prolonged period of subtrend growth in Europe, and see a particularly troublesome growth-inflation tradeoff. We believe that the euro can devalue further vs. the USD, and have a small underweight to German bunds. Regarding the stock market, we are neutral on European stocks vs. their global peers. While we have noted several risks to the European outlook, the market is also cheap, with 12-month forward P/E ratios at just 11x. The market is also relatively insulated from the de-rating dynamic that has hurt more highly valued stocks this year. Before moving to a negative view on European stocks, we would need to see a more significant deterioration in the economic outlook, most likely driven by the gas situation, or by a pickup in negative sentiment in peripheral spreads, led by Italy. If those risks were to clear, it would be a trigger to move to a positive view on European stocks.
Exhibit 2: MAS Asset Class Views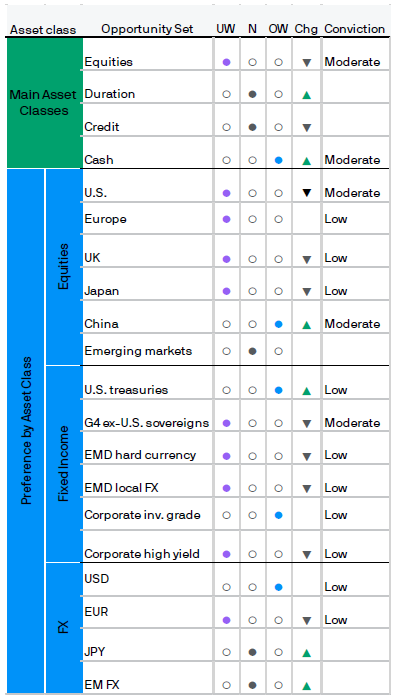 The tick chart and views expressed in this note reflect the information and data available up to June 2022.
0903c02a82a2323f