Monthly Market Review
Review of markets over October 2021
01-11-2021
Paola Toschi
After a weak start, stocks regained momentum throughout October with many equity indices making new highs during the course of the month. US stocks were supported by a strong start to the Q3 earnings season, with more than 80% of companies beating earnings expectations, which helped to drive the S&P 500 to a new peak. Chinese indices also rebounded, in part thanks to progress in the beleaguered property sector.
Fixed income markets were much bumpier. The combination of persistent bottlenecks in the global supply chain and booming energy prices drove concerns around prolonged inflationary pressures, leading markets to price in a faster pace of tightening from central banks across the world. The 10-year US Treasury yield hit a high of 1.7% over the course of the month, but much larger increases in shorter-dated yields caused interest rate curves to flatten in several regions.
From a growth perspective, the recovery remains solid. Flash purchasing managers' indices (PMIs) improved in the majority of developed countries and progress in vaccination campaigns is broadly limiting risks of new mobility restrictions, although China and Russia are two notable exceptions.
Exhibit 1: Asset class and style returns
Source: Bloomberg Barclays, FTSE, MSCI, Refinitiv Datastream, J.P. Morgan Asset Management. DM Equities: MSCI World; REITs: FTSE NAREIT Global Real Estate Investment Trusts; Cmdty: Bloomberg Commodity Index; Global Agg: Barclays Global Aggregate; Growth: MSCI World Growth; Value: MSCI World Value; Small cap: MSCI World Small Cap. All indices are total return in US dollars. Past performance is not a reliable indicator of current and future results. Data as of 31 October 2021.
The combination of strong demand combined with supply constraints moved energy prices to record highs in October. In Europe, natural gas prices jumped by 60% in a week, though moderated following comments from Russian President Vladimir Putin around his intention to increase gas supply to Europe. The extent to which this will resolve shortages remains unclear given that pipelines are already close to capacity. In Asia, coal shortages induced many governments to take steps to increase production. Energy blackouts in China weighed on manufacturing activity.
The US Consumer Price Index (CPI) remains elevated at 5.4% year on year (y/y) (and core CPI at 4.0% y/y), and with price pressures in several areas of the economy proving stubborn, we may not yet have passed the peak. Last month's sharp acceleration in auto prices was especially notable given ongoing shortages in semiconductors. Euro area inflation rose to 3.4% y/y in September, the highest level in 13 years, while inflation in Germany pushed above 4%.
Exhibit 2: World stock market returns
Source: FTSE, MSCI, Refinitiv Datastream, Standard & Poor's, TOPIX, J.P. Morgan Asset Management. All indices are total return in local currency, except for MSCI Asia ex-Japan and MSCI EM, which are in US dollars. Past performance is not a reliable indicator of current and future results. Data as of 31 October 2021.
China's real GDP growth decelerated in the third quarter to 4.9% y/y after having grown at 7.9% y/y in the second quarter. Total social financing growth eased and while retail sales grew by 4.4% y/y, this is still below the pre-pandemic average. On the positive side, exports rose by 28.1% y/y, thanks to rebounding demand from developed markets and Southeast Asia. The goal of a 6% annual growth rate, set by the Chinese Government at the beginning of the year, still seems achievable thanks to the strong start to 2021.
Investor concerns around the Chinese property sector eased slightly after a large property developer made interest payments that had previously been missed in September. Investors' attention is focused on how Chinese authorities will manage regulations in the real estate sector to control spillover risks. Chinese equities rebounded over the month, suggesting that following several months of substantial underperformance, greater regulatory uncertainty may now be better priced in.
In the US, Congress managed to avert a debt ceiling crisis, kicking the can down the road to a new deadline in December. US president Joe Biden made progress on his infrastructure spending proposals, announcing a framework for new legislation that appears to have the broadest support yet from across the Democrat party. Further changes may yet be required for the spending plans to pass into law.
US labour market data highlighted the impact of worker shortages, with wages increasing by a robust 5.5% y/y. Despite the end of more generous unemployment benefits which may have postponed job searches, the labour force declined last month and participation rates remain below their pre-pandemic peak. On the positive side the unemployment rate fell to 4.8%.
US GDP growth of 2.0% y/y for the third quarter disappointed, hurt by a combination of negative effects from Hurricane Ida and persistent supply-side distortions. More timely data over the course of the month offered encouragement that momentum is now picking up again. Overall the US recovery is solid and the economy is approaching full employment with inflationary pressures building. Consequently, it appears highly likely that the Federal Reserve will announce the start of tapering in November with a view to ending bond purchases by mid-2022. A gradual hiking cycle could then start towards the end of next year.
Exhibit 3: Fixed income sector returns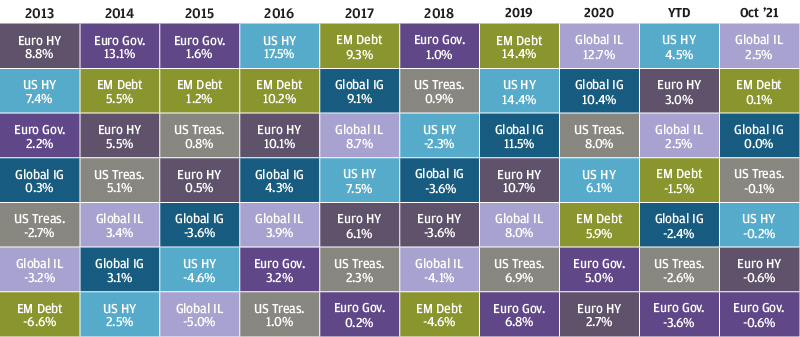 Source: Bloomberg Barclays, BofA/Merrill Lynch, J.P. Morgan Economic Research, Refinitiv Datastream, J.P. Morgan Asset Management. Global IL: Barclays Global Inflation-Linked; Euro Gov.: Barclays Euro Aggregate Government; US Treas: Barclays US Aggregate Government - Treasury; Global IG: Barclays Global Aggregate - Corporates; US HY: BofA/Merrill Lynch US HY Constrained; Euro HY: BofA/Merrill Lynch Euro Non-Financial HY Constrained; EM Debt: J.P. Morgan EMBIG. All indices are total return in local currency, except for EM and global indices, which are in US dollars. Past performance is not a reliable indicator of current and future results. Data as of 31 October 2021.
In Japan, Covid-19 infections have started to decline and vaccinations are progressing well, enabling the government to reduce some restrictions on activity. As a result economic growth is expected to accelerate in the coming quarters thanks to a boom in services consumption and a rise in capital expenditure (capex) momentum.
Europe kicked off the distribution of the Recovery Fund. Italy and Spain – the main beneficiaries of European Union (EU) resources – announced their intentions to pursue expansionary fiscal policies and to postpone fiscal consolidation until much later in the recovery. At its October meeting the European Central Bank (ECB) reiterated that it expected the current rise in inflation to be transitory. A decision on how to conduct asset purchases following the end of the Pandemic Emergency Purchase Programme (PEPP) was postponed until December. The unexpected resignation of Bundesbank President Jens Weidmann triggered speculation that his successor may be less hawkish, which, in turn, could boost the prospects for cheap funding conditions in Europe persisting for longer.
The EU's inaugural green bond issuance to finance investments focused on climate change policies received stellar demand. EU issuance should provide a further boost for the momentum behind green bonds – a market which we see providing high quality diversification opportunities for fixed income investors.
On the macro side, economic growth in Europe is still suffering from a loss in momentum. This is most notable in Germany, where automotive sector weakness driven by semiconductor shortages is weighing on industrial production. It's notable that excluding the auto sector, the trajectory of eurozone industrial production is back above pre-pandemic levels.
On the political front, a coalition between the centre-left SPD, the Greens and the liberal FDP is the most likely outcome of negotiations in Germany, as we discuss in our recent publication "The implications for investors of the German election". Initial policy proposals of a new coalition include a minimum wage increase and several social initiatives. Government spending is expected to be focused on digitalisation and climate policies.
In the UK, the labour market remains strong with the unemployment rate falling to 4.5% last month. With the Bank of England growing increasingly wary of rising wage pressures, a first interest rate hike this year now looks very feasible. The UK stock market has been out of favour since the Brexit vote, but attractive valuations and dividend yields may now encourage global investors to return to the market, as we discuss in our recent On the Minds of Investors publication, "UK equities offer value".
Rising vaccination rates in Asia are enabling economies to gradually reopen, with mobility picking up accordingly. Economic surveys are moving higher as a result. Rising inflation risks have moved central banks across the emerging markets to raise rates over the past month, with a particularly eye-catching rate increase of 150 basis points in Brazil.
Exhibit 4: Fixed income government bond returns
Source: Bloomberg Barclays, Refinitiv Datatsream, J.P. Morgan Asset Management. All indices are Bloomberg Barclays benchmark government indices. All indices are total return in local currency, except for global, which is in US dollars. Past performance is not a reliable indicator of current and future results. Data as of 31 October 2021.
With vaccine coverage improving in many countries, investors' attention is moving away from Covid19 and towards the post-pandemic process of normalisation. Persistent supply chain constraints are weighing on the path of the recovery and feeding fears of longer lasting inflationary pressures. Despite this dynamic, we view the prospect of economic stagflation as unlikely. The growth outlook remains firmly underpinned by huge levels of pent-up demand, solid corporate balance sheets and robust investment intentions.
Equity markets can still run further in this mid-cycle environment and rising yields could continue to support a rotation towards more value-oriented sectors of the market. The relatively high level of equity dividend yields also remains an attractive source of income. With COP26 taking place this month, we expect an increased focus in markets on environmental, social and governance (ESG) factors, with a widening gap between winners and losers across sectors. We discuss this further in "Getting ahead of COP26 and what it means for investors".
Exhibit 5: Index returns for October 2021
Source: Bloomberg Barclays, MSCI, Refinitiv Datastream, J.P. Morgan Asset Management. Past performance is not a reliable indicator of current and future results. Data as of 31 October 2021.