Sustainable opportunities across sectors
The UK equity market is not always viewed as a natural hunting ground for sustainable investors. But beyond the high-profile oil & gas and mining names, the index offers rich opportunities to invest in well-run companies committed to equality and to the sustainability of our planet.
Many UK companies are taking their environmental, social and governance responsibilities seriously, and transforming their businesses to benefit their employees, their communities and our world.
Resilient Ecosystems
Royal Mail
Royal Mail, the UK postal service has struggled with union and labour relationships for many years, resulting in persistent restructuring and strike action as the company battles against a declining core letter business.
Equal Opportunities
Tate & Lyle
While the Tate & Lyle brand is still associated with the bags of sugar you see on the supermarket shelf, the company has actually been sugar free for over a decade.
Governance Imperatives
Persimmon
Persimmon hit the papers for all the wrong reasons in 2017/18 as the house builder, a beneficiary of the government's help-to-buy scheme, paid record directorate compensation to a number of executives.
As Royal Mail has invested in the growing parcels business, it has been able to turn a corner with labour relations. The Deputy General Secretary (Postal) of the CWU is recently on record as saying that the union and the company are now delivering on a "joint vision", evidenced by company survey data, which has shown a significant increase in staff responding that they "feel valued".
As a result, Royal Mail looks set to improve its social credentials significantly. This comes alongside its leading environmental performance, with carbon footprint per delivered parcel 60-70% lower than peers as a result of Royal Mail's "on-foot" delivery network.
Having sold its namesake granulated sugar business in 2010, Tate & Lyle has spent recent years reinventing itself as a food & beverage solutions business, working with large food & beverage companies to replace sugar with alternative sweetener combinations that reduce calories but maintain taste and texture.
As a result, the company has been able to commit to removing 9 million tonnes of sugar - equivalent to 36 trillion calories, or 250 billion cans of Coke1 – from people's diets by 2025.
This reinvention of the business model also brings a rerating opportunity, with the company still trading on around half the price/earnings ratio of longer-established ingredients businesses such as Kerry Group and Symrise.
1 Based on a standard 12oz can, coca-colacompany.com
At that time, Persimmon had become synonymous with poor build quality, with customer satisfaction significantly trailing that of its sector peers. However, following significant cultural change, we believe that the foundations are in place for Persimmon to undergo a change in perception from an ESG perspective. In our opinion, the external appointment of Dean Finch as chief executive has been instrumental in changing the culture of the business.
Importantly, with customer satisfaction at 90.8% in the most recent survey (based on rolling 12 months to December 2020, published in June 2021), the company is likely to achieve a five-star Home Builders Federation (HBF) rating in the next survey.
Persimmon's HBF customer satisfaction survey results, 2015-Q1'21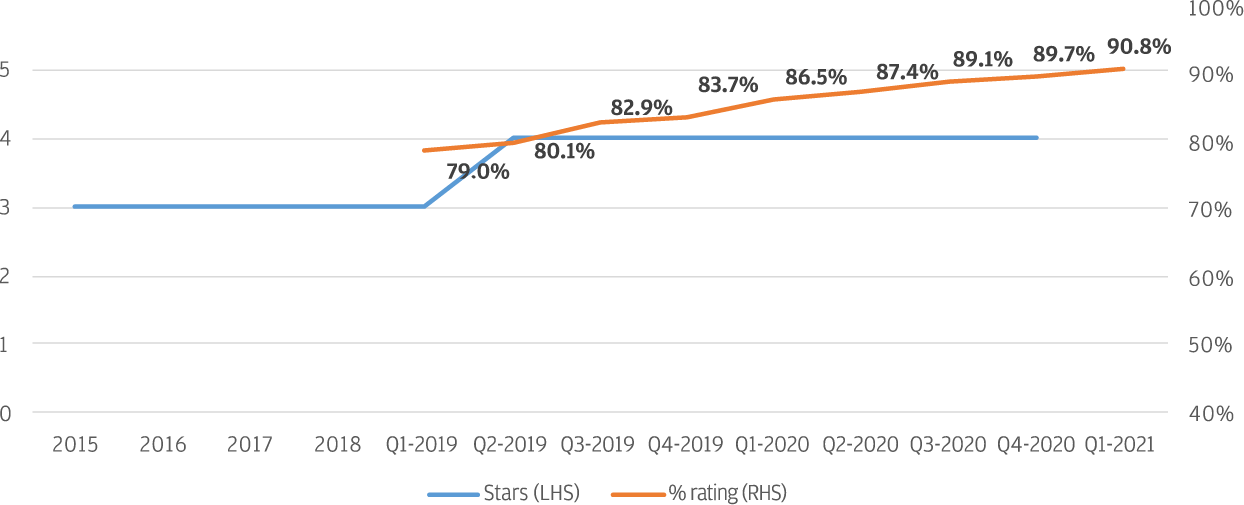 Source: Home Builders Federation's National New Homes Customer Satisfaction Survey
Invest in the UK's sustainable leaders
JPM UK Sustainable Equity Fund seeks to deliver long-term capital growth by investing in companies that contribute to resilient ecosystems and/or equal opportunities, underpinned by robust governance and strong economics.

Governance imperatives
Resilient ecosystems
Climate change mitigation
Enabling the transition to a low carbon economy
Responsible resource consumption
Promoting circularity and protecting biodiversity
Equal opportunities
Social cohesion
Driving empowerment and well-being
Diverse and motivated workforce
Creating resilient and inclusive workforces
Sustainability embedded throughout organisations
Building a sustainable portfolio
The fund takes a four-step approach to building a portfolio of UK companies with best-in-class sustainability characteristics.
We exclude industries that are unsustainable on values that matter to our clients, including fossil fuels, gambling, tobacco, weapons and adult entertainment.






We make norms-based exclusions for companies in breach of the United Nations Global Compact, while we exclude stocks in the worst quintile of companies based on our proprietary sustainability score.




We invest in companies identified by our analysts as sustainable leaders within their sectors, or companies that demonstrate improving sustainability characteristics, based on our near-70 question sustainability survey.


We use active engagement to understand how companies approach ESG issues, to influence behaviour and to encourage best practice.