No Time To Wait: Bank of England
29-10-2021
Kim Hutchinson
From Negative Rates to Rate Hikes
What a journey it has been with the Bank of England through the COVID-19 pandemic.
A year ago, the Bank of England (BoE) had just written to the financial sector to understand what operational challenges they might have with the implementation of a zero or negative Bank rate. Today, after a few hawkish turns – including the possibility of hiking rates while its Quantitative Easing (QE) program is still in progress – the BoE is set to be the first major developed market (DM) central bank to start hiking rates since the COVID-19 crisis.
Figure 1: Hikes priced, anchored at Base Rate (%)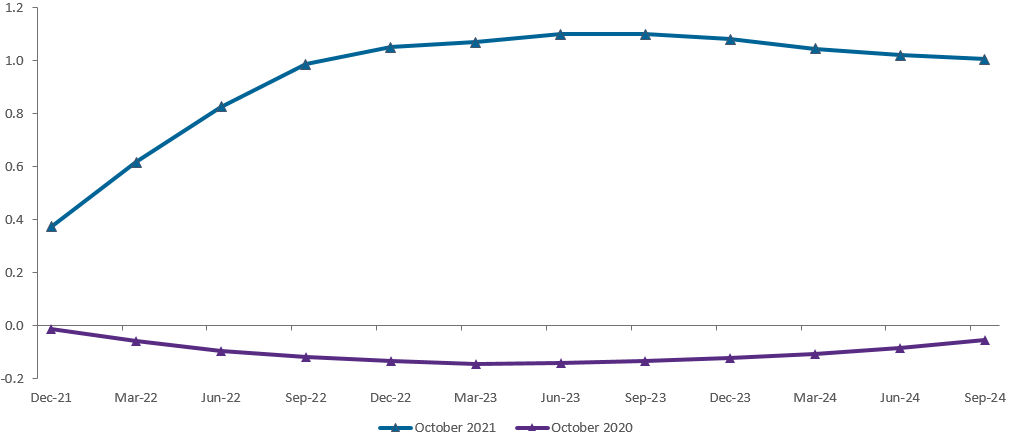 Source: Bloomberg as at 26 October 2021
The innovation doesn't stop there. The BoE is also the only DM central bank to have changed its exit strategy priorities to include balance sheet run-off. Previously, the plan had been to start unwinding asset purchases when the bank rate reached 1.5%. Today instead, when the bank rate hits 0.5%, the BoE will start passively reducing its £895bn balance sheet (by not reinvesting proceeds from maturing bonds that it holds), and when the bank rate hits 1%, it will further consider actively selling down its bond holdings (achieving balance sheet reduction quicker).
Heightened Sense of Urgency
With the BoE set to start hiking rates imminently, there are three questions to be addressed surrounding the Bank's heightened sense of urgency, both in absolute, and relative terms.

Firstly, absolute. Why hike in 2021? Growth has softened recently and supply-side shocks are pushing up prices temporary. The key driver of a 2021 hike for the BoE is evolving medium-term inflation risks. Yes, growth has softened of late, but it still remains firm overall and most fast indicators point to healthy overall momentum, and still above trend growth. The focus instead, is on inflationary pressures that have proven less transitory, and increased in intensity. The BoE is concerned about rising inflation expectations (see chart below) and weak labour supply (that has contributed to wages pressures) becoming embedded, and is keen to hike to demonstrate its resolve to tackle inflation. Let's also not forget that a hike would simply see the BoE normalizing policy from crisis levels.
Figure 2: 5y Inflation Expectations (%)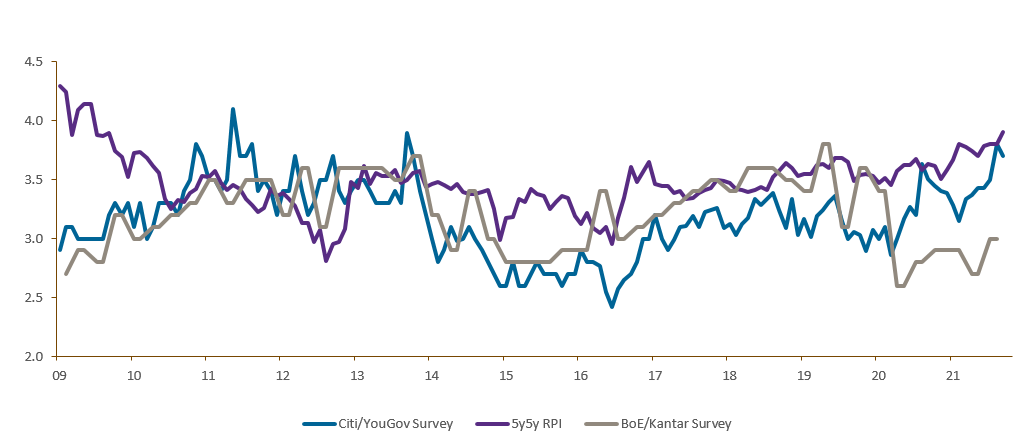 Source: Bloomberg, Citi, YouGov, BoE, Kantar as at 26 October 2021
Secondly, relative. Why is this different to the inflation overshoot in 2011, which the BoE correctly ignored, but the European Central Bank (ECB) responded to and had to quickly reverse? Starting with the BoE, the foundations were different in 2011. High inflation rates largely reflected higher administered, energy and commodity prices. But crucially, there was clearer evidence of persistent spare capacity in the economy, keeping wages (more persistent inflation) contained. Today, that is different, and both household and corporate balance sheets are also stronger. The ECB hiked in April and July 2011, as it was focused primarily on second-round effects of higher prices, but neglected high unemployment, slow growth and a continuing debt crisis, and that proved wrong.
Thirdly, relative. Why is the BoE hiking so much earlier than other major DM central banks? Overall, the broad upside inflation narrative does apply to varying degrees across central banks, but there are some unique features to the UK economy that sets it apart. Underlying inflation in the UK has never fallen much below target in recent history, as a result low inflation is something the BoE needs to worry less about, unlike the ECB. At the same time, the BoE has not adopted any inflation overshooting objective. It remains committed to its symmetrical 2% target, unlike the Federal Reserve (Fed) that has shifted to a Flexible Average Inflation Targeting (FAIT) framework. Lastly, the UK could potentially see longer-lasting supply shocks (both to labour supply and supply chains) due to the additional factor of Brexit on top of the pandemic.
No Time To Wait
The BoE is rightfully set to be the first major DM central bank to start hiking rates this year given evolving medium-term inflation risks. The foundations are different to 2011, where the Bank remained on hold despite inflation overshoots. And there are unique features that sets the UK economy apart to justify it being an early DM hiker.
?09ls212710164613