Ahead of the curve? The case for (some) emerging market local currency exposure
13-10-2021
Julien Allard
Giles Bedford
Rising inflationary pressures have led emerging market (EM) central bankers to break with developed market policy trends. Smaller, less diverse economies can be more vulnerable to inflationary pressure, a reality not missed by EM central bank governors. By pivoting monetary policy towards fighting inflation early, many EM central banks find themselves late in their cycle – just as the Federal Reserve (Fed) warms up to taper bond purchases and tighten liquidity.
The result of this pre-emptive strategy is a group of smaller countries sitting near the top of their monetary policy cycle, while their major trading partners prepare to follow in their path. For EM local currency managers, the combination offers a silver lining for 2022 as moderation in EM inflation will improve the real yield profile of the asset class. The combination has the potential to unlock profound outcomes for local currency returns, as EM countries can offset the impact of rising rates and thus stimulate growth.
So far, 12 major EM central banks have already started their hiking cycle (Figure 1.). We see Russia, Czech, Hungary and Mexico all nearing completion of their policy move by mid-2022. Those that have not are justified in holding because inflationary pressure is less evident in Asia and South Africa. That said, we expect the South African Reserve Bank to act soon and thus maintain credibility.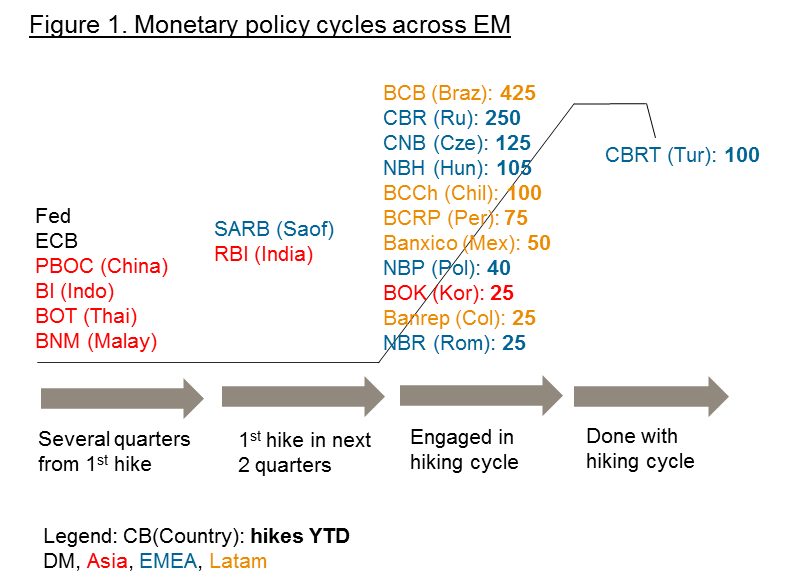 Source: J.P. Morgan Asset Management, October 2021
To unlock the opportunity, we need to see inflation moderate. We think that comes through a period of supply chain repair and commodity price moderation. As illustrated in Figure 2 (left figure) the bulk of the inflation rise year-to-date was driven by the non-core, more volatile components of inflation and could therefore exhibit some mean reversion in 2022. Core inflation has remained broadly under control in most of EM. This is also the view of our analysts - which are forecasting lower year-over-year inflation in 2022 compared to the current levels, especially in EMEA and Latam (right figure 2). The main risk to this position is that inflation expectations become unanchored within the EM space. We think risk is likely to fade next year, given the proactive stance of EM central banks. We believe wage inflation across emerging markets remains anchored, which in turn tends to help anchor inflation. In our observation, inflation expectations in EM tends to be adaptive, meaning that when prints drop, so then expectations look for further relief.
As inflation moderates, EM Central Banks will enjoy a comfortable position, thanks to their accumulated real policy rate buffer. In this scenario EM bonds should tighten against treasuries. For bond investors looking for catalysts, improving EM Central Bank credibility might be an important story in 2022 and beyond.
Source: J.P. Morgan Asset Management, October 2021
A common concern among investors is that tightening liquidity conditions will negatively impact EM growth. Our argument here is that EM local curves are currently steep enough to absorb this move, and therefore local central banks will not have to respond directly to the Fed. This leaves EM broadly ready for a normalization of U.S. policy. Looking ahead to next year, many EM central banks will not be able to stay unchanged even in front of the Fed, as pressure will be offset by moderating local inflation.
It is worth mentioning that some EM countries have used this period to broaden and diversify for the better. Emerging market central banks have generally managed this growth well, gaining credibility in the process. Today's emerging market countries are far more robust than they were in the mid-to late1990s, when a progression of sovereign crises presented a series of preposterous market entry points. Russia provides a useful example to compare then and now: 23 years ago, a determined coal miner's strike contributed to Russia's central bank devaluing the currency simultaneously with the government defaulting on its debts. That day provoked an exciting reaction in global markets, and a fire sale on Russian assets. Fast forward to today, the 1990s Russia is unrecognizable. Russia boasts twin surpluses with an investment grade rating. Investors may fear a return to the previous paradigm, but in reality the present inflationary pressure does not erase a decade of positive policymaking and inflation convergence with the developed world.
Perhaps best of all, approximately nobody is paying attention. Peak U.S. exceptionalism may have passed, but asset allocators are clinging to their dollars regardless. In flow of funds terms, EM Local Currency bonds have been overlooked, and badly so. A glance at the weekly emerging markets flow of funds summary produced by our colleagues at J.P. Morgan Securities confirms our observation: while emerging market debt has seen net inflows year to date of USD 53 billion, the EM local currency space has seen only USD 3.2 billion.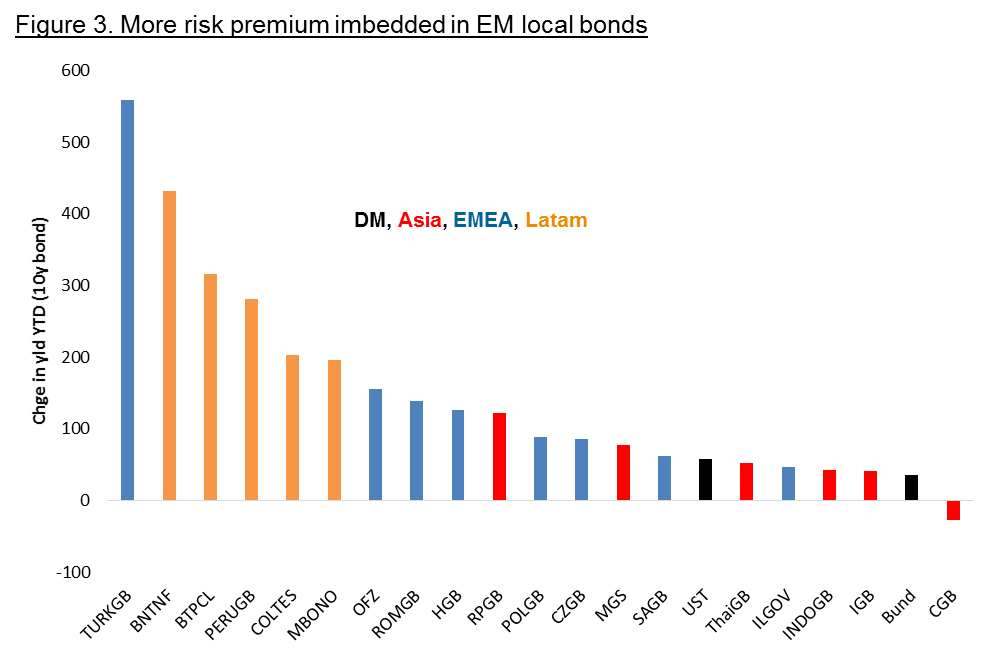 Source: J.P. Morgan Asset Management, October 2021
All of this can benefit investors in a number of ways. We see EM local currency duration performing as the market looks for the end of the hiking cycle in some major EM central banks. In turn, this could generate some relief for fiscal policymakers as rate costs fall, especially in higher yielding countries like Brazil and South Africa. That reduces the risk of a fiscal feedback loop, which is also good news for investors. We think EMFX would probably perform better behind strengthening Central Bank credibility, which might even reduce the market's testing of that credibility. Lastly, more attractive real policy rates and yields would help the entire local currency complex. The risk to this position is that inflation lingers longer than expected, thus increasing pressure on central banks to act.