At their first monetary policy meeting of 2022, the Reserve Bank of Australia (RBA) acknowledged that the economy "remains resilient" despite the recent Omicron outbreak which has not derailed the recovery. In its subsequent Statement on Monetary Policy (SOMA), the central bank pivoted from its previous economic forecasts – which had fallen at least a year behind actual data, noting the labor market "has recovered strongly" and inflation has "picked up more quickly than expected". This allowed the RBA to end its quantitative easing (QE) program earlier than previously envisioned, while base rates were left unchanged at 0.10% (Fig 1). Although the RBA remains "committed to maintaining highly supportive monetary conditions" due to uncertainties over the pandemic; it also switched to a data rather than date dependent trigger for rate hikes, with Governor Lowe admitting rate hikes as early as 2022 were now plausible.

Acknowledging Reality:
The latest economic data (Fig 2) has significantly outpaced RBA's forecasts with unemployment declining to 4.2% in December 2021 versus RBA's expectations (based on its November 2021 SOMA) that it would not reach this level until December 2022. Meanwhile, headline and core inflation had jumped to 3.5% and 2.6% respectively versus RBA's forecasts that this level would not be reached until at least the fourth quarter of 2024.
Acknowledging the rapid economic rebound following the lifting of lockdown measures in the fourth quarter of 2021, the RBA revised up 2022 GDP to 4.25%. The central bank expects unemployment to fall below 4% later in 2022 and anticipates underlying inflation could hit a peak of 3.25% in the coming quarters. These latest forecasts suggest conditions have been met for rate hikes, but, officially the RBA remains reluctant to assume a more hawkish stance until it has more clarity on the "sustainability of inflation is within the target band of 2 to 3%".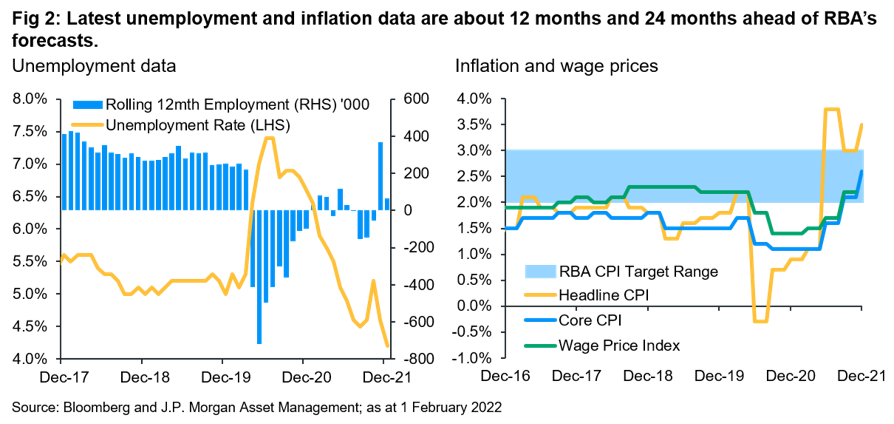 Ending extraordinary monetary support:
The decision to "cease further purchases under the bond purchase program" following the discontinuation of its yield curve control (YCC) program in November 2021 ends the RBA's experiment with extraordinary monetary policy support. Since both programs were launched in early 2020, the RBA balance sheet (Fig 1) has more than tripled to AUD 640bn with YCC purchases totaling AUD 80bn and QE purchases totaling AUD 272bn (the remainder was via excess cash support to banks).
The programs injected extra liquidity, encouraged bank lending and kept longer tenor yields anchored. However, acknowledging that "many other central banks have ended" their QE programs and "faster than expected progress has been made towards the RBA's goals", the central bank judged now was the right time to end them – marking one of the shortest uses of QE among major central banks.
Market Reaction:
In anticipation of a monetary policy pivot, Australian bond yields have moved substantially higher in the past few months (Fig 3). While the RBA's latest monetary policy statement was broadly in line with expectations, bond yields declined slightly and the currency weakened as investors grudging recognized the RBA's patient stance. Nevertheless, following the RBA governor's subsequent speech and the updated SOMA economic forecasts, yields rebounded towards previous highs as investors reaffirmed expectations of earlier rate hikes based on RBA staff forecasts that if "realized imply that the bank's policy goals would be achieved sooner than previously envisaged".
While the RBA has deferred any decision regarding the reinvest of maturing QE holdings until May 2022, the lack of further purchases should also remove downward pressure on longer tenor yields, which remain susceptible to persistent inflation pressures and the actions of other central banks. However, while the AUD has recovered from its recent lows, with the Federal Reserve expected to hike first and faster, the currency is likely to remain under pressure for the foreseeable future.
Conclusion:
The triumvirate of monetary policy statement, Governor Lowe's speech and the quarterly SOMA has provided significant insights into the RBA's latest thinking. While acknowledging the strength of recovery and broadening of inflation pressures, the central bank appears hesitant to declare the crisis to be over, stressing patience rather than a rapid return to monetary policy normality. Nevertheless, Governor Lowe's admission that interest rate hikes this year were plausible will be welcomed by AUD cash investors grappling with record low or zero yields since early 2020.
Although overnight rates is expected to remain low until the RBA actually hikes rates, the possibility of yields below the official OCR target level should diminish as liquidity tightens. Meanwhile, longer term deposits and investments already present opportunities for attractive yield pick-ups (Fig 3). Depending on their investment objectives and risk appetite, cash investors should maintain a disciplined and diversified investment strategy to optimize returns while minimizing the probability of suffering opportunity costs likely due to volatile markets.

Diversification does not guarantee investment returns and does not eliminate the risk of loss. Yields are not guaranteed. Positive yield does not imply positive return.