Hiking forcefully into a recession
05-08-2022
Mohamed Abubakar
In Brief
In a near-consensus 8-1 vote, the Bank of England (BoE) Monetary Policy Committee (MPC) raised the Bank Rate by 50 basis points (bps) to 1.75%, the highest level in over 13 years as domestic cost and price pressures intensify.


BoE lifted its inflation forecast and committed to "act forcefully" in response to more persistent inflationary pressures, despite a significant deterioration in its economic growth forecast.


High levels of uncertainty surrounding external and domestic factors prompted the MPC to adopt a more flexible, data-dependent approach towards forward guidance. Governor Bailey emphasised that "all options remain on the table" for the September meeting and beyond.
Acting forcefully
At its monetary policy meeting on the 4 August, the BoE MPC voted to raise the Bank Rate by 50bps to 1.75% (Exhibit 1), marking the largest rate increase since the MPC's independence in 1997. The vote was 8-1, with one member preferring a smaller 25bp move. The MPC deemed this to be an appropriate response to a tight labour market and elevated domestic cost and price pressures.
At the subsequent press conference, Governor Bailey acknowledged that the cost of living crisis and higher Bank Rate will disproportionately affect more vulnerable parts of the population, but reemphasised that the more forceful approach was necessary to "reduce the risks of a more extended and costly tightening cycle later". Nonetheless, given the significant downgrade to the Bank's growth forecast, Governor Bailey stressed that policy was "not on a pre-set path" and the appropriate Bank Rate would be decided at each meeting based on the Committee's assessment of the economic and inflationary outlook.
Exhibit 1: UK Bank Rate is at 1.75% for first time in over 13 years
Source: Bank of England, as at 4 August 2022.

Inflation and recession in all scenarios
The August Monetary Policy Report (MPR) saw a significant upward revision of the BoE's inflation forecasts. CPI (consumer price index) is now expected to peak at 13.3% in October (Exhibit 2), compared with the Bank's previous forecast of 10% as recently as May, and will remain at "very elevated levels throughout much of 2023". The energy price shock resulting from the Ukraine conflict was identified as the main driving factor, with UK gas prices doubling since May.
With markets now expecting a terminal Bank Rate of around 3%, the BoE expects UK inflation should return to the target level by the third quarter of 2024 (Exhibit 2). Interestingly, the BoE expects inflation to fall back to target by the fourth quarter of 2024 even if no further rate hikes occur as global commodity and tradable goods price decline.
Exhibit 2: BoE modal CPI inflation forecast (% year-on-year)
Source: Bank of England, as at 4 August 2022.
However, given the risks of inflationary pressures becoming embedded in the UK economy – with public and private sector workers already demanding wage increases – the MPC's hawkish rhetoric of acting "more aggressively" is needed to "ensure that longer-term inflation expectations are anchored at the 2% target".
In a major surprise, the MPR also forecasts the most severe growth outlook for the UK since the global financial crisis, predicting a five-quarter-long recession to start in the fourth quarter of 2022. Real household income is projected to fall sharply resulting in a 2.1% reduction in year-on-year GDP in the third quarter of 2023 (Exhibit 3). Meanwhile, the unemployment forecast was revised upwards and is expected to climb to 5.5% by the third quarter of 2024 based on market implied rate expectations.
Exhibit 3: BoE modal GDP forecast (% year-on-year)
Source: Bank of England, 4 August 2022.
Although the report highlighted that the risks around the MPC's projections were "exceptionally large at present", all the Bank's models confirmed the likelihood of "very high near-term inflation, a fall in GDP over the next year and a marked decline in inflation thereafter".

Quantitative tightening commences
The BoE released further details about its strategy for selling UK government bonds held in the Asset Purchase Facility (APF). The Bank expects to commence gilt sales shortly after its September meeting "subject to economic and market conditions". A total reduction of around £80 billion in the stock of gilts is expected over a one year period, comprising of roll-off of maturing assets and supplemented by active sales of around £10 billion per quarter.
Concurrently, the BoE announced the launch of a new short-term open market operation (OMO) program – the Short Term Repo facility (STR) – to help ensure that short-term market interest rates remain close to the Bank Rate. The facility is also designed to provide liquidity to the market and as a way for counterparties to access reserves as necessary.

Money markets react to gloomy tone of MPR
Since the beginning of the BoE's tightening cycle in late 2021, short term yields in the UK have risen and the curve has steepened significantly (Exhibit 4). Following the latest hike, the yield on overnight deposit and repo rates stepped up, while the 3 month-12 month short term rates curve flattened out as markets digested the BoE's sobering new growth forecast, and suggesting that we may be approaching the end of this tightening cycle.
Exhibit 4: UK Money Market Rates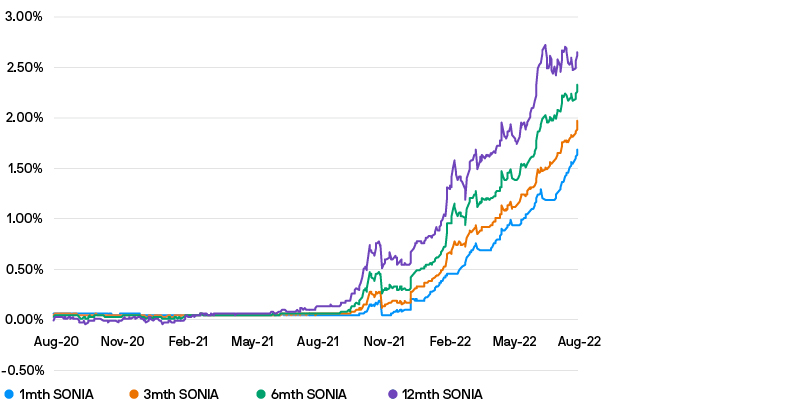 Source: Bloomberg, as at 4 August 2022.

Investor implications
Sterling cash investors will welcome this further increase in Bank Rate as improved overnight rates allow liquidity strategies to boost returns – albeit with a slight delay due to the need to reinvest term maturities.
Recession expectations and the BoE's pivot away from a predetermined path of policy rates suggests that bond markets will continue to exhibit high levels of volatility, hence a disciplined approach to cash segmentation is warranted such that sterling investors can optimise returns without excessive exposure to capital losses. JPMorgan's sterling liquidity strategy – being the most conservative and shortest duration strategy – is well-positioned for the BoE's continued tightening cycle and maintain a high level of flexibility to pivot in response to the anticipated economic downturn.
Similarly, JPMorgan's sterling managed reserves strategy has been positioned at its historically shortest duration, to capture additional yield from BoE's hiking cycle and avoid capital losses as rates curves repriced higher. Given this strategy's slightly longer duration compared to the liquidity strategy, cash investors seeking to capture the current levels of high yields over a longer time horizon may consider stepping-out into the sterling managed reserves strategy, which will run at a relatively longer duration going into the anticipated recession in the next few quarters.
09jd220808101542
For Professional Clients/ Qualified Investors only – not for Retail use or distribution.

This is a marketing communication and as such the views contained herein are not to be taken as advice or a recommendation to buy or sell any investment or interest thereto. Reliance upon information in this material is at the sole discretion of the reader. Any research in this document has been obtained and may have been acted upon by J.P. Morgan Asset Management for its own purpose. The results of such research are being made available as additional information and do not necessarily reflect the views of J.P. Morgan Asset Management. Any forecasts, figures, opinions, statements of financial market trends or investment techniques and strategies expressed are, unless otherwise stated, J.P. Morgan Asset Management's own at the date of this document. They are considered to be reliable at the time of writing, may not necessarily be all inclusive and are not guaranteed as to accuracy. They may be subject to change without reference or notification to you. It should be noted that the value of investments and the income from them may fluctuate in accordance with market conditions and investors may not get back the full amount invested. Past performance and yield are not a reliable indicator of current and future results. There is no guarantee that any forecast made will come to pass. J.P. Morgan Asset Management is the brand name for the asset management business of JPMorgan Chase & Co. and its affiliates worldwide. To the extent permitted by applicable law, we may record telephone calls and monitor electronic communications to comply with our legal and regulatory obligations and internal policies. Personal data will be collected, stored and processed by J.P. Morgan Asset Management in accordance with our EMEA Privacy Policy www.jpmorgan.com/emea-privacy-policy. This communication is issued in Europe (excluding UK) by JPMorgan Asset Management (Europe) S.à r.l., 6 route de Trèves, L-2633 Senningerberg, Grand Duchy of Luxembourg, R.C.S. Luxembourg B27900, corporate capital EUR 10.000.000. This communication is issued in the UK by JPMorgan Asset Management (UK) Limited, which is authorised and regulated by the Financial Conduct Authority. Registered in England No. 01161446. Registered address: 25 Bank Street, Canary Wharf, London E14 5JP.