Global Asset Allocation Views Q2 2022
Insights and implications from the Multi-Asset Solutions Strategy Summit
28-03-2022
In Brief

Tighter monetary policy, the war in Ukraine, and lingering inflation combine to put the brakes on global growth. We do not expect a global recession in 2022 but see European growth slowing to near zero before rebounding; the U.S., meanwhile, grows roughly at trend.
Supply constraints in many commodities point to elevated inflation throughout 2022 and consequent pressure on central banks to lean hawkish.
As asset markets recalibrate to the evolving economic environment, we expect continued volatility and reduce risk levels accordingly. Later in 2022 we see support for earnings and potential for better returns as uncertainty clears.
We trim equities to neutral and prefer the U.S. to Europe. Emerging market stocks are cheap, relatively, but COVID-19 resurgence in China presents a headwind. We keep our underweight to duration and remain overweight credit, where all-in yields are becoming more attractive.
Over the first quarter of 2022, we have witnessed a profound shift in monetary policy and a horrifying development in geopolitics, both of which have lasting implications for asset allocation. Unsurprisingly, asset markets are taking some time to recalibrate, and we should probably expect volatility to persist for a while. Yet despite the specter of significant monetary tightening, the distressing images from Russia's invasion of Ukraine and the ongoing disruption to commodity markets, we do not forecast a global recession. And while we are proceeding with caution, we do see scope for improving returns over the middle part of the year.
To be sure, recession risks have risen, but our base case remains that strong balance sheets, resilient margins and earnings—notably in the U.S.—and the release of post-pandemic pent-up demand will support global growth. There are regional variations: We see the potential for European growth to be roughly flat in Q2 and Q3 as supply constraints and a rising cost of living weigh on consumption. In the U.S., the rise in energy costs may be a headwind for growth, at the margin, but it is unlikely to cause a slump in activity now that the U.S. is largely energy independent. In sum, the pace of growth may be slower, but we expect it will remain positive and around trend.
Inflation, however, is proving to be more persistent than expected, and the impact of the war in Ukraine on commodities presents an upside risk to prices across the board in 2022. Again, we note regional variations. In the U.S., inflation is finding its way into rents and wages—causing the Federal Reserve (Fed) to pivot swiftly to a profoundly hawkish tone—but for now inflation in Europe is more at the headline level, while in China it remains generally muted. Nevertheless, higher inflation and tighter policy will likely characterize the remainder of this economic cycle. This will lead to a markedly different environment for asset allocation compared to the immediate aftermath of the pandemic outbreak, or to the previous decade.
Slowing growth (but no recession) and higher inflation (with the implication of tighter policy) create a recipe for volatility as asset prices adjust to the new environment. As a result, we have lightened up on risk for now. We cut our overweight to stocks to neutral and shift our regional bias back toward the U.S. Rates have risen meaningfully over the first quarter. Still, we keep our modest underweight to duration, given the persistent hawkish tone from policymakers. And despite stickier inflation we see value in credit, reflecting robust corporate balance sheets.
Our neutral view on stocks reflects the direction of travel in our portfolios over the first quarter. Technically, equities are oversold, and valuations present less of a headwind. However, after a lackluster 4Q 2021 earnings season we doubt earnings revisions will be an upside catalyst for stocks, until after 1Q 2022 earnings season, at least—assuming corporate guidance improves from the cautious tone last time out.
Rising inflation is also causing concerns about profit margins. This is an acute issue for commodity- and energy-intensive sectors and regions. But generally rising productivity would take some of the sting out of higher wage costs such that margins might prove surprisingly resilient in aggregate. In our view, Europe looks vulnerable to higher costs that challenge margins, while U.S. margins seem better protected. Thus, we move our U.S. equity view to overweight and Europe to a mild underweight. For the time being, we keep emerging market (EM) equity at neutral, but we are closely watching the trajectory in China of both COVID-19 and monetary policy for signs that the outlook for EM equity is improving.
Despite the sell-off in bonds, we remain underweight duration across most regions and expect curves to flatten further as policy rates increase. Given our base case of slower growth but no recession, we see some value in credit and so remain overweight. Credit spreads have behaved surprisingly well in recent market turbulence, but we believe this reflects the strong state of corporate balance sheets and does not imply that credit is vulnerable to a "catch down" to stocks. Nevertheless, given rising riskless rates, we prefer to focus on shorter-duration credit.
Overall, our allocation views acknowledge the reality of slower growth but stop well short of positioning for a recession. True, risks to growth have risen, and tighter financial conditions are a headwind. But we see global growth roughly at trend in 2022, which, as risks begin to recede, may well present some upside to risk assets as the year unfolds.
Multi-Asset Solutions Key Insights & "Big Ideas"
The Key Insights and "Big Ideas" are discussed in depth at our Strategy Summit and collectively reflect the core views of the portfolio managers and research teams within Multi-Asset Solutions. They represent the common perspectives we come back to and regularly retest in all our asset allocation discussions. We use these "Big Ideas" as a way of sense-checking our portfolio tilts and ensuring they are reflected in all of our portfolios.

Active allocation views
These asset class views apply to a 12- to 18-month horizon. Up/down arrows indicate a positive (▲) or negative (▼) change in view since the prior quarterly Strategy Summit. These views should not be construed as a recommended portfolio. This summary of our individual asset class views indicates strength of conviction and relative preferences across a broad-based range of assets but is independent of portfolio construction considerations.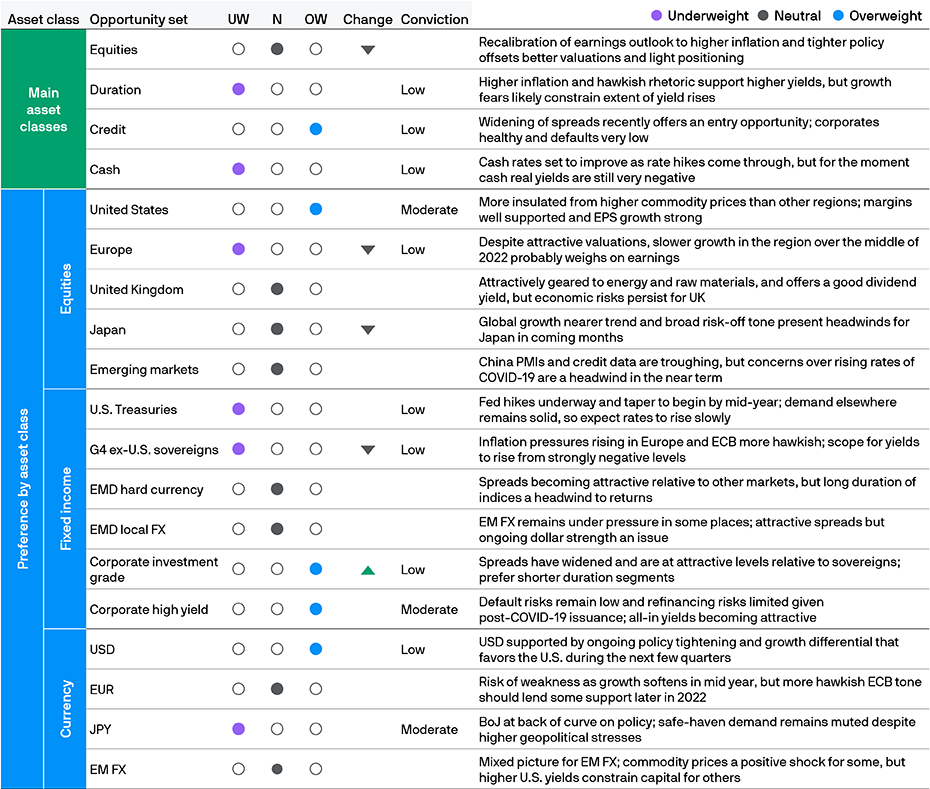 Source: J.P. Morgan Asset Management Multi-Asset Solutions; assessments are made using data and information up to March 2022. For illustrative purposes only.
Diversification does not guarantee investment returns and does not eliminate the risk of loss. Diversification among investment options and asset classes may help to reduce overall volatility.
Multi-Asset Solutions
J.P. Morgan Multi-Asset Solutions manages over USD 300 billion in assets and draws upon the unparalleled breadth and depth of expertise and investment capabilities of the organization. Our asset allocation research and insights are the foundation of our investment process, which is supported by a global research team of 20-plus dedicated research professionals with decades of combined experience in a diverse range of disciplines.
Multi-Asset Solutions' asset allocation views are the product of a rigorous and disciplined process that integrates:
Qualitative insights that encompass macro-thematic insights, business-cycle views and systematic and irregular market opportunities
Quantitative analysis that considers market inefficiencies, intra- and cross-asset class models, relative value and market directional strategies
Strategy Summits and ongoing dialogue in which research and investor teams debate, challenge and develop the firm's asset allocation views
As of December 31, 2021.
---