While Investment Grade (IG) credit fundamentals continue to look robust, central banks are wary of higher inflationary pressure.
What does the latest central bank developments mean for IG investors?
As central banks have found themselves flat-footed by surging inflation, the rhetoric from the U.S Federal Reserve (Fed) has taken a hawkish turn. For Investment Grade (IG) credit investors, the past seven rate hiking cycles between 1980 to 2016, have suggested that credit spreads have tended to perform relatively well in the 12 months pre and post the first rate hike (see Figure 1). However, higher levels of inflation in both emerging and developed markets means that investors are faced with coordinated tightening in monetary policy across the central banks. Such a synchronized shift in policy has induced higher levels of volatility across fixed income markets and poses a challenge to IG investors.
Figure 1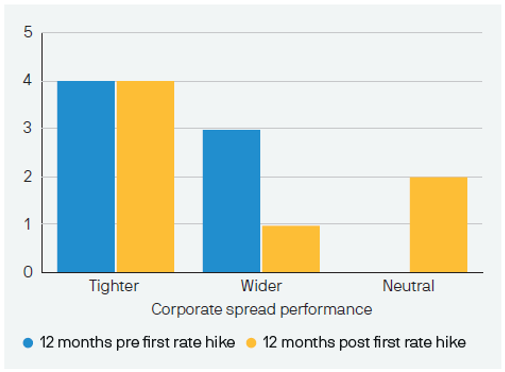 Source: JPMorgan, Barclays, Bloomberg 12/21. Spread changes are representative of the direction in points of time (i.e. 1year before the first hike and 1yr after).
While the Fed preparing to tighten monetary policy continues to dominate headlines, investors also need to be mindful of other central banks following suit. The Bank of England (BoE) also struck a hawkish tone by following up on its initial rate hike in December with a further 25bps hike in its latest meeting. This is the first time the BoE have conducted back-to-back interest rate hikes since 2004. Most notably for IG credit investors, the Monetary Policy Committee also took the unexpected step of announcing the sales of its entire, though relatively small, corporate bond holdings, amounting to £20bn in size. While this is unlikely to impact the Sterling IG credit fundamentals, this step could pave the way for the European Central Bank (ECB).
The ECB has had a much larger impact on the European IG market, purchasing over EUR300bn in corporate bonds via its Corporate Sector Purchase Programme (CSPP) since its launch in mid-2016. Further corporate purchases under its Pandemic Emergency Purchase Programme (PEPP) now mean that the ECB own approximately 11% of the EUR IG market. Investors were already bracing themselves for a blockbuster year with net issuance expected to be EUR180bn as regional corporations adopt more sustainable financing practices and look to fund further M&A activity. The possibility that elevated supply might coincide with the ECB tapering it corporate purchases in the middle of the year could further challenge EUR IG markets.
How should IG investors respond?
With volatility increasing, investors should look to be active and be flexible when managing their exposure. While IG credit fundamentals are unlikely to be dramatically changed by tighter monetary policy, the rise in volatility is likely to lead to some dislocations within the asset class. As yields start to rise and the overall stock of negative yielding debt begins to fall, investors will likely return back to their natural fixed income home. As this money goes into motion, tempering our exposure to more sensitive parts of the credit markets may help insulate investors during this central bank pivot. Elevated cash levels can help further dampen volatility while also providing some dry powder to take advantage of any tactical opportunities that might arise as the central banks withdraw liquidity from the system.
The improving economic backdrop means that corporate balance sheets remain in good health, however, the coordinated withdrawal of liquidity by the major central banks has triggered higher levels of volatility across fixed income markets, including IG credit. During this period of heightened uncertainty, reducing exposure to more esoteric parts of credit portfolios and moving up in credit quality may help protect performance as the central banks tighten monetary policy.
Material ID: 09de220902185710