27 May 2022
Rising recession risks
Growth is weakening across the US as a real income shock is dampening economic activity. We analyse whether this trend is likely to continue and if a recession is inevitable.
Fundamentals
Financial conditions in the US have tightened significantly in 2022 as rampant inflation has increased cost pressures on both companies and individuals. These conditions are a typical biproduct of a tightening in monetary policy however, financial conditions have tightened far faster compared to the last four hiking cycles. The speed of tightening is likely reflective of the higher inflation which has forced central banks to move faster than in recent cycles. The implications of this is reflected in economic data. Housing market activity has dropped while mortgage rates advanced higher, leading surprise indexes decreased rapidly over May, and manufacturing and services purchasing managers' indexes have also fallen. Even the labour market, which has been a robust pillar of growth in recent years, is showing tentative signs of weakness. The Dudley rule, which is an indicator of recessionary environments, shows the economy tends to go into recession every time the smoothed national unemployment rate rises by 0.3%. Currently, we are not at this level but we are approaching it and it should be closely monitored as an important indicator of an approaching recession. In aggregate, it does not appear that the economic data shows are we are in recessionary territory yet, however the trend of the data certainly suggests that cracks are beginning to appear in the growth backdrop.
US recession risks based on economic data are rising to levels similar to previous recessions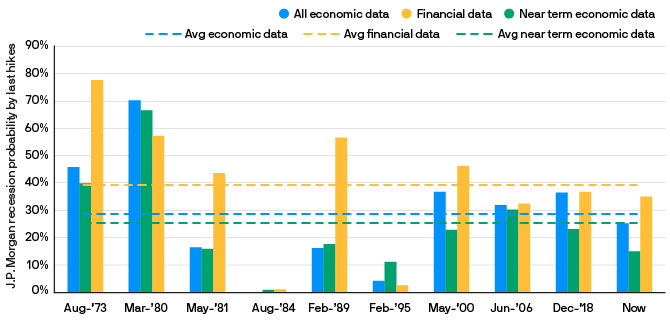 Source: J.P. Morgan Asset Management, US Bureau of Labor Statistics, as of 24 May 2022.
Quantitative valuations
Throughout 2022 equities and bonds have become positively correlated, eradicating the usual diversification which comes from fixed income. Both asset classes have fallen as higher inflation has led to tighter monetary policy. According to our quantitative models, US Treasuries are now broadly trading at fair value suggesting that this correlation may be shifting, and that fixed income markets are starting to stabilise. While the Federal Reserve (Fed) is priced to continue consistently hiking into 2023, the implied level of interest rates has flattened, and even started to decline in late 2023, providing yet more evidence that the market expects a recessionary environment and central banks could be forced to ease policy once again.
Technicals
Duration positioning suggests that the market still holds a short duration bias however this duration positioning has been moving closer to neutral. We expect that the market is letting hikes work through the system and waiting to see where the Fed hiking cycle might end before engaging in duration. It is important to remember that, having been one of the biggest buyers of credit in the market, central banks will be pairing back liquidity through quantitative tightening. There is also the potential for greater supply from looser fiscal policy as governments grapple with the soaring cost-of-living. Lower demand and higher supply will act as a significant technical headwind for fixed income markets.
What does this mean for fixed income investors?
Growth is undoubtedly weakening but we are not in recessionary territory, yet. Until we get greater clarity on when the hiking cycle might end or when a recession may be upon us, we will maintain a short duration in portfolios. For wider portfolios, if a recession is on the horizon investors should consider the diversifying nature of fixed income in their portfolios now that we are nearer fair value.
About the Bond Bulletin
Each week J.P. Morgan Asset Management's Global Fixed Income, Currency and Commodities group reviews key issues for bond investors through the lens of its common Fundamental, Quantitative Valuation and Technical (FQT) research framework.
Our common research language based on Fundamental, Quantitative Valuation and Technical analysis provides a framework for comparing research across fixed income sectors and allows for the global integration of investment ideas.

Fundamental factors
include macroeconomic data (such as growth and inflation) as well as corporate health figures (such as default rates, earnings and leverage metrics)

Quantitative valuations
is a measure of the extent to which a sector or security is rich or cheap (on both an absolute basis as well as versus history and relative to other sectors)

Technical factors
are primarily supply and demand dynamics (issuance and flows), as well as investor positioning and momentum