The outperformance of growth vs. value stocks, which has been a prevailing trend throughout the last decade, was further catalysed by the rapid rise of online sales and the acceleration in the digital transition sparked by the pandemic. The restrictions imposed on mobility benefited technology stocks, which are by far the largest sector weighting in growth indices. In contrast, the financials and energy sectors – two key components of value indices – suffered hugely from the cratering in economic activity. Low interest rates and flat government bond curves exacerbated the dispersion.
The pandemic therefore leaves us with the widest valuation gap between growth and value in history. Exhibit 13 shows that in 2020 the ratio between the trailing P/E of MSCI World Value vs. MSCI World Growth index reached its most extreme level, with value trading at just 42% of growth valuations – a gap even wider than the tech bubble in 2000. While history isn't always a good indicator of the future, it is worth noting that when looking at data going back to 1975, value has always outperformed growth over the next five years when value has traded at less than 60% of the growth valuation.
Exhibit 13: There remains a massive valuation gap between growth and value stocks
MSCI World Growth and Value trailing P/E ratios
Source: MSCI, Refinitiv Datastream, J.P. Morgan Asset Management. Trailing P/E ratio is the price to 12-month trailing earnings ratio, as published by MSCI. Data as of 19 November 2021.
We have seen glimmers of a recovery in value's relative performance as economic growth and inflation expectations rebounded thanks to the reopening of economies. But these periods were fleeting and value's time to shine was put on hold by the Delta variant, which weighed on growth forecasts and in turn expectations for when interest rates would rise.
For value to sustainably outperform growth we need to see consistent above-trend growth and growing conviction that central banks will be able to raise rates materially away from the zero bound.
As already discussed, our core macro scenario for 2022 is for a gradual rise in long-term interest rates. Exhibit 14 shows the correlation between US Treasury yields and the relative performance of each global MSCI sector. We can see that rising yields tend to benefit some sectors while hampering others. Financials and energy, two of the biggest value sectors, have strong positive correlations with rising Treasury yields. Other cyclical sectors, such as industrials and materials, tend to have a positive correlation but find themselves with reasonably similar sector weights in both the value and growth indices.
Exhibit 14: Rising bond yields will contribute to performance rotation
Correlation of MSCI ACWI sectors to US 10y Treasury yield
Source: MSCI, Refinitiv Datastream, J.P. Morgan Asset Management. Correlation of sectors is calculated between the six-month change in US 10-year Treasury yields and the six- month relative performance of each sector to MSCI All-Country World Index. Guide to the Markets - UK & Europe. Data as of 19 November 2021.
The income opportunity may also entice investors back to value stocks. Exhibit 15 shows that at a time when yields offered by government bond markets remain low and the search for income is still crucial for investors, value can offer an attractive income opportunity.
Exhibit 15: Value stocks are better placed to provide income
Global dividend yields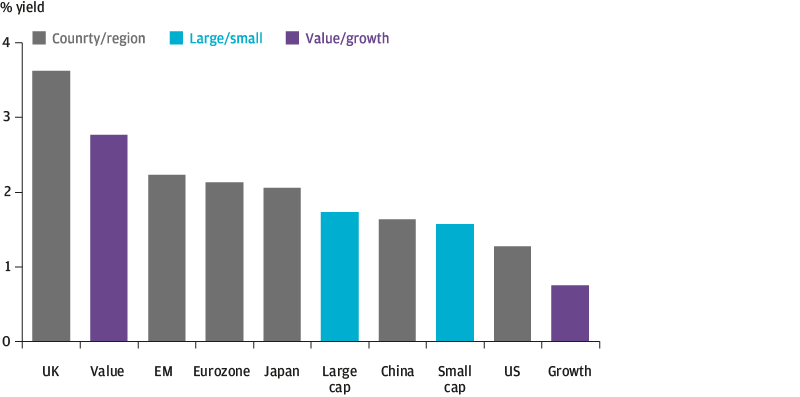 Source: MSCI, Refinitiv Datastream, J.P. Morgan Asset Management. Value and growth as well as size indices used are for the MSCI All-Country World universe. Guide to the Markets - UK & Europe. Data as of 19 November 2021.
This doesn't mean that investors should abandon growth altogether. Some tech stocks in particular will be supported by structural trends, such as digital and technological transformation, with the implementation of revolutionary new technologies likely to become even more important in helping to ease the climate transition. But investors must remain wary of stocks trading on high valuations that have been primarily driven by the plentiful liquidity conditions that central banks have provided. In a world where the tide of liquidity begins to turn, these names are likely to struggle the most.
In summary, investors should avoid recency-bias. The performance of growth stocks dominated the last cycle. But the macro backdrop looks more akin to the 2000s cycle than the post-Global Financial Crisis cycle. We should remind ourselves that in the 2000s cycle, it was value that outperformed.