Chinese equities have fallen sharply since February and we believe the recent decline represents a compelling investment opportunity for long-term investors. The decline has been caused by three main issues:
Education – The Chinese authorities announced in July that companies providing private tuition for children need to convert to non-profit organisations. Some investors have since become concerned that a similar fate could befall other sectors. We believe fears that China may force other large industries to become non-profits are misplaced. Ultimately, the authorities in China know that in order to achieve their growth targets and to continue increasing the prosperity of Chinese citizens they need a flourishing private sector with companies that are allowed to make profits and are incentivised to invest in growth and innovation. In our view this announcement relates to their ambition to make sure that opportunities for prosperity and jobs are available to the broad population, not merely those that can afford private tuition.


Regulation - Regarding the regulation of other sectors, particularly the tech sector, several headline-grabbing interventions have worried some investors. For example, the under 18s have been barred from playing online video games for more than three hours per week. Does this really justify the extent of the sell-off in some of the large Chinese gaming companies? The under 18s account for only about 6% of domestic gaming revenue at one of the largest online gaming providers in China, and yet the share price has fallen by more than 30% since its peak last February. We believe the long-term earnings growth outlook remains robust. Likewise, for other companies, we believe new regulations may somewhat slow the pace of profit growth but should not prevent earnings from still rising significantly in coming years.


Property - Most recently, there have been concerns about Chinese property developers, with some suggesting that excessive leverage and speculation in the sector could trigger a "Lehman Brothers moment". When we analysed this possibility, we found that the exposure of the large Chinese banks to the most at risk property developers would not be large enough to cause a 2008-style banking crisis. It is important to remember that financial stability remains a key Chinese policy goal. We believe that the authorities do wish to cool the property market, but that they have both the ability and the incentive to prevent potential spillover effects into the property market from becoming systemic. It wouldn't make sense for the authorities to trigger a property price crash in pursuit of financial stability.


Ultimately all these interventions relate to Beijing's goal of "common prosperity". We think the aim is to ensure that Chinese growth over the coming years is more inclusive and sustainable, which we would not expect to be bad for the economy, corporate profits or the stock market in the long run.
In fact, more inclusive growth, leading to a continued expansion in the size of the consumer class in China, is one of the things that excites us the most. The Chinese middle and upper income groups are forecast to expand by over a third of a billion people by 2030. That's about as many people as currently live in the US.
Exhibit 11: China's growing middle class creates compelling growth opportunities
Estimated change in the 'consumer class' by 2030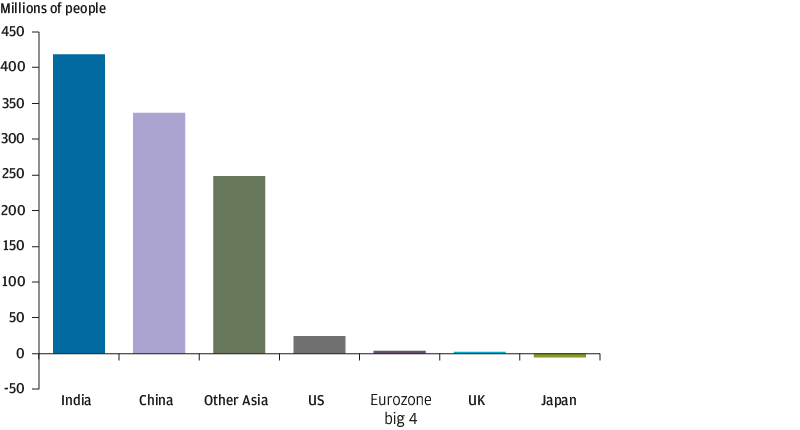 Source: Brookings Institute, J.P. Morgan Asset Management. Change in 'consumer class' is the change in the number of people from 2020 to 2030 living in a household and spending at least USD 11 per day per person. Other Asia includes Bangladesh, Indonesia, Pakistan, Philippines and Vietnam. Eurozone big 4 includes France, Germany, Italy and Spain. Guide to the Markets - UK & Europe. Data as of 19 November 2021.
We are not therefore overly concerned about the recent slowdown in Chinese growth. In part the slowdown reflects China's "zero tolerance to Covid" policy, in which stringent lockdowns are imposed at the first sign of infections. This policy is likely to remain in place, and potentially crimp demand, until after China hosts the Winter Olympics in February. But, as we have seen in the West, demand is likely to be merely delayed, not lost. We also expect Beijing to stop what was a deliberate tightening in credit and fiscal policy. Fiscal policy could become moderately more supportive, which alongside the catch up in demand, should enable China to grow by around 5% in 2022.
We expect growth to be slower than in the past but also more sustainable. China's ambition is to double GDP between 2020 and 2035. That goal is achievable. The increase in Chinese GDP by the end of 2035 would then be broadly equivalent to the 2020 GDP of the UK, Germany, France, Italy, Spain and India combined. GDP per capita should increase from USD 10,000 per person to around USD 20,000 per person. And remember, there are 1.4 billion people in China. That's a lot of extra spending for companies and investors to benefit from.
We therefore see the recent set back in Chinese stocks as an opportunity for medium-term investors. MSCI China trades on a forward P/E ratio of about 13x compared with over 20x for US equities. So Chinese equities aren't expensive. Even if the P/E ratio just stays where it is, the projected expansion in the economy should drive company earnings significantly higher over the coming years, helping to lift Chinese stocks.
Exhibit 12: Earnings growth and low valuations support the outlook for Chinese stocks
Consensus estimates for global earnings per share growth
Source: FTSE, IBES, MSCI, Refinitiv Datastream, Standard & Poor's, TOPIX, J.P. Morgan Asset Management. MSCI indices are used for Europe ex-UK, EM and China. UK is FTSE All-Share, US is S&P 500 and Japan is TOPIX. Guide to the Markets - UK & Europe. Data as of 19 November 2021.