In Brief
The Bank of England (BoE) raised the Bank Rate by 25 basis points (bps) to 0.50% in a split 5-4 vote with dissenting Monetary Policy Committee (MPC) members calling for an immediate jump to 0.75%.
Concerns around the greater persistence of inflation and a tight labour market were enough to deliver the first consecutive rate hike since 2004 and signal further rises. Yet, the BoE cautioned against market expectations getting "carried away".


The increase in Bank Rate will bring further respite from ultra-low yields for cash investors, however further interest rate volatility is likely and investors should consider maintaining a disciplined approach to cash segmentation.
The Bank of England (BoE) delivered on market expectations, increasing the Bank Rate by 25 bps to 0.50% at its February MPC meeting (Figure 1). Concurrently, the MPC agreed to cease reinvestments of maturing assets within the BoE's Asset Purchase Facility (APF), which currently comprises £875 billion government bonds and £20 billion investment-grade corporate bonds . It also (Figure 2) initiated a programme of sales of the latter, to be completed around the end of 2023.
While the increase in the Bank Rate was expected, the dissenting voices calling for a higher immediate increase at this meeting was a hawkish surprise, suggesting that further rate rises may be delivered more quickly than previously anticipated, which would have significant implications for interest rates, yields curves and cash investors.
Figure 1: UK bank rate marching higher
Source: Bank of England, as at 3 February 2022.
Figure 2: Bank of England Asset Purchase Facility government bond maturities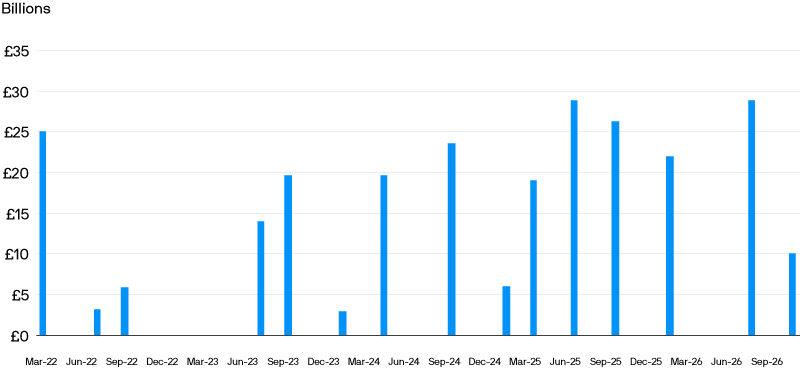 Source: Bank of England, as at 3 February 2022.
The primacy of price stability

This was the BoE's first back-to-back rate hike since June 2004 and confirmed the central bank's commitment to normalising interest rates and prevent the recent sharp price rises becoming engrained.
Despite the negative impact of global supply bottlenecks and subdued UK activity in late 2021 caused by the emergence of the Omicron Covid variant, the central bank still forecasts UK GDP will recover to pre-pandemic levels by the end of the first quarter of 2022. Growth momentum is then expected to ease over the medium-term as energy price increases bite and looser financial conditions fade, implying growth in 2022 and 2023 will be 3.75% and 1.25% respectively. Meanwhile, recent higher imported inflation in the form of global traded goods prices and energy costs have seen annual Consumer Price Index (CPI) inflation jump to 5.4% in December, with the BoE expecting a peak around 7.25% in April 2022.
These growth and inflation forecasts, combined with earnings pressure from higher wage demands, were the key rationale for the BoE rate hike.
Further hikes warranted – probably sooner rather than later
The latest forecasts in the February Monetary Policy Report (MPR) suggest that median CPI inflation is expected to fall back towards, but remain above, the BoE's stated 2% target over a two year horizon (Figure 3) as energy prices stabilise, wage growth moderates and the labour market loosens. Nevertheless, the MPR implies inflation will still overshoot on a three-year horizon if the Bank Rate remains unchanged at 0.50%, while even if conditioned on the market implied path for the Bank Rate – rising to 1.50% by the middle of 2023 – inflation will only reach 2% sometime in the second quarter of 2024.
Therefore, should the economy continue to develop broadly in line with the Bank's central projections, it is highly likely further rate hikes will be necessary. With four members of the MPC voting for an immediate move to 0.75%, the pace of those rises may even be faster than anticipated (Figure 4), although front-loading of hikes could also potentially limit the subsequent peak in terminal rate.
Figure 3: Bank of England median CPI inflation forecasts (% year on year)
Source: Bank of England, as at 3 February 2022.
Figure 4: UK SONIA forward curves are projecting sooner rate hikes before cuts around 2024 (Expected forward rates 1-year ahead)
Source: Bloomberg, as at 4 February 2022.
Notably, while the meeting summary concluded by stating that "some further modest tightening in monetary policy is likely to be appropriate in the coming months", in subsequent comments, Governor Andrew Bailey warned the market not to "get carried away" or mistakenly assume that the Bank Rate –their preferred active policy tool - was on an "inevitable long march upwards".
In addition, the MPC's decision to cease reinvestments on its APF and confirmation that it would consider active sales of APF holdings when the Bank Rate reaches 1.00%, could further tighten financial conditions and add uncertainty to future interest rates decisions, long-term growth and inflation expectations.
Nevertheless, in the short term, the persistence of cost pressures will be the key determinant of the timing and magnitude of future hikes, and ultimately where the terminal rate will land.
Investors Implications
Sterling cash investors should welcome this further increase in Bank Rate as improved overnight rates and steeper curves allow liquidity and ultra-short duration strategies to boost returns – albeit with a slight delay due to the need to reinvestment maturities.
However, the trade-off between inflation and growth suggests bond yield and curve volatility could remain high. In addition, with the market now projecting a faster path to higher rates, the increased risk of capital losses on longer duration strategies should warrant a disciplined approach to cash segmentation. By prioritising a combination of money market and ultra-short duration strategies, sterling investors can aim to optimise returns without excessively increasing risk or volatility.
09n5220702154322