Global Fixed Income Views 1Q 2022
Themes and implications from the Global Fixed Income, Currency & Commodities Investment Quarterly meeting
13-12-2021
In Brief
Above Trend Growth remains our base case, at 80%. Monetary and fiscal policy accommodation appears focused on ensuring that the post-COVID-19 recovery continues apace.
Our forecast for Sub Trend Growth stays at 10%, and we also left the probabilities of both Recession and Crisis at 5% each.
Key risks include the effects of eventual rate hikes on the debt levels of government, businesses and households, as well as the markets' increased reliance on the central bank "put."
High yield, bank loans and bank additional tier 1 (AT1) securities remain our top picks, along with short-duration securitized credit.
Scenario Probabilities (%)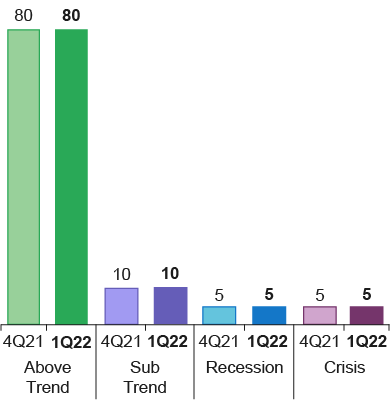 Source: J.P. Morgan Asset Management. Views are as of December 8, 2021.
Kick out?
Our December Investment Quarterly (IQ) came at the perfect time — days after the Omicron variant triggered market turmoil at the end of November. It gave us a chance to get away from the markets and think through the flattening of the yield curve and risk-off sentiment, which, if interpreted plainly, indicated investors were concerned that the Federal Reserve (Fed) was on the cusp of committing a series of policy errors. The perceived policy mistakes were that the Fed was going to accelerate tapering just as the Omicron variant was spreading and then, for good measure, bringing forward the rate hiking cycle into spring 2022 as growth was decelerating. Long story short, we were somewhat dismissive of these concerns and decided to surf the yearlong risk rally further into 2022.
While the transmissibility of the Omicron variant is concerning, the severity appears to be contained, and the world has evolved as we have learned how to live with the virus. It was difficult for us to see this variant derailing the momentum across economies. And while we recognized that the Fed was about to take away the proverbial punch bowl with its tapering of quantitative easing (QE) and rate hikes, we believed that the distance from a policy setting that resembled "normal" was still far, far away. Put differently, until the Fed ended asset purchases and hiked rates to near a 0% real rate, policy would still be accommodative and a small barrier to economic growth.
While the consensus view wasn't unanimous, the overwhelming sentiment was to hang on to our risk-on bias and not yet kick out of the winning wave we have been surfing for the last 18 months.
Macro backdrop
Yet again, the persistence of inflation dominated the meeting. Inflation is set to remain uncomfortably high, reflecting the ongoing strength of goods demand, together with slow-to-resolve supply constraints in both goods and labor markets. More importantly, the more persistent components of inflation, namely wages and shelter, are showing clear signs of upward momentum that will ultimately outlast the near-term inflation in durable goods. The shift in the global central banking narrative from "transitory" (inflation) to "optionality" (to tighten monetary policy) seems reasonable and long overdue. Whether central banks choose to use their optionality and hike rates sooner than the market expects will depend on how much high inflation pressures make them fret. Factors that could worry them include a surge in energy prices that de-anchors inflation expectations, evidence of a wage-price spiral, rocketing housing prices, a lack of relief on core goods prices, the shortage of used cars, etc. But the group saw some tentative signs of easing goods supply constraints and believed that the peak in inflation would occur in the early spring, before a glide path down to 2.25%–2.5% on core PCE at year-end 2022.
While we expect growth to decelerate in 2022, the U.S. output gap should be closed over the coming months, and GDP should settle in above trend at 4% for the U.S. and 4.5% globally over the second half of 2022. Helping to support growth are the ongoing return of workers to the job market, an inventory rebuild and the credit impulse emanating from China.
The last month has also clarified the path forward for central banks. We expect the Fed to wind up its large-scale asset purchases in March and then begin hiking rates in June. It will likely hike rates by 25 basis points (bps) each quarter until they reach 2.25%–2.5% in mid-2024. Both the Bank of England and the Bank of Canada are expected to start hiking next year ahead of the Fed, while the European Central Bank has signaled its first rate hike no earlier than 2023.
Scenario expectations
We have left unchanged our scenario expectations. Above Trend Growth remains our base case at 80%; there is simply too much monetary and fiscal policy accommodation focused on ensuring that the recovery continues apace. Sub Trend Growth remains a 10% probability; COVID-19 and its variants could prove to be more of a headwind, and central bank tightening (as Omicron ramps up) might be foolish.
The downside risks of Recession or Crisis are each 5% probabilities. Monetary and/or fiscal policy error leading to stagflation or an outright contraction remain tail risks.
Risks
A minority view was expressed that markets were too sanguine and complacent about the ability of central banks to normalize policy. Central banks have confessed that they are behind the curve, accelerating their windup of QE and bringing forward rate hikes in an effort to catch up. After nearly two years of unprecedented asset price inflation, how could we be so sure that it would all go without incident? Wasn't a wipeout more likely? Wasn't that what the flattening of the yield curve was telling us, as it always does?
We also looked at the amount of debt that has been piled onto governments, businesses and households. While at current interest rates it is all affordable and manageable, every 25 bps hike will have a greater impact on the debt servicing and spending power of each borrower than in the past.
Lastly, the markets have become increasingly expectant and reliant on the central bank "put" — the feedback loop from public markets back to monetary policymakers through financial conditions indicators. But the strike of any put is likely to be declines of 15%–30% in equities, not 2%–3%.
Strategy implications
The withdrawal of central bank support and nearing of rate hikes tells us that the upward pressure on yields will intensify. As the central banks hand over the bond markets to investors to price, the extreme levels of negative real yields are unsustainable. We see the 10-year U.S. Treasury moving higher over the first half of 2022 and trading in the range of 1.875%–2.375% by mid next year.
The corporate credit environment remains strong as top line revenue continues to grow and companies are able to pass along rising input costs. Like last quarter, high yield, bank loans and bank additional tier 1 (AT1) securities are our top picks.
Short-duration securitized credit is also a favorite, as the ability of consumers to service their borrowing costs looks sound over the near term.
Emerging markets were our most controversial market — there was a feeling that in 12 months' time it will have been "so obvious," regardless of the direction of the move. If emerging markets performed well, we would remember that the market had lagged and was fundamentally too cheap. If emerging markets performed poorly, we would acknowledge that this is generally what happens when the central banks pull the liquidity rug out from under them. Unlike last quarter, this time there were a few brave souls who thought it was time to dip a toe into high yielding external debt, some local bonds and select currencies.
Closing thoughts
We recognize that we are at a major inflection point for central bank policy, growth and inflationary pressures. While the environment will be more volatile and challenging, we don't think it's yet the time to kick out of the recovery and the risk-on wave we're surfing on.
Scenario probabilities and investment implications: 1Q 2022
Every quarter, lead portfolio managers and sector specialists from across J.P. Morgan's Global Fixed Income, Currency & Commodities platform gather to formulate our consensus view on the near-term course (next three to six months) of the fixed income markets. In daylong discussions, we review the macroeconomic environment and sector-by-sector analyses based on three key research inputs: fundamentals, quantitative valuations and supply and demand technicals (FQTs). The table below summarizes our outlook over a range of potential scenarios, our assessment of the likelihood of each and their broad macro, financial and market implications.
Source: J.P. Morgan Asset Management. Views are as of December 8, 2021.
Opinions, estimates, forecasts, projections and statements of financial market trends that are based on current market conditions constitute our judgment and are subject to change without notice. There can be no guarantee they will be met.
---
Please be aware that this material is for information purposes only. Any forecasts, figures, opinions, statements of financial market trends or investment techniques and strategies expressed are, unless otherwise stated, J.P. Morgan Asset Management's own at the date of this document. They are considered to be reliable at the time of writing, may not necessarily be all-inclusive and are not guaranteed as to accuracy. They may be subject to change without reference or notification to you. JPMorgan Asset Management Marketing Limited accepts no legal responsibility or liability for any matter or opinion expressed in this material.
The value of investments and the income from them can fall as well as rise and investors may not get back the full amount invested. Past performance is not a guide to the future.
Build stronger fixed income portfolios with J.P. Morgan
We have built and evolved our fixed income capabilities with just one aim: to build stronger portfolios that solve our clients' needs. Today we are one of the top fixed income managers in the world.
Diverse perspectives, integrated solutions:
Access the power of a globally integrated team of investment professionals and our proprietary research, encompassing fundamental, quantitative and technical analysis.


Benefit from actionable insights designed to help you invest with conviction, from our regular macro and market views to our fixed income portfolio construction tools.


Choose from a wide variety of outcome-oriented solutions designed to address all your fixed income needs.


Tap into the proven success of one of the world's largest fixed income managers, with broad experience gained across regions and market cycles.