Agency MBS: Choppy Waters Ahead
14-02-2022
Danial Qureshi
The Agency Mortgage-Backed Securities (MBS) sector is in the unique position of being the only fixed income spread sector being directly purchased as part of Quantitative Easing (QE). It seems that the sector only recently welcomed the Federal Reserve (Fed) with open arms and now the Fed is again on their way out. There is no question that the Fed has left their mark on the sector as they gobbled up more than half of 2021's new issuance, while banks, flush with reserves from QE, purchased the remainder. Heading into 2022, the sector stands in tumultuous times, with the Fed having elected to hasten their exit from the market, forcing private investors to pick up the slack and take down record supply. Given this setup, it is worth revisiting sector themes from the prior year to better understand where the sector might be headed this year.
Major themes:
QE4 → QE4 Taper → QT
Bank Demand: Possible backstop for MBS
Record home prices = higher supply + worse convexity
Valuations: Off the tights but remain vulnerable
Fewer borrowers left to refinance


1. QE4 → QE4 Taper → QT: In the early months of 2021, the Fed purchased 40bn of Agency MBS on a net basis per month. A price insensitive buyer of this magnitude meant a strong positive technical for MBS. However, as more inflation/growth data was released, the market pulled forward taper expectations along with the Fed and ultimately, QE4 taper commenced in mid-November with the taper's pace accelerating in December. Fed net purchases are now set to retire in March 2022. Further, the Fed is forecast to begin portfolio runoff in the second half of 2022, which should serve to add supply to the market, a sharp contrast to the prior year where it purchased 550bn.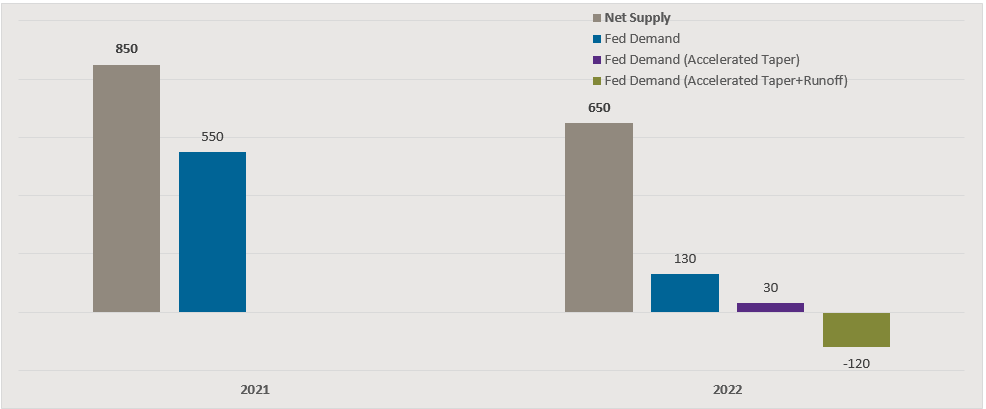 Source: J.P. Morgan as of 2/4/2022. 2022 net supply is projected value as of 1/2022. Runoff scenario assumes a pace of -10bn in July, -20bn in July, -30bn/month thereafter
2. Bank demand: Possible backstop bid for MBS: Bank demand was strong in 2021 with total purchases ~400bn. Together with the Fed, banks now make up ~75% of the total Agency MBS market so their decisions are impactful given their size in the market. During QE4, heavy bank demand helped sector spreads reach new found tights, as there simply weren't enough bonds to satisfy Bank plus Fed purchase amounts. Heading into 2022 with the Fed exiting, banks become arguably ever more important to MBS as they represent the last bastion of reliable demand; absent which, the sector's pricing would be left almost entirely to 100% price sensitive buyers.
Since mid-2021, bank MBS purchases have slowed, with most showing a preference to add loans & U.S. Treasuries. However, cash as a percentage of their balance sheet remains at record highs. While some of that will naturally decline through Quantitative Tightening (QT), it is still elevated and could prove to be a backstop for MBS on widening; thus, we do not expect sector spreads to gap wider and stay there. Despite so much more supply having to be absorbed by the private market this year, banks could prove to be a steadying force over time.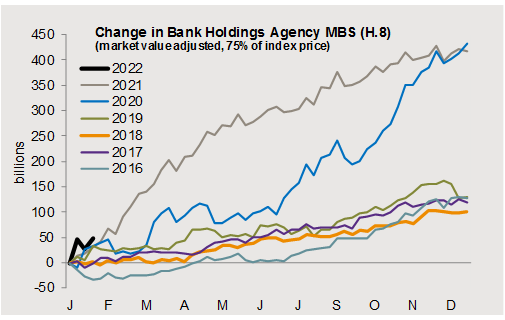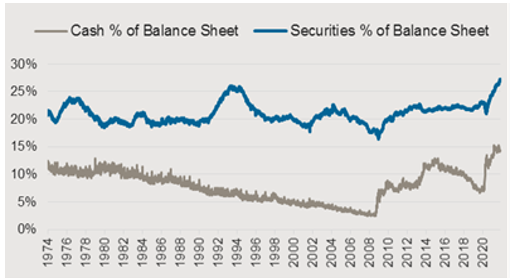 Source: Federal Reserve H.8 as of 1/2022
3. Record home prices = higher supply & worse convexity for MBS: The strong housing market caused home price appreciation (HPA) to be at the highest levels seen in over a decade. The HPA led to record net supply as the size of mortgage loans went up 1:1 with home prices. This creates a negative technical for MBS as it increases supply just as the Fed begins to exit. Higher loan sizes also worsen the convexity of MBS since the total dollar savings from a refi increase for the borrower. In sum, this dynamic hurts the sector from the standpoint of both technicals & fundamentals.
Agency MBS Loan limits increasing at a record pace due to record HPA: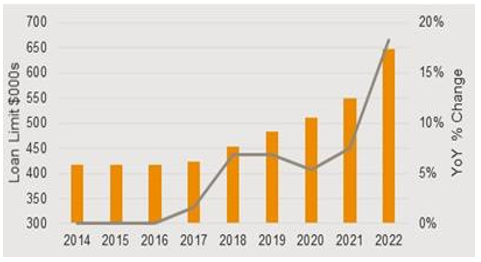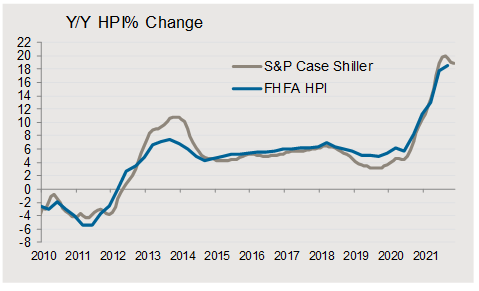 Source: FHFA conforming loan limits; S&P CoreLogic Home Price Index as of 1/2022
4. Valuations: Off the tights but remain vulnerable: MBS valuations have started to cheapen from the record tight levels seen throughout 2021 as the Fed and banks step away from the market. With private market supply set to double, the worsening technical backdrop should keep pressure on valuations, given the rich starting valuations. With the Fed's situation rapidly evolving in lockstep with rapidly changing economic conditions, MBS spread volatility should remain elevated as well throughout the coming year. With the wider spreads and increased volatility, opportunities for money managers should increase in the market.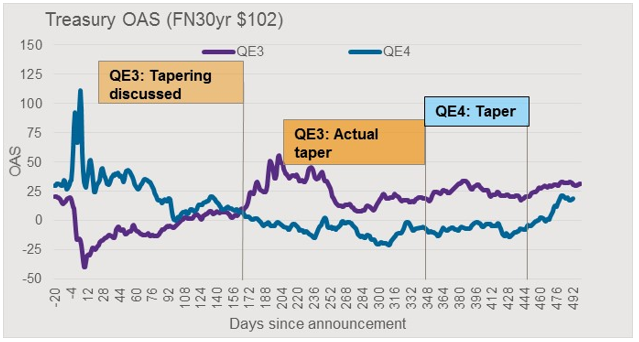 Source: JP Morgan DataQuery as of 2/4/2021

5. Fewer borrowers left to refinance: Record low mortgage rates combined with record home price appreciation have meant that the MBS universe has shifted into lower coupons as borrowers refinance and/or purchase new homes with low mortgage rates. Over 50% of the Bloomberg MBS index is now in 30-year 1.5-2.5% coupon MBS, composed of loans originated within the last two years. This could cause a strong lock-in effect with higher mortgage rates, since many borrowers quickly lose their incentive to refinance.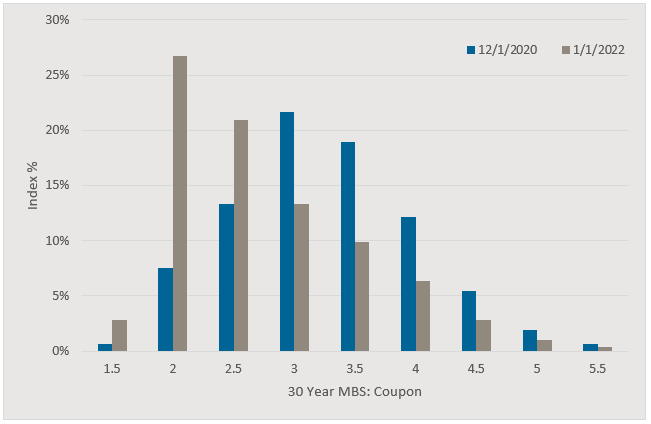 Source: Bloomberg US MBS Index as of 1/2022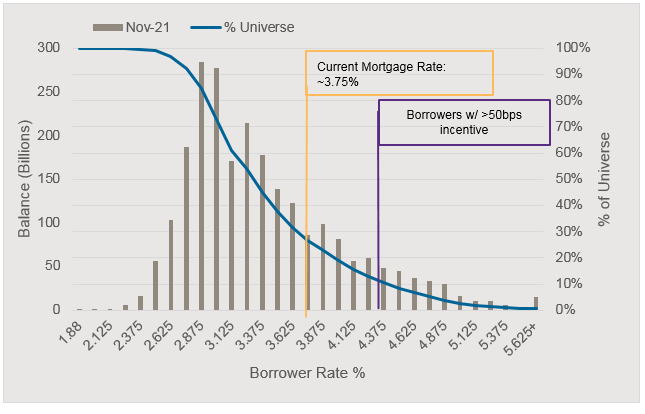 Source: Fannie Mae 30yr Universe. As of 1/2022 factor date
Overall, MBS enters 2022 with a deteriorating technical backdrop alongside poor fundamentals, all of which, should result in choppy waters ahead for the sector. Private investors will not be able to absorb supply at the same valuations that the Fed did, and so spreads will once again account for the sector's negative convexity. Banks could prove to be a backstop bid, helping to put a cap on the magnitude of widening that could occur. However, with loan growth increasing and QT set to drain liquidity overall, we do not expect them to be adding MBS in droves like they did in 2021. This should all translate into higher volatility and a widening bias for MBS spreads in 2022.