Short Duration European High Yield Bonds - A timely Fixed Income Solution
27-01-2022
George Sanders, CFA
The fundamental backdrop for credit continues to be favourable for high yield bonds despite supply chain constraints, COVID's persistence and inflation pressure. Rising margins, growing free cash flow and falling leverage levels throughout 2021 have left corporate credit quality in sound shape. Rating agency upgrades still far exceed downgrades and default rates stand at just 0.3% in the US and 0.9% in Europe. However, investors are aware that the interest rate cuts and central bank asset purchases that helped businesses survive the pandemic are on the wane. Escalating inflation has only increased pressure on central banks to raise interest rates and it is sensible for fixed income investors to worry about the impact of rising sovereign debt yields on their fixed income returns.
With its comparatively short duration, high yield can be an appealing asset allocation amidst rising government bond yields, but underlying interest rate exposure can still detract from its total returns. This was in fact the case in 3 of the past 10 years (2013, 2017 and in 2021) as shown in Figure 1. However, high yield investors can mitigate this risk by moving down the yield curve and owning shorter duration sub-investment grade bonds. This should be particularly appealing in an environment where fundamental credit conditions are still favourable and sovereign yields remain close to their historic lows.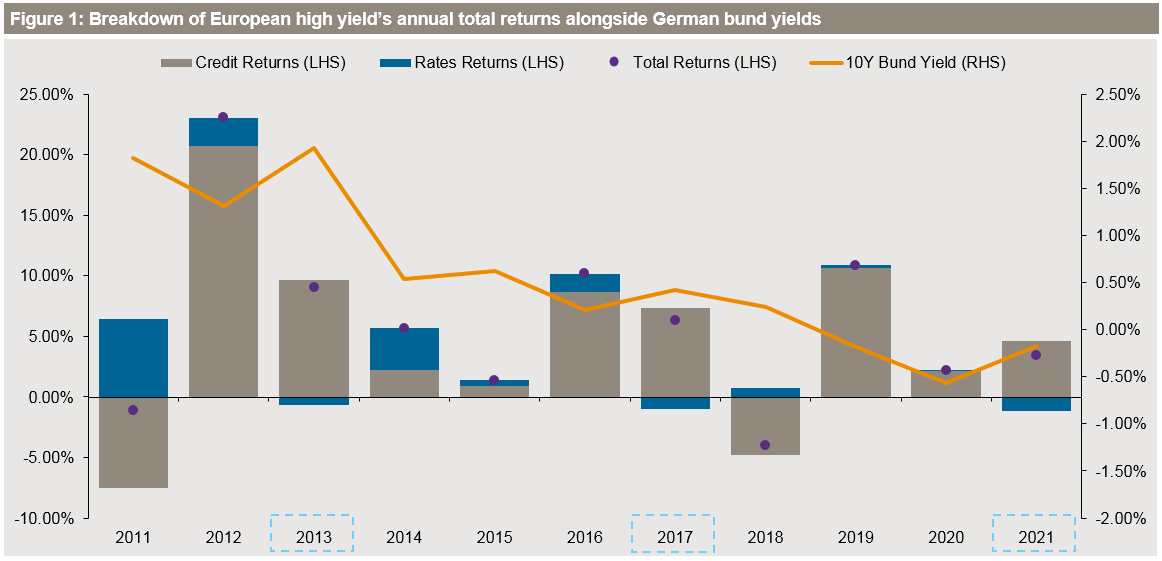 Source: Bloomberg, ICE BofA. EHY: ICE BofA Euro Developed Markets Non-Financial High Yield Constrained Index (HECM). Data as of 31 December 2021.
While shortening maturity usually means giving up yield, the trade-off is not as great as one might think. Moving into the short duration part of the European sub-investment grade bond market leaves investors with a relatively high portion of the overall markets' yield (2.43% compared to 3.13%, as of 25 January). However, in doing so an investor can cut duration exposure by more than half as the short duration index has an average duration of only 1.4 years versus the 3.5 years of the broader market (Figure 2).
The short duration part of the European high yield market also has a lower spread duration (1.9 years versus 4.0) and hence less price sensitivity to spread widening in most circumstances. In addition, short duration European high yield compares favourably in terms of its breakeven (its tolerance for yield increases versus its starting yield) compared to competing asset classes as shown in Figure 3. This combination of an attractive yield and lower sensitivity to interest rates has resulted in a superior average annual Sharpe Ratio which was 2.2 for short duration European high yield versus 1.6 for the broad European high yield market as measured over the past five calendar years.
September and October period of last year when the German 10-year bund yield increased by 28bps to -0.11% provides a prime example of the short duration European high yield market outperforming the regular duration market. In this instance the European high yield market suffered a negative return of -0.73% whereas the short duration portion of the market lost less than half of that at -0.24%.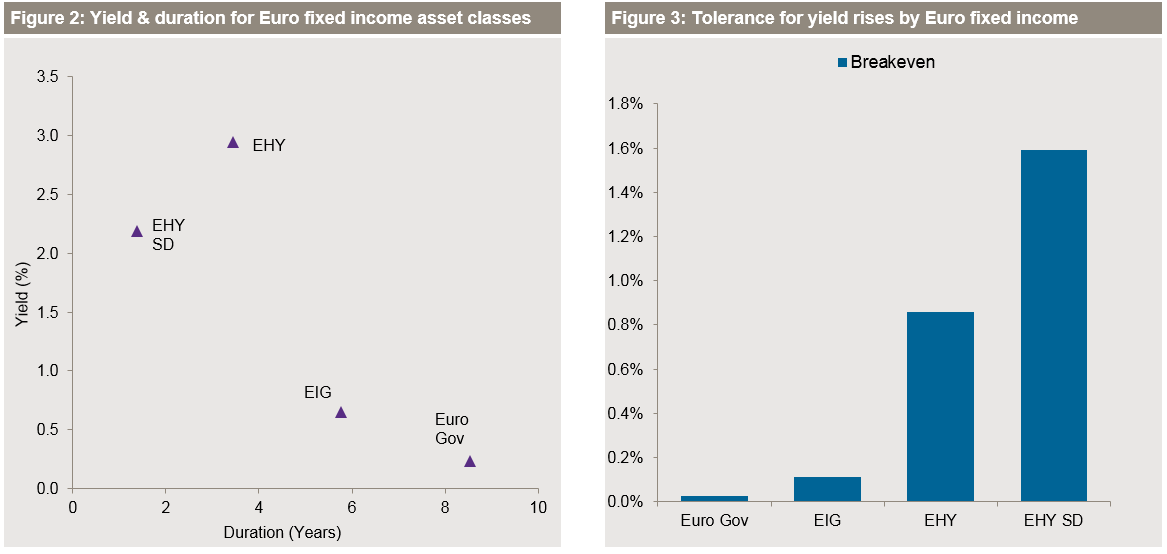 Source: Bloomberg, ICE BofA Indices (EZAS, EN00, HECM, Q936). Data as at 20 January 2022.
While this trade-off between yield and duration looks appealing in a rising rate regime, it is important to bear in mind that there are still credit risks. The shorter duration subset of the overall European high yield market is less diversified than the broader universe and there is generally more refinancing risk associated with shorter dated maturities. In fact, during periods of severe financial market stress, such as that seen in March 2020, short duration spreads can widen more than the broader market as Figure 4 shows.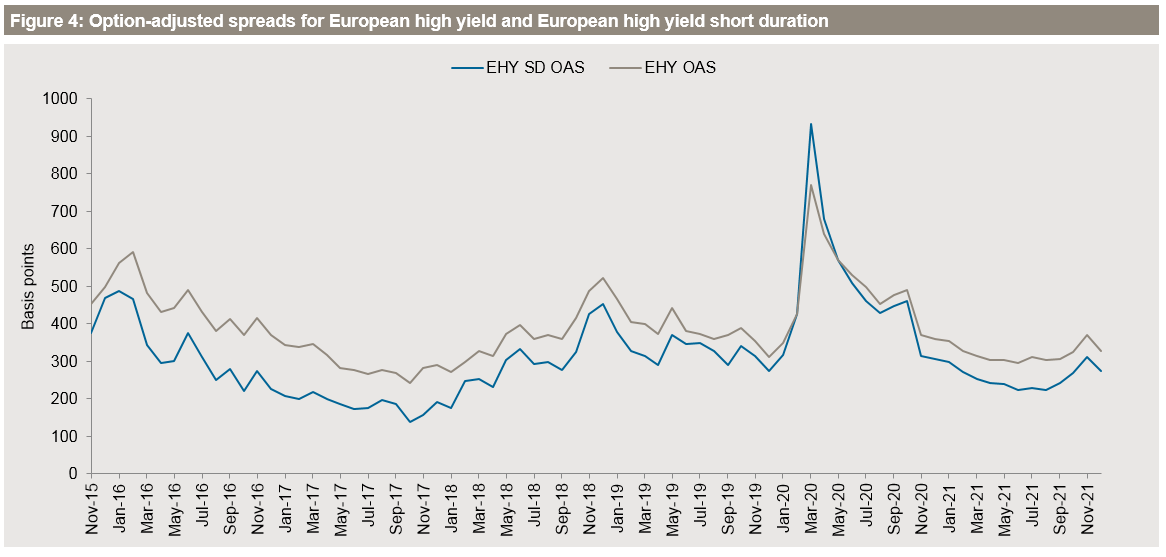 Source: Bloomberg, ICE BofA. EHY: ICE BofA Euro Developed Markets Non-Financial High Yield Constrained Index (HECM). EHY SD: ICE BofA Euro Developed Markets High Yield ex-Financials BB-B 1-3 year 3% Constrained Index (Q936). Data as of 31 December 2021.
In order to mitigate this refinancing risk, we suggest taking a fundamentally-based active approach to investing while employing an up-in-quality bias. Minimizing exposure to CCC-rated credits therefore makes sense to us. Furthermore, we advocate the inclusion of high yield floating-rate notes (FRNs are bonds priced at a spread over a floating benchmark interest rate) which can increase portfolio diversification and, with their longer maturities, can further reduce a portfolio's refinancing risk without adding to its interest rate exposure.
With the prospect of rising rates eroding credit returns in 2022 we believe that short duration European high yield bonds provide an appealing alternative to higher duration credit markets. Short duration sub-investment grade bonds still manage to provide a relatively high yield compared to other fixed income asset classes, but with lower interest rate risk and therefore a lower correlation to moves in government bond yields. Overlaying active management to avoid potential defaults can add significant excess returns above the benchmark. Short duration European high yield bonds really do look like a timely fixed income solution for bond investors this year.
All data in the text is sourced from Bloomberg as of 25th January 2022
Material ID: 09i2222601225425