24 March 2022
The tightening journey begins
The US Federal Reserve (Fed) kicked off its hiking cycle and began the journey towards tighter monetary policy. But the end destination remains unclear and the uncertainty is unsettling markets.
Fundamentals
A rate-hiking cycle is like a journey where the starting point is clear but no one knows the destination or how long it might take to get there. These questions can lead to regular market repricing and volatility as policymakers continue to adjust their forward guidance based on the evolving economic landscape. Indeed, the latest Fed dot plots suggest that the median voting member expects seven hikes in 2022, with another three-and-a-half hikes pencilled in for 2023. However, if inflation remains stubbornly above the Fed's 2% target, these expectations could move higher still. The Fed is not alone on its journey; the Bank of England (BoE) also hiked rates by 25 basis points (bps) last week. Central banks face challenges on this new path; high inflation requires higher rates to achieve inflation-targeting objectives but overly restrictive monetary policy potentially weakens growth, causing a recession. Investors will keep a close eye on financial market conditions to gauge central bank policy. Tighter financial market conditions typically choke off economic growth and force central banks to pause their tightening cycles. Currently, financial market conditions remain relatively easy compared to history, signalling that central banks can proceed without fearing an imminent recession.
Quantitative valuations
The rebound in economic growth, higher levels of inflation and tighter monetary policy globally have turned up the heat on global bond markets in 2022. Indeed, the latest developments have almost entirely melted the stock of negative-yielding debt globally, which has fallen from USD 10.7 trillion at the start of the year to just USD 2.9 trillion as of 22 March 2022, the lowest point since mid-2015. The bond sell-off has been acutely felt in US markets with the US Treasury experiencing the worst drawdown in its history and pushing the US 10-year yield to 2.3%, its highest level since May 2019. Yields are on the rise, but investors will likely focus on the shape of the curve. Historically, an inverted yield curve has been a leading indicator that monetary policy has entered restrictive territory and that a recession is approaching. Currently the 2s10s curve has flattened but is still in positive territory, suggesting that central banks can continue hiking rates. Another metric, which is also Fed Chair Jay Powell's preferred tool, is the spread between the current three-month Treasury and the three-month Treasury 18-months forward. This spread has traditionally turned negative before a recession and is currently sitting comfortably in positive territory. We see few signs that these headwinds will abate in the near future. The recent grind higher in bond yields has offered some interesting entry points in select opportunities, particularly in higher-quality parts of the credit markets.
The Fed's preferred measure of curve inversion remains in positive territory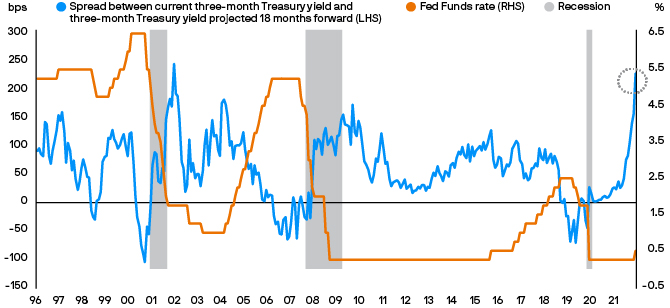 Source: Bloomberg, J.P Morgan Asset Management. Data as of 22 March 2022.
Technicals
With central banks on the move, demand for fixed income has slowed materially. Indeed, in credit markets, outflows have been at the highest since the 2008-2009 financial crisis as investors have sought the security of shorter-duration strategies. Investors are holding elevated levels of cash to help dampen the impact of rising rates on long-duration assets. The demand picture is further complicated by indications from central banks that they will look to reduce the size of their asset purchases in the coming months. At the Fed press conference, Chair Powell indicated that balance sheet reduction could begin in May with the central bank looking to reduce the size of its holdings in US Treasuries and asset-backed securities. The European Central Bank is also likely to halt its asset purchase program in mid-2022, which could place particular pressure on regional corporate bond markets. In this environment, portfolio positioning data suggests that investors remain short duration as they look to get further clarity on the outlook for monetary policy.
What does this mean for fixed income investors?
For now, leading market indicators suggest that central bankers can continue to tighten policy without fearing a recession. However, with central banks on the move, volatility across financial markets is likely to be elevated. As markets embark on this monetary policy journey, investors should look to be short duration and selective within credit markets where value has been created.
About the Bond Bulletin
Each week J.P. Morgan Asset Management's Global Fixed Income, Currency and Commodities group reviews key issues for bond investors through the lens of its common Fundamental, Quantitative Valuation and Technical (FQT) research framework.
Our common research language based on Fundamental, Quantitative Valuation and Technical analysis provides a framework for comparing research across fixed income sectors and allows for the global integration of investment ideas.

Fundamental factors
include macroeconomic data (such as growth and inflation) as well as corporate health figures (such as default rates, earnings and leverage metrics)

Quantitative valuations
is a measure of the extent to which a sector or security is rich or cheap (on both an absolute basis as well as versus history and relative to other sectors)

Technical factors
are primarily supply and demand dynamics (issuance and flows), as well as investor positioning and momentum