Corporate Pensions & COVID-19: Into the Unknown
We revisit our annual peer analysis, outline COVID-19 related legislative changes and discuss the implications for pension strategy.
2020-04-23
Michael Buchenholz
In Brief
Revisiting our 2019 corporate pension peer analysis, we estimate the GAAP funded status for most plans has fallen between 5% and 15% through the end of Q1. Furthermore, we find that these sponsors in aggregate have underperformed the broader S&P500, as well as their respective sectors in most cases.


Despite roughly unchanged discount rates, the large underlying moves in interest rates and corporate credit spreads have resulted in massive dispersion in hedge portfolio performance – even for plans with the same hedge ratios.


The CARES Act provisions related to single-employer defined benefit plans address short-term liquidity issues for plan sponsors, in the form of contribution deferrals, and plan participants, by making it easier for plans to avoid benefit restrictions and fulfill lump sum payment requests.



Conspicuously absent from the CARES Act are any provisions alleviating the longer-term effects of the recent market moves, including elevated PBGC premium charges and increased minimum required contributions, due to a combination of lower interest rates, lower asset values and the legislative "wear-away" of the existing pension regulatory relief.


Against a backdrop of contribution deferrals and funded status declines, we find an accentuated need for diversified sources of income and a potential for some plans to consider re-risking and reconsider actively managed public equities as well as cautiously leaning into credit in hedge portfolios while maintaining or building hedge portfolio credit diversifiers.


On November 12 of last year, my life was changed unexpectedly, although I would remain unaware of this fact for the next several months. About 48 hours into my COVID-19–induced social distancing, this transformation and its impact on me had become crystal clear. You guessed it – I'm talking about the debut of the Disney+ on-demand streaming service1. With two working parents trying to manage a curious, hyperactive two-year-old in a Brooklyn apartment, the only productive periods are during naptime or during a Disney movie. In fact, as I write this I can vividly hear Idina Menzel belting out "Into the Unknown," the hit song from the film Frozen II, through my noise-canceling headphones. Now, having seen this movie more than 50 times in the past month, I find myself trying to unpack what this song means to me. And as somebody whose identity enduringly revolves around being an actuary, I've been thinking about corporate pensions. "Into the Unknown" would be an apt description of just about any day over the last couple weeks and the convergence of issues impacting plan sponsors as a result of COVID-19. In the remainder of this piece, we revisit our 2019 corporate pension peer analysis, outline recently enacted and potential future legislative changes and discuss the implications for asset allocation and pension strategy.

Revisiting 2019 Peer Analysis
Our recently published corporate pension peer analysis examined trends amongst the 100 largest pension plans. We found that GAAP funded status for this group was largely unchanged, ending the year at 87.7%, as an average 19% return on assets was neutralized by a 100bps decrease in discount rates. What has happened since then?

Exhibit A plots the change in pension discount rates through the end of March 31. Discount rates are essentially flat but it's been a wild ride, including an ephemeral swing of almost 170bps over the course of 10 trading days. This is the largest discount rate movement on record over a comparable period.2 Although plans experienced only modest net discount rate changes, the diversion between interest rates and high-quality credit spreads has significant implications for hedge portfolios and ultimately funded status performance. Pure interest rate hedge like US Long Treasury (+21.0%) significantly outperformed pension liabilities, while down in quality corporates like Long BBB Corporates (-7.6%) trailed. Diversifying hedge portfolio assets like Long CMOs (+6.0%) held up during a period of stress for corporate credit, exhibiting some spread widening but meaningfully outperforming long duration investment-grade corporates. Given this dispersion (Exhibit B), plans with similar hedge ratios could experience wildly different performance depending on how the hedge portfolio is assembled. Despite this heterogeneity, the biggest driver of funded status performance for most plan sponsors will be the size of the public equity exposure.
Discount rates ended the quarter roughly where they started, but the moves in interest rates and corporate credit spreads have driven significant dispersion in hedge portfolio performance.

Exhibit A: Q1 Pension Discount Rate Changes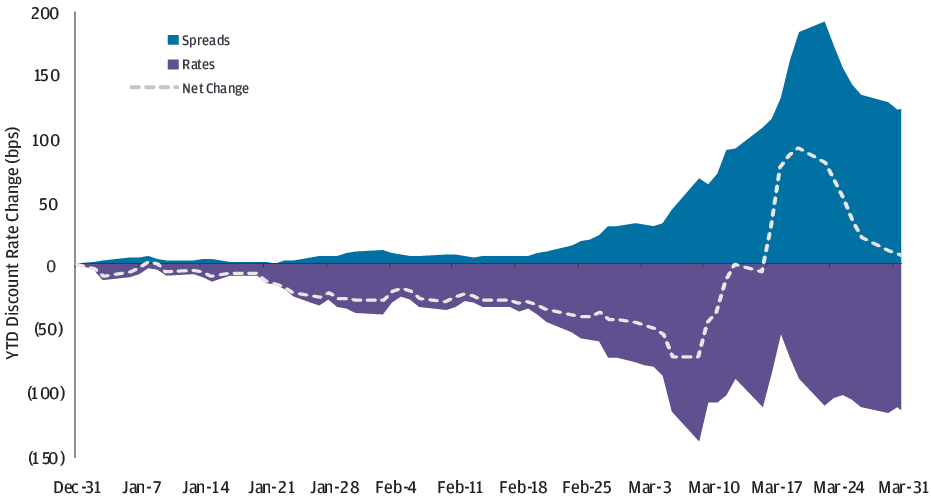 Source: ICE BofA, J.P. Morgan Asset Management; data as of March 31, 2020. For illustrative purposes only.
Exhibit B: Q1 Public Market Asset Class Returns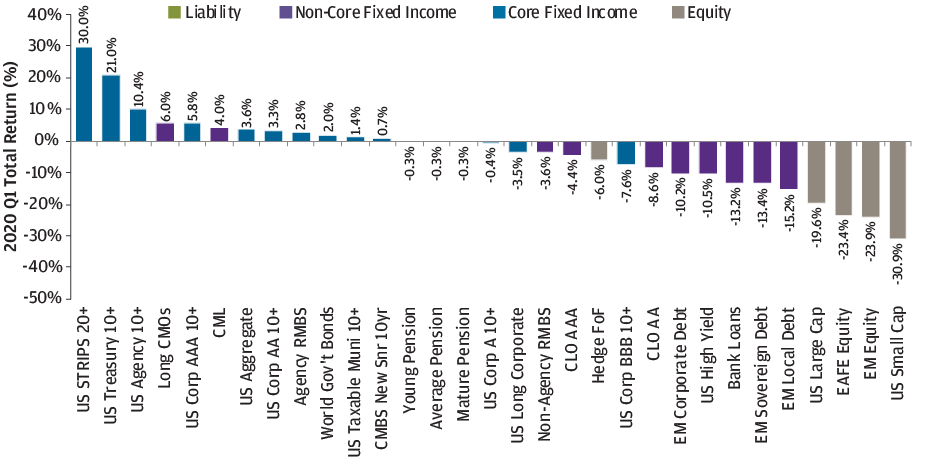 Source: J.P. Morgan Asset Management, Bloomberg Barclays, Morgan Market; data as of March 31, 2020. Durations for hypothetical pension liabilities are as follows: Young (22.4yrs), Average (18.7yrs), Mature (13.1yrs). For illustrative purposes only.
Returning to our Top 100 plans, we ran a pro-forma analysis, rolling forward assets and liabilities to the end of Q1 to estimate funded status performance. We find that headline funded status group fell by 7.3% to 80.4%.3 Predictably, given the spectrum of asset class returns, there was a wide range of underlying funded status changes for the group (Exhibit C). By our estimates, the vast majority of the universe experienced a drop of somewhere between 5% and 15% in GAAP funding. Unfortunately, due to the pro-cyclical nature of most plans, these funding drawdowns have come at the worst possible time, coinciding with a large decline in economic activity, an increase in corporate funding costs and a scramble for liquidity to weather the storm of unknown duration. The largest plan sponsors have also significantly underperformed the broader stock market and generally underperformed their respective sectors (Exhibit D). While there are certainly some idiosyncrasies driving these results, the elevated equity beta resulting from pension exposures surely plays a role as well. However, there is some good news for plan sponsors on the regulatory front.

The largest pension plans' funded statuses are down between 5% and 15%, while the plan sponsors' public equity in aggregate has underperformed the broader market.
Exhibit C: Q1 Top 100 Change in Funded Status



Source: Capital IQ, Company 10-Ks, J.P. Morgan Asset Management; data as of March 31, 2020. For illustrative purposes only.
Exhibit D: Q1 Stock Price Returns by Sector



Source: Capital IQ, Company 10-Ks, J.P. Morgan Asset Management; data as of March 31, 2020. For illustrative purposes only.
Who CARES?
Ben Franklin is often quoted for proclaiming that the only certain things in life are death and taxes. To that list, I would add corporate pension regulatory relief in the face of a market downturn.4 As sung by the Frozen characters, Anna of Arendelle and her friend Olaf, a talking snowman, "some things never change." In our view the recent events surrounding COVID-19 can be bifurcated into short-term and long-term effects in regards to their impact on plan sponsors. The main short-term consideration is ensuring liquidity at the corporate sponsor level, while the main longer-term considerations are plan solvency and potentially onerous contribution requirements and PBGC premiums as a direct result of the drop in asset values and interest rates. On March 27, the president signed the CARES Act (Coronavirus Aid, Relief and Economic Security Act5), which included two main provisions directly impacting corporate defined benefit plans and geared more toward alleviating the "short-term" issues:
Contribution deferral: Employer contributions due during the 2020 calendar year can be delayed until January 1, 2021. This deadline shift impacts both contributions for the 2019 plan year (originally due 9/15/2020 for calendar year plans) and quarterly contributions6 for the 2020 plan year (originally due 4/15, 7/15 and 10/15/2020 for calendar year plans). Delayed contributions will, however, accrue interest from the original deadline at the plan discount rate, elevated above market rates due to prior waves of pension relief. This provision should be helpful to plan sponsors pressed for cash, and, at least temporarily, to avoid diverting resources away from payroll and other short-term needs.


AFTAP relief: The AFTAP (Adjusted Funding Target Attainment Percentage) is certified annually by the plan actuary and used in the determination of benefit restrictions. Staying above a key threshold, 80%, allows a plan to avoid restrictions such as limitations on the ability to pay lump sums. The CARES Act allows sponsors to use the AFTAP funded status from the prior plan year, mostly helping non-calendar year plans whose asset values would incorporate the recent market drawdowns. While pensions generally try to avoid dropping below 80% funded on a regulatory basis, this provision should be more helpful to recently laid off and financially strapped plan participants who need the lump sum to endure the downturn.

These changes don't have substantial implications for asset allocation decisions, although plan sponsors that take advantage of the deferral will experience a deterioration in net cash flow. Even some plans that had anticipated discretionary contributions in 2020 have pulled back. For example, on March 10 Delta Air Lines announced the deferral of a planned $500mm voluntary pension contribution.7 Interestingly, in other airline news, on February 25 American Airlines issued a $500mm 5-year 144A private placement stating, "The company intends to use the net proceeds from the offering to fund contribution to its pension plans." 8 For those plans that experience a drop in expected cash flow, increasing reliance on income and vigilance around preserving liquidity should help weather the storm.
Conspicuously absent from the CARES Act are any provisions alleviating the longer-term effects of the recent market moves, including elevated PBGC premium charges and increased minimum required contributions, due to a combination of lower interest rates, lower asset values and the legislative "wear-away" of the existing pension regulatory relief.
Potential Future Pension Relief
The industry has already put forward multiple suggestions for additional funding relief provisions, which we'll refer to in the remainder of this piece as "potential legislation." Links to various recommendations from industry participants are provided below, but they all share common themes, which we'll discuss:
Major provisions discussed across the potential legislation recommendations include:
A) Narrow corridor to +/-5% and delay widening until 20269. Under the originally enacted 2012 MAP-21 legislation, pension discount rate relief would've reached its terminal phase (the maximum corridor width of +/-30%) in 2016. Sitting now in 2020, not only are we not at the terminal phase, but also the corridor widening hasn't even been initiated. This potential provision narrows the corridors even further and pushes the terminal phase out to 2031. If enacted, the series of pension relief legislation (Exhibits E and F) will have given us 15 years of extensions. To put this in context, by the time pension relief completely expires, some millennials will be over 50 years old (but hopefully that's long enough for them to move out of their parents' basement).
Legislation proposed by the industry could extend pension relief out to 2031 – 15 years after its originally intended expiration date
Exhibit E: Applicable Corridor Around 25-Year Average Segment Rates for Regulatory Discount Rate Relief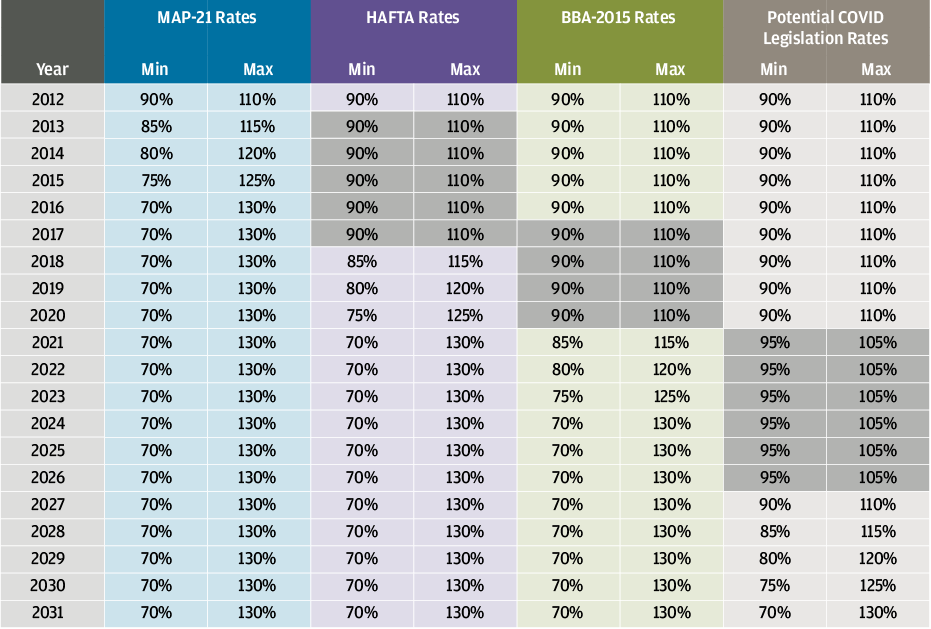 Source: IRS, J.P. Morgan Asset Management; data as of March 31, 2020. For illustrative purposes only.
Exhibit F: Abstract Expressionism, a Visualization of Historical Pension Legislation or Both?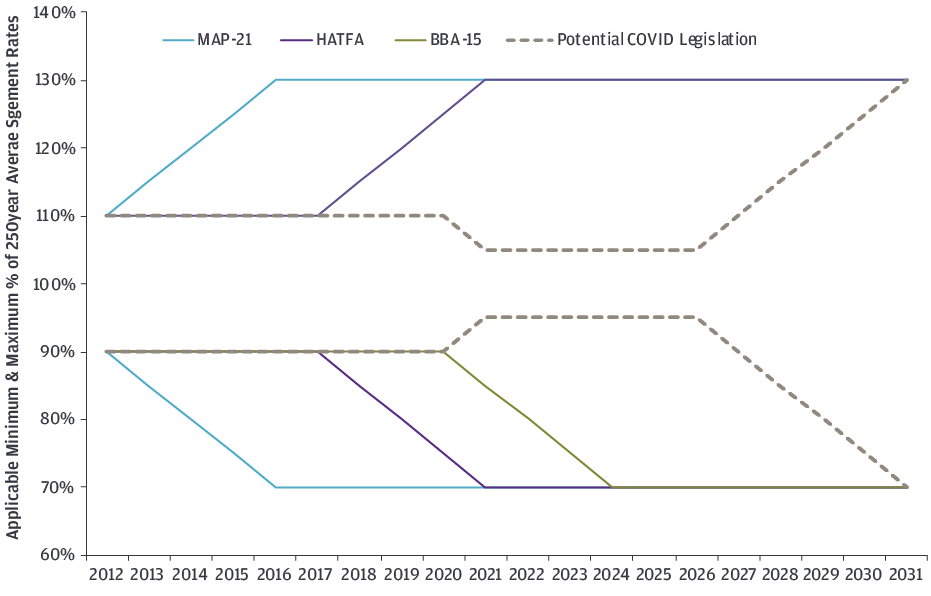 Source: IRS, J.P. Morgan Asset Management; data as of March 31, 2020. For illustrative purposes only. =
B) Extend shortfall amortization period from seven to 15 years. This recommendation is more straightforward since it doesn't directly impact discount rates or funded status. It essentially would allow plan sponsors to close deficits over 15 years rather than the seven years originally devised under PPA.
So how would these suggested provisions actually impact plan sponsors? In order to answer this, we've created a hypothetical pension plan to compare funded status levels and minimum required contribution amounts. For ease of interpretation, our hypothetical plan has $1,000bn of U.S. GAAP PBO liabilities and is 80% funded on a U.S. GAAP basis at each point in time.10 Exhibit G plots the regulatory discount rate progression through time, assuming spot/market corporate yields as of March 31 are carried forward. There are two main takeaways from this chart: 1) Even though we're keeping the market yields constant, the discount rates under either provision fall dramatically over the projection period and 2) The provision to narrow the corridors flattens the slope of discount rate changes, even delivering an increase in 2021. However, discount rates eventually still end in the same place once the terminal phase is reached in 2031.
Proposed legislation keeps discount rates "higher for longer," delaying the commencement of contribution requirements and reducing their amounts.
Exhibit G: Effective Regulatory Discount Rates Under Current and Potential Legislation


Source: IRS, J.P. Morgan Asset Management; data as of March 31, 2020. For illustrative purposes only. Calculations based on hypothetical 13-year duration liability.

Exhibit H translates these regulatory discount rates into regulatory funded status levels for a plan that is 80% funded on a U.S. GAAP basis. The contours of funded status mirror the evolution of regulatory discount rates. However, this chart gives us a deeper understanding of the benefits of the narrow corridor as breaching full funding on a regulatory basis is pushed out five years from 2022 to 2027.

Exhibit H: Regulatory Funded Status for an 80% GAAP Funded Plan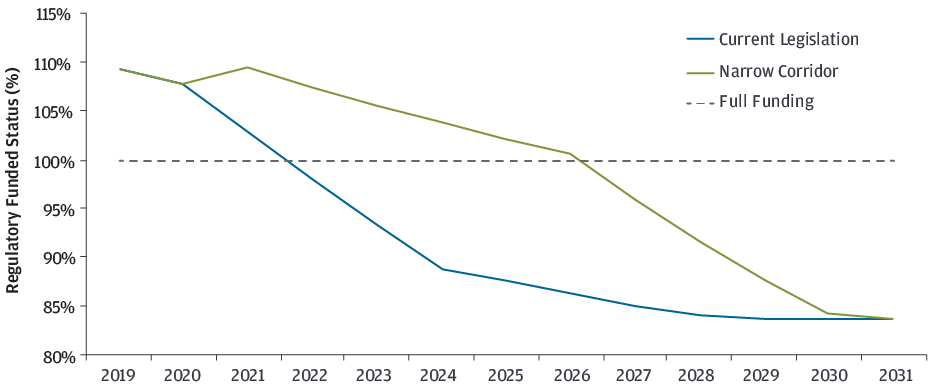 Source: IRS, J.P. Morgan Asset Management; data as of March 31, 2020. For illustrative purposes only. Calculations based on hypothetical 13-year duration liability.
Finally, Exhibit I shows us the implications of these various provisions for minimum required contributions. As noted above, the narrow corridor provision pushes out the actual start date for contribution requirements, whereas the 15-year amortization period simply reduces the amount.The combination of both provisions results in a delay to both the initiation of required contributions and the amounts.

Exhibit I: Minimum Required Contribution for 80% GAAP Funded Plan Under Current and Potential Legislation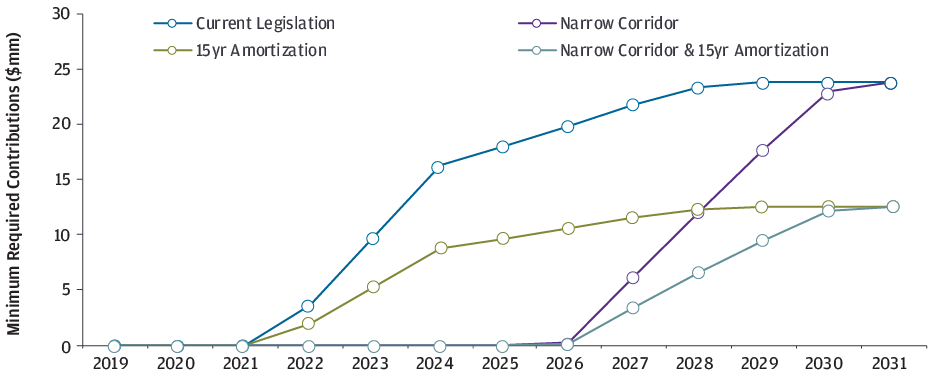 Source: IRS, J.P. Morgan Asset Management; data as of March 31, 2020. For illustrative purposes only. Calculations based on hypothetical 13-year duration liability.
Putting It All Together
So what does this all mean for plan sponsors in regards to their pension strategy and asset allocation? The price action year-to-date has set most plan sponsors GAAP funded status back between 5% and 15%, with many likely breaching previously traversed glidepath triggers. Moreover, the CARES Act means that even those plans that had required contributions are unlikely to receive them this year. Thus, pension plans will need to do more with less.
Accentuated need for income: With sponsor contributions delayed, benefit payments and other expenses need to be sourced entirely from existing plan assets. In the throes of early March market volatility, even Treasury bonds, our last bastion of safety and liquidity, proved difficult to sell. In some sense the only true unencumbered sources of liquidity are cash or income. In the current market conditions, we think the need for income has strengthened and its durability can be enhanced through diversification of sources. We continue to believe that Core Real Assets should play an outsized role in income generation, but it's more important than ever to diversify risks across both geographies and asset types.


Consider re-risking: The decline in funded status, as well as the CARES Act contribution deferral and potential legislation, means that portfolios will need to generate higher returns to reach full funding over the same time period, all else equal. At the same time, the surplus efficient frontier has steepened as forward-looking return expectations on public equity have increased while those for fixed income have come down. For plan sponsors whose governance permits, we think re-risking within a liability-aware framework makes sense. For others, just rebalancing back toward strategic targets and repairing the market-induced fixed income overweight/equity underweight will help heighten risk posturing. Data from the STRIPS market suggests a fair amount of pension money has moved in this direction (Exhibit J). The supply of STRIPS, used by pension funds to generate capital-efficient duration exposure, tends to increase with funded status, as plans increase hedge ratios in line with their glidepaths. In contrast, March experienced the biggest STRIPS reconstitution11 on record, concentrated mostly in 20+ maturities.
Changes in the supply of Treasury STRIPS give us high-frequency insights into pension de-risking (and re-risking) activity.

Exhibit J: Monthly Change in Treasury STRIPS supply ($bn) versus Average GAAP Funded Status (%)
Source: Bloomberg, J.P. Morgan Asset Management; data as of March 31, 2020. For illustrative purposes only.
And reconsider active management: We also believe plans should reconsider active management given the uneven impact the recession is having across geographies and industries and the corresponding increased dispersion in stock performance. This view ranges from asset classes like Emerging Market Equity, where active management has consistently outperformed, to US Large Cap, where the industry has struggled to generate alpha post-GFC. Furthermore, as discussed in Michael Cembalest's September 2019 research on active management, "Active Management and QE-Distorted Markets,"12 active managers tend to outperform in "down" markets.


If there's a bustle in your hedge portfolio, don't be alarmed now: As we discussed earlier, moves in rates and spreads have created significant performance dispersion across hedge portfolios, even for those with similar interest rate hedge ratios. The early-March blowout in corporate credit spreads has not fully retraced, and we see opportunities to cautiously add credit to hedges. However, no amount of Federal Reserve purchases can fully curb the economic impact the recession will have on corporate America, as well as the resulting downgrades and defaults that may follow. Despite their outperformance year-to-date, we still think hedge portfolio diversifiers like Long Securitized play a crucial role in hedge portfolio construction as an all-weather component, especially through the market downturn.
Mortality: Is There a Silver Lining?
Our hearts and prayers go out to all the families across the globe who have been impacted by the virus. But we would be remiss not to ask the question: Will pension plans benefit from the impact of COVID-19 on mortality? The short answer is it does not seem likely, especially if infection curves continue to flatten and invert. Exhibit K plots ranges of COVID-19 case fatality versus U.S. general population mortality from Social Security Administration data. While case fatality rates, conditional upon contracting COVID-19, are quite high for those 75 and older, so are unconditional mortality rates. This suggests that the experience impact on pension liabilities should remain muted.
COVID-19 case fatality rates for retirees haven't been meaningfully different than mortality rates for the general population.

Exhibit K: COVID-19 Case Fatality Rate versus U.S. General Population Mortality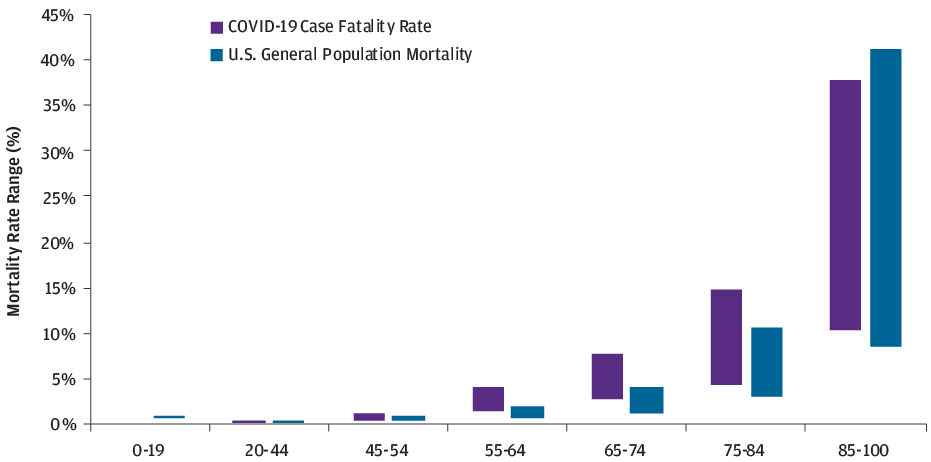 Source: Society of Actuaries, Social Security Administrative Life Table, "CDC: Severe Outcomes Among Patients with Coronavirus Disease 2019, February 12 – March 16, 2020", J.P. Morgan Asset Management; data as of March 31, 2020. For illustrative purposes only.
---
1 Special thanks to my in-laws for letting us use their login!
2 We analyzed Aa yield changes going back to December 1996.
3 For those following our other publications, we have several different funded status tracking analyses. Our monthly pension update tracks a hypothetical pension plan meant to approximate the overall pension universe in regards to its starting funded status, asset allocation and liability characteristics. Our Top 100 estimate tracks closely to our monthly pension update, which ended March at 80.0% funded, down 7.7% year-to-date. We also have been publishing a daily tracker daily tracker intended to derive higher frequency insights about headline funded status performance and its underlying drivers. Our baseline plan in this tracker ended Q1 down 6.6% year-to-date.
4 For a summary of previously enacted legislation, please reference "Pension Indigestion: Considerations for the end of regulatory relief" from October 2019
5 This acronym seems too good to be true. I imagine some powerful technocrat deciding the bill name must be "CARES" and then forcing a bunch of Senate pages to pull an all-nighter concocting the actual words. We certainly know that wasn't the case with HATFA (Highway and Transportation Funding Act of 2014), which doesn't exactly roll off the tongue.
6 Plans with a regulatory funding shortfall in the prior plan year are required to make quarterly contributions in four installments. The funding shortfall determination includes the deduction of any credit balance from the Actuarial Value of Assets (AVA). The amount of each quarterly is generally one-fourth of the minimum of 90% of the current year required contribution and 100% of the prior year's required contribution.
7 Delta Air Lines, Inc. Form 8-K filed on 3/10/2020.
8 American Airlines Group Inc. Form 8-K filed on 2/20/2020.
9 For an explanation of how regulatory discount rates are set, please reference "Pension Indigestion: Considerations for the end of regulatory relief" from October 2019
10 The plan has a 13.0-year PBO liability duration, is hard-frozen and has no credit balance.

11 STRIPS can be reassembled by combining the principal and all unmatured underlying interest components in the appropriate amounts.

12 Eye on the Market: Active Management and QE-Distorted Markets

0903c02a8288faa5