Make income an objective: The need for return has not changed, but the market environment has
By Jared Gross, Head of Institutional Portfolio Strategy, and Pulkit Sharma, Head of Alternatives Investments Strategy & Solutions
IN BRIEF:
Traditional asset allocations will be challenged to deliver target returns going forward.


Ongoing obligations to pay benefits or deliver institutional support remain undiminished.


Investors should look across their portfolios for opportunities to increase income generation



Focusing on the stable component of returns
Asset allocators face two key challenges today: First, rich valuations across most markets mean that traditional portfolios are unlikely to deliver future returns comparable to those of recent history; and second, traditional asset allocation models that rely on historical relationships between asset classes are less likely to provide effective guidance. In response, investors may want to reorient portfolios toward known sources of stable income and away from sectors reliant on assumptions about capital appreciation. This pivot to income should be accompanied by a willingness to deviate from the classic 60/40 model and embrace a more central role for diversified, income-focused hybrid sectors that balance equity- and bond-like characteristics.
A low return world
Asset allocations built around historical performance expectations may face significant headwinds because the ability of stocks and bonds to continue appreciating from current elevated levels is likely to be constrained. The rally in asset prices over the past decade – and indeed over the past few months amid unprecedented monetary intervention – will likely limit the capacity of diversified portfolios to deliver high returns going forward (Exhibit 1A and 1B).


EXHIBIT 1A and 1B: Equity and bond markets likely to experience low returns
EXHIBIT 1A: Forward p/e and subsequent five-year annualized returns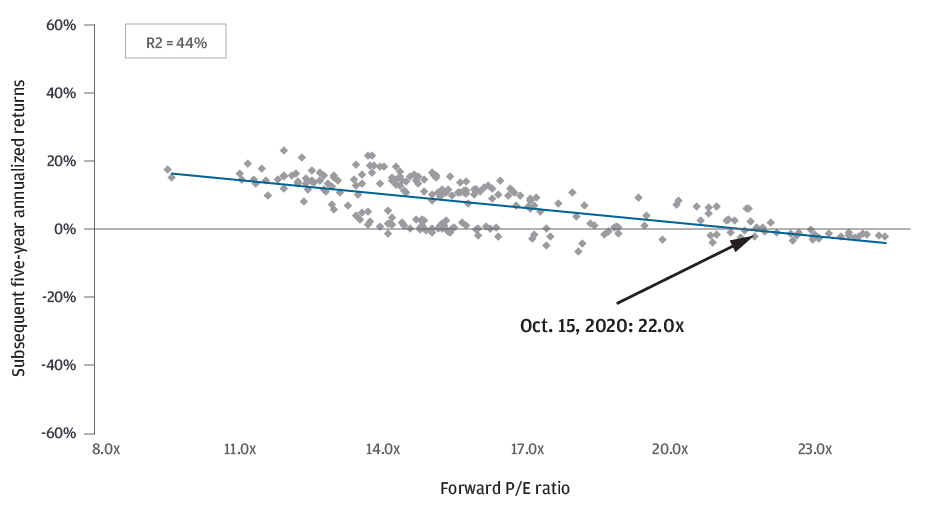 EXHIBIT 1B: Bond yields and subsequent five-year annualized returns for the Bloomberg Barclays U.S. aggregate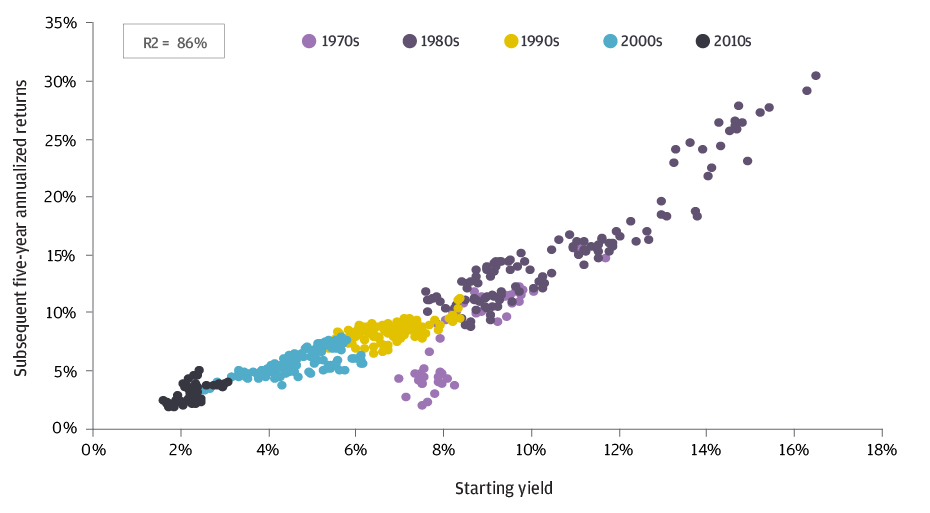 Source: Bloomberg Barclays, FactSet, Standard & Poor's, Thomson Reuters, J.P. Morgan Asset Management.

R2 represents the percent of total variation in total returns that can be explained by forward P/E ratios; data as of September 30, 2020.
A trying time for traditional portfolio optimization
The prospect of market returns below historical averages is itself unpleasant, but it also has implications for traditional portfolio construction techniques. These methods are less effective when expected asset class returns are compressed in a narrow range, volatility remains elevated and correlation assumptions are in greater doubt.
Consider: the standard mean-variance optimization model consistently prefers a portfolio that is overweight equity and diversified with traditional bonds – the classic 60/40 approach. Under the hood, the model is relying on high equity returns and low stock-bond correlations, with the income from bonds providing a modest tailwind to performance. The present market environment calls all of these assumptions into question, and diminishes the confidence we can place in traditional allocation models to effectively manage risk-return trade-offs in portfolios.
Making income an objective
Against this backdrop, portfolio construction should consider, not just the level of long-term expected returns, but also the mechanism by which those returns are generated. Specifically, it will be important to distinguish the role of income – in the form of coupon payments, dividends or other stable cash flow streams – from that of returns based on expected future changes in asset valuation.
Why should income be favored in today's environment?
Both equity and bond valuations have enjoyed a tailwind from falling interest rates, leaving a market characterized by high valuations and low yields overall. Investments that rely on further declines in interest rates for positive returns are less appealing given these initial conditions.


The effective duration of asset allocations has increased, making broader portfolios – not just fixed income – subject to the risk of poor performance if interest rates rise.


While most income-producing assets may be fairly priced today, they offer both a lower effective duration and a source of ongoing cash flow to support institutional needs and allow opportunistic reinvestment as markets evolve.


By zeroing in on higher-quality investments with a greater proportion of returns derived from income generation, and correspondingly less from valuation changes, investors can build portfolios with greater stability and increased flexibility in this challenging environment.
Toward an income-focused allocation model
The traditional allocation model views investments within a framework of total return, volatility and correlation. The distinction between returns arising from income vs. those arising from anticipated valuation changes is not directly incorporated, beyond (presumably) having some effect on the estimated volatility. But it is possible to substitute income in lieu of total return in order to help identify appropriately diversified income-seeking portfolios. Across major liquid markets like fixed income and equity, the ability to move up in yield by adding credit risk or higher dividend strategies is well understood, and there is sufficient transparency with respect to volatility and correlations to model risk and diversification effectively.
Investors should expand their search for income to include alternatives as well, but must recognize that these investments often bring exposure to other risks that are not easily captured by traditional allocation models, such as illiquidity and manager risk. Care should be taken in selecting strategies that offer not only a high degree of income generation, but also visibility into the underlying sources of income and the ability to underwrite the credit risk being taken in the process. For example, in the case of core alternatives such as income-producing real assets,1 75% or more of the expected total return is underpinned by contractual cash flows from strong counterparties. In these categories, illiquidity and manager dispersion are relatively low vs. other alternative investment categories that capture a higher proportion of return from capital appreciation (Exhibit 2).
1 Income-producing assets include developed market core real estate, infrastructure and transportation assets
Core real assets are relatively liquid and their returns have a high income
component and low manager dispersion vs. other alternative assets
EXHIBIT 2: Trade-offs in alternative asset investing
Size of bubble represents the magnitude of manager dispersion between 25th and 75th percentile managers
Source: Burgiss, Cambridge Associates, HFRI, NCREIF, Preqin, J.P. Morgan Asset Management; data as of Q2 2020 for hedge funds and core real assets; data as of Q1 2020 for non-core real assets and private equity. Notes: (1) Hedge funds are represented by equity long-bias funds, trailing five years. (2) Core real assets bubble is mapped using core real estate proxy. (3) Non-core real assets bubble is mapped using non-core real estate proxy. (4) Private equity returns are measured using 10-year IRR. (5) Size of bubble represents the magnitude of manager dispersion between 25th and 75th percentile managers. (6) Illiquidity score is the estimated time to value realization: hedge funds – one year; core real assets – two years; non-core real assets – five years; private equity – 10 years.
The underlying logic of allocation models remains: it is critical to retain the linkage to volatility and correlation because, without it, an income-focused investor might concentrate risk in credit-sensitive sectors and lose the benefits of diversification. The best approach will involve seeking income from a broadly diversified set of investment strategies from across the full spectrum of the asset allocation. A well-diversified income-oriented portfolio could have less exposure to high-volatility (and high-returning) equity strategies, but may therefore have less need for risk-diversifying (but low-returning) fixed income. At the margin, capital can be reallocated to hybrid strategies that occupy a middle ground between the two: higher yield, lower equity beta and moderate illiquidity. In the present environment, this type of portfolio shift may help avoid a future path of lower returns and higher volatility in traditional asset classes.
To illustrate this, we highlight how major asset classes can be grouped into four distinct income and diversification quadrants (Exhibit 3). Traditional income sources like high yield bonds or REITs can deliver income, but do so with correspondingly high levels of equity beta. Alternative income sources, such as core private real assets, generate higher cash yields than traditional bonds, and do that with similarly low equity beta. But as noted above, investors must be aware that these benefits come with a price, namely, reduced liquidity.
Core real assets have the potential to provide enhanced income and diversification
EXHIBIT 3: Asset classes grouped by income return (%) and equity beta
Source: Bloomberg, MSCI, JPMorgan Asset Management; data as of Q3 2020. Notes: (1) Sectors shown above are represented by Bloomberg indices. U.S. HY: Corporate High Yield; Global HY: Global High Yield Index, Global Agg: Global Aggregate, U.S. REITs: FTSE NAREIT All-Equity REITs, Global REITs: FTSE EPRA NAREIT Global REITs, U.S. Corps: U.S. Corporate Bond Index. The allocation for global core real assets consists of a diversified mix across core private global real estate, infrastructure and transportation assets. (2) Income for each public market asset class are based on current dividend yields for equity sectors and current YTW for fixed income sectors. Yields are as of Q3 2020, unless otherwise noted. (3) The income for global core real assets is based on representative lower bound strategy-level income targets for the illustrative underlying asset classes. (4) Betas for all asset classes are based on full-cycle annual calendar year returns from 2007 to 2019 against the MSCI ACWI.
With greater uncertainty and a smaller margin for error in traditional liquid markets, investors can benefit from tilting allocations toward strategies with higher proportions of current income. There is ample room in most portfolios for a broader inclusion of income-generating strategies in both liquid markets and less liquid alternatives. Implemented correctly, this approach can preserve the benefits of diversification while helping portfolios become more resilient in the face of low returns.
EXPLORE MORE
Jared Gross, Head of Institutional Portfolio Strategy, Pulkit Sharma, Head of Alternatives Investments Strategy & Solutions, discuss the operational benefits and consistent stream of capital investors can find in allocating to alternative strategies.
Be the first to get the in-depth analyses for this series
Explore four themes that can lead to incremental benefits over the short-term and together can transform asset allocation over the long-term.