Diversifying a hedge strategy across multiple underlying benchmarks and allocating to the most skilled managers in each is likely to offer better risk-adjusted performance and higher alpha.
It's time for pension plans to re-underwrite their liability-driven investing (LDI) hedging strategies. In particular, pensions may want to reexamine the role of managers using customized full-liability benchmarks, and should instead consider key separately managed components of the fixed income markets. A "building blocks" approach can preserve the effectiveness of the overall hedge strategy while allowing for greater asset diversification and improved manager selection opportunities.
Since the widespread adoption of LDI strategies 10-15 years ago, hedge portfolios and liabilities have gradually changed in three important ways:
Hedge portfolios have grown and often represent the majority of a pension plan's total assets.

Liability-driven investment strategies increasingly use highly customized benchmarks that reflect the full spectrum of liability risks.

Liabilities themselves have matured and "rolled down the curve" to shorter durations, a trend that will accelerate in a period of rising interest rates.

While most plans have adjusted to the evolving environment by making incremental changes within their existing LDI investment frameworks, this has led to some unintended consequences. For instance, many LDI managers were hired in the early stages of adoption, when hedge portfolios were less complex and the market benchmarks simpler. As portfolios grew over time, these legacy managers have shifted to larger and more customized strategies that extend across the full yield curve. Plan sponsors should be considering whether manager skill is optimally aligned with the size and composition of the liability benchmark.
Pension funds have the ability to separate the two key elements of hedge portfolio design: the need for a top-down strategic benchmark that reflects liability risks in aggregate and the specific allocation decisions that assign capital to various managers. By doing so they can preserve the effectiveness of the overall hedge strategy while allowing for greater asset diversification, wider manager selection opportunities and improved potential to generate critical excess returns.
Hedge portfolios have grown in size and complexity as liabilities have matured
Over time, corporate pension plan asset allocations have steadily moved towards fixed income and away from equities. The vast majority of this fixed income is now invested in some form of LDI strategy. Exhibit 1 shows the broad portfolio composition of the 100 largest pension plans.
Exhibit 1: Changes in the asset allocations of the 100 largest pension plans over time

Source: Company 10-K filings, J.P. Morgan Asset Management; data as of December 31, 2021. Numbers may not add up due to rounding.
As hedge portfolios have grown, the way in which they are invested has changed. An incremental shift from broad market benchmarks to highly customized credit portfolios has occurred in several phases (Exhibit 2).
Exhibit 2: Four phases in the evolution of liability-driven investment strategies

Source: J.P. Morgan Asset Management. For illustrative purposes only.
In the early years of LDI adoption (Phases 1 and 2), the interest in precisely hedging liabilities across the curve was limited given the small size of the hedge portfolio relative to the liability and the modest amount of curve risk relative to other risks in the asset allocation. As the hedge portfolio has grown over time and displaced other risks in the asset allocation, the desire for a more complete hedge has increased (Phases 3 and 4). What was once a pure long-duration strategy is now anything but.
At the same time, liabilities have not remained static. Many plans have closed to new entrants or frozen benefit accruals entirely, which means that the liability profile has matured or "rolled down on the curve," reducing its duration over time—independent of the effects of interest rates. This requires an ever-increasing allocation to intermediate- or short-duration credit in order to deliver an effective hedge portfolio. The "anchor point" for a liability hedging portfolio against a mature liability is no longer simply long-duration bonds.
Exhibit 3 offers a helpful visualization of this process: it shows the composition of a portfolio that would match the liability duration of a frozen pension plan that has matured across time. Even considering the impact of declining interest rates over most of this period, the duration of the liability declined steadily from a peak level close to 15 down to the current level of approximately 9. At the same time, the portion of intermediate bonds in the hedge portfolio has risen to virtual parity with the long credit allocation. Not every plan will experience this effect to the same extent, but most plans are moving in this direction.
Exhibit 3: As the duration of liabilities declines, the allocation to intermediate bonds increases
Source: J.P. Morgan Asset Management. For illustrative purposes only.
This example assumes that a plan is 100% allocated to fixed income and wants a 100% hedge, which may not be the case for every plan. But the broader point remains: Larger hedge portfolios that seek to match curve risks, when managed against maturing liabilities, will increasingly depend on intermediate credit as a key component of the strategy—a significant change from earlier years when matching liabilities required almost exclusively long duration.
The challenges of managing across a custom liability benchmark
There is value in a pension plan defining a custom benchmark that best reflects the precise risk characteristics of its liabilities. But assigning such a complex benchmark in its entirety to multiple asset managers has consequences. Custom LDI benchmarks can be cumbersome to manage against and often lead to limited alpha generation and sub-optimal diversification.
The lack of effective competition also makes it difficult to evaluate managers that have been chosen. When multiple managers run mandates against a single customized benchmark, it ensures that they compete only against one another. Furthermore, as benchmarks become increasingly structured, the degree of differentiation across managers declines. Not surprisingly, manager turnover is extremely low across LDI portfolios.
Many pension funds now find themselves in a less-than-ideal situation: despite the widespread availability of skilled managers for each subcomponent of the high quality fixed income universe, the original LDI managers—generally chosen for their expertise in managing against public long-duration benchmarks—are now running much broader portfolios.
How did this happen? The path towards customized LDI was gradual; in practice, many plans changed their benchmark in small increments, but never reached a point at which the marginal change required a reevaluation of the overall program. Each individual change was often small enough that it may not have supported hiring an additional manager. But given the size of modern hedge portfolios, it is time for pension investors to consider the benefits of re-underwriting the manner in which they implement the hedge strategy and the managers they choose to invest it.
A building blocks approach provides solutions to the challenges
There are more important considerations than squeezing the last few basis points of tracking error out of a hedging program. In particular, diversifying credit-heavy LDI portfolios and generating adequate excess returns will lead to more positive outcomes across time.
Pensions with large, concentrated allocations to investment grade credit face a performance headwind from downgrades and defaults, which impact the assets but not the liabilities. This return gap will need to be made up elsewhere, and de-risked pensions will need some of this excess return to come from manager alpha in traditional fixed income sectors.
Structural diversification within the broader hedge portfolio is a powerful means of reducing concentrated credit exposures. However, relying on legacy LDI managers to diversify within a custom mandate is likely to be insufficient in magnitude and may vary across time. Small tactical overweights to non-becnhmark sectors will help, but only at the margin. Allocating directly to diversifying fixed income sectors ensures that risk concentrations are reduced.
Lastly, extending the hedge portfolio into higher-returning sectors of fixed income allows for improved performance potential with limited additional risk. The fixed income markets offer numerous opportunities to out-earn liabilities via exposures to credit sectors, securitized assets and tactical allocation strategies.
In practice, the alternative to highly customized LDI mandates is straightforward:
Use the same overall benchmark for the total hedge portfolio.

Split it into separate mandates that correspond to fixed income market sectors with well-defined populations of active managers.

Introduce structural diversification and enhanced return via direct allocations to extended sectors.

Exhibit 4 illustrates the contrast between how many hedge portfolios are currently managed and how they could be more efficiently allocated. The first model portfolio has four managers all allocating against a benchmark that blends IG credit across the short-, intermediate- and long-duration segments of the yield curve, along with some STRIPS in the very long-duration segment. The second model takes the first step towards a fully disiversifed approach, distributing managers across each segment.
The third model portfolio distributes the hedge portfolio using multiple managers assigned to specific segments of the fixed income market according to their particular skills. Although this model is likely to involve searching for and hiring multiple new managers, which can take time, the legacy portfolio can easily be transitioned piece by piece over time and the end result could well be worth the effort.
Exhibit 4: Current typical LDI manager approach vs. a diversified building blocks approach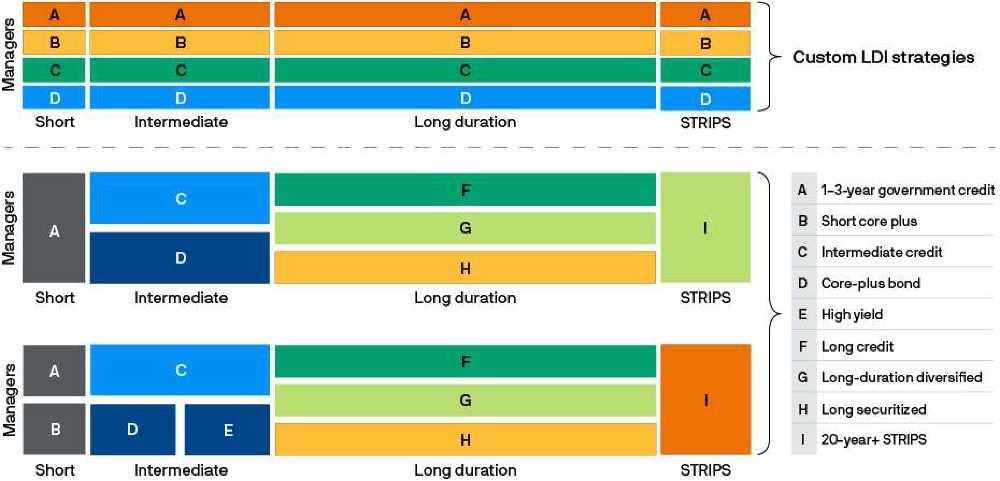 Source: J.P. Morgan Asset Management. For illustrative purposes only.
Manager representation across segments
How likely is it that a manager selected years ago for skill against the Long Government Credit or Long Credit benchmark is similarly qualified against the range of other fixed income components in a diversified fixed income strategy? It's difficult to know for sure, but there is some evidence suggesting that success in one area of the market does not automatically translate into success elsewhere.
Exhibit 5 shows how many of the top 15 long duration managers by AUM also rank in the top 15 of other key fixed income sectors. (Although AUM is not a pure proxy for manager skill, one could expect some correlation. Fees also play a role. But we assume that a generally competitive manager selection process will direct assets over time towards managers with strong value propositions.)
Exhibit 5: Manager dispersion across each fixed income segment suggests the need for a diversified hedge strategy
Source: J.P. Morgan Asset Management, eVestment; data as of June 30, 2022.
In short, the majority of the top long duration managers are not represented in other sectors. Presumably, rational asset allocators have chosen others instead. Should a custom LDI investor be comfortable in that knowledge? Probably not – at least not without re-underwriting their process thoroughly.
Ultimately, it is quite possible that adding additional responsibilities to the mandate of a skilled long-duration portfolio management team will dilute that skill and reduce long-term performance. Conversely, diversifying a hedge strategy across multiple underlying benchmarks and allocating to the most skilled managers in each is likely to offer better risk-adjusted performance and higher alpha. The second and third examples in Exhibit 4 above offer two possible arrangements that would allow for such a hedge portfolio to be built.
Conclusion
The growth in pension fixed income allocations has led, somewhat counterintuitively, to reduced asset diversification and increased manager concentration. We can trace the incremental steps that led to this outcome, but what's done is done. Ultimately, seeking the absolute minimum tracking error versus liabilities may be a costly distraction. Going forward, pensions may benefit from a new approach.
A building blocks allocation strategy will allow the hedge portfolio to precisely target diversifying sectors of the market, introduce higher-returning strategies and optimize manager selection for alpha, tracking error and fees. It is now time for plans to re-underwrite their approach to LDI and make sure that it remains well suited to the task of outperforming liabilities with low risk.
09tu221810171843