The broad opportunity set and differentiated sector exposure available in offshore markets, along with the tailwind from normalizing exchange rates, offer risk diversification and attractive alpha potential.
U.S. - based investors are spoiled by choice. The opportunity set that exists across domestic public and private markets is deeper and richer than anywhere else in the world.
Asset managers and asset allocators can create diversified domestic portfolios and maintain them across time, regardless of market conditions. Well-developed capital markets, along with a strong legal and regulatory system, also provide an attractive environment for foreign firms to issue securities in the U.S. – broadening the opportunity set even further.
However, the quality of the U.S. markets does not mean that investing should stop at the border. Failing to exploit global markets reduces diversification across securities and currencies, and can limit return potential.
Economic growth, innovation and business development happen all over the world. Leading firms across many industries are located outside of the U.S. and offer their securities in local markets. Regional and national economies experience business cycles that may be out of phase with the U.S., offering both diversification and attractive entry points for investment. Currency movements can also influence the timing and direction of investment flows across borders.
Allocating globally can bring many benefits, though they may wax and wane with economic cycles and geopolitical changes. A thoughtful asset allocator can use these opportunities to periodically rebalance allocations across specific regions and styles. In this article, we explore the benefits of global allocations and why the current environment may be a particularly attractive time to cross the border.
International equity markets make up more than half of the global opportunity set
Exhibit 1: Global equity market capitalization by region


May not add up to 100% due to rounding. Percentages represent market share of total global equity market capitalization.
Source: SIFMA, World Federation of Exchanges; data as of September 30, 2022.

Taking advantage of global cycles
In recent decades, increasing globalization has driven relatively synchronized economic and monetary policy cycles. Yet market performance has remained inconsistent, with visible periods of outperformance and underperformance of global markets versus the U.S. Since the Global Financial Crisis, the U.S. has enjoyed a sustained period of outperformance that has gone on far longer than previous cycles. A longer look at history, however, suggests that periods of sustained outperformance ultimately reverse (Exhibit 2). Given the duration and trend of recent U.S. outperformance, a change may be overdue.
Regional equity market performance tends to reflect differences in regional economic cycles
Exhibit 2: Performance cycles across U.S. and EAFE equity markets

Source: FactSet, MSCI, J.P. Morgan Asset Management. EAFE = Europe, Australasia and Far East. *Cycles of outperformance include a qualitative component to determine turning points in leadership. Data as of October 31, 2022.
Finding reliable indicators to try to time performance reversals is challenging, but there is evidence to suggest that consumer and investor sentiment metrics offer helpful insight. Exhibit 3 shows the performance of the MSCI European Monetary Union equity index against peaks and troughs in consumer confidence since 2000. The message is clear: the periods of weakest sentiment have historically been good entry points, just as cyclical highs have presaged poor future returns.
Currently, sentiment in Europe is at historically low levels, due in no small part to concerns over the Ukraine conflict and the stability of energy supplies. But it's not clear that this means the signal should be ignored, particularly since relative valuation signals and currency trends may be indicative of an attractive entry point.
Sentiment troughs have been followed by strong future market returns
Exhibit 3: European Commission Consumer Confidence Index and the subsequent 12-month return of the MSCI EMU index, local currency
Source: Source: Bloomberg, European Commission, MSCI, J.P. Morgan Asset Management. MSCI EMU is the European Monetary Union index. *11-month return as 12-months have not passed yet. Data as of September 30, 2022.
A bigger opportunity set — and maybe a better one
Global markets not only offer access to a vast number of potential investments that are not included in U.S. benchmarks, they are also constructed in a way that may be more conducive to alpha generation. These indices typically display a more evenly distributed market cap weighting — they are less concentrated in the largest stocks (or "top heavy"). The number of constituents in international indices is also significantly higher than even the broadest U.S. benchmarks (Exhibit 4).
As a result, the returns of the benchmark are less tied to the returns of the top few stocks, giving active managers a better chance to outperform by deploying capital across a broader range of individual names.
Many other benchmarks have more stocks and are less concentrated than U.S. indices
Exhibit 4: Number of constituents and concentration across global markets

Source: FactSet, J.P. Morgan Asset Management; data as of November 15, 2022.
Beyond minimizing concentration risk at the stock level, international benchmarks are diversified across multiple underlying economies, market sectors and, potentially, business cycles. This means that in addition to bottom-up alpha potential, active managers have more opportunity to benefit from applying top-down macroeconomic analysis across multiple regions and individual countries.
This economic diversification may also offer some resilience in the face of a deglobalizing world. Companies focused in specific countries or regions may find their business is positioned more favorably than large multi-nationals whose business models and supply chains cross multiple borders.
Asset allocators may also be able to gain exposure to particular sectors that are not as well represented in U.S. markets (Exhibit 5). While the large weight to information technology drove U.S. outperformance over the prior cycle, other sectors may assume leadership going forward. For instance, financials, industrials and energy are all more heavily weighted in international indices.
Sector exposure in international equity markets can differ significantly from U.S. indices
Exhibit 5: Sector weights across EAFE and U.S. Growth benchmarks

Source: FactSet, MSCI, J.P. Morgan Asset Management. Guide to the Markets – U.S. Data are as of September 30, 2022.
To offer one example of sector differentiation, consider the impact of U.S. dollar strength on the health of businesses located in Europe. Many European companies generate a large portion of their revenues outside of Europe, much of it coming from the U.S. As the U.S. and European economies diverge and exchange rates follow, European firms may be differentiated by the durability of their revenue streams.
Companies in some European sectors, such as healthcare, luxury consumer goods and industrials, could be well positioned to benefit from both the potential for robust sales in the U.S. — if the economy is stronger than Europe's — and a strong U.S. dollar, as U.S. revenues are translated back to euros (Exhibit 6). Active global managers can tilt their portfolios towards companies that can take advantage of, or defend against, exchange rate volatility.
Some European sectors are well positioned to benefit from U.S. dollar strength
Exhibit 6: U.S. Dollar revenue exposure across MSCI World ex USA sectors

Source: FactSet, J.P. Morgan Asset Management' data as of November 15, 2022.
The effects of a strong U.S. dollar will be felt by firms located in other regions as well. The smaller domestic markets in which they operate may be subject to even greater macroeconomic or geopolitical uncertainty; a diversified revenue stream can make them more resilient.
Current currency trends
For a U.S. investor, the positive impact of the strong U.S. dollar on corporate revenues is only part of the story. Exchange rates also impact the attractiveness of entry points to global markets — and right now, currency trends strongly favor global allocations.
The U.S. dollar is trading at muti-decade highs relative to the euro and the yen, as well as many other global currencies. For U.S. investors, this represents a tantalizing opportunity to buy global assets at a discount to already attractive valuations. If exchange rates revert back towards more historically normal levels, U.S. investors could realize meaningful excess returns in dollar terms as these currencies strengthen.
In fact, this is the base case of J.P. Morgan Asset Management's 2023 Long-Term Capital Market Assumptions, which projects significantly higher U.S. dollar-based returns for various global markets based on the assumption that exchange rates will normalize in coming years.
Exhibit 7 shows that the local currency returns for global equity markets are similar in magnitude but differ greatly in U.S. dollars: The dollar-based annualized returns for the euro area, Japan and EAFE are more than 200 basis points higher.
Expected equity returns for global markets differ notably when expressed in U.S. dollars
Exhibit 7: Long-term return assumptions across global markets

Source: J.P. Morgan Asset Management. Long Term Capital Market Assumptions.
Pushing the boundaries
While the familiarity of domestic markets may be comforting, the case for allocating capital overseas is powerful. Cyclical outperformance of U.S. markets has extended over an unusually long horizon, and sentiment indicators suggest the potential for stronger forward looking performance.
Furthermore, the broad opportunity set and differentiated sector exposure available in offshore markets offer risk diversification and attractive alpha potential. The tailwind from normalizing exchange rates may also add to performance in the coming years.
U.S.-based investors would be wise to harness the growth potential and diversification benefits of crossing the border.
Appendix: Guess the brand!
Which of the following brands are listed on U.S exchanges?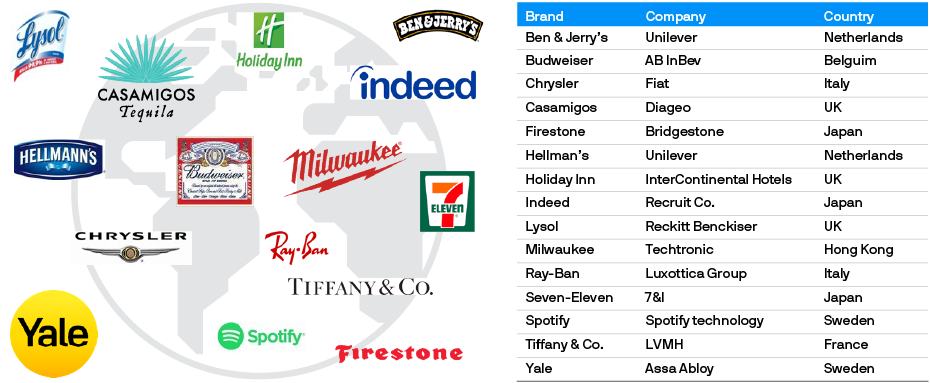 Source: The companies above are shown for illustrative purposes only. Their inclusion should not be interpreted as a recommendation to buy or sell. The use of the above company logos are in no way an endorsement for JPMIM investment management services. A full list of firm recommendations for the past year is available upon request. There can be no guarantee that the above security will be profitable in the future. J.P.Morgan Asset Management is the marketing name for the asset management business of JPMorgan Chase & Co. and its affiliates worldwide.
Answer: Zero!
While it may be surprising, a number of brands recognized daily in the U.S. are actually listed internationally.