Sustainable investing: How to identify ESG leaders poised for long-term growth
2021-03-01
Andrew Stern
Michael Tyrrell
In Brief
Two principles guide our philosophy on sustainable (or ESG—environmental, social and governance) investing: Sustainability can generate long-term alpha, and sustainability must be determined actively.


At a time when sustainable investing is seeing surging inflows and robust performance, we cut through the complexities and explain the differences in investment mangers' approaches.


For us, sustainable investing goes beyond incorporating ESG considerations: it's also about leadership, influencing societal change and aligning with long-term global growth themes such as decarbonization and innovative medicine.


Size, scale and advanced data analytics capabilities—including an understanding of the limitations of third-party sustainability scores—allow active managers to pursue alpha while more effectively influencing change in companies and societies.
Investing in the long-term trends creating a sustainable world
Sustainable stocks gained momentum during the pandemic crisis, by some measures outperforming the broader market in 2020.1 Their performance joins a growing body of evidence that sustainability leaders are more resilient—and more aligned with the long-term global megatrends, such as decarbonization and innovative medicine, that are driving growth today.2
Companies are adapting quickly to this new paradigm, recognizing sustainability's powerful impact on their businesses. They are adjusting their business models to capitalize on sustainable trends, disclosing new sets of ESG-related information and setting sustainability targets.
Sustainable investing can mean different things to different people and investment options can vary dramatically. One pervasive misconception holds that sustainable investing equates to sacrificing returns. Another says that simply screening out the bad offenders, using a passive investment vehicle, guarantees a sustainable outcome. These common yet misleading narratives highlight the importance of manager insights. Here, we'll cut through the complexities of selecting a sustainable strategy. We focus on two key principles: Sustainability can generate long-term alpha, and sustainability must be determined actively.
Principle 1: Sustainability can generate long-term outperformance
In our view, companies will outperform over a market cycle if they're leaders in adopting sustainable strategies. What's the evidence that sustainable equity investing can deliver higher returns?
A large and growing body of empirical research, including our own, suggests that integrating ESG (environmental, social, governance) factors into investment products leads to superior risk-adjusted returns.3 An analysis of the Morningstar Large Cap Blend US Equity category shows a compelling performance advantage, coupled with lower volatility, for top ESG performers (Exhibit 1). While our time period is too short to draw definitive statistical conclusions, there is little evidence to suggest that investing in sustainable companies detracts from performance.
Integrating ESG factors has produced superior risk-adjusted investment returns and lower volatility
EXHIBIT 1: RETURNS AND VOLATILITY (STANDARD DEVIATION), HIGH MORNINGSTAR ESG RATING VS. LOW ESG RATING

Source: Morningstar, J.P. Morgan Asset Management; data as of January 31, 2021. ESG leaders and laggards are based on Morningstar sustainability ranking within the Large Cap Blend US Equity Fund and ETF category. Past performance is not indicative of future results. Information used from Morningstar Ratings ™: © Morningstar. All Rights Reserved.
A meta-analysis of more than 2,000 academic studies found that a majority of studies have identified a positive relationship between ESG factors and companies' financial performance. Only 11% of studies found a negative relationship.4 There's also ample evidence that when equity funds overweight companies with good ESG metrics, they outperform their benchmarks.5
Investing in the growth themes of the future
Another reason sustainable equities may outperform: Sustainable investing, when done well, should allow investors to capitalize on some of the most important secular growth themes of the future.
Which companies are likely to outperform over a market cycle? In our view, they will be at the forefront in adopting sustainable strategies with real financial impact, whether related to social factors like worker safety, environmental issues such as the energy transition from fossil fuels to renewables, or aspects of governance (diverse talent, strong risk controls, etc.). These ESG advances are all increasingly vital to companies' ability to successfully operate and generate returns.6 Sustainable investing, done right, should allow investors to capitalize on some of the most important long-term trends and themes heading into the future (Exhibit 2).
Successful companies will likely be financially rewarded for meeting consumers' sustainability expectations—and, potentially, new regulations
EXHIBIT 2: EXAMPLES OF LONG-TERM SUSTAINABLE GROWTH MEGATRENDS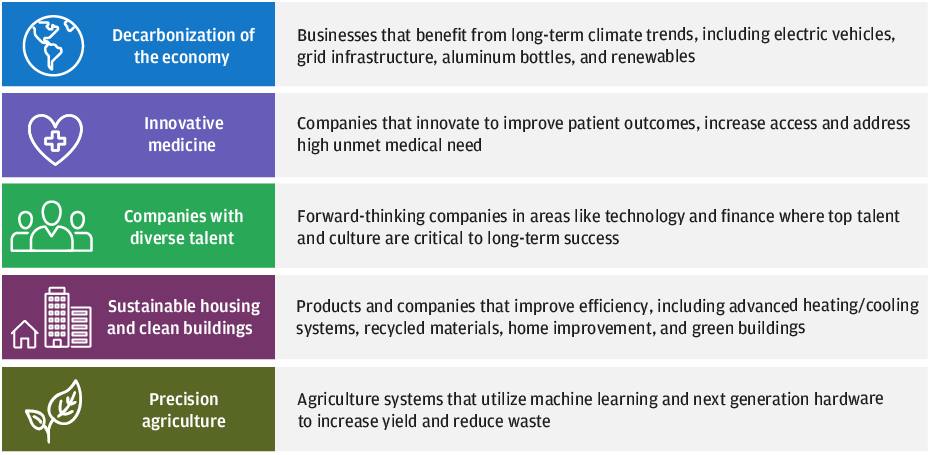 For illustrative purposes only. The manager seeks to achieve the stated objectives, there is no guarantee those objectives will be me. Investing on the basis of sustainability/ESG criteria involves qualitative and subjective analysis. There is no guarantee that the determinations made by the adviser will align with the beliefs or values of a particular investor. Companies identified by an ESG policy may not operate as expected, and adhering to an ESG policy may result in missed opportunities.
Case study: Electric vehicle leaders well positioned to outgrow broader market
There are about 1 million electric vehicles (EVs) on the road in the U.S. today. J.P. Morgan research forecasts that number will soar: By 2030, roughly 17 million—a quarter of all new U.S. car sales—will be EVs. These vehicles' electricity needs will amount to a projected 20-fold surge over the period. The current 100,000 public EV charging stations across the U.S. will be far too few to serve this fleet; we project the need will grow 20 times, to 2 million stations by 2030. Beyond stations is the power grid itself, which will need significant upgrades to accommodate this expected staggering increase in electricity demand for EVs and the country's evolving energy needs.
Like EVs, diversity offers another example of how sustainability can help position companies as leaders: the recruiting company Glassdoor found that two-thirds of job seekers call a diverse workforce important when they're considering a job offer. Companies that aren't effective at diversity and inclusion risk losing out on top talent.
By investing in the companies that are seeking to solve these emerging demands, investors can be part of sustainable change while pursuing compelling financial outcomes as well.
Principle 2: Sustainability must be determined actively
Data quality really matters in determining sustainability, which is why active managers use proprietary data. A key limitation of a lot of sustainable investing is the questionable quality, comparability and transparency of the third-party corporate ESG ratings data currently available.7 This data tends to be backward looking, incomplete, not regulated and company self-reported. While ratings providers cover a wide range of sustainability issues, they are not themselves seeking to generate superior investment or sustainable outcomes, and often miss the "big picture" regarding a company's sustainability merits. As a result, many "sustainable" ETFs and mutual funds that rely on this data actually hold a variety of non-sustainable companies—a disturbing trend that may even approach greenwashing.8
A further complication: ESG ratings providers rarely agree. Based on our analysis, the major third-party ESG ratings providers have only a 0.4 correlation among the sustainability ratings of the companies they cover. In contrast, in a more mature industry, such as corporate credit ratings, major third party providers' ratings have a 0.9 correlation. We believe this gives us an opportunity to do better.
Fundamental insight is essential
By taking an active approach, managers that use deep fundamental analysis combined with proprietary data, a generous research budget, access to corporate management and cutting-edge data science capabilities can build better portfolios of real sustainable leaders. Unlike a passive method that relies on inconsistent and questionable third-party data, we believe using a multi-faceted, holistic approach provides strong support for better-informed investment decisions. Incorporating innovative and proprietary data sources into the investment process is critical in creating this holistic assessment of sustainability. Using this framework, active investment managers can take a long-term approach, seeking strong investment performance and sustainability as the core focus.
How much impact can sustainable investing strategies really make?
Another gap in much of sustainable investing is accurately measuring the impact a portfolio is really having on the environment, social well-being and corporate governance. To be fair, quantifying those can be challenging. Sustainability also means different things to different investors. For all those reasons, having a wide variety of useful, comprehensible impact reporting metrics is essential to communicating the sustainable outcome of a portfolio. We believe there's a better way (Exhibit 3).
J.P. Morgan Asset Management proprietary impact reporting metrics offer a holistic view of the real difference sustainable investing is making
EXHIBIT 3: IMPACT OF USD 1 MILLION INVESTED IN A LEADING SUSTAINABLE EQUITY FUND VS. EQUIVALENT INVESTMENT IN S&P 500 (ANNUAL) AND ESG


For illustrative purposes only.
Source: Bloomberg, MSCI, U.S. Environmental Protection Agency, J.P. Morgan Asset Management; data as of December 31, 2020.
*The U.N. Global Compact is the world's largest sustainability initiative, a call to companies to align strategies and principles with universal principles on human rights, labor, the environment and anti-corruption, and to take actions that advance societal goals.
Active management can help drive the shift to a more sustainable world
In a robust sustainable investing strategy, asset managers engage with companies to drive positive change. We believe in encouraging corporate management to embed a culture committed to addressing the risks and opportunities presented by sustainability issues.
In our view, experienced active equity managers are well positioned here. Relationships built over decades create strength and mutual respect when an investor goes to company management; it becomes easier to effectively influence change.
At its heart, sustainable investing is about identifying, through a holistic assessment, the companies leading the world to a better future—and building portfolios to participate in these shifts, generating strong financial returns in the process. We are in the midst of a global sustainable transformation, and investors able to look ahead using ESG factors can become the market leaders driving it.
1 Source: J.P. Morgan Asset Management and Morningstar; asset flow and performance data from 1/1/20-12/31/20.
2 Sustainable investments (sometimes called environmental, social and governance [ESG] investments), by our definition, take into account one or more ESG factors, as well as financial considerations, during the investment process, helping deliver enhanced long-term risk-adjusted returns while integrating investors' values. A sustainable stock is one that, in the advisor's opinion, exhibits strong ESG characteristics based on a proprietary evaluation process. Outperformance data is from Morningstar as of December 31, 2020, comparing the MSCI ACWI Index vs. the MSCI ACWI ESG Leaders Index; the MSCI World Index vs. the MSCI World ESG Leaders Index; the MSCI EM Index vs. the MSCI EM ESG Leaders Index and the MSCI USA Index vs. the MSCI USA ESG Leaders Index. Past performance is not a guarantee of future results.
3 ESG factors: Environmental — companies that actively strive to reduce the negative impact of their business operations on the environment. In this context, the adviser analyzes factors such as the company's likely impact on climate change, natural resource use, pollution and the use of clean technology; Social — companies that consider the social impact of their business internally and externally. In this context, the advisers views considerations such as worker safety, product safety and integrity, healthier products, impact on the community and human rights; Governance — companies that embrace corporate governance principles. In reviewing governance characteristics, the adviser considers issues such as board accountability and diversity, shareholder rights, executive compensation, business ethics and government and public policy.
4 Gunnar Friede, Timo Busch and Alexander Bassen, "ESG and financial performance: Aggregated evidence from more than 2000 empirical studies," Journal of Sustainable Finance & Investment, 5:4 (2015).
5 For example, Patrick Wang and Madison Sargis, "Better minus worse: Evaluating ESG effects on risk and return," Morningstar, February 2020, and Dimitris Melas, Zoltán Nagy and Padmakar Kulkarni, "Factor investing and ESG integration," MSCI, November 2016.
6 According to the Carbon Disclosure Project, the transition to a low carbon economy could hold opportunities worth USD 2.1 trillion globally; the risk of not making climate-related business changes could cost as much as USD 1 trillion. Companies that effectively manage this exposure can potentially reduce downside risks and enhance revenue generation. ("World's biggest companies face $1 trillion in climate change risks," CDP, June 2019.)
7 The European Securities and Markets Authority (ESMA) recently notified the European Union that a "key challenge ... requiring further attention" was the "unregulated and unsupervised nature of the market for ESG ratings," citing a "need to match the growth in demand for these products with appropriate regulatory requirements to ensure their quality and reliability."
8Unfounded, exaggerated or misleading claims concerning an investment product's true sustainability.
Forecasts, projections and other forward looking statements are based upon current beliefs and expectations. They are for illustrative purposes only and serve as an indication of what may occur. Given the inherent uncertainties and risks associated with forecasts, projections and other forward statements, actual events, results or performance may differ materially from those reflected or contemplated.