Emerging Market Debt Strategy
Q2 | 2020: From margin to mainstream
2020-04-29
Pierre-Yves Bareau
In Brief
We adjust down our 2020 growth and return expectations for emerging market debt and introduce new base and bear case scenarios, as rapid transmission of the COVID-19 coronavirus slows economies around the world. We have increased the probability of our bear case scenario, which expects a technical recession in the first half of 2020.


At our last meeting we updated our base case scenario to around a 5.5% return on hard currency emerging market sovereign debt, and around 5.1% for local currency debt. A significant spread widening, in which emerging market debt has tested levels last seen in the global financial crisis, now presents a potential opportunity based on historical 24-month returns from equivalent points of entry.
For China, we revise down our 2020 growth estimate from 2019's 6.0%. We see evidence of Chinese growth recovering but expect first quarter growth could come in much lower.


In the case of a longer-term slowdown, we think the more open economies in our universe, for example Asia or central and eastern Europe, may underperform versus more closed economies, such as Colombia and Brazil.
We have become more cautious on local currency debt and are focused on quality duration in light of concerns over currencies.
In hard currency emerging market debt we prefer high quality over the highest yield.


We are more cautious in our outlook for emerging market corporate bonds where fundamentals could deteriorate with weaker economic growth. We have increased cash positioning, while moving underweight spread duration. While valuations have come down, we do not think they are fully pricing in either recession or stress.
---
Reduced expectations, changing scenarios and uncertainty
We adjust down our 2020 growth and return expectations for emerging market debt following our most recent quarterly meeting, and introduce new base and bear case scenarios. Rapid transmission of the COVID-19 coronavirus has slowed affected economies, beginning with China in the first quarter, before laterally expanding into the developed world. As the global pandemic spreads across the world, it slows economic activity before it as countries try to contain it, in turn creating a substantial shock to the real economy. A prolonged slowdown threatens a sharp recession through sustained suppression of economic activity. Accordingly, we have increased the probability of our bear case scenario. Since then, a substantial dislocation in pricing has elevated spreads to levels last seen in the global financial crises. We note that similar entry levels have historically provided outsize returns for those fixed income investors prepared to enter the market. With China increasingly showing signs of recovery, we believe there may be a scenario for emerging market debt to provide positive tactical exposure for asset allocators.
Valuations aside, fundamentals remain challenging in the near term. Emerging market economies are linked to the developing world through trade and capital flows. Hence a slowdown in the developed world impacts emerging market growth through a slowing of exports, which impacts domestic liquidity, consumption and growth. Our numbers suggest that emerging market economic growth might decline to 3.4% from a previous expectation of 4.4%, with the bulk of the slowdown driven by China. Slowing emerging market growth remains at a premium to the developed world, although we expect growth alpha to decline to 2.4% from a previous expectation of 2.9%.
Emerging market growth is expected to decline
Exhibit 1: Real GDP growth, % quarter on quarter (seasonally adjusted annual rate)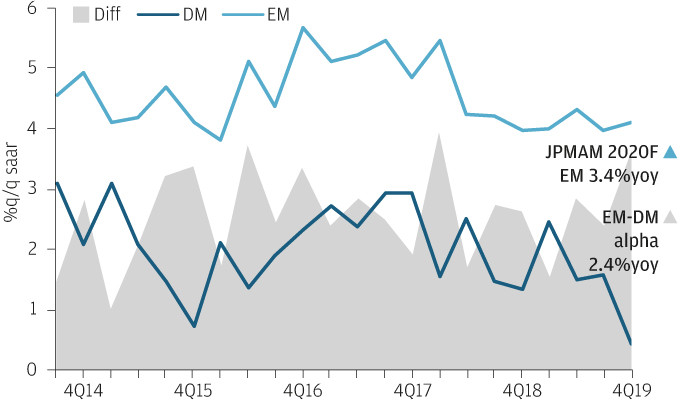 Source: J.P. Morgan Asset Management. Bloomberg. Data as of March 2020. Aggregates are GDP-weighted.
Opinions, estimates, forecasts, projections and statements of financial market trends are based on market conditions at the date of the publication, constitute our judgment and are subject to change without notice. There can be no guarantee they will be met.
China: adjusting our forecasts for the covid-19 shock
For China, we revise down our 2020 growth estimate from 2019's 6.0% following this quarter's closures and slowdown. While we see evidence of Chinese growth recovering from the shock, the extensive shutdown experienced in the country's industrial heartland has consequences for growth. We expect activity to slowly recover from a weak first quarter, which could come in at around 3% or lower.
COVID-19 has impacted Chinese activity more severely than previous virus outbreaks, such as SARS, with 25 out of 31 major provinces extending the Chinese New Year holiday, which affected 99% of exports, 97% of services, 95% of the urban employed and 93% of construction activity in those provinces. The epicentre of the outbreak, Wuhan, is also a major logistics hub, meaning that the city's closure disrupted the country's logistics chain and worsened the overall impact on economic activity.
Manufacturing represents a third of Chinese GDP, meaning that the country's factory cycle needs to recover. While we think the industrial side of the Chinese economy will recover in the second quarter, the services sector may lag due to softer domestic demand. In addition, Chinese companies may see slowing external demand, as the mature world endures the impact of the disease.
In response, we think the Chinese authorities will reach for the fiscal lever, raising spending to restart the industrial economy while continuing to transform the country into an innovative high tech powerhouse. We expect policy initiatives to boost productive long-term growth via key infrastructure investments, tax cuts, credit support to smaller enterprises and liquidity support, coupled with a focus on strategic sectors and super city clusters. As a result, we expect the augmented deficit will rise to 5.8% of GDP versus 4.9% in 2019. To address this, we think the Chinese will increase local government bond issuance to around RMB 3 trillion from RMB 2.15 trillion in 2019. By year end, we expect Chinese sequential GDP growth to recover toward 6% year over year in our base case, but questions remain over the pace and trajectory of that recovery.
The pace and trajectory of China's recovery will affect 2020 growth estimates
Exhibit 2: Chinese PMI surveys suggest a recovery is coming

Source: J.P. Morgan Asset Management, Markit, Bloomberg. Data as of March 2020. China (avg): Average of NBS and Caixin manufacturing PMIs. PMI = purchasing managers' index.
The COVID-19 episode has introduced a narrative around a less resilient China to the outside world, while flagging the importance of a Chinese recovery to the global economy. Since the SARS outbreak in 2003, China has become steadily more important to the global economy. Today, the Chinese economy represents 69% of global metals demand, 19.6% of the global stock of credit, 27% of global auto production and 20% of global oil demand. The Chinese economy represents a full fifth of global output and 13% of global trade. All of this has been achieved at a price: Chinese government debt has reached 56% of GDP (from 26% in 2003), while Chinese corporate debt today stands at 165% of GDP, from 101% in 2003. While China's balance sheet is not weak, the speed of the country's recovery will play a role in leading the global recovery from COVID-19.
Most of the impact had previously been felt in China, and as such has reduced global GDP growth from 4.6% to 2.9% and reversed the previous 8% year-over-year growth in world trade volume to -1.2%. As the virus takes hold in the mature world, it slows economic activity. China consumes 25% of global technology production and is itself home to more than 80% of smartphone and notebook production, 55% of global handsets and computers and 15% of global memory. As a result, we think the coronavirus slowdown will impact global trade and industrial production momentum through the middle of the second quarter.
China has more debt as a percentage of GDP growth than during the 2003 SARS outbreak
Exhibit 3: Level of Chinese debt as a % of GDP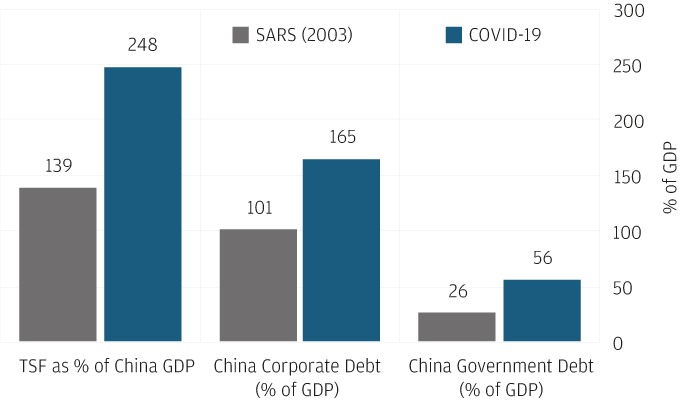 Source: J.P. Morgan Asset Management, UBS as of 31 December 2019. TSF = Total Social Financing
Em country views: a strengthening response
With China's case fresh in mind, we see global policymakers' responses as appropriate to the challenge ahead. We see both fiscal and monetary policy stimulus remaining robust going forward. In the US, we see a strong monetary policy response, and now look to the fiscal side to protect the economy through the cyclical lows created by the COVID-19 pandemic. For emerging markets, the fiscal response could reach 2.5% of GDP, driven primarily by China.
China could lead a large fiscal stimulus response across emerging market economies
Exhibit 4: Current emerging market fiscal stimulus, % GDP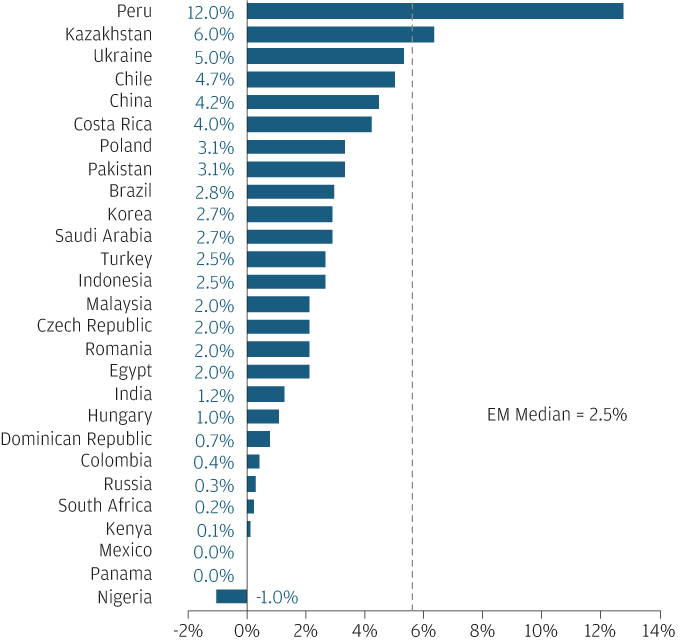 Source: J.P. Morgan Asset Management, Bloomberg. Data as of March 2020. China's fiscal stimulus here is comparable to the change in the augmented narrow fiscal deficit (~1% expected in base case).
Emerging market central banks continue to have space to ease, though this has reduced since January. In the case of a longer-term slowdown, we think the more open economies in our universe, for example Asia or central and Eastern Europe, may underperform versus more closed economies, such as Colombia and Brazil. At the country level, we are constructive towards Mexico, Indonesia, South Africa, and Russia while more pessimistic towards Chile and Brazil.
Ultimately, the duration of the global growth shock remains the critical question for investors. A longer-term slowdown will negatively affect the global economy incrementally more severely. Much therefore depends on the speed and breadth of the response to the pandemic. We think it likely that the US experiences a recession, and its economy's dependence on the consumer may be tested in the coming quarter as COVID-19 impacts demand. By comparison, the European economy only narrowly avoided a flat line performance in the final quarter of 2019, helped by a relatively strong consumer and labour market. With the US economy in recession, we expect to see a sharp decline in developed market demand, with associated impact on the global cycle. From there, the crucial question is will this evolve into a recession or a recovery? While we believe in a recovery, our view hinges on the breadth and severity of the outbreak and the resulting impact on economic activity, and policy responses.
At the country level, this has different ramifications for different countries. We think Mexico is a likely winner. While we expect a gradual deteroriation in Mexico's growth, we expect Banxico to continue to ease. This move sustains the current high correlation between MBONOs (Mexican federal government development bonds) and US Treasuries. Elsewhere, we see South Africa's fiscal execution risk as a continuing feature for the rest of the year. We think Chilean reform will eventually muddle through, helped by increased fiscal spending. Investors will continue to focus on a potential constitutional convention which could alter the fundamental framework of the country. Given the high level of investor confidence in the existing system, an adjustment may not be universally well received. In Brazil, we are also more pessimistic. We are watching a host of less visible reforms that we believe need to move forward to consolidate the reform effort and produce a better fiscal and growth outlook – and related rerating.
Emerging market economic growth will fall sharply in the first quarter but could quickly rebound
Exhibit 5: Emerging market real GDP growth, %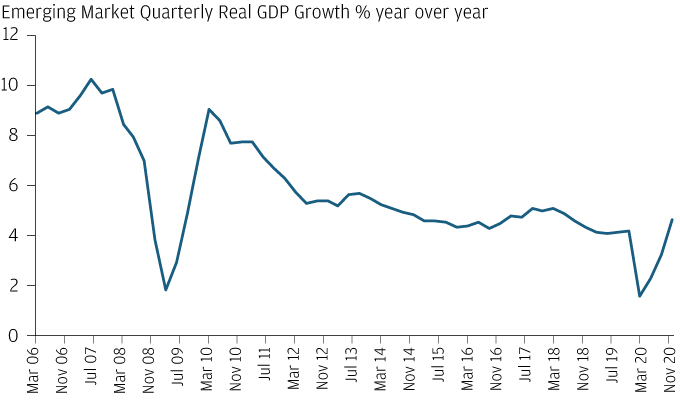 Source: J.P. Morgan Asset Management, IMF, Bloomberg. Data as of March 2020.
At an issuer level, we think the market will favour quality into uncertainty, meaning that robust balance sheets and central bank policy space may combine to produce competitive returns. We think global risk aversion supports the US dollar in the near term, though the third quarter presents a case for a potential reversal.
Emerging market local currency: quality duration, volatile currency
First-quarter returns challenged our previously positive outlook for emerging market local currency debt in 2020. Growth concerns detracted from the overall return in the period although central bank easing and core rates helped duration to rally, as we expected. We now expect a challenging second quarter and remain cautious on emerging market currencies, while maintaining a constructive view on quality duration. Were we to see a change in the trajectory of global growth, or a policy response sufficient to stabilise growth, we would likely revise our view. With global growth estimates falling, we remain bearish on emerging market currencies. We believe the most likely scenario now is a slower recovery rather than a shorter, V-shaped event. Such an outcome would call for an outright short on beta, expressed in high yield duration, and a beta of less than one for emerging markets currencies, expressed through short positions on higher beta local currencies.
Throughout the quarter, local currency duration has been the main driver of index returns, with currency detracting from those returns, notably the currency contribution from Brazil, South Africa and Thailand. Duration had a generally stronger quarter, though the returns lagged the treasury rally. With 10-year bonds rallying, the bull market flattened quite broadly, while for a few higher yielding names, such as Indonesia, the market steepened. What happens next is entirely a function of the scale of the shock from the COVID-19 situation. With the economic outlook worsening, we want to focus on more defensive names – Peruvian, Hungarian and Chinese local bonds – balanced against a short-position basket of higher-risk currencies.
A potential v-shaped recovery could take leadership from China, as the country moves past the worst of the virus' impact toward the start of summer. Combined with elevated stimulus, a Chinese economic recovery could surprise the market with the vigour of its growth. It is also possible that the market moves ahead of the recovery, a pattern sometimes seen in economic slowdowns. For this reason, our strategy is to maintain or increase our duration exposure at the headline level, with a preference for those countries that offer policy room, while turning more defensive on emerging market currencies, despite the apparent value creation that we have seen so far.
Emerging market currency valuations have come down but need a stabilisation in growth to rebound
Exhibit 6: Emerging market currency total return, emerging market government bond returns and emerging market versus developed market current activity indicator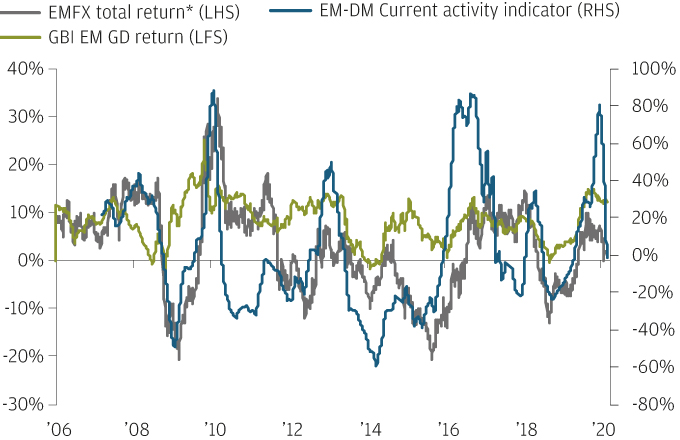 Source: J.P. Morgan Asset Management, Bloomberg. Data as of March 2020.
Fundamentally, we think emerging market growth may slow across the year as emerging market economies reflect weaker global demand. Containment policies, which may follow a more widespread COVID-19 outbreak, may create a growth vacuum. Disrupted supply chains can create inflation, but more importantly, they can create supplier uncertainty and challenge systemic stability. In such a situation, we would expect central banks to engage fully and use policy space, which will be crucial in spurring confidence.
We continue to see value in emerging market rates markets, helped by core yields moving lower while currencies have gotten cheaper. We see select opportunities in higher- yielding emerging market debt. Currency markets look cheapest in Latin America, suggesting that regional risks are now being discounted. A potential source of upside surprise in the space could come from investor positioning, which is currently neutral or underweight. This means there is scope for a snapback in positioning, should we see a co-ordinated policy response that is large enough to challenge a negative consensus.
Our base case remains the U-shaped recovery, as we think that emerging market local markets will initially overshoot, pricing in a more severe recession than actually plays out. In recent local currency performances, we see the market moving to price in a recessionary outcome, which makes sense given the downward convergence of growth unfolding currently. In our view, potential G3 and emerging market policy actions will be supportive of both duration and lower trade-weighted dollar performance. This would set up a positive recovery for the JPMorgan GBI – EM Global Diversified (GBI EM GD), were it to unfold. We think the monetary policy space we see in some markets will be key for recovery – and performance differentiation. We are encouraged by the vigor of the policy response we have seen so far. We have limited expectations for fiscal stimulus because many emerging market countries do not enjoy substantial fiscal room, with the exception of China and some central European countries.
Ultimately, local currency debt's resilience may come from investors' light positioning and need for both relative quality and income. When we look at sentiment indicators for the space, we find that investors have reduced risk and are mostly disengaged – we suspect because of currency volatility. Yet flow of funds data do not support prevalent divestment. Instead we see investors reflecting more pessimistic views on currencies while attempting to play domestic rates. Of particular interest to us in this debate is the impact that China's recent index inclusion will have when China is added to the GBI EM GD at the rate of 1% per month. While this impacts some smaller markets in the index, it increases the overall relevance of the local currency debt market to the global investor and may lead to a more supportive environment. Ultimately we think the combination of policy room, attractive carry, limited positioning and index inclusion could conspire to surprise bearish expectations.
Emerging market hard currency: cheap alone is no longer good enough
We believe hard currency emerging market debt spreads could widen a bit, thus eroding the overall return. In our view, this latter feature supports a case for more core exposure over speculative high yield. As spread tightening does not tend to happen when Treasury yields are at lows, we continue to think that carry, rather than spread compression, drives returns this year.
Investor preferences in emerging markets are evolving toward higher quality income stories, in place of riskier, more speculative ones. We see the "search for yield" theme evolving away from "yield at any risk". While we believe that value has been created, we prefer higher quality exposure in the single B and BB arenas. Put simply we think that investors want any yield, not just "high" yield, especially at a time of heighted concerns around growth. We see the investment grade arena offering some value, supported by a quality income argument and compelling valuations. We like the BB space, especially markets like Paraguay, Mexico and the Dominican Republic, while longer-end single Bs now increasingly reflect a "longer-shot" outlook, for example Ivory Coast, El Salvador and Egypt. We continue to monitor the market for beta re-engagement, while maintaining a selective approach to higher yielding opportunities, where we are conscious of the risks around a potential recession. We express this view through a primary overweight against BB names and our overall beta positioning.
Since our last quarterly, we have seen the US 10-year yield falling, matched by weakness in oil prices – and an increase in the JPMorgan – EMBI spread. In aggregate, emerging market debt spreads have risen off a near-term tights to levels consistent with longer-term averages. Compared to US investment grade, emerging market investment grade bond spreads have widened a little, though they remain tighter than the overall trend. Conversely, investors get paid more in emerging markets for high yield risk, a trend that has been broadly tightening since last summer. Removing some riskier markets from the discussion, the core emerging market opportunity currently presents value over US high yield and we think fuels crossover flows from developed market allocators seeking to improve income or returns. Avoiding countries with more risk has been a key component of our strategy and has worked well, as better quality balance sheets have seen support over higher yielding peers.
Emerging market investment grade spreads have widened versus US investment grade
Exhibit 7: Emerging markets bond index global – investment grade versus US investment grade, basis points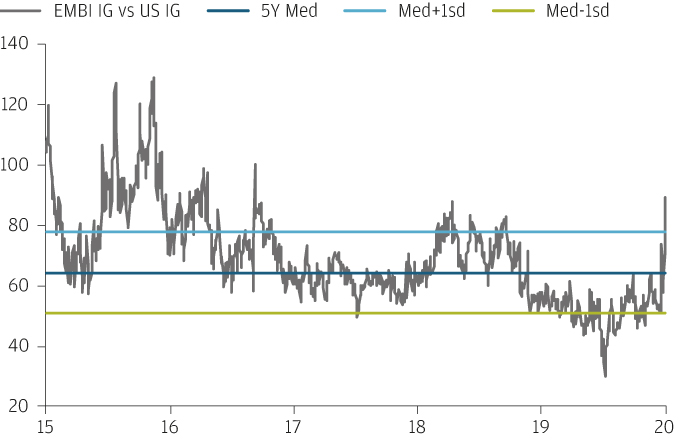 Source: J.P. Morgan Asset Management, Bloomberg. Data as of March 2020.
Within the high yield arena, we see more opportunity in BBs versus single Bs. BB rated bonds also deliver an attractive pickup over BBBs. Recent price action has seen the BB complex retrace relatively more than either the key single B countries, or the relatively more conservative BBB area. Hence we think there is merit to engaging with laggards in the BB arena, for example Oman and the Dominican Republic, which have widened materially against BBB peers.
Lower beta BBs also present value. We highlight Senegal and Ivory Coast, both of which have cheapened against investment grade peers. Within the single B complex, both Turkey and Egypt have cheapened and may offer opportunity.
New issuance activity in hard currency emerging markets remains supportive for investors. Following this quarter, we think only USD 11 billion in net issuance remains for the year as a whole. If we remove the Gulf countries from this calculation, we find that net issuance tips negative to –USD 5.7 billion. The more established emerging market regions – Asia, Latin America, emerging Europe and the former Soviet countries – contribute negatively to the overall total.
Over the next two years, gross issuance in emerging market sovereign debt is expected to remain steady, led by growth from Africa and the Middle East, where we think lower oil revenue could contribute further to this more muted activity. In the near-term, we see repayments peaking in March and April. So far, the year has begun in a similar fashion to 2015, in that flows have remained neutral in the first quarter; the combination of both a quality yield cushion and a relative shortage of supply should provide support for the marketplace this year.
Most of the net new issuance is coming from the Gulf countries and Asia
Exhibit 8: New issuance by region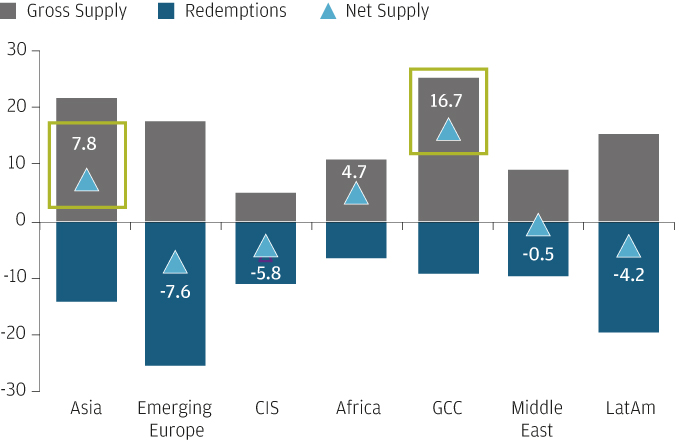 Source: J.P. Morgan Asset Management. Data as of March 2020.
Emerging market corporates: revising down expectations
Emerging market corporate bonds now offer a more appealing valuation opportunity; however, we have turned more negative on our assessment of fundamentals in the period. We have increased the cash position in the strategy, while moving underweight spread duration. We see JPMorgan CEMBI spreads trading over the five-year average, suggesting an appealing potential return, though we need to be mindful of degrading fundamentals and technicals.
We see some value offered in selected high yield over investment grade, with the BB segment showing the most appealing balance of characteristics, though we caution that consensus is evolving rapidly around the potential impact of the viral outbreak in the US and elsewhere. At the fundamental level, we see softer earnings from slower growth, with the possibility of an extended slowdown increasing leverage. Tighter financial conditions present a risk to the space. Taken together, these factors have contributed to a negative flow of funds picture that has seen substantial outflows. Going forward, we see a maturity hump in March and April, but broadly believe that supply will be more constructive this year than last.
The depth and duration of the economic shock created by the virus remains the critical question for investors and corporate managers alike, a situation that is now further compounded by the recent oil price shock. A longer duration slowdown raises the probability of a quantum increase in damage to the real economy. While emerging market corporates have done well to maintain their levels of interest cover, we see a slowdown in activity increasing net leverage; the longer the slowdown, the more we think net leverage will increase.
Emerging market corporates are entering the current slowdown with strong balance sheets
Exhibit 9A: Net leverage for emerging market investment grade and high yield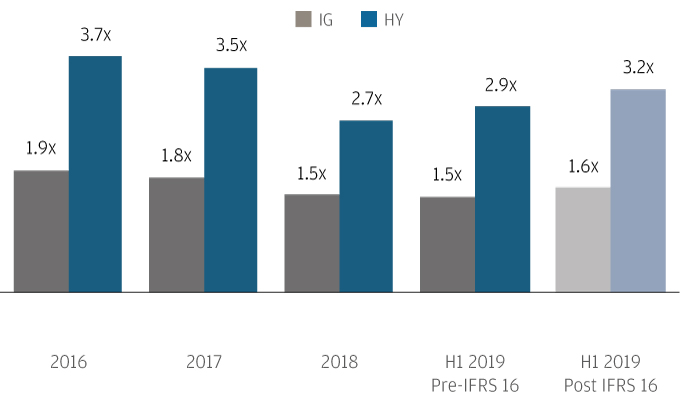 Exhibit 9B: EBITDA for emerging market corporates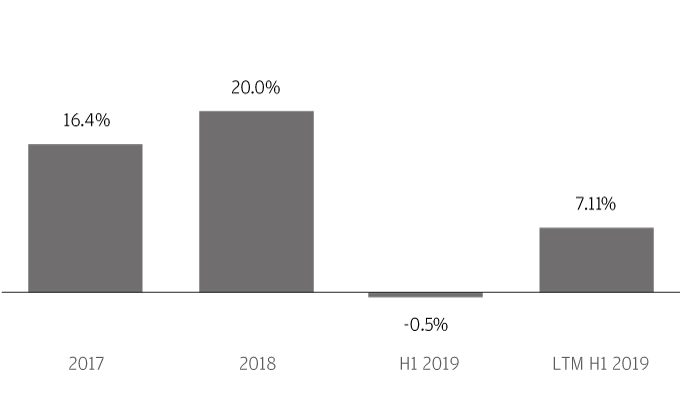 Source: J.P. Morgan Asset Management. Data as of March 2020. Includes 70% of the quarterly reported companies in CEMBI (78 companies). Does not include semi- annual / annual reported companies LTM = Last twelve months.
We also expect capital expenditure to continue to decline as a percentage of earnings before interest, taxes, depreciation and amortisation (EBITDA), as we think companies will focus on maintaining business rather than seeking growth in the current environment. This leads us to make a small downwards earnings revision, though it may prove to be the first of several adjustments we make as this situation evolves.
While the refinancing schedule in both March and April is large, we do not believe that it presents a material risk despite the currently stalled pipeline. This is because many corporates have used the new issue market to reduce refinancing risk. Having modelled a number of scenarios involving shocks to EBITDA in both high yield and high quality, we think the market would have to close for nearly a year to provoke a financing crises in either.
Even in a stress scenario, we believe that 98% of upcoming maturities will be repaid. This does not mean that there are no specific default candidates; it just means that those candidates are outweighed by issuers well placed to service. For this reason, our default expectations remain low, though we accept that a longer, deeper shock to the economy could present risks to the upside.
Taken together, the current market presents a valuation abnormality. While it is true that many managements are withholding guidance currently, emerging market policymakers could move to support the economy through the deployment of their quasi-sovereign capability. Hence, we accept that there are downside risks to fundamentals, though it remains challenging to rank or scale them in a period of peak uncertainty. Sectors that we think are most vulnerable to a downturn include commodities, consumer discretionary (especially travel and retail), property, gaming, banks and retailing.
As ever, the market has moved swiftly to discount a potential slowdown, with the subsequent repricing elevating spreads to recent wides. While this initial move was sharp, we have not seen spreads retracing to levels last seen in 2016. Across the complex, spreads did go back to five-year averages, with single A credit spreads moving over the average.
As with sovereign debt, investment grade names outperformed higher-yielding, lower-quality names. This feature creates a valuation opportunity in the BB space, where we think we can be well paid to take select risks. This is not a common opportunity across high yield, given that yields are below the current five-year averages.
CEMBI valuations are above five-year averages, and we see select value in high yield in BB and single A names, within the investment grade space. We don't see emerging market corporates offering remarkable value versus emerging market sovereigns or equivalent US asset classes. Coupled with an increasing level of uncertainty, we are not surprised to see the first signs of outflows from the corporate arena. Broadly we think the supply of bonds will be supportive for most of year, with the exception of a hump in April. As such, we think the year could see some early headwinds before consolidating in the second half. The return we earn will remain a function of the shape of the recovery we see. A shorter, sharper shock probably experiences a more robust recovery, while a longer-term challenge leading to a U-shaped recovery could easily dampen the returns profile. We continue to watch duration closely.
The market is pricing in an increase in the default rate to 3.8%
Exhibit 10: Corporate emerging market bond index – high yield spread and implied default rates

Source: J.P. Morgan Asset Management, Bloomberg. Data as of March 2020.
Conclusion: Adjusting to new expectations with resilience
Fears of the present pandemic have challenged the market's prevalent consensus across many asset classes, and emerging markets are no exception. Common themes across our sector assessment this quarter include the expected resilience of investment grade emerging market debt, the likely strength of the Chinese response to the recent slowdown, and the opportunities presented by a diverse group of emerging market countries. Much hangs on the size, scope and pace of the COVID-19 outbreak, and whether we see it reflecting in a short, sharp hit to growth or a larger, deeper, more damaging drawdown.
While conditions are challenging, we do not see emerging markets as overleveraged or defenceless. Emerging market policymakers generally enjoy some policy space—some more than others—and their countries enter the crisis period with more youthful populations, less sovereign debt (in aggregate) and corporates who have used capital fairly conservatively. These advantages plus the case for potential stimulus in China, combined with index inclusion as a possible driver of crossover demand, make us think that the case for emerging market debt's recovery may present scope for positive surprise.
We enter the period with portfolios conservatively positioned. Our strategies are typically constructive on duration. In our local currency strategy, we are focused on quality duration, and have reduced exposure to more volatile currencies. In our corporate strategy, we see fundamentals adjusting to more challenging conditions, but also see modest financing needs across the space. While valuation does not scream cheap versus peer assets, we think emerging market corporate debt may show merit through service. Across both sovereign and corporate hard currency debt, we think BB credits offer better exposure versus a deep dive into lower quality risk. We expect to maintain our more conservative stance for the majority of the quarter to come.
0903c02a8288f440