The probability of a 50 basis point move at its March meeting has bounced around, but remains firmly above 50%.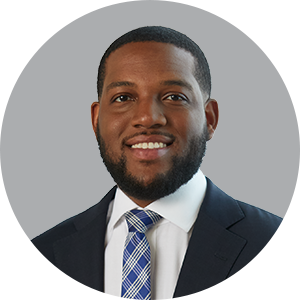 Listen to On the Minds of Investors
Since the start of the year, markets have meaningfully repriced expectations for rate hikes from the Federal Reserve (the Fed) this year; projections have risen from 2-3 25 basis point (0.25%) increases to 6-7 currently. To some extent, this repricing is warranted: inflation has remained stubbornly elevated, labor markets continue to recover rapidly, and financial conditions are too accommodative for an economy firing on all cylinders. What's more, investors are hotly debating the probability the Fed might deliver a 50 basis point (0.50%) rate increase at its March 15-16 policy meeting.
While there may be a strong case for beginning this hiking cycle with a 0.5% increase in its policy rate—with the principal argument being the Fed is woefully behind the curve—there are reasons the Fed should exercise some caution:
A 50 basis point hike at the start of this hiking cycle might suggest a more aggressive path of policy tightening, pushing short-term rates even higher. This, in turn, raises the risks of an inverted yield curve in 2H22, which has historically been a warning sign of a recession.


Front loading rate hikes this year would leave the committee with little, if any, room to raise rates next year, which is in conflict with the current signaling from core Fed officials for a "gradual" pace of rate rises.


Rate rises today, impact the economy tomorrow. If the Fed overtightens this year, the lagged effect of higher rates could slow the economy down in 2023 at a time when growth and inflation will likely already be cooling.


There is not a general consensus among Fed officials on the impact that balance sheet reduction (QT), which we believe will begin in 2H22, will have on broader financial conditions. Indeed, a quickened pace of QT could be substituted for rate hikes should the runoff contribute to a tightening in financial conditions.


With all that said, the Fed seems hyper sensitive to market stability. Therefore, it's likely the Fed will deliver what markets are expecting around policy meeting dates. As shown, the probability of a 50 basis point move at its March meeting has bounced around, but remains firmly above 50%. Moreover, another strong employment and inflation report for February would likely increase the chances the Fed raises rates half a percent next month. For investors, whether the Fed moves 25 basis points or 50, rates will be moving higher at the front end and we expect this will keep the curve quite flat this year.

Likelihood of a 50 bps hike at the March FOMC Meeting
Source: Bloomberg, J.P. Morgan Asset Management.
Data are as of February 22, 2022.
09pf221602182411