Turning the global economy back on will not be like a light switch, but more like a dimmer a slow and gradual process.
Listen to On the Minds of Investors
What will the reopening of the economy look like?
Over the past two months investors have digested the COVID-19 shock: the fast spread of the virus around the world, the social distancing measures implemented and the resulting economic and earnings recession. Investors are now looking to the future, specifically to how global economies can reopen. Optimism in this regard has been driving stocks off their lows and credit spreads off their highs over the past couple of weeks.
Indeed, there has been good news: the curve of new cases has begun to decline in Italy, Spain and Germany, while beginning to plateau in the U.S. However, this decline in the growth rate of new cases is not the end of the story; instead, it is the beginning of a new chapter. This new chapter will be long and complicated, as the health care issue remains the main protagonist driving each twist and turn.
Given that there is no vaccine or successful treatment available yet, it will be impossible to go back to normal life overnight without causing another spike in new cases. Turning the global economy back on will not be like a light switch, it will be more like a dimmer: a slow, gradual process with differences in brightness between countries and sectors.
In order for an economy to turn back on and for confidence to return in a sustainable way, it will be paramount to have a health care plan in place. In addition to a slowdown in new cases, it will be crucial for countries to have sufficient testing capacity for its population, as well as broad capabilities to track infected individuals and trace their contact with others.
Looking globally, we can see a big difference in where countries are in this new chapter. Some countries in Asia, like China, Korea and Taiwan stand out as being particularly well positioned: with very low growth rates of cases, a small percentage of the population infected, testing capacity and contact tracing programs in place. Germany also looks well positioned, especially with regards to its testing capabilities. The U.S. looks to be lagging a bit behind these countries, with regards to the start of reopening and also with testing and contact tracing programs.
Looking at Asia's experience with reopening, we see that even in well prepared countries, the reopening needs to occur gradually. China is now "open", yet life has not fully returned to normal. Factories have reopened, bringing its manufacturing PMI above 50 in March. However, services activity still remains far below normal, with China's services PMI rising during the month, but still remaining at a low 43. This suggests that services will be more gradually reopened within countries, especially discretionary retail, restaurants, leisure, hotels and air travel. EM Asia also looks particularly well positioned in this regard, with these sectors only representing 2.7% of its equity market versus 5.9% in the U.S.
Once a vaccine is readily distributed in 2021, the true economic and earnings recovery will begin. Until then, the story will still be difficult, suggesting that investors should remain cautious, focusing on quality in portfolios. While this usually leads investors to focus more heavily on the U.S., Asia in particular deserves a closer look, given its better positioning in the health care issue, its earlier recovery, and its sectoral composition.
Readiness to reopen economies varies significantly by country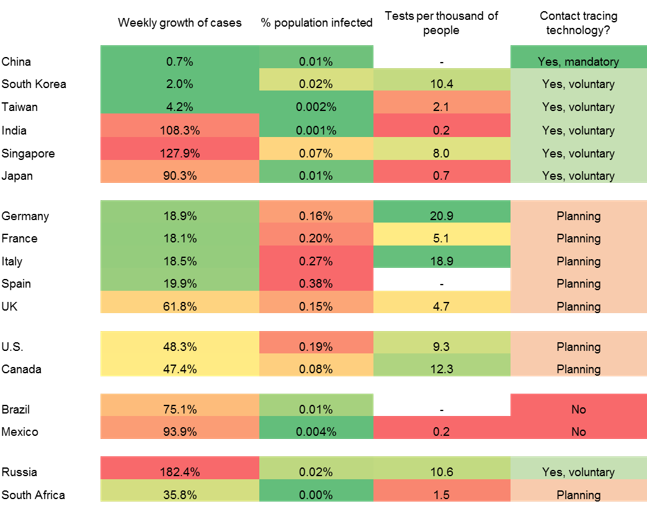 Source: John Hopkins University, Our World in Data, J.P. Morgan Asset Management. Testing data are as of most recently available. Data are as of April 15, 2020.
0903c02a8288be34