It's unlikely there will be a fundamental shift in real estate, rather, the spread of COVID-19 will accelerate trends that were already in place.
Listen to On the Minds of Investors
What does COVID-19 mean for real estate?
The industries most impacted by social distancing account for 20% of payroll employment, and consumer spending across those industries account for 20% of GDP. Furthermore, construction activity has come to a halt, and real-time indicators of foot traffic at shopping malls, gas stations, theaters, gyms and offices have shown a significant decline. All of this leads to the same question – what will happen to real estate when we emerge from the current downturn?
It seems unlikely that there will be a fundamental shift in real estate markets going forward; rather, the spread of COVID-19 will accelerate existing trends that were already in place. The past few years have seen a larger and larger share of the U.S. office market transition to flexible office space, but two most penetrated and high-growth markets in the U.S.—San Francisco (4.0%) and Manhattan (3.6%)—have yet to reach the 6% level achieved in London and Shanghai. With COVID-19 forcing many employees to work from home, corporations will likely continue to gravitate away from traditional office space and embrace more flexible options.
Another area where we expect existing trends to accelerate is in the retail space. The past few years have been dominated by an unstoppable rise in e-commerce as a share of total retail sales – this has manifested itself as a tailwind for industrial properties, but a headwind for traditional retail. Within retail, the bottom line is that the majority of malls no longer provide what consumers are looking for; those malls that have managed to keep their heads above water tend to have a more diversified mix of restaurants and entertainment tenants. Looking ahead, it would make sense that retail properties continue to transition towards providing more consumer services. In addition, retail properties may begin to look a bit more industrial, and function as e-commerce fulfillment centers given the combination of available space and close proximity to major population centers.
At the end of the day, the way investors think about opportunities in the real estate market will need to change, but the role of the asset class in portfolios will remain the same. The best way to take advantage of these emerging opportunities may be through a core-plus or value-add strategy, but the diversification and yield that direct real estate can provide will only grow in importance in a world where interest rates remain historically low.
Mall leasing and retail sales growth
GROSS LEASABLE AREA, 2014-2019 RETAIL SALES GROWTH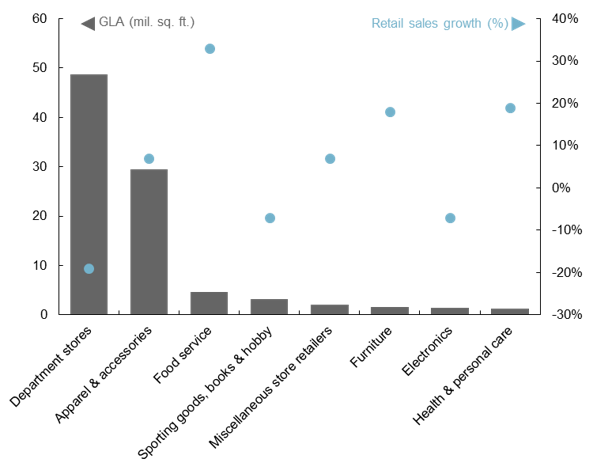 Source: CBRE, Census Bureau, J.P. Morgan Asset Management. Gross leasable area (GLA) data is as of 2017. Data is based on availability as of April 14, 2020.
0903c02a82885dae