As we look ahead to 2022, case growth should slow, economic growth should remain solid, and Fed policy should become less easy, but not necessarily tight.
David Lebovitz
Global Market Strategist
Listen to On the Minds of Investors
A few weeks ago, holiday cheer was making its way into markets; economic activity was accelerating from its 3Q21 lull, the delta variant was in decline, it was widely expected (and accepted) that the Federal Reserve (Fed) would accelerate tapering at the December meeting, and it appeared Congress would pass additional fiscal spending by year-end. Fast forward to today and markets are uneasy; the omicron variant has spread rapidly and led to lockdowns in Europe, the Build Back Better plan is in jeopardy, and the potential for a Fed policy error seems to be rising. As these clouds have rolled in, clients have asked if markets might sell-off the way they did in December 2018; while that is not our base case, even if they do, the fundamentals still point to above-trend growth in 2022.
Recent data on the omicron variant suggests that some vaccines are effective in preventing severe infection, an important development that may help limit stress on health care systems during the coming weeks. That said, lockdowns and restrictions have begun to materialize across parts of Europe, and these will weigh on economic activity where they are implemented. However, significant restrictions are not our base case for the United States, and omicron seems to have had a limited impact on aggregate mobility thus far.
Although lockdowns and restrictions may drag on economic activity in the near term, we see three key drivers of economic growth in 2022. To start, inventories are low and need to be rebuilt, a theme that was reinforced by an increase in the new orders/inventory ratio in the December flash PMIs. Second, business investment looks set to accelerate; profit growth has been robust, and greater capital spending could represent a potential solution for dealing with higher input costs and wages. Finally, the consumer's financial position remains solid; while failure to pass the Build Back Better program would remove the child care credit in 2022 – potentially weakening the consumer's financial position – this would not completely undermine consumer spending. In fact, we continue to expect additional stimulus to be passed in the coming months.
A backdrop where the virus is spreading rapidly and growth may slow has led to questions about the Fed's decision to accelerate the pace of tapering. The bottom line is that the Fed wants to have options. By concluding tapering in early 2022 the Fed will have more flexibility – if inflation is cooling and growth is slowing, they can take their time raising rates. On the other hand, if inflation is making the Fed uncomfortable, they will be able to kick off the rate hiking process.
2021 has been a quiet year for markets; despite the recent increase in volatility, the S&P 500 is down less than 3% from its all-time high. As we look ahead to 2022, case growth should slow, economic growth should remain solid, and Fed policy should become less easy, but not necessarily tight. As such, we continue to view any material pullback as a buying opportunity, and do not believe investors should meaningfully deviate from their current asset allocation.
Despite recent choppiness, volatility still low by historical standards
Number of daily 1% moves up or down, S&P 500 price index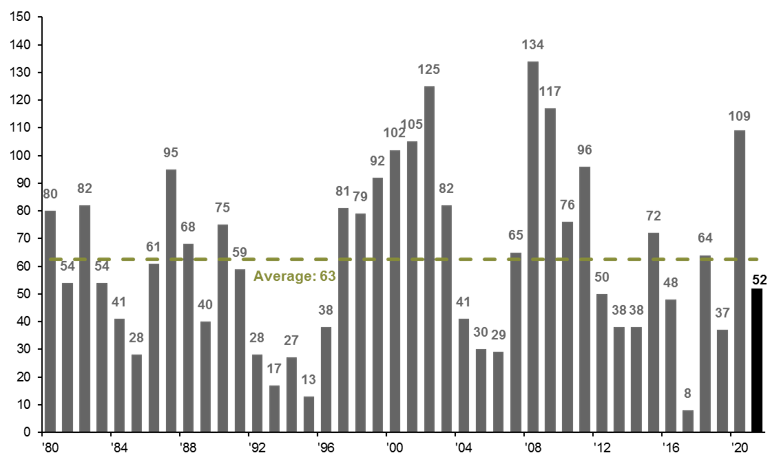 Source: Standard & Poor's, FactSet, J.P. Morgan Asset Management. Data are as of December 20, 2021.
098w212112191243