In brief
Volatility has increased as investors refocus on challenges the market will face in 2022
Fourth quarter earnings are off to a solid start and the more cyclical sectors are leading the charge
Margins will come under pressure this year, but higher selling prices and a focus on automation will provide a partial offset
In an environment of rising rates valuations will come under pressure; this leaves earnings as the primary driver of returns

Some good news, some bad news
With the completion of our home renovation on the horizon, my wife and I were finally able to finish unpacking last weekend. As our almost three year old daughter ran in circles around us, we sorted through mountains of boxes and kept repeating the same three phrases:
I remember this!
I had forgotten about this!
Why did we even bother to pack that?
Equity investors seem to be digging through their own boxes to start the year, and recognizing there are a number of issues which will need to be resolved in 2022. How much will omicron drag on the pace of economic growth? What should we expect from the Federal Reserve? Is Build Back Better dead, and with it, the child tax credit? How worried should we be about rising geopolitical tensions?

Nobody knows the answers to these questions, but one prevailing theme is that Washington may be not be as friendly to markets and the economy going forward. This dynamic, coupled with a sharp increase in interest rates, has driven equity prices lower and volatility higher.
Monthly stock market returns tend to decline as rates rise quicker
Monthly Shiller S&P Composite returns, 10yr U.S. Treasury, April 1954 - present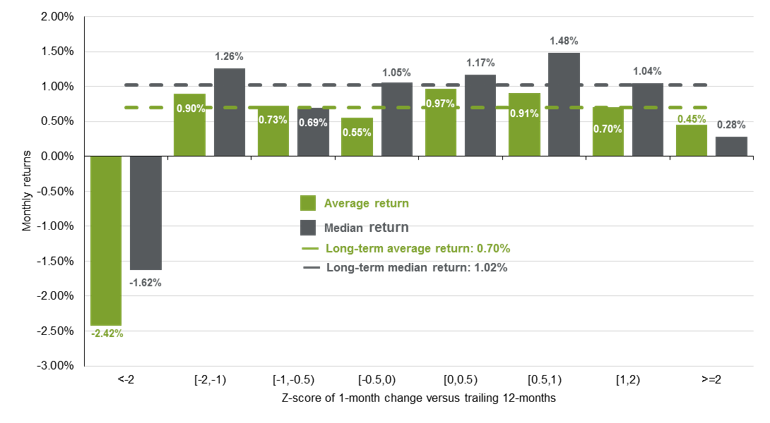 Source: FactSet, Federal Reserve, Robert Shiller, Yale University, J.P. Morgan Asset Management.
We had been expecting volatility to pick-up after an abnormally quiet 2021, and the first few weeks of 2022 have delivered. Importantly, this seems like a healthy pullback rather than the beginning of something more sinister, especially if corporate profits continue to grow over the course of the year.
With 44.1% of market capitalization reporting, our current estimate for 4Q21 S&P 500 earnings per share is $52.12 USD. If realized, this would represent year-over-year growth of 36.5% and quarter-over-quarter growth of 0.2%. So far, we have seen above average beats on both revenues and earnings (79% and 69%, respectively) and above average surprises as well. Defending margins will be key for profit growth to continue, and we are currently tracking operating margins of 12.7%.
As the pandemic fades into the background, many of the forces that have distorted markets will fade as well. We expect this will entail a further normalization of valuations, meaning that earnings will be the primary driver of returns. With inflation looking persistent and economic growth still above trend, we are most interested in those sectors and industries with earnings that stand to benefit from this macroeconomic environment.
Sector commentary
With the fourth quarter earnings season underway, we are seeing some notable trends. The financial sector has kicked things off, and is projected to see a decline of 23.5% y/y due to subdued loan growth, the normalization of trading and mortgage activity, and massive reserve releases at the end of 2021. However, a sharp increase in commercial and industrial loans at the end of the quarter along with higher yields supporting net interest margins, which along with stronger investment banking activity has helped offset some of this weakness. Looking ahead, management teams are projecting a significant uptick in noninterest expenses through 2022 due to increases in compensation, but believe this will be partially offset by higher net interest income.
Turning to the other cyclical sectors, energy, materials and industrials are expected to see healthy year-over-year earnings growth on the back of soaring natural gas and oil prices and robust economic activity. That said, the industrial sector is tracking a quarter-over-quarter decline as supply shortages and constrained air travel weigh on the sector's profits. Airlines continue to be unprofitable with most posting net losses for the fourth quarter, as elevated fuel costs and COVID-19 induced flight cancellations delay the recovery in profits. However, other forms of transportation are a bright spot within the sector, as excess demand and supply bottlenecks have led to an increase in pricing power.
Results in the consumer sectors look set to be mixed. Consumer discretionary is set for a second consecutive quarter of an earnings contraction, as mixed consumer spending data, supply shortages and higher commodity and freight costs weighed on profitability. According to the BEA, real consumer spending increased +0.7% m/m in October but remained flat in November. Furthermore, labor shortages caused by rising COVID-19 cases in South East Asia have led factories to fall short of production targets. However, the situation does seem to be improving, with a number of companies noting that production had almost, if not fully recovered, to pre-pandemic levels in 4Q21.
Consumer staples companies are benefitting from relatively inelastic demand for core goods. The sector is currently tracking 14.4% y/y growth in earnings, as companies have passed along cost increases to consumers via higher prices. Importantly, management teams have noted they plan on implementing additional price hikes as the year progresses to address elevated freight and commodity costs.
The communication services and technology sectors are set to post another strong quarter of earnings, as growth in software-based businesses continue to drive profits. Communication services is currently in line to see earnings grow 48.2% y/y, and technology is expected to see earnings growth of 21.0%. For both sectors the spotlight will remain on semiconductor lead times, which hit an all-time high of 22.3 weeks in November. Furthermore, earnings dispersion within the technology sector has widened in recent years, reflecting differentiation between underlying companies and business models.
S&P 500 Information Technology profit dispersion
Operating earnings, quarterly, 3Q20-3Q21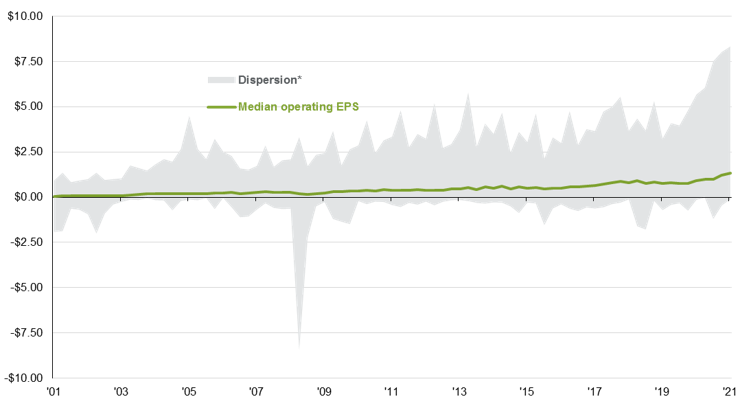 Source: Compustat, FactSet, Standard & Poor's, J.P. Morgan Asset Management. This analysis uses S&P 500 Information Technology sector's constituents as of 12/31/2021. *Dispersion is calculated as the difference between maximum and minimum. All data are as of January 28, 2022.
Margin madness
We expect that 2022 will be characterized by solid economic activity and continued growth in corporate profits. We also acknowledge, however, that revenue growth will slow at a time when input costs, interest rates, wages – and potentially corporate taxes – are rising. This will inevitably put downward pressure on profit margins; the question is what companies can do about it. Fortunately, there are a handful of levers that management teams can pull to defend margins in 2022.
Cost and supply chain disruption mentions by sector
2021*, number of mentions during earnings calls, Russell 3000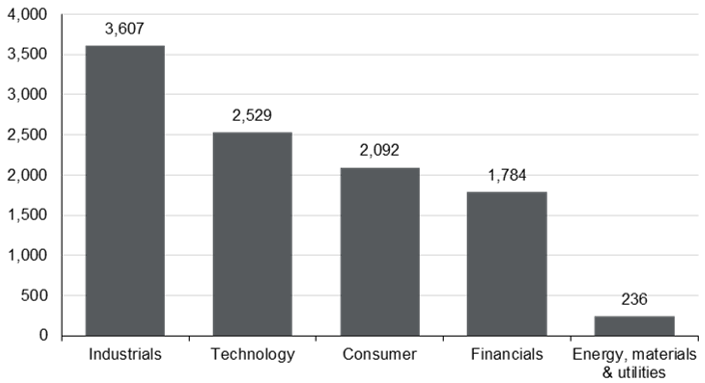 Source: Russell, J.P. Morgan Asset Management. Analysis includes mentions of the following phrases: commodity costs, higher expenses, higher freight costs, higher wages, price increases and supply constraints. *2021 results include YTD 4Q21 earnings calls. All data are as of January 26, 2022.
Inflation is front of mind in the current environment; inflation can erode consumer purchasing power, but is often reflective of an environment where companies have pricing power. In a world where input costs and wages are rising, being able to pass along these higher expenses to the consumer is one way to defend margins. Businesses are seeing higher input costs and raising selling costs in response. This stands in contrast to the prior expansion when companies were forced to absorb higher wages and input prices, as there was tremendous concern about the elasticity of demand.
In addition to being able to increase selling prices, companies will look for other ways of defending margins. Historically there has been a tight relationship between earnings growth and capital spending 12 months later. Furthermore, as management teams have acknowledged rising input costs and wages, they plan on responding by focusing on automation and efficiency. This requires investment, and suggests that corporations will not be limited to price increases as they attempt to defend margins this year.
An increase in capex tends to follow strong profit growth
Year-over-year, growth rates
Source: BEA, Standard & Poor's, J.P. Morgan Asset Management. * Capital expenditures are estimated using gross private domestic fixed investment (nonresidential) data from the BEA. ** Historical operating EPS growth is adjusted to account for periods with outlier growth rates.
Investment implications
We expect that margins will be defended, and that the risk to earnings growth in 2022 is to the upside. But how should investors think about valuations against a backdrop of rising long-term yields? Higher interest rates should, in theory, push valuations lower, thereby leaving earnings as the primary driver of returns. This is similar to the dynamic seen in 2021, when a 35% increase in earnings expectations more than fully offset a 7% decline in valuations, leading to a price return of 27% for the year as a whole.
In a rising rate environment, we are focused on sectors and industries that have earnings which benefit from moderate growth and sticky inflation. This leads us to industrials, materials and financials in the value space, and places like technology and health care in growth. Within technology, we are focused on companies that are able to generate consistent cash flows, rather than chasing companies that rely entirely on multiple expansion to drive returns. From a size perspective, we have a preference for large caps over small caps in 2022.
09ow222701163314