In Brief
Despite a slowdown in 3Q21 economic growth, corporate profits have been better than expected
82% of companies have beaten earnings estimates and 68% of companies have beaten revenue estimates
Earnings look to have grown almost 36% from a year prior, but we are tracking a modest contraction quarter-over-quarter
Supply chain disruptions are leading to rising input and transportation costs; this could weigh on margins going forward
Investors should use profits as a guide, as rising interest rates could pressure multiples and leave earnings as the main driver of returns
Is the faucet here yet?
During the pandemic, my wife, daughter and I made the decision to move from New York City to the suburbs. We always knew that city life would not last forever, but thought we had a few years left. However, the pandemic accelerated our timeline and we bought a house at the end of 2020.
Our new house needed some work and, as tends to be the case, what began as a modest project evolved into a much larger undertaking. One of the things we decided to do was put a powder room by the front door, which seemed like a reasonably simple addition. The framing, plumbing and painting was straightforward, but securing certain materials was not. In fact, a faucet that we ordered in April 2021 finally arrived last week.
The combination of supply chain disruptions, softer consumption, and a slow-down in China all weighed on economic growth during the third quarter. However, corporate profits have proven to be more resilient. Operating leverage has offset many of these headwinds, as corporate cost structures remain lean against a backdrop of elevated nominal growth. This has supported earnings, and with 71.0% of S&P 500 market capitalization reporting, we are tracking 3Q21 S&P 500 operating earnings of $51.49 per share.
In general, results have been better than expected. 82% of companies have beaten earnings estimates and 68% of companies have beaten revenue estimates, leading to year-over-year earnings growth of almost 36%. Early estimates pointed to contraction on a quarter-over-quarter basis, but estimates have since turned positive. Furthermore, earnings surprises remain elevated and companies are being rewarded for beating estimates.
Earnings surprise remains well above the long-run average
S&P 500 companies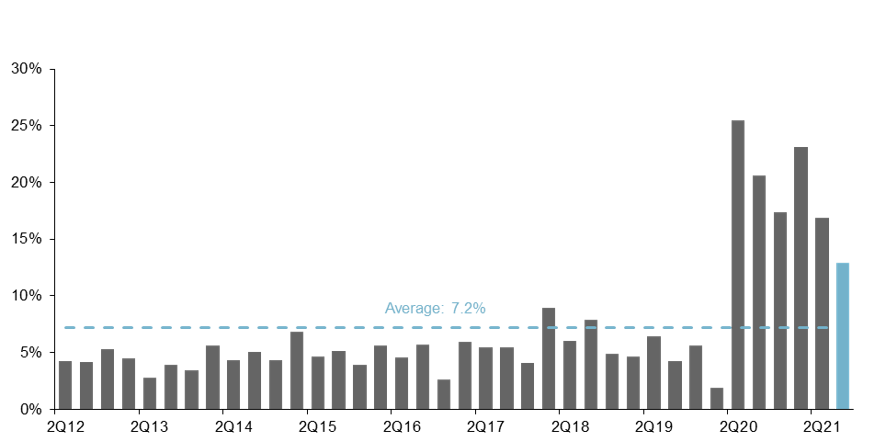 Source: FactSet, Standard & Poor's, J.P. Morgan Asset Management. All data are as of October 30, 2021.
Mixed results beneath the surface
The financial sector is on track to post another solid quarter of results, despite a flatter yield curve that weighed on net interest margins (NIMs). Solid investment banking and trading activity helped offset this weakness, as did another round of significant reserve releases. On the other hand, loan growth remains tepid, as commercial and industrial (C&I) loans fell 2% q/q in 3Q21.
In the industrial sector, a rebound in air travel is helping the airlines; however, sales and passenger traffic remain below pre-pandemic levels, which coupled with rising fuel costs has pressured margins. Companies in the materials sector have benefitted from rising commodity prices, with metals, mining and chemical companies driving the majority of the increase in earnings. Finally, the surge in oil (+73.4 y/y) and natural gas prices (+105.4% y/y) has left the energy sector with the highest expected year-over-year earnings growth of any sector this quarter.
Turning to the consumer, results in the discretionary sector have shown signs of improvement. Restaurants are expected to see positive earnings growth, and auto company reports have generally been better than expected despite chip shortages and limited inventory. Importantly, many automakers believe that these pressures should begin to fade by the second half of next year. On the staples side, companies have seen rising input costs weigh on margins despite an increase in selling prices.
Falling auto sales have coincided with higher prices
Light vehicle sales, millions saar, y/y change in vehicle prices
Source: BEA, BLS, Haver, J.P. Morgan Asset Management. All data are as of October 30, 2021
The technology sector looks to have enjoyed another solid quarter of profit growth in 3Q21. Hardware and semiconductor companies are leading the charge and account for nearly 2/3 of the sector's earnings growth. Chip shortages and supply chain disruptions have limited both production and delivery, but also allowed companies to sell chips at higher prices. More broadly, earnings growth at the software companies remains healthy, and IT services such as cloud computing continue to drive profits at many of the larger firms.
Semiconductor lead times reach new all-time high
Time between ordering chip and delivery, weeks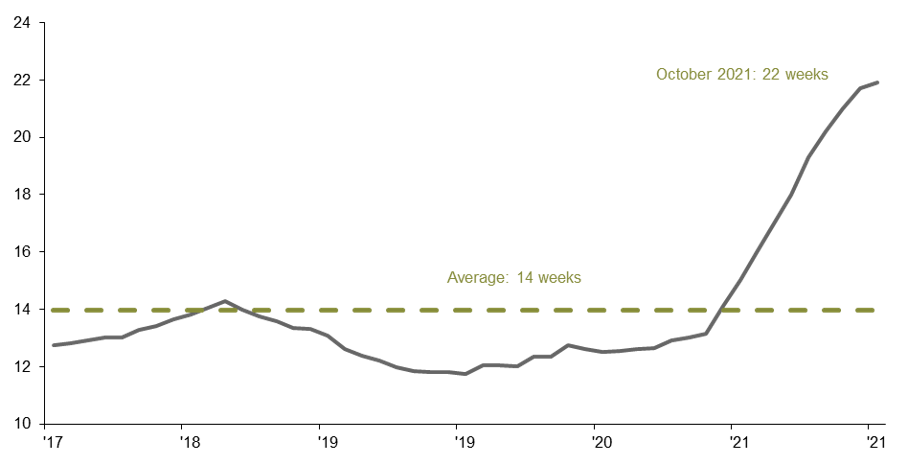 Source: Bloomberg, Susquehanna Financial Group, J.P. Morgan Asset Management. All data are as of October 30, 2021.
Finally, the healthcare sector continues to shine. With COVID slowly fading into the background, elective procedures and non-COVID medical utilization rates have risen. Furthermore, COVID-19-related income looks set to persist due to demand for advanced testing equipment and vaccine boosters. That said, health care providers have noted that rising wage costs are weighing on earnings.
Supply chains
During the darkest days of the pandemic, consumers were able to consume goods but not services. This is very different from what is typically observed during periods of economic stress – nearly all of the reduction in consumer spending during the financial crisis came from a reduction in spending on goods, whereas during COVID, 67% of the reduction in spending came from services. Reopening the economy made it easier to consume services, but consumers continued gobbling up goods at a rapid clip.
As inventories were drawn down it became increasingly difficult to rebuild them. Southeast Asia has seen many governments maintain a zero-COVID policy, leading factories to temporarily shut down whenever a worker tests positive. Furthermore, entire crews are forced to quarantine outside of port if somebody on a shipping vessel tests positive for COVID, and even once cargoes are unloaded it can be difficult to find workers to transport these goods to their final destination. Below are some numbers that help quantify what is happening:
Freight and cargo costs have jumped more than 50% since the pandemic began
At the end of September, the ratio of loaded containers to empty containers at the port of Los Angeles stood at 1.5X (its lowest reading in the past 20 years)
The cost of shipping a 40ft container has risen 15.1% since the start of the third quarter and 121.8% since the start of the year
The number of specialized truckers in the United States has fallen from 473,000 in December 2019 to 451,000 in August; the number of long-distance truckers has fallen from 784,000 to 770,000 over that same time period
Supply chain issues should persist into next year
Monthly, Dec, 2019 - present

Source: Bureau of Labor Statistics, Drewry, FactSet, Port of Los Angeles, Susquehanna Financial Group, J.P. Morgan Asset Management. Global shipping costs: Drewry World Container Index; Freight & cargo costs: PPI selected commodities - Arrangement of freight and cargo. Number of long-distance and specialized truckers are as reported by the BLS and represent all employees within each category; September 2021 is a forecasted value. Semicondcutor lead time is the time between ordering a chip and delivery. The Port of LA loaded container ratio is calculated by dividing the total number of loaded containers by the total number of empty containers. All data are as of October, 30, 2021.

Specifically, semiconductors have come into focus as one of the best examples of the supply constraints faced by the global economy. It is unclear how long it will take for the semiconductor shortage to resolve itself, but it looks set to remain an issue well into next year.
In normal times, manufacturing a simple semiconductor wafer takes an average of twelve weeks. However, this can take up to twenty weeks for more advanced chips. Additionally, once the chips are manufactured, they must then go through a process known as assembly, test, and packaging (ATP) which can take another six weeks. This means that even with the right processes in place, it can take anywhere from 4-6 months from when an order is placed until the chips are delivered.
Commentary from automakers highlighted that chip shortages significantly weighed on production in 2H21, and companies in the industrial sector acknowledged that while things are improving, semiconductor supplies are still constrained. With semiconductor companies working to increase production and capacity, the consensus view seems to be that chip shortages will persist through the first half of 2022 before beginning to improve during the second half of the year.
Investment implications
A supply-constrained economy has direct implications for profit margins and earnings, as rising costs pose a risk to profitability next year. Firms have been able to preserve margins thus far by controlling certain costs and increasing prices, but this strategy predicates itself on demand remaining robust. While demand was healthy at the start of 3Q21, it appears to have weakened towards the end of the quarter.
Despite softer consumption, however, profit margins have remained resilient. After hitting an all-time high of 13.6% in the second quarter, we are tracking 3Q21 margins of 13.4%. While supply chain disruptions continue to drag on activity and support above-trend inflation, managements seem to be addressing these challenges through a combination of higher prices and a focus on productivity. This should help support margins as we look ahead to 2022.
Consumption should reaccelerate into the end of the year on the back of a further decline in COVID cases, low consumer debt service costs, and a surge in stock market wealth. Meanwhile, we expect an uptick in capital spending due to strong profits and labor shortages. This, coupled with a restocking of inventories, will push economic growth back above its long-term trend. As a result, we believe there is an opportunity in value, particularly among those companies with earnings that are more levered to the overall pace of economic activity. We also see value in technology and certain growth sectors over the long run, but in the current environment, style allocations feel less relevant. Instead, investors should use profits as a guide, as rising interest rates could put multiples under pressure and leave earnings as the main driver of returns.
09ul212810144120