Crucially for investors, market reforms also continue to be at the top of the priority list. So not only is China big, and getting bigger, but its investment themes are a lot more accessible to foreign investors.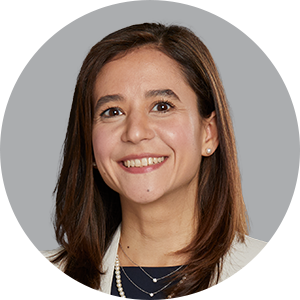 Listen to On the Minds of Investors
On March 5th, China began its most important annual political gatherings: the National People's Congress and Chinese People's Political Consultative Conference. These events highlight the central government's priorities for the year ahead, with 2021 also being a year with a new Five Year Plan (FYP). For the year ahead, the quality of growth will matter more than the quantity, with a focus on normalizing growth drivers and policy. Most importantly, the 14th FYP sets China's path forward, focused on: 1) technological innovation, 2) domestic demand, and 3) energy transition. While the cyclical priorities grab the headlines and may drive some short-term volatility, the medium-term priorities are what investors should align themselves with and can boost structural portfolio returns.
This year, China's economic recovery should become more sustainable. In 2020, China managed a V-shaped recovery, with growth printing +2.3%. However, the details were less impressive, as growth was driven by the "old China": public investment on infrastructure and real estate, industry, and exports. The goal is now to pass the baton back to the "new China": private investment, consumption, and domestic demand. In addition, normalizing monetary and fiscal policy is an immediate goal, given concerns about debt and property bubbles. Lower targets for credit growth and a smaller budget deficit signaled this neutral policy stance. The 2021 GDP target was set at "above 6%", a signal of China's commitment to getting policy back to normal after an abnormal pandemic year.
Investors shouldn't miss the forest for the trees. China's roadmap for the way forward involves:
Innovation as the path to prosperity: emphasis on R&D spending on the industries of the future (AI, quantum computing, semiconductors) in order to boost productivity. Pushback from the U.S.-side makes "self-reliance" urgent.
Domestic demand over exports: Chinese consumption contributes to a quarter of all global consumption growth, but its consumer strength will be amplified as China aims to double its GDP per capita over the next 15 years.
Energy transition away from coal: China aims to peak CO2 emissions in 2030 and become a net zero emitter by 2060. Significant investments in renewable energy and electric vehicles were signaled.
Crucially, market reforms also continue to be at the top of the priority list. Not only is China big and getting bigger, but its investment themes are also a lot more accessible to foreign investors. Sentiment-driven equity corrections are opportunities to build a structural allocation to Chinese equities given their size and solid fundamentals.
China sees investing in technological innovation as its path to prosperity
Research and development expenditures, % of GDP
Source: World Bank, J.P. Morgan Asset Management. Data are as of March 10th, 2021.
0903c02a82b0bdb7
For important information, please refer to the homepage.